Abstract
Metabolic alterations and inflammation are regarded as hallmarks of cancer. Glycolytic flux and intermediate accumulation lead to the production of building blocks and NADPH which is important in protecting the cell from oxidative damage. Inflammation causes the release of mediators responsible for regulating molecular mechanism affecting metabolic pathways. CaFB due to its cis-diol-rich feature may have the potential to interact with molecules taking part in cancer development. This study was aimed to investigate the effects of CaFB on metabolic alterations and inflammation in 7,12-dimethylbenz(a)anthracene (DMBA)/12-O-tetradecanoylphorbol-13-acetate (TPA)-induced skin cancer. For this purpose, 92 Balb-c mice were distributed into 6 groups as control, CaFB, DMBA/TPA (D-T), treatment 1 (T1), 2 (T2), and 3(T3). Apart from control and CaFB in other groups, tumors initiated with 97.5-nmol DMBA and 6.5-nmol TPA. Treatment groups received 3 mg/kg/day CaFB with DMBA (T1), with TPA (T2), and after tumor formation (T3). In the D-T group, glyceraldehyde-3-phosphate dehydrogenase (GAPDH) activity, 6-phosphogluconate dehydrogenase (PGD), glutathione (GSH), interleukin 6 (IL-6), (IL-1β), tumor necrosis factor-α (TNF-α) levels increased (p < 0.001) while malondialdehyde (MDA) levels decreased (p < 0.001) compared with that in control. CaFB application ameliorated DMBA-TPA effect according to the distribution time. It is noteworthy to consider CaFB as a potential preventive agent in skin cancer development.
Access options
Buy single article
Instant access to the full article PDF.
USD 39.95
Price excludes VAT (USA)
Tax calculation will be finalised during checkout.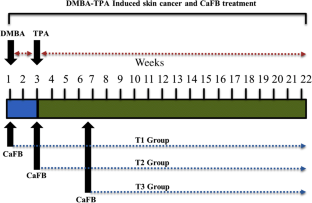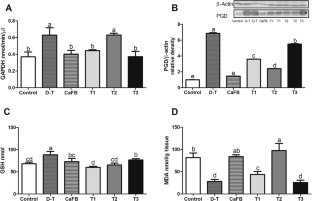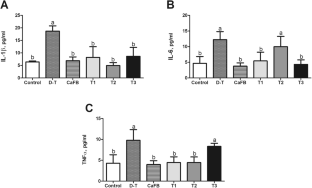 References
Hanahan D, Weinberg RA (2011) Hallmarks of cancer: the next generation. Cell 144:646–674

Cairns RA, Harris IS, Mak TW (2011) Regulation of cancer cell metabolism. Nat Rev Cancer 11:85–95. https://doi.org/10.1038/nrc2981

Cantor JR, Sabatini DM (2012) Cancer cell metabolism: one hallmark, many faces. Cancer Discov 2:881–898. https://doi.org/10.1158/2159-8290.CD-12-0345

Vander Heiden MG (2011) Targeting cancer metabolism: a therapeutic window opens. Nat Rev Drug Discov 10:671–684. https://doi.org/10.1038/nrd3504

Gottfried E, Kreutz M, Mackensen A (2012) Tumor metabolism as modulator of immune response and tumor progression. Semin Cancer Biol 22:335–341. https://doi.org/10.1016/j.semcancer.2012.02.009

Patra KC, Hay N (2014) The pentose phosphate pathway and cancer. Trends Biochem Sci 39:347–354. https://doi.org/10.1016/j.tibs.2014.06.005

Lund AW, Medler TR, Leachman SA, Coussens LM (2016) Lymphatic vessels, inflammation, and immunity in skin cancer. Cancer Discov 6:22–35. https://doi.org/10.1158/2159-8290.CD-15-0023

Yadav U, Anjaria KB, Nairy R, Shirsath KB, Desai UN, Chaurasia RK, Bhat NN, Sapra BK (2017) Differential killing and radio-modifying effects of iodoacetate in mammalian normal and cancer cells. Radiat Environ Biophys 56:227–239. https://doi.org/10.1007/s00411-017-0699-0

Shindo Y, Witt E, Han D, Epstein W, Packer L (1994) Enzymic and non-enzymic antioxidants in epidermis and dermis of human skin. J Invest Dermatol 102:122–124. https://doi.org/10.1111/1523-1747.ep12371744

Abel EL, Angel JM, Kiguchi K, DiGiovanni J (2009) Multi-stage chemical carcinogenesis in mouse skin: fundamentals and applications. Nat Protoc 4:1350–1362. https://doi.org/10.1038/nprot.2009.120

Sati J, Mohanty BP, Garg ML, Koul A (2016) Pro-oxidant role of silibinin in DMBA/TPA induced skin cancer: 1H NMR metabolomic and biochemical study. PLoS One 11:e0158955. https://doi.org/10.1371/journal.pone.0158955

Scorei ID, Scorei RI (2013) Calcium fructoborate helps control inflammation associated with diminished bone health. Biol Trace Elem Res 155:315–321. https://doi.org/10.1007/s12011-013-9800-y

Kisacam MA, Kocamuftuoglu GO, Ozan IE, Yaman M, Ozan ST (2020) Calcium fructoborate prevents skin cancer development in balb-c mice. Biol Trace Elem Res 196:131–144. https://doi.org/10.1007/s12011-019-01897-y

Hunt CD, Idso JP (1999) Dietary boron as a physiological regulator of the normal inflammatory response: a review and current research progress. J Trace Elem Exp Med 12:221–233. https://doi.org/10.1002/(SICI)1520-670X(1999)12:3<221::AID-JTRA6>3.0.CO;2-X

Donoiu I, Militaru C, Obleagă O, Hunter JM, Neamţu J, Biţă A, Scorei IR, Rogoveanu OC (2018) Effects of boron-containing compounds on cardiovascular disease risk factors – a review. J Trace Elem Med Biol 50:47–56. https://doi.org/10.1016/j.jtemb.2018.06.003

Hunter JM, Nemzer BV, Rangavajla N, Biţă A, Rogoveanu OC, Neamţu J, Scorei IR, Bejenaru LE, Rău G, Bejenaru C, Mogoşanu GD (2019) The fructoborates: part of a family of naturally occurring sugar–borate complexes—biochemistry, physiology, and impact on human health: a review. Biol Trace Elem Res 188:11–25. https://doi.org/10.1007/s12011-018-1550-4

Miljkovic D (1999) Boron carbohydrate complexes and uses thereof. US Pat. 5962049 A

Placer ZA, Cushman LL, Johnson BC (1966) Estimation of product of lipid peroxidation (malonyl dialdehyde) in biochemical systems. Anal Biochem 16:359–364. https://doi.org/10.1016/0003-2697(66)90167-9

Chavan S, Sava L, Saxena V, Pillai S, Sontakke A, Ingole D (2005) Reduced glutathione: importance of specimen collection. Indian J Clin Biochem 20:150–152

Arora N, Bansal MP, Koul A (2013) Azadirachta indica acts as a pro-oxidant and modulates cell cycle associated proteins during DMBA/TPA induced skin carcinogenesis in mice. Cell Biochem Funct 31:385–394. https://doi.org/10.1002/cbf.2909

Surh Y-J, Kundu JK (2007) Cancer preventive phytochemicals as speed breakers in inflammatory signaling involved in aberrant COX-2 expression. Curr Cancer Drug Targets 7:447–458. https://doi.org/10.2174/156800907781386551

Altenberg B, Greulich KO (2004) Genes of glycolysis are ubiquitously overexpressed in 24 cancer classes. Genomics 84:1014–1020. https://doi.org/10.1016/j.ygeno.2004.08.010

Sirover MA (2005) New nuclear functions of the glycolytic protein, glyceraldehyde-3-phosphate dehydrogenase, in mammalian cells. J Cell Biochem 95:45–52. https://doi.org/10.1002/jcb.20399

Bonnet S, Archer SL, Allalunis-Turner J, Haromy A, Beaulieu C, Thompson R, Lee CT, Lopaschuk GD, Puttagunta L, Bonnet S, Harry G, Hashimoto K, Porter CJ, Andrade MA, Thebaud B, Michelakis ED (2007) A mitochondria-K+ channel axis is suppressed in cancer and its normalization promotes apoptosis and inhibits cancer growth. Cancer Cell 11:37–51. https://doi.org/10.1016/j.ccr.2006.10.020

Kaneshima H, Kitsutaka T, Akagi M (1968) Studies on metabolic effects of borate (VII). Food Hyg Saf Sci (Shokuhin Eiseigaku Zasshi) 9:303–308. https://doi.org/10.3358/shokueishi.9.303

Chang C-H, Curtis JD, Maggi LB, Faubert B, Villarino AV, O'Sullivan D, Huang SC-C, van der Windt GJW, Blagih J, Qiu J, Weber JD, Pearce EJ, Jones RG, Pearce EL (2013) Posttranscriptional control of T cell effector function by aerobic glycolysis. Cell 153:1239–1251. https://doi.org/10.1016/j.cell.2013.05.016

Krasnov GS, Dmitriev AA, Snezhkina AV, Kudryavtseva AV (2013) Deregulation of glycolysis in cancer: glyceraldehyde-3-phosphate dehydrogenase as a therapeutic target. Expert Opin Ther Targets 17:681–693. https://doi.org/10.1517/14728222.2013.775253

Kuehne A, Emmert H, Soehle J, Winnefeld M, Fischer F, Wenck H, Gallinat S, Terstegen L, Lucius R, Hildebrand J, Zamboni N (2015) Acute activation of oxidative pentose phosphate pathway as first-line response to oxidative stress in human skin cells. Mol Cell 59:359–371. https://doi.org/10.1016/j.molcel.2015.06.017

Lin R, Elf S, Shan C, Kang H-B, Ji Q, Zhou L, Hitosugi T, Zhang L, Zhang S, Seo JH, Xie J, Tucker M, Gu T-L, Sudderth J, Jiang L, Mitsche M, DeBerardinis RJ, Wu S, Li Y, Mao H, Chen PR, Wang D, Chen GZ, Hurwitz SJ, Lonial S, Arellano ML, Khoury HJ, Khuri FR, Lee BH, Lei Q, Brat DJ, Ye K, Boggon TJ, He C, Kang S, Fan J, Chen J (2015) 6-Phosphogluconate dehydrogenase links oxidative PPP, lipogenesis and tumour growth by inhibiting LKB1–AMPK signalling. Nat Cell Biol 17:1484–1496. https://doi.org/10.1038/ncb3255

Rolfs F, Huber M, Kuehne A, Kramer S, Haertel E, Muzumdar S, Wagner J, Tanner Y, Böhm F, Smola S, Zamboni N, Levesque MP, Dummer R, Beer HD, Hohl D, Werner S, Schäfer M (2015) Nrf2 activation promotes keratinocyte survival during early skin carcinogenesis via metabolic alterations. Cancer Res 75:4817–4829. https://doi.org/10.1158/0008-5472.CAN-15-0614

Kurtoglu V, Kurtoglu F, Akalin PP (2018) The effects of various levels of boron supplementation on live weight, plasma lipid peroxidation, several biochemical and tissue antioxidant parameters of male mice. J Trace Elem Med Biol 49:146–150. https://doi.org/10.1016/j.jtemb.2018.05.013

Monga J, Chauhan CS, Sharma M (2011) Human epithelial carcinoma cytotoxicity and inhibition of DMBA/TPA induced squamous cell carcinoma in Balb/c mice by Acacia catechu heartwood. J Pharm Pharmacol 63:1470–1482. https://doi.org/10.1111/j.2042-7158.2011.01354.x

Sharma S, Khan N, Sultana S (2004) Study on prevention of two-stage skin carcinogenesis by Hibiscus rosa sinensis extract and the role of its chemical constituent, gentisic acid, in the inhibition of tumour promotion response and oxidative stress in mice. Eur J Cancer Prev 13:53–63. https://doi.org/10.1097/00008469-200402000-00009

Koul A, Mukherjee N, Gangar SC (2006) Inhibitory effects of Azadirachta indica on DMBA-induced skin carcinogenesis in balb/c mice. Mol Cell Biochem 283:47–55. https://doi.org/10.1007/s11010-006-2269-7

Md Roduan MR, Hamid RA, Sulaiman H, Mohtarrudin N (2017) Annona muricata leaves extracts prevent DMBA/TPA-induced skin tumorigenesis via modulating antioxidants enzymes system in ICR mice. Biomed Pharmacother 94:481–488. https://doi.org/10.1016/j.biopha.2017.07.133

Masre SF, Izzuddeen A, John DNS, Hamid ZA (2019) The effects of oleuropein on apoptotic rate and oxidative stress profiles during tumour promotion stage in the mouse skin carcinogenesis model. Sains Malaysiana 48:347–352. https://doi.org/10.17576/jsm-2019-4802-11

Scorei RI, Rotaru P (2011) Calcium fructoborate — potential anti-inflammatory agent. Biol Trace Elem Res 143:1223–1238. https://doi.org/10.1007/s12011-011-8972-6

Scorei R, Cimpoiasu V, Iordachescu D (2005) In vitro evaluation of the antioxidant activity of calcium fructoborate. Biol Trace Elem Res 107:127–134. https://doi.org/10.1385/BTER:107:2:127

Scorei R, Ciubar R, Iancu C, Mitran V, Cimpean A, Iordachescu D (2007) In vitro effects of calcium fructoborate on fMLP-stimulated human neutrophil granulocytes. Biol Trace Elem Res 118:27–37. https://doi.org/10.1007/s12011-007-0019-7

Kong YH, Xu SP (2018) Salidroside prevents skin carcinogenesis induced by DMBA/TPA in a mouse model through suppression of inflammation and promotion of apoptosis. Oncol Rep 39:2513–2526. https://doi.org/10.3892/or.2018.6381

Hall IH, Das MK, Harchelroad F, Wisian-Neilson P, McPhail AT, Spielvogel BF (1981) Antihyperlipidemic activity of amine cyanoboranes, amine carboxyboranes, and related compounds. J Pharm Sci 70:339–341. https://doi.org/10.1002/jps.2600700333

Romero-Aguilar KS, Arciniega-Martínez IM, Farfán-García ED, Campos-Rodríguez R, Reséndiz-Albor AA, Soriano-Ursúa MA (2019) Effects of boron-containing compounds on immune responses: review and patenting trends. Expert Opin Ther Pat 29:339–351. https://doi.org/10.1080/13543776.2019.1612368

Scorei RI, Ciofrangeanu C, Ion R, Cimpean A, Galateanu B, Mitran V, Iordachescu D (2010) In vitro effects of calcium fructoborate upon production of inflammatory mediators by LPS-stimulated RAW 264.7 macrophages. Biol Trace Elem Res 135:334–344. https://doi.org/10.1007/s12011-009-8488-5

Hussain SA, Abood SJ, Gorial FI (2017) The adjuvant use of calcium fructoborate and borax with etanercept in patients with rheumatoid arthritis: pilot study. J Intercult Ethnopharmacol 6:58–64. https://doi.org/10.5455/jice.20161204021549
Funding
This project was funded by the National Boron Institution of Turkey grant number: 2016-31-07-15-003.
Ethics declarations
Conflict of Interest
The authors declare that they have no conflict of interest.
Ethical Approval
All animal experiments were done according to the approval of the Animal Experimentation Ethics Committee of Firat University (Elazig, Turkey) (approval number 2016/27-78).
Additional information
Publisher's Note
Springer Nature remains neutral with regard to jurisdictional claims in published maps and institutional affiliations.
About this article
Cite this article
Kisacam, M.A., Kocamuftuoglu, G., Ozan, I.E. et al. Calcium Fructoborate Prevents Skin Cancer Development in Balb-c Mice: Next Part, Reverse Inflammation, and Metabolic Alteration. Biol Trace Elem Res 199, 2627–2634 (2021). https://doi.org/10.1007/s12011-020-02363-w
Received:

Accepted:

Published:

Issue Date:

DOI: https://doi.org/10.1007/s12011-020-02363-w
Keywords