Abstract
It is uncertain how many factors affect urinary iodine concentration. The aim of this study was to determine the effect of consumption of drinking water with high iodine concentration on urinary iodine concentration in pregnant and lactating women, and infants. We included 218 lactating women and their infants and 142 pregnant women in areas with suitable and high water iodine content. Urine, serum, and water iodine concentration were assessed. Breastfeeding women living in areas with high water iodine content had a greater likelihood of iodine sufficiency or iodine excess [odds ratio (P = 0.044, P < 0.001)] compared with women living in areas with suitable water iodine content. Older women were less likely to have higher urinary iodine concentration (P = 0.041). Pregnant women who consumed milk > 4 times weekly during pregnancy were more likely to be iodine sufficient (P = 0.028). Living in areas with high water iodine content for > 5 years is a risk factor for iodine excess (P < 0.001, P = 0.007). There is a probability of higher urinary iodine concentration in pregnant and lactating women and their infants living in areas with high water iodine content. Age had an effect on iodine excess in lactating women. Consumption of milk > 4 times a week during pregnancy and living in an area with high iodine water content for > 5 years were associated with iodine sufficiency and iodine excess in pregnant women.
This is a preview of subscription content, log in to check access.
Access options
Buy single article
Instant access to the full article PDF.
US$ 39.95
Price includes VAT for USA
Subscribe to journal
Immediate online access to all issues from 2019. Subscription will auto renew annually.
US$ 954
This is the net price. Taxes to be calculated in checkout.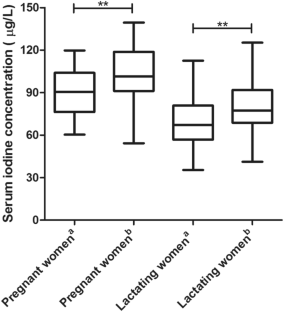 References
1.

Li M, Eastman CJ (2012) The changing epidemiology of iodine deficiency. Nat Rev Endocrinol 8:434–440

2.

Glinoer D (2004) The regulation of thyroid function during normal pregnancy: importance of the iodine nutrition status. Best Pract Res Clin Endocrinol Metab 18:133–152

3.

Dorea JG (2002) Iodine nutrition and breast feeding. J Trace Elem Med Biol 16:207–220

4.

Teng WP, Shan ZY, Teng X, Guan H, Li Y, Teng D et al (2006) Effect of iodine intake on thyroid disease in China. N Engl J Med 54:2783–2793

5.

Shen HM, Li SJ, Sun DJ, Zhang S, Su X, Shen Y et al (2011) Geographical distribution of drinking-water with high iodine level and association between high iodine level in drinking-water and goitre: a Chinese national investigation. Br J Nutr 106:243–247

6.

Sun D, Xiao D, Liu S. (2011) The monitoring of iodine deficiency disorders of China, Beijing

7.

Liu D, Zhao J, Zhu H, et al Determination and classification of the areas of high water iodine and the endemic areas of iodine excess goiter, National Standard of China, Beijing, GB/T1 9380-2003

8.

Yan YQ, Zhang YP, Liu LJ, Liu JY, Li WD, Huan JL, et al Method for determination of iodine in urine by As3+–Ce4+ catalytic spectrophotometry, Health standard of China, Beijing, WS/T 107–2006

9.

WHO/UIICEF/ICCIDD (2007) Assessment of iodine deficiency disorders and monitoring their elimination. A guide for programme managers

10.

(2001) The recommended method for measuring iodine in drinking water, Ministry of Health, Beijing, Document No.161

11.

Liu L, Yin J, Zheng Z (1999) Determination of iodine in urine mild and vigorous digestion methods followed by cericarsenite reaction. Chin J Endemiol 14:37–39

12.

Neville MC, Keller R, Seacat J, Lutes V, Neifert M, Casey C, Allen J, Archer P (1988) Studies in human lactation: milk volumes in lactating women during the onset of lactation and full lactation. Am J Clin Nutr 48:1375–1386

13.

Delange F (2007) Iodine requirements during pregnancy, lactation and the neonatal period and indicators of optimal iodine nutrition. Public Health Nutr 10:1571–1580

14.

Semba RD, Delange F (2001) Iodine in human milk: perspectives for infant health. Nutr Rev 59:269–278

15.

Tong Y, Huo J (2012) General test method in salt industry—determination of iodine. National Standard of China, Beijing. GB/T 13025:7

16.

Liu L, Wang D, Liu P, Meng F, Wen D, Jia Q, Liu J, Zhang X, Jiang P, Shen H (2015) The relationship between iodine nutrition and thyroid disease in lactating women with different iodine intakes. Br J Nutr 114:1487–1495

17.

Zhao W, Li X, Xia X, Gao Z, Han C (2018) Iodine nutrition during pregnancy: past, present, and future. Biol Trace Elem Res 9:1–9

18.

Laurberg P, Andersen S, Knudsen N, Ovesen L, Nøhr SB, Pedersen IB (2002) Thiocyanate in food and iodine in milk: from domestic animal feeding to improved understanding of cretinism. Thyroid 12:897–902

19.

Yan YQ, Chen ZP, Yang XM, Liu H, Zhagn JX, Zhong W et al (2005) Attention to the hiding iodine deficiency in pregnant and lactating women after universal salt iodization: a multi-community study in China. J Endocrinol Investig 28:547–553

20.

Yu J, Liu P, Shen H et al (2011) The inhabitant's iodine nutrition status of some coastal areas in China: a cross sectional study. Chin J Endemiology 30:594–597

21.

Shi X, Han C, Li C, Mao J, Wang W, Xie X et al (2015) Optimal and safe upper limits of iodine intake for early pregnancy in iodine-sufficient regions: a cross-sectional study of 7190 pregnant women in China. J Clin Endocrinol Metab 100:1630–1638

22.

The State Council of the People's Republic of China (1994) Control iodised salt management regulations for IDD. SCPRC, Beijing

23.

Dold S, Baumgartner J, Zeder C, Krzystek A, Osei J, Haldimann M et al (2015) Optimization of a new mass spectrometry method for measurement of breast milk iodine concentrations (BMIC) and an assessment of the effect of analytic method and timing of within-feed sample collection on BMIC. Thyroid 9:287–295

24.

Zimmermann MB, Jooste PL, Pandav CS (2008) Iodine-deficiency disorders. Lancet 342:1251–12621

25.

Jiang XL, Bao WX, Qiu YZ, Chen SJ (2007) Relationship between breastfeeding women and their infants' iodine nutritional status. China Public Health 23:16–17

26.

Karen C, Yasmine P, Gabriella K (2016) Dietary iodine intake of the Australian population after introduction of a mandatory iodine fortification programme. Nutrients 8:5–7

27.

Ma C, Qi C, Bo L (2006) Determination of iodine content in normal milk, The 13th national veterinary surgery symposium

28.

Henjum S, Kjellevold M, Ulak M, Chandyo RK, Shrestha PS, Frøyland L et al (2016) Iodine concentration in breast milk and urine among lactating women of Bhaktapur Nepal. Nutrients 8:4–6

29.

Jorgensen A, O'Leary P, James I, Skeaff S, Sherriff J (2016) Assessment of breast milk iodine concentrations in lactating women in Western Australia. Nutrients 8:5–8

30.

Sang ZN, Wei W, Zhao N, Zhang GQ, Chen W, Liu H, Shen J, Liu JY, Yan YQ, Zhang WQ (2012) Thyroid dysfunction during late gestation is association with excessive iodine intake in pregnant women. J Clin Endocrinol Metab 97:E1363–E1369

31.

Wu YN, Li XW, Chang SY, Liu LP, Zou SR, Hipqrave DB (2012) Variable iodine intake persists in the context of universal salt iodization in China. J Nutr 142:1728–1734
Acknowledgements
We thank the staff at municipal and county level CDC in Shanxi Province for collecting epidemiological data and urine samples and the contributions and support from all participants.
Funding
This work was supported by the National Natural Science Foundation of China (Grant No. 81273012).
Ethics declarations
All the procedures used in this experiment were reviewed and approved by the biomedical research ethics committee of Harbin Medical University. Informed consent was obtained from all individual participants included in the study.
Conflict of Interest
The authors declare that they have no conflict of interest.
Informed Consent
Informed consent was obtained from all individual participants included in the study.
Additional information
Publisher's Note
Springer Nature remains neutral with regard to jurisdictional claims in published maps and institutional affiliations.
About this article
Cite this article
Liu, L., Liu, J., Wang, D. et al. Effect of Urinary Iodine Concentration in Pregnant and Lactating Women, and in Their Infants Residing in Areas with Excessive Iodine in Drinking Water in Shanxi Province, China. Biol Trace Elem Res 193, 326–333 (2020). https://doi.org/10.1007/s12011-019-01716-4
Received:

Accepted:

Published:

Issue Date:
Keywords
Urinary iodine

Iodine in water supply

Infants

Pregnant women

Lactating women