Abstract
A number of studies have assessed the association between serum magnesium (Mg) and premenstrual syndrome (PMS) in different population, but the findings have been inconclusive. Herein, we systematically reviewed available observational studies to elucidate the overall relationship between Mg and PMS. PubMed, Cochrane's library, ScienceDirect, Scopus, Google Scholar, and ISI web of science databases were searched for all available literature until January 2019 for studies evaluating the association between Mg and PMS. The Newcastle-Ottawa Quality Assessment Scale was used to assess the quality of observational studies. A total of 13 studies out of 196 met our inclusion criteria and were included in our systematic review and meta-analysis. There were no associations between serum magnesium and PMS (WMD − 0.04; 95% CI, − 0.14 to 0.06; P = 0.46) during follicular or serum/erythrocyte magnesium (WMD − 0.37; 95% CI, − 1.01 to 0.27; P = 0.25)/(WMD − 0.04; 95% CI, − 0.10 to 0.03; P = 0.26) and during luteal phase except for the sub-group of studies done outside of the US in which recent association became significant and means that serum Mg is lower in PMS subjects. According to what have been discussed, although our study did not show any significant association between serum/erythrocyte Mg and PMS except for serum Mg in luteal phase in the sub-group of studies done outside of the USA, heterogeneity between studies should be taken into accounts when interpreting these results. Additional well-designed clinical trials should be considered in future research to develop firm conclusions on the efficacy of magnesium on PMS.
Registration number: CRD42018114473.
This is a preview of subscription content,
to check access.
Access this article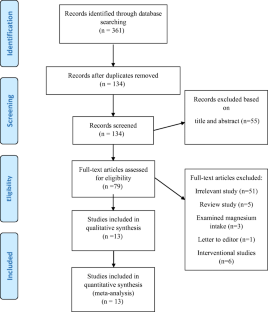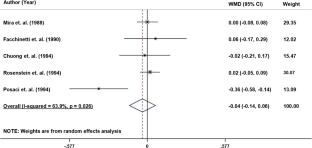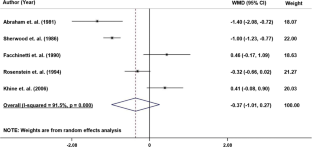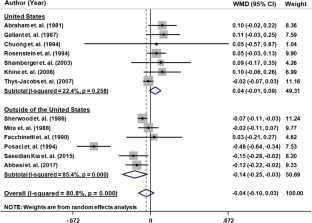 References
Verkaik S, Kamperman AM, van Westrhenen R, Schulte PF (2017) The treatment of premenstrual syndrome with preparations of Vitex agnus castus: a systematic review and meta-analysis. Am J Obstet Gynecol 217(2):150–166

Yonkers KA, O'Brien PS, Eriksson E (2008) Premenstrual syndrome. Lancet 371(9619):1200–1210

Khine K, Rosenstein DL, Elin RJ, Niemela JE, Schmidt PJ, Rubinow DR (2006) Magnesium (mg) retention and mood effects after intravenous mg infusion in premenstrual dysphoric disorder. Biol Psychiatry 59(4):327–333. https://doi.org/10.1016/j.biopsych.2005.07.022

Schiola A, Lowin J, Lindemann M, Patel R, Endicott J (2011) The burden of moderate/severe premenstrual syndrome and premenstrual dysphoric disorder in a cohort of Latin American women. Value Health 14(5 Suppl 1):S93–S95. https://doi.org/10.1016/j.jval.2011.05.008

Maleki-Saghooni N, Karimi FZ, Moghadam ZB, Najmabadi KM (2018) The effectiveness and safety of Iranian herbal medicines for treatment of premenstrual syndrome: a systematic review. Avicenna J Phytomed 8(2):96–113

Bertone-Johnson ER, Hankinson SE, Bendich A, Johnson SR, Willett WC, Manson JE (2005) Calcium and vitamin D intake and risk of incident premenstrual syndrome. Arch Intern Med 165(11):1246–1252

Rapkin A (2003) A review of treatment of premenstrual syndrome & premenstrual dysphoric disorder. Psychoneuroendocrinology 28:39–53

Grubbs RD, Maguire ME (1987) Magnesium as a regulatory cation: criteria and evaluation. Magnesium 6(3):113–127

Bolte AC, van Geijn HP, Dekker GA (2001) Management and monitoring of severe preeclampsia. Eur J Obstet Gynecol Reprod Biol 96(1):8–20

Tepper SJ, Rapoport A, Sheftell F (2001) The pathophysiology of migraine. Neurologist 7(5):279–286

Tramèr MR, Glynn CJ (2002) Magnesium Bier's block for treatment of chronic limb pain: a randomised, double-blind, cross-over study. Pain 99(1–2):235–241

Weisleder P, Tobin JA, Kerrigan JF, Bodensteiner JB (2002) Hypomagnesemic seizures: case report and presumed pathophysiology. J Child Neurol 17(1):59–61

Cerin A, Collins A, And B-ML, Eneroth P (1993) Hormonal and biochemical profiles of premenstrual syndrome: treatment with essential fatty acids. Acta Obstet Gynecol Scand 72(5):337–343

Mira M, Stewart P, Abraham S (1988) Vitamin and trace element status in premenstrual syndrome. Am J Clin Nutr 47(4):636–641. https://doi.org/10.1093/ajcn/47.4.636

Walker A, De Souza M, Marakis G, Robinson P, Morris A, Bolland K (2002) Unexpected benefit of sorbitol placebo in Mg intervention study of premenstrual symptoms: implications for choice of placebo in RCTs. Med Hypotheses 58(3):213–220

Moher D, Shamseer L, Clarke M, Ghersi D, Liberati A, Petticrew M, Shekelle P, Stewart LA (2015) Preferred reporting items for systematic review and meta-analysis protocols (PRISMA-P) 2015 statement. Syst Rev 4(1):1

O'connell WG, Losos DPM, Tugwell P (2000) The Newcastle–Ottawa Scale (NOS) for assessing the quality of nonrandomised studies in meta-analyses. In: Proc 3rd Symposium on Systematic Reviews, Oxford, UK

Arab A, Rafie N, Mansourian M, Miraghajani M, Hajianfar H (2018) Dietary patterns and semen quality: a systematic review and meta-analysis of observational studies. Andrology 6(1):20–28. https://doi.org/10.1111/andr.12430

Abbasi ST, Abbasi P, Suhag AH, Qureshi MA (2017) Serum magnesium and 25-hydroxy cholecalciferol in premenstrual syndrome during luteal phase. J Liaquat Uni Med Health Sci 16(4):209–212. https://doi.org/10.22442/jlumhs.171640535

Abraham GE, Lubran MM (1981) Serum and red cell magnesium levels in patients with premenstrual tension. Am J Clin Nutr 34(11):2364–2366. https://doi.org/10.1093/ajcn/34.11.2364

Chuong CJ, Dawson EB (1994) Magnesium levels in premenstrual-syndrome. Nutr Res 14(11):1623–1634

Facchinetti F, Borella P, Fioroni L, Pironti T, Genazzani AR (1990) Reduction of monocyte magnesium in patients affected by premenstrual-syndrome. J Psychosom Obstet Gynecol 11(3):221–229. https://doi.org/10.3109/01674829009084417

Gallant MP, Bowering J, Short SH, Turkki PR, Badawy S (1987) Pyridoxine and magnesium status of women with premenstrual-syndrome. Nutr Res 7(3):243–252. https://doi.org/10.1016/s0271-5317(87)80014-3

Posaci C, Erten O, Uren A, Acar B (1994) Plasma copper, zinc and magnesium levels in patients with premenstrual tension syndrome. Acta Obstet Gynecol Scand 73(6):452–455

Rosenstein DL, Elin RJ, Hosseini JM, Grover G, Rubinow DR (1994) Magnesium measures across the menstrual cycle in premenstrual syndrome. Biol Psychiatry 35(8):557–561

Saeedian Kia A, Amani R, Cheraghian B (2015) The association between the risk of premenstrual syndrome and vitamin D, calcium, and magnesium status among university students: a case control study. Health Promot Perspect 5(3):225–230. https://doi.org/10.15171/hpp.2015.027

Shamberger RJ (2003) Calcium, magnesium, and other elements in the red blood cells and hair of normals and patients with premenstrual syndrome. Biol Trace Elem Res 94(2):123–129. https://doi.org/10.1385/bter:94:2:123

Sherwood RA, Rocks BF, Stewart A, Saxton RS (1986) Magnesium and the premenstrual syndrome. Ann Clin Biochem 23(Pt 6):667–670. https://doi.org/10.1177/000456328602300607

Thys-Jacobs S, McMahon D, Bilezikian JP (2007) Cyclical changes in calcium metabolism across the menstrual cycle in women with premenstrual dysphoric disorder. J Clin Endocrinol Metab 92(8):2952–2959. https://doi.org/10.1210/jc.2006-2726

Conrad CD (2008) Chronic stress-induced hippocampal vulnerability: the glucocorticoid vulnerability hypothesis. Rev Neurosci 19(6):395–412

Lam RW, Tam EM, Yatham LN, Shiah I-S, Zis AP (2001) Seasonal depression: the dual vulnerability hypothesis revisited. J Affect Disord 63(1–3):123–132

Mousain-Bosc M, Roche M, Rapin J, Bali J-P (2004) Magnesium vitB6 intake reduces central nervous system hyperexcitability in children. J Am Coll Nutr 23(5):545S–548S

Guerrero-Romero F, Tamez-Perez H, González-González GE, Salinas-Martinez A, Montes-Villarreal J, Trevino-Ortiz J, Rodriguez-Moran M (2004) Oral magnesium supplementation improves insulin sensitivity in non-diabetic subjects with insulin resistance. A double-blind placebo-controlled randomized trial. Diabetes Metab 30(3):253–258

Amyard N, Leyris A, Monier C, Frances H, Boulu R, Henrotte J (1995) Brain catecholamines, serotonin and their metabolites in mice selected for low (MGL) and high (MGH) blood magnesium levels. Magnes Res 8(1):5–9

Atarashi K, Matsuoka H, Takagi M, Sugimoto T (1989) Magnesium ion: a possible physiological regulator of aldosterone production. Life Sci 44(20):1483–1489

MacIntyre I, Davidsson D (1958) The production of secondary potassium depletion, sodium retention, nephrocalcinosis and hypercalcaemia by magnesium deficiency. Biochem J 70(3):456–462

Senda M, Hamano T, Kubota K, Oka T, Yonemoto S, Sakaguchi Y, Nakano C, Isaka Y, Moriyama T (2017) Sp092the positive association between serum magnesium levels and plasma aldosterone concentrations in Ckd. Nephrol Dial Transplant 32(suppl_3):iii135

Serefko A, Szopa A, Poleszak E (2016) Magnesium and depression. Magnes Res 29(3):112–119

Hariri M, Azadbakht L (2015) Magnesium, iron, and zinc supplementation for the treatment of attention deficit hyperactivity disorder: a systematic review on the recent literature. Int J Prev Med 6

Phelan D, Molero P, Martínez-González MA, Molendijk M (2018) Magnesium and mood disorders: systematic review and meta-analysis. BJPsych Oopen 4(4):167–179
Ethics declarations
Conflict of Interest
The authors declare that they have no conflicts of interests.
Additional information
Publisher's Note
Springer Nature remains neutral with regard to jurisdictional claims in published maps and institutional affiliations.
This manuscript has not been published elsewhere or submitted for publication elsewhere.
About this article
Cite this article
Moslehi, M., Arab, A., Shadnoush, M. et al. The Association Between Serum Magnesium and Premenstrual Syndrome: a Systematic Review and Meta-Analysis of Observational Studies. Biol Trace Elem Res 192, 145–152 (2019). https://doi.org/10.1007/s12011-019-01672-z
Received:

Accepted:

Published:

Issue Date:

DOI: https://doi.org/10.1007/s12011-019-01672-z
Keywords