Abstract
The aim of this study was to investigate the effects of mercury chloride and boric acid on rat (Wistar albino) erythrocyte: glucose 6-phosphate dehydrogenase (G6PD), 6-phosphoglucona-te dehydrogenase (6PGD), thioredoxin reductase (TrxR), glutathione reductase (GR) and glutathione S-transferase (GST) enzymes in vivo, and the rat erythrocyte G6PD enzyme in vitro. In the in vivo study, 24 male rats were divated into three different groups: control (C), mercury chloride (M), and mercury chloride + boric acid (M + BA). At the completion of this study, a significant degree of inhibition for both G6PD and GST enzyme activity was observed in the M groups when compared to the C group (p < 0.05), and no significant effect was observed in the 6PGD enzyme. However, there was significantly increased TrxR and GR enzyme activity of both the M and M + BA groups (p < 0.05). In the in vitro study, the G6PD enzyme from rat erythrocytes was purified with 2′,5′-ADP Sepharose-4B affinity chromatography, and the effect of both mercury chloride and boric acid on the enzyme activity was investigated. The results showed that boric acid increased the G6PD enzyme activity while the mercury ions that inhibited the enzyme activity (IC50 values of 346 μM and Ki values of 387 μM) were noncompetitive.
Access options
Buy single article
Instant access to the full article PDF.
US$ 39.95
Tax calculation will be finalised during checkout.
Subscribe to journal
Immediate online access to all issues from 2019. Subscription will auto renew annually.
US$ 399
Tax calculation will be finalised during checkout.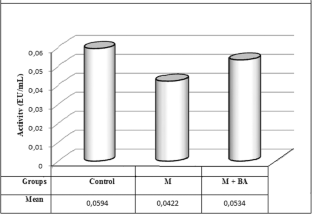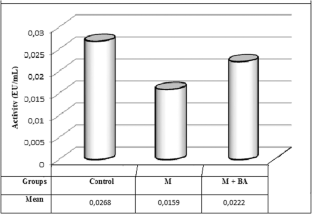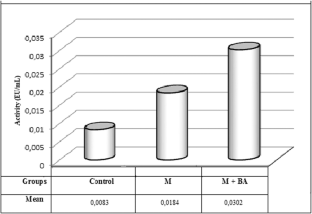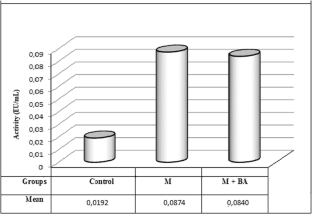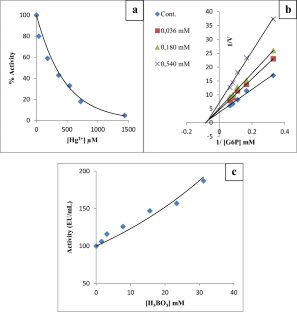 References
1.

Al-Attar AM (2011) Antioxidant effect of vitamin E treatment on some heavy metals-induced renal and testicular injuries in male mice. Saudi J Biol Sci 18:63–72

2.

Kucuk M, Gulcin I (2016) Purification and characterization of the carbonic anhydrase enzyme from Black Sea trout (Salmo trutta Labrax Coruhensis) kidney and inhibition effects of some metal ions on enzyme activity. Environ Toxicol Pharmacol 44:134–139

3.

Houston MC (2011) Role of mercury toxicity in hypertension, cardiovascular disease, and stroke. J Clin Hypertens 13:621–627

4.

Griswold W, Martin SH (2009) Human health effects of heavy metals. Environ Sci Technol 15:1–6

5.

Zalups RK (2000) Molecular interactions with mercury in the kidney. Pharmacol Rev 52:113–143

6.

Nogueira CW, Soares FA, Nascimento PC, Muller DA, JBT R (2003) Dimercaptopropane-1-sulfonic acid and meso-2,3- dimercaptosuccninic acid increase mercury and cadmium-induced inhibition of d-aminolevulinic acid dehydratase. Toxicology 184:85–95

7.

Stohs SJ, Bagchi D (1995) Oxidative mechanisms in the toxicity of metal ions. Free Radic Biol Med 18:321–336

8.

Gulcin I (2007) Comparison of in vitro antioxidant and antiradical activities of L-tyrosine and L-dopa. Amino Acids 32:431–438

9.

Kot FS (2009) Boron sources, speciation and its potential impact Ob health. Rev Environ Sci Biotechnol 8:3–28

10.

Devirian TA, Volpe SL (2003) The physiological effects of dietary boron. Crit Rev Food Sci Nutr 43:219–231

11.

Hunt CD (2007) Dietary boron: evidence for essentiality and homeostatic control in humans and animalsi. Adv Plant Anim Boron Nutr Springer, Dordrecht 251–267

12.

Barranco WT, Kim DH, Stella SL, Eckhert CD (2009) Boric acid inhibits stored Ca2+ release in DU-145 prostate cancer cells. Cell Biol Toxicol 25:309–320

13.

Scorei R (2012) A mini-review of the essentiality of boron for the appearance of life on earth. Orig Life Evol Biosph 42:3–17

14.

Mahabir S, Spitz MR, Barrera SL, Dong YQ, Eastham C, Forman MR (2008) Dietary boron and hormone replacement therapy as risk factors for lung cancer in women. Am J Epidemiol 167:1070–1080

15.

Krebs HA, Eggleston LV (1978) The regulation of the pentosephosphate cycle in rat liver. In: weber G (ed). Adv enzymeregul, Oxford: Perg Pr Ltd 12 :421–433

16.

Nelson DL, Cox MM (2000) Lehninger principles of biochemistry. 3rd ed. USA: Worth Publish. USA. 743–744

17.

Beydemir S, Ciftci M, Kufrevioglu OI (2002) Purification and characterization of glucose 6-phosphate dehydrogenase from sheep erythrocytes and inhibitory effects of some antibiotics on enzyme activity. J Enzyme Inhib Med Chem 17:271–277

18.

Beydemir S, Ciftci M, Yilmaz H, Kufrevioglu OI (2004) 6-phosphogluconate dehydrogenase: purification, characterization and kinetic properties from rat erythrocytes. Turk J Vet Anim Sci 28:707–714

19.

Beydemir Ş, Gülçin İ, Hisar O, Küfrevioğlu Öİ, Yanik T (2005) Effect of melatonin on glucose-6-phosphate dehydrogenase from rainbow trout (Oncorhynchus mykiss) erythrocytes in vitro and in vivo. J Appl Anim Res 28:65–68

20.

Beydemir S, Gücin I, Küfrevioğlu OI, Ciftci M (2003) Glucose 6-phosphate dehydrogenase: in vitro and in vivo effects of dantrolene sodium. Pol J Pharmacol 55:787–792

21.

Gulcin I, Beydemir S, Çoban TA, Ekinci D (2008) The inhibitory effect of dantrolene sodium and propofol on 6-phosphogluconate dehydrogenase from rat erythrocyte. Fresenius Environ Bull 17:1283–1287

22.

Hayes JD, Pulford DJ (1995) The glutathione S-transferase supergene family: regulation of GST and the contribution of the isoenzymes to cancer chemoprotection and drug resistence. CRC Crit Rev Biochem Mol Biol 30:445–600

23.

Powis G, Montfort WR (2001) Properties and biological activities of thioredoxins. Annu Rev Pharmacol Toxicol 41:261–295

24.

Knapen MF, Zusterzeel PL, Peters WH, Steegers EA (1999) Glutathione and glutathione-related enzymes in reproduction. Eur J Obstet Gynecol Reprod Biol 82:171–184

25.

Temel Y, Bengü AŞ, Akkoyun HT, Akkoyun M, Ciftci M (2017) Effect of astaxanthin and aluminum chloride on erythrocyte G6PD and 6PGD enzyme activities in vivo and on erythrocyte G6PD in vitro in rats. J Biochem Mol Toxicol 31:e21954

26.

Ninfali P, Orsenigo T, Barociani SR (1990) Rapid purification of glucose 6-phosphogluconate dehydrogenase from mammal's erythrocytes. Prep Biochem 20:297–309

27.

Temel Y, Kocyigit UM (2017) Purification of glucose-6-phosphate dehydrogenase from rat (Rattus norvegicus) erythrocytes and inhibition effects of some metal ions on enzyme activity. J Biochem Mol Toxicol 31:e21927

28.

Temel Y, Ayna A, Shafeeq IH, Ciftci M (2018) In vitro effects of some antibiotics on glucose-6-phosphate dehydrogenase from rat (Rattus norvegicus) erythrocyte. J Drug Chem Toxicol DOI: https://doi.org/10.1080/01480545.2018.1481083, 1, 5

29.

Beutler E (1971) Red cell metabolism. Manual of biochemical methods Acad Pres London 12:68–70

30.

Carlberg I, Mannervik B (1981) Purification and characterization of glutathione reductase from calf liver. Glutathione reductase assays. Methods Enzymol 113:484–495

31.

Holmgren A (1977) Bovine thioredoxin system. J Biol Chem 252:4600–4606

32.

Temel Y, Kufrevioglu OI, Ciftci M (2017) Investigation of the effects of purification and characterization of Turkey (Meleagris gallopavo) liver mitochondrial thioredoxin reductase enzyme and some metal ions on enzyme activity. Turk J Chem 41:48–60

33.

Habig WH, Pabst MJ, Jakoby WB (1974) Glutathione S-transferase a. J Biol Chem 249:7130–7139

34.

Lineweaver H, Burk D (1934) The determination of enzyme dissocation constants. J Am Chem Soc 57:685

35.

Lu J, Holmgren A (2014) The thioredoxin antioxidant system. Free Radic Biol Med 66:75–87

36.

Pompella A, Visvikis A, Paolicchi A, De Tata V, Casini AF (2003) The changing faces of glutathione, a cellular protagonist. Biochem Pharmacol 66:1499–1503

37.

Li X (2009) Glutathione and glutathione s-transferase in detoxification mechanisms. Gen app sys. Tox. 1-13. https://doi.org/10.1002/9780470744307.gat166

38.

Papp LV, Lu J, Holmgren A, Khanna K (2007) From selenium to selenoproteins: synthesis, identity, and their role in human health. Antioxid Redox Signal 9:775–806

39.

Koháryová M, Kollárová M (2015) Thioredoxin system – a novel therapeutic target. Gen Physiol Biophys 34:221–233

40.

Clarkson TW (1997) The toxicology of mercury. Crit Rev Clin Lab Sci 34:369–403

41.

Augusti PR, Conterato GMM, Somacal S, Sobieski R, Spohr PR, Torres JV, Chara MF, Moro AM, Rocha MP, Garcia SC, Emanuelli T (2008) Effect of astaxanthin on kidney function impairment and oxidative stress induced by mercuric chloride in rats. Food Chem Toxicol 46:212–219

42.

Ma Y, Shi Y, Li L, Xie C, Zou X (2018) Toxicological effects of mercury chloride on laying performance, egg quality, serum biochemistry, and histopathology of liver and kidney in laying hens. Biol Trace Elem Res 185:465–474

43.

Ince S, Küçükkurt İ, Demirel HH, Acaroz DA, Akbel E, Ciğerci H (2014) Protective effects of boron on cyclophosamide induced lipid peroxidation and genotoxicity in rats. Chemosphere 108:197–20443

44.

Cakir S, Eren M, Senturk M, Soyer Sarica Z (2018) The effect of boron on some biochemical parameters in experimental diabetic rats. Biol Trace Elem Res 184:165–172. https://doi.org/10.1007/s12011-017-1182-0
Additional information
Publisher's Note
Springer Nature remains neutral with regard to jurisdictional claims in published maps and institutional affiliations.
About this article
Cite this article
Temel, Y., Taysi, M.Ş. The Effect of Mercury Chloride and Boric Acid on Rat Erythrocyte Enzymes. Biol Trace Elem Res 191, 177–182 (2019). https://doi.org/10.1007/s12011-018-1601-x
Received:

Accepted:

Published:

Issue Date:
Keywords
Glucose 6-phosphate dehydrogenase

6-phosphogluconate dehydrogenase

Thioredoxin reductase

Glutathione reductase

Glutathione S-transferase

Mercury chloride

Boric acid