Abstract
Major depressive disorder (MDD) is a common mental disorder worldwide; however, little is known about its etiology. It is well known that levels of certain trace elements are associated with the pathogenesis of some diseases. Accordingly, this study aims to evaluate the effect of trace elements and vitamins in the etiology of MDD. In this case–control study, sixty men patients with MDD and sixty, age and gender matched, control subjects were examined. Serum levels of Cu, Zn, Ni, Cr, Mn, Mg, and Al were determined by atomic absorption spectrometry as well as serum levels of vitamins E and A were determined using high-performance liquid chromatography. The results revealed that there were significantly higher levels (p < 0.001) of Cu, Cr, and Al in patients sera compared with control. While there were significantly lower levels (p < 0.001) of Zn, Ni, Mn, Mg, vitamin E, and vitamin A in MDD patients as compared with control. In addition, high Cu/Zn ratio (p < 0.05) was observed with the depressive disorder patients. The present study highlights some main indications: a significant relationship between the disturbances of element levels and vitamins (E and A) with MDD. Cu and Zn seemed to have a crucial role in understanding the pathogenesis of depressive disorders, where Cu/Zn ratio could have an important role in the diagnosis and monitoring of MDD. Moreover, the results suggest that the reduction in the antioxidant vitamin E leads to increased risk of MDD. Finally, more studies on using trace element supplementation would be suggested to clarify their effect, in order to improve the therapy of MDD.
Access options
Buy single article
Instant access to the full article PDF.
USD 39.95
Price excludes VAT (USA)
Tax calculation will be finalised during checkout.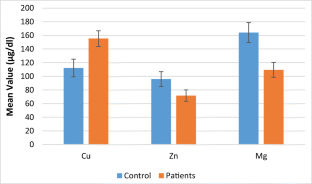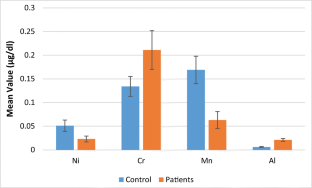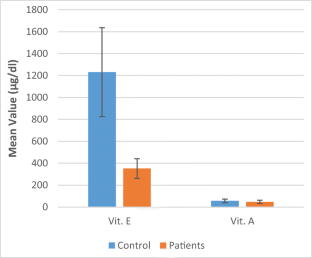 References
Owiredu W, Osei O, Amidu N, Appiah-Poku J, Osei Y (2012) Prevalence of metabolic syndrome among psychiatric patients in the Kumasi Metropolis, Ghana. J Med Biomed Sci 1(2):38–49

World Health Organisation, Mental disorders (2018) Archived from the original on 18 May 2015

Kesslerm RC (1997) The effects of stressful life events on depression. Annu Rev Psychol 48:191–214

Post RM (1992) Transduction of psychosocial stress into the neurobiology of recurrent affective disorder. Am J Psychiatry 149:999–1010

Salim S (2014) Oxidative stress and psychological disorders. Curr Neuropharmacol 12(2):40–147

Tsaluchidu S, Cocchi M, Tonello L, Puri BK (2008) Fatty acids and oxidative stress in psychiatric disorders. BMC Psychiatry 8(Suppl 1):S5

Sies H (1997) Oxidative stress: oxidants and antioxidants. Exp Physiol 82(2):291–295

Hamid AA, Aiyelaagbe OO, Usman LA, Ameen OM, Lawal A (2010) Antioxidants: its medicinal and pharmacological applications. Afr J Pure Appl Chem 4(8):142–151

D'Souza B, D'Souza V (2003) Oxidative injury and antioxidant vitamins E and C in schizophrenia. Indian J Clin Biochem 18(1):87–90

Raederstorff D, Wyss A, Calder PC, Weber P, Eggersdorfer M (2015) Vitamin E function and requirements in relation to PUFA. Br J Nutr 114(8):1113–1122

Al-Fartusie FS, Mohssan SN (2017) Essential trace elements and their vital roles in human body. Indian J Adv Chem Sci 5(3):127–136

Aldabagh MA, Kader SI, Ali NM (2011) Serum levels of copper, zinc, iron and magnesium in Iraqis patient with chronic hepatitis C. Karbala J Med 4(10):1146–1150

Scheiber IF, Mercer JF, Dringen R (2014) Metabolism and functions of copper in brain. Prog Neurobiol 116:33–57

Barrass BC, Coult DB (1972) Interaction of some centrally active drugs with caeruloplasmin. Biochem Pharmacol 21(5):677–685

Narang RL, Gupta KR, Narang AP, Singh R (1991) Levels of copper and zinc in depression. Indian J Physiol Pharmacol 35:272–274

Bao B, Prasad AS, Beck FW, Fitzgerald JT, Snell D, Bao GW, Singh T, Cardozo LJ (2010) Zinc decreases C-reactive protein, lipid peroxidation, and implication of zinc as an atheroprotective agent. Am J Clin Nutr 91:1634–1641

Prasad AS (2014) Zinc is an antioxidant and anti-inflammatory agent: its role in human health. Front Nutr 1:14

Michalska-Mosiej M, Socha K, Soroczyńska J, Karpińska E, Łazarczyk B, Borawska MH (2016) Selenium, zinc, copper, and total antioxidant status in the serum of patients with chronic tonsillitis. Biol Trace Elem Res 173:30–34

Al-Fartusie FS, Marzook AT, Morad TS (2012) Study of some trace elements and antioxidant vitamins in sera of Iraqi women with toxoplasmosis, Al Mustansiriya. J Science 23(3):199–206

Satoshi U, Masashi M, Noriyuki O, Hiroki I, Tatsuya H, Ryosuke T, Kaori I, Ryo I, Kiyonori Y, Kazuma D, Ippei T, Takashi U, Shigeatsu A, Kazuyoshi I, Shigeyuki N (2010) Association between concentration of trace elements in serum and bronchial asthma among Japanese general population. J Trace Elem Med Biol 24:236–242

Al-Fartusie FS, Hafudh A, Mustafa N, Al-Bermani H, Majid AY (2017) Levels of some trace elements in sera of patients with lung cancer and in smokers. Indian J Adv Chem Sci 5(4):344–352

Onyema-iloh BO, Meludu SC, Iloh E, Nnodim J, Onyegbule O, Myke MB (2014) Biochemical changes in some trace elements, antioxidants vitamins and their therapeutic importance in prostate cancer patients. Asian J Med Sci 6(1):95–97

Perkin-Elmer (1996) Analytical methods for atomic absorption spectroscopy. The PerkinElmer Inc, Waltham

Cetinkaya N, Ozcan H (1991) Investigation of seasonal variation in cow serum retinol and beta-carotene by high performance liquid chromatographic method. Comp Biochem Physiol 100(4):1003–1008

Manser WW, Khan MA, Hasan KZ (1989) Trace element studies on Karachi population. Part IV: blood copper, zinc, magnesium and lead levels in psychiatric patients with depression, mental retardation and seizure disorders. J Pak Med Assoc 39:269–274

Roger M (2011) The minerals you need. Safe Goods Publishing, USA, p 21

Farzin L, Esmail Moassesi E, Fattaneh Sajadi F, Faghih A (2013) Evaluation of trace elements in pancreatic cancer patients in Iran, Middle East. J Cancer 4(2):79–86

Islam MR, Islam MR, Shalahuddin Qusar MMA, Islam MS, Kabir MH, Mustafizur Rahman GKM, Islam MS, Hasnat A (2018) Alterations of serum macro-minerals and trace elements are associated with major depressive disorder: a case-control study. BMC Psychiatry 18:94

Styczeń K, Sowa-Kućma M, Siwek M, Dudek D, Reczyński W, Misztak P, Szewczyk B, Topór-Mądry R, Opoka W, Nowak G (2016) Study of the serum copper levels in patients with major depressive disorder. Biol Trace Elem Res 174(2):287–293

Błażewicz A, Liao K-Y, Liao H-H, Niziński P, Komsta Ł, Momčilović B, Jabłońska-Czapla M, Michalski R, Prystupa A, Sak J, Kocjan R (2017) Alterations of hair and nail content of selected trace elements in nonoccupationally exposed patients with chronic depression from different geographical regions. Biomed Res Int, Hindawi 3178784:1–10

Styczeń K, Sowa-Kućma M, Siwek M, Dudek D, Reczyński W, Szewczyk B, Misztak P, Topór-Mądry R, Opoka W, Nowak G (2017) The serum zinc concentration as a potential biological marker in patients with major depressive disorder. Metab Brain Dis 32(1):97–103

Grønli O, Kvamme JM, Friborg O, Wynn R (2013) Zinc deficiency is common in several psychiatric disorders. PLoS One 8(12):e82793

Wacewicz M, Sochab K, Soroczyńskab J, Niczyporuk M, Aleksiejczukd P, Ostrowskad J, Borawskab MH (2017) Concentration of selenium, zinc, copper, Cu/Zn ratio, total antioxidant status and c-reactive protein in the serum of patients with psoriasis treated by narrow-band ultraviolet B phototherapy: a case-control study. J Trace Elem Med Biol 44:109–114

Mezzetti A, Pierdomenico SD, Costantini F, Romano F, De Cesare D, Cuccurullo F, Imbastaro T, Riario-Sforza G, Di Giacomo F, Zuliani G, Fellin R (1998) Copper/zinc ratio and systemic oxidant load: effect of aging and aging-related degenerative diseases. Free Radic Biol Med 25:676–681

Bruhl HH, Foni J, Lee YH, Madow A (1987) Plasma concentrations of magnesium, lead, lithium, copper, and zinc in mentally retarded persons. Am J Ment Defic 92(1):103–111

Zieba A, Kata R, Dudek D, Schlegel-Zawadzka M, Nowak G (2000) Serum trace elements in animal models and human depression: part III. Magnesium, relationship with copper. Hum Psychopharmacol 15:631–635

Rajizadeh A, Mozaffari-Khosravi H, Yassini-Ardakani M, Dehghani A (2016) Serum magnesium status in patient's subjects with depression in the City of Yazd in Iran 2013–2014. Biol Trace Elem Res 171:275–282

Zheltova AA, Kharitonova MV, Iezhitsa IN, Spasov AA (2016) Magnesium deficiency and oxidative stress: an update. Biomedicine 6(4):20

Yao H, Guo L, Jiang BH, Luo J, Shi X (2008) Review oxidative stress and chromium (VI) carcinogenesis. J Environ Pathol Toxicol Oncol 27(2):77–88

Jerome R, Silvia P, Michael A (2013) Manganese homeostasis and transport. In Banci L (ed) Metallomics and the Cell. (Chapter 6) Metal Ions in Life Sciences, vol 12. Springer

Fukushima T, Tan X, Luo Y, Kanda H (2010) Relationship between blood levels of heavy metals and Parkinson's disease in China. Neuroepidemiology 34(1):18–24

Pfeiffer C, LaMola S (1999) Zinc and manganese in the schizophrenias. J Orthomol Med 14:1st Quarter

Mohssan SN (2018) Comparative study on some hormones, trace elements and antioxidants levels in schizophrenic. MSc Thesis, Mustansiriya University, Baghdad, Iraq

Milanese M, Lkhayat MI, Zatta P (2001) Inhibitory effect of aluminum on dopamine beta-hydroxylase from bovine adrenal gland. J Trace Elem Med Biol 15(2–3):139–141

Fatma M, Akmal M, Fadia Z, Abd El Hamid D (2013) Psychiatric evaluation of a group of workers in the aluminium industry. Egypt J Psychiatr 34(1):1–9

Moret C, Briley M (2011) The importance of norepinephrine in depression. Neuropsychiatr Dis Treat 7(Suppl 1):9–13

Maes M, Vos N, Pioli R, Demedts P, Wauters A, Neels H, Christophe A (2000) Lower serum vitamin E concentration in major depression. Another marker of lowered antioxidant defenses in that illness. J Affect Disord 58:241–146

Ghodake SR, Suryakar AN, Kulhalli PM, Padalkar RK, Shaikh AK (2012) A study of oxidative stress and influence of antioxidant vitamins supplementation in patients with major depression. Curr Neurobiol 3:107–111

Palta P, Samuel LJ, Miller ER, Szanton SL (2014) Depression and oxidative stress: results from a meta-analysis of observational studies. Psychosom Med 76(1):12–19

Ranjbar E, Kasaei MS, Mohammad-Shirazi M, Nasrollahzadeh J, Rashidkhani B, Shams J, Mostafavi S, Mohammadi MR (2013) Effects of zinc supplementation in patients with major depression: a randomized clinical trial. Iran J Psychiatry 8(2):73–79
Acknowledgments
The authors would like to thank Mustansiriyah University (www.uomustansiriyah.edu.iq), Baghdad, Iraq, for its support in the present work.
Ethics declarations
Conflict of Interest
The authors declare that they have no conflict of interest.
Ethical Approval
All procedures performed in studies involving human participants were in accordance with the ethical standards of the research committee of Mustansiriyah University and with the 1964 Helsinki declaration and its later amendments or comparable ethical standards.
Informed Consent
Informed consent was obtained from all individual participants included in the study.
About this article
Cite this article
Al-Fartusie, F.S., Al-Bairmani, H.K., Al-Garawi, Z.S. et al. Evaluation of Some Trace Elements and Vitamins in Major Depressive Disorder Patients: a Case–Control Study. Biol Trace Elem Res 189, 412–419 (2019). https://doi.org/10.1007/s12011-018-1507-7
Received:

Accepted:

Published:

Issue Date:

DOI: https://doi.org/10.1007/s12011-018-1507-7
Keywords