Abstract
Electronic cigarettes (ECs) are essentially nicotine delivery devices that mimic the appearance of a conventional cigarette (CC). Lately, they have been marketed as tools for quitting smoking. Even though they are promoted as safe alternatives to CC, they are not devoid of hazardous components. Literature reveals that the EC aerosols and e-liquids are a potential source of elements that induce and promote development of chronic conditions. These include trace metals which are leached from their core assembly. Some of these metals like nickel, chromium, cadmium, tin, aluminum, and lead are potential carcinogens. They have been associated with fatal conditions like lung and sinonasal cancer. Besides, they may have adverse effects on oral tissues like periodontal ligament and mucosa where they may trigger chronic periodontitis and oral cancer. However, there is only trivial evidence related to health hazards of metals released from ECs. With this background, the present review first focuses on the structure of the ECs followed by an appraisal of the data from experimental studies about the metals released in EC aerosols and their associated health hazards.
This is a preview of subscription content, log in to check access.
Access options
Buy single article
Instant access to the full article PDF.
US$ 39.95
Price includes VAT for USA
Subscribe to journal
Immediate online access to all issues from 2019. Subscription will auto renew annually.
US$ 954
This is the net price. Taxes to be calculated in checkout.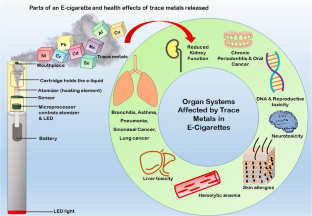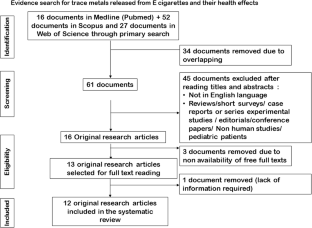 References
1.

Palazzolo DL (2013) Electronic cigarettes and vaping: a new challenge in clinical medicine and public health. A literature review. Front Public Health. https://doi.org/10.3389/fpubh.2013.00056

2.

Willershausen I, Wolf T, Weyer V, Sader R, Ghanaati S, Willershausen B (2014) Influence of E-smoking liquids on human periodontal ligament fibroblasts. Head Face Med. https://doi.org/10.1186/1746-160X-10-39

3.

Yamin CK, Bitton A, Bates DW (2010) E-cigarettes: a rapidly growing internet phenomenon. Ann Intern Med 153:607–609. https://doi.org/10.7326/0003-4819-153-9-201011020-00011

4.

Syamlal G, King BA, Mazurek JM (2017) Tobacco use among working adults—United States, 2014–2016. MMWR Morb Mortal Wkly Rep 66:1130–1135. https://doi.org/10.15585/mmwr.mm6642a2

5.

Goniewicz ML, Kuma T, Gawron M, Knysak J, Kosmider L (2013) Nicotine levels in electronic cigarettes. Nicotine Tob Res 15:158–166. https://doi.org/10.1093/ntr/nts103

6.

Orr MS (2014) Electronic cigarettes in the USA: a summary of available toxicology data and suggestions for the future. Tob Control 23:ii18–ii22. https://doi.org/10.1136/tobaccocontrol-2013-051474

7.

Mishra VK, Kim KH, Samaddar P, Kumar S, Aggarwal ML, Chacko KM (2017) Review on metallic components released due to the use of electronic cigarettes. Environ Eng Res 22:131–140. https://doi.org/10.4491/eer.2017.056

8.

Williams M, Bozhilov K, Ghai S, Talbot P (2017) Elements including metals in the atomizer and aerosol of disposable electronic cigarettes and electronic hookahs. PLoS One. https://doi.org/10.1371/journal.pone.0175430

9.

Williams M, Villarreal A, Bozhilov K, Lin S, Talbot P (2013) Metal and silicate particles including nanoparticles are present in electronic cigarette cartomizer fluid and aerosol. PLoS One 8:e57987. https://doi.org/10.1371/journal.pone.0057987

10.

Schober W, Szendrei K, Matzen W, Osiander-Fuchs H, Heitmann D, Schettgen T, Jörres RA, Fromme H (2014) Use of electronic cigarettes (e-cigarettes) impairs indoor air quality and increases FeNO levels of e-cigarette consumers. Int J Hyg Environ Health 217:628–637. https://doi.org/10.1016/j.ijheh.2013.11.003

11.

Goniewicz ML, Hajek P, McRobbie H (2014) Nicotine content of electronic cigarettes, its release in vapour and its consistency across batches: regulatory implications. Addiction 109:500–507. https://doi.org/10.1111/add.12410

12.

Bernhard D, Rossmann A, Wick G (2005) Metals in cigarette smoke. IUBMB Life 57:805–809

13.

Cooper M, Harrell MB, Perry CL (2016) Comparing young adults to older adults in e-cigarette perceptions and motivations for use: implications for health communication. Health Educ Res 31:429–438. https://doi.org/10.1093/her/cyw030.

14.

Brown CJ, Cheng JM (2014) Electronic cigarettes: product characterization and design considerations. Tob Control 23:ii4–ii10. https://doi.org/10.1136/tobaccocontrol-2013-051476

15.

Farsalinos KE, Polosa R (2014) Safety evaluation and risk assessment of electronic cigarettes as tobacco cigarette substitutes: a systematic review. Ther Adv Drug Saf 5:67–86. https://doi.org/10.1177/2042098614524430

16.

Flouris AD, Oikonomou DN (2010) Electronic cigarettes: miracle or menace? BMJ 340:c311. https://doi.org/10.1136/bmj.c311

17.

Laugesen M (2008) Safety report on the Ruyan e-cigarette cartridge and inhaled aerosol. Health New Zealand, Christchurch http://www.healthnz.co.nz/RuyanCartridgeReport30-Oct-08.pdf. Accessed 4 June 2018

18.

Bhatnagar A, Whitsel LP, Ribisl KM, Bullen C, Chaloupka F, Piano MR, Robertson RM, McAuley T, Goff D, Benowitz N (2014) Electronic cigarettes: a policy statement from the American Heart Association. Circulation 130:1418–1436. https://doi.org/10.1161/CIR.0000000000000107

19.

Dunbar ZR, Das A, O'Connor RJ, Goniewicz MJ, Wei B, Travers MJ (2018) Brief report: lead levels in selected electronic cigarettes from Canada and the United States. Int J Environ Res Public Health. https://doi.org/10.3390/ijerph15010154

20.

Boonyapookana B, Parkpian P, Techapinyawat S, DeLaune RD, Jugsujinda A (2005) Phytoaccumulation of lead by sunflower (Helianthus annuus), tobacco (Nicotiana tabacum), and vetiver (Vetiveria zizanioides). J Environ Sci Health A Tox Hazard Subst Environ Eng 40:117–137

21.

Palazzolo DL, Crow AP, Nelson JM, Johnson RA (2016) Trace metals derived from electronic cigarette (ECIG) generated aerosol: potential problem of ECIG devices that contain nickel. Front Physiol. https://doi.org/10.3389/fphys.2016.00663

22.

Goniewicz ML, Knysak J, Gawron M, Kosmider L, Sobczak A, Kurek J, Prokopowicz A, Jablonska-Czapla M, Rosik-Dulewska C, Havel C, Jacob P 3rd, Benowitz N (2014) Levels of selected carcinogens and toxicants in vapour from electronic cigarettes. Tob Control 23:133–139. https://doi.org/10.1136/tobaccocontrol-2012-050859

23.

Williams M, To A, Bozhilov K, Talbot P (2015) Strategies to reduce tin and other metals in electronic cigarette aerosol. PLoS One 10:e0138933. https://doi.org/10.1371/journal.pone.0138933

24.

Lerner CA, Sundar IK, Watson RM, Elder A, Jones R, Done D, Kurtzman R, Ossip DJ, Robinson R, McIntosh S, Rahman R (2015) Environmental health hazards of e-cigarettes and their components: oxidants and copper in e-cigarette aerosols. Environ Pollut 198:100–107. https://doi.org/10.1016/j.envpol.2014.12.033

25.

Mikheev VB, Brinkman MC, Granville CA, Gordon SM, Clark PI (2016) Real-time measurement of electronic cigarette aerosol size distribution and metals content analysis. Nicotine Tob Res 18:1895–1902. https://doi.org/10.1093/ntr/ntw128

26.

Beauval N, Antherieu S, Soyez M, Gengler N, Grova N, Howsam M, Hardy EM, Fischer M, Appenzeller BMR, Goossens JF, Allorge D, Garçon G, Lo-Guidice JM, Garat A (2017) Chemical evaluation of electronic cigarettes: multicomponent analysis of liquid refills and their corresponding aerosols. J Anal Toxicol 41:670–678. https://doi.org/10.1093/jat/bkx054

27.

Hess CA, Olmedo P, Navas-Acien A, Goessler W, Cohen JE, Rule AM (2017) E-cigarettes as a source of toxic and potentially carcinogenic metals. Environ Res 152:221–225. https://doi.org/10.1016/j.envres.2016.09.026

28.

Olmedo P, Goessler W, Tanda S, Grau-Perez M, Jarmul S, Aherrera A, Chen R, Hilpert M, Cohen JE, Navas-Acien A, Rule AM (2018) Metal concentrations in e-cigarette liquid and aerosol samples: the contribution of metallic coils. Environ Health Perspect. https://doi.org/10.1289/EHP2175

29.

Ashraf MW (2012) Levels of heavy metals in popular cigarette brands and exposure to these metals via smoking. Sci World J 2012:1–5. https://doi.org/10.1100/2012/729430

30.

Watanabe T, Kasahara M, Nakatsuka H, Ikeda M (1987) Cadmium and lead contents of cigarettes produced in various areas of the world. Sci Total Environ 66:29–37

31.

Mussalo-Rauhamaa H, Leppänen A, Salmela SS, Pyysalo H (1986) Cigarettes as a source of some trace and heavy metals and pesticides in man. Arch Environ Health 41:49–55

32.

Caruso RV, O'Connor RJ, Stephens WE, Cummings KM, Fong GT (2014) Toxic metal concentrations in cigarettes obtained from U.S. smokers in 2009: results from the International Tobacco Control (ITC) United States Survey cohort. Int J Environ Res Public Health 11:202–217. https://doi.org/10.3390/ijerph110100202.

33.

Cho JH, Paik SY (2016) Association between electronic cigarette use and asthma among high school students in South Korea. PLoS One 11:e0151022. https://doi.org/10.1371/journal.pone.0151022

34.

Clair C, Bitton A, Meigs JB, Rigotti NA (2011) Relationships of cotinine and self-reported cigarette smoking with hemoglobin A1c in the U.S. results from the National Health and Nutrition Examination Survey, 1999–2008. Diabetes Care 34:2250–2255. https://doi.org/10.2337/dc11-0710

35.

Kaisar MA, Villalba H, Prasad S, Liles T, Sifat AE, Sajja RK, Abbruscato TJ, Cucullo L (2017) Offsetting the impact of smoking and e-cigarette vaping on the cerebrovascular system and stroke injury: is metformin a viable countermeasure? Redox Biol 13:353–362. https://doi.org/10.1016/j.redox.2017.06.006

36.

Qasim H, Karim ZA, Rivera JO, Khasawneh FT, Alshbool FZ (2017) Impact of electronic cigarettes on the cardiovascular system. J Am Heart Assoc 6:e006353. https://doi.org/10.1161/JAHA.117.006353

37.

Golli NE, Jrad-Lamine A, Neffati H, Dkhili H, Rahali D, Dallagi Y, El May MV, El Fazaa S (2016) Impact of e-cigarette refill liquid exposure on rat kidney. Regul Toxicol Pharmacol 77:109–116. https://doi.org/10.1016/j.yrtph.2016.02.012

38.

Suter MA, Mastrobattista J, Sachs M, Aagaard K (2015) Is there evidence for potential harm of electronic cigarette use in pregnancy? Birth Defects Res A Clin Mol Teratol 103:186–195. https://doi.org/10.1002/bdra.23333

39.

Xie X, Liu Q, Wu J, Wakui M (2009) Impact of cigarette smoking in type 2 diabetes development. Acta Pharmacol Sin 30:784–787. https://doi.org/10.1038/aps.2009.49

40.

Antoniewicz L, Bosson JA, Kuhl J, Abdel-Halim SM, Kiessling A, Mobarrez F, Lundbäck M (2016) Electronic cigarettes increase endothelial progenitor cells in the blood of healthy volunteers. Atherosclerosis 255:179–185. https://doi.org/10.1016/j.atherosclerosis.2016.09.064

41.

Callahan-Lyon P (2014) Electronic cigarettes: human health effects. Tob Control 23:ii36–ii40. https://doi.org/10.1136/tobaccocontrol-2013-051470

42.

Etter JF, Bullen C, Flouris AD, Laugesen M, Eissenberg T (2011) Electronic nicotine delivery systems: a research agenda. Tob Control 20:243–248. https://doi.org/10.1136/tc.2010.042168

43.

Kienhuis AS, Soeteman-Hernandez LG, Bos PM, Cremers HW, Klerx WN, Talhout R (2015) Potential harmful health effects of inhaling nicotine-free shisha-pen vapor: a chemical risk assessment of the main components propylene glycol and glycerol. Tob Induc Dis 13:15. https://doi.org/10.1186/s12971-015-0038-7

44.

Das KK, Das SN, Dhundasi SA (2008) Nickel, its adverse health effects & oxidative stress. Indian J Med Res 128:412–425

45.

Enterline PE, Marsh GM (1982) Mortality among workers in a nickel refinery and alloy plant in West Virginia. J Natl Cancer Inst 68:925–933

46.

Binazzi A, Ferrante P, Marinaccio A (2015) A systematic review and meta-analysis. BMC Cancer 15:49. https://doi.org/10.1186/s12885-015-1042-2

47.

Andersen A, Berge SR, Engeland A, Norseth T (1996) Exposure to nickel compounds and smoking in relation to incidence of lung and nasal cancer among nickel refinery workers. Occup Environ Med 53:708–713. https://doi.org/10.1136/oem.53.10.708

48.

Järup L, Bellander T, Hogstedt C, Spång G (1998) Mortality and cancer incidence in Swedish battery workers exposed to cadmium and nickel. Occup Environ Med 55:755–759. https://doi.org/10.1136/oem.55.11.755

49.

Anttila A, Pukkala E, Aitio A, Rantanen T, Karjalainen S (1998) Update of cancer incidence among workers at a copper/nickel smelter and nickel refinery. Int Arch Occup Environ Health 71:245–250. https://doi.org/10.1007/s004200050276

50.

Grimsrud TK, Peto J (2006) Persisting risk of nickel related lung cancer and nasal cancer among. Occup Environ Med 63:365–366. https://doi.org/10.1136/oem.2005.026336.

51.

National Toxicology Programme (1996) NTP toxicology and carcinogenesis studies of nickel oxide (CAS no. 1313-99-1) in F344 rats and B6C3F1 mice (inhalation studies). Natl Toxicol Program Tech Rep Ser 451:1–381

52.

Gupta AD, Patil AM, Ambekar JG, Das SN, Dhundasi SA, Das KK (2006) L-ascorbic acid protects the antioxidant defense system in nickel-exposed albino rat lung tissues. J Basic Clin Physiol Pharmacol 17:87–100

53.

Shen HM, Zhang QF (1994) Risk assessment of nickel carcinogenicity and occupational lung cancer. Environ Health Perspect 102(Suppl 1):275–282

54.

Smialowicz RJ, Rogers RR, Riddle MM, Garner RJ, Rowe DG, Luebke RW (1985) Immunologic effects of nickel: II. Suppression of natural killer cell activity. Environ Res 36:56–66

55.

Das KK, Buchner V (2007) Effect of nickel exposure on peripheral tissues: role of oxidative stress in toxicity and possible protection by ascorbic acid. Rev Environ Health 22:133–149

56.

Bencko V, Wagner V, Wagnerová M, Reichrtová E (1983) Immuno-biochemical findings in groups of individuals occupationally and non-occupationally exposed to emissions containing nickel and cobalt. J Hyg Epidemiol Microbiol Immunol 27:387–394

57.

Smith CJ, Livingston SD, Doolittle DJ (1997) An international literature survey of "IARC Group I carcinogens" reported in mainstream cigarette smoke. Food Chem Toxicol 35(10–11):1107–1130

58.

Pääkkö P, Kokkonen P, Anttila S, Kalliomäki PL (1989) Cadmium and chromium as markers of smoking in human lung tissue. Environ Res 49:197–207

59.

Tsuchiyama F, Hisanaga N, Shibata E, Aoki T, Takagi H, Ando T, Takeuchi Y (1997) Pulmonary metal distribution in urban dwellers. Int Arch Occup Environ Health 70:77–84

60.

Apostolou A, Garcia-Esquinas E, Fadrowski JJ, McLain P, Weaver VM, Navas-Acien A (2012) Second hand tobacco smoke: a source of lead exposure in US children and adolescents. Am J Public Health 102:714–722. https://doi.org/10.2105/AJPH.2011.300161

61.

Fadrowski JJ, Navas-Acien A, Tellez-Plaza M, Guallar E, Weaver VM, Furth SL (2010) Blood lead level and kidney function in US adolescents: the third National Health and Nutrition Examination Survey. Arch Intern Med 170:75–82. https://doi.org/10.1001/archinternmed.2009.417

62.

Mannino DM, Albalak R, Grosse S, Repace J (2003) Second-hand smoke exposure and blood lead levels in U.S. children. Epidemiology 14:719–727

63.

Kalcher K, Kern W, Pietsch R (1993) Cadmium and lead in the smoke of a filter cigarette. Sci Total Environ 128:21–35

64.

Abadin H, Ashizawa A, Stevens YW, Llados F, Diamond G, Sage G, Citra M, Quinones A, Bosch SJ, Swarts SG (2007) Toxicological profile for lead. Agency for Toxic Substances and Disease Registry (US), Atlanta (GA) www.ncbi.nlm.nih.gov/books/NBK158766/. Accessed 20 March 2018

65.

Silbergeld EK (1992) Mechanisms of lead neurotoxicity, or looking beyond the lamppost. FASEB J 6:3201–3206

66.

Mason LH, Harp JP, Han DY (2014) Pb neurotoxicity: neuropsychological effects of lead toxicity. Biomed Res Int 2014:1–8. https://doi.org/10.1155/2014/840547

67.

Ehle AL (1986) Lead neuropathy and electrophysiological studies in low level lead exposure: a critical review. Neurotoxicology 7:203–216

68.

Guilarte TR, Miceli RC, Altmann L, Weinsberg F, Winneke G, Wiegand H (1993) Chronic prenatal and postnatal Pb2+ exposure increases [3H] MK801 binding sites in adult rat forebrain. Eur J Pharmacol 248:273–275

69.

Markovac J, Goldstein GW (1988) Lead activates protein kinase C in immature rat brain microvessels. Toxicol Appl Pharmacol 96:14–23

70.

Brookes PS, Yoon Y, Robotham JL, Anders MW, Sheu SS (2004) Calcium, ATP, and ROS: a mitochondrial love-hate triangle. Am J Physiol Cell Physiol 287:C817–C833. https://doi.org/10.1152/ajpcell.00139.2004

71.

Exley C, Begum A, Woolley MP, Bloor RN (2006) Aluminum in tobacco and cannabis and smoking-related disease. Am J Med 119:276.e9–276.11. https://doi.org/10.1016/j.amjmed.2005.08.004

72.

Jelovcan S, Gutschi A, Kleinhappl B, Sedlmayr P, Barth S, Marth E (2003) Effects of low concentrations of cadmium on immunoglobulin E production by human B lymphocytes in vitro. Toxicology 188:35–48

73.

Güllü E, Karnak D, Kayacan O, Beder S (2005) A tinner with stannosis and tuberculosis (2005). Case Rep Clin Pract Rev 6:73–76

74.

Chmielnicka J, Zareba G, Polkowska-Kulesza E, Najder M, Korycka A (1993) Comparison of tin and lead toxic action on erythropoietic system in blood and bone marrow of rabbits. Biol Trace Elem Res 36:73–87

75.

ATSDR Toxicological profile for copper (2004). http://www.atsdr.cdc.gov/ToxProfiles/tp132-c3.pdf. Accessed 20 March 2018

76.

Pappas RS (2011) Toxic elements in tobacco and in cigarette smoke: inflammation and sensitization. Metallomics 3:1181–1198. https://doi.org/10.1039/c1mt00066g

77.

Rice TM, Clarke RW, Godleski JJ, Al-Mutairi E, Jiang N-F, Hauser R, Paulauskis JD (2001) Differential ability of transition metals to induce pulmonary inflammation. Toxicol Appl Pharmacol 177:46–53

78.

Massadeh A, Gharibeh A, Omari K, Al-Momani I, Alomary A, Tumah H, Hayajneh W (2010) Simultaneous determination of Cd, Pb, Cu, Zn, and Se in human blood of Jordanian smokers by ICP-OES. Biol Trace Elem Res 133:1–11. https://doi.org/10.1007/s12011-009-8405-y.

79.

Morsy MA, Khaled MM (2001) Direct electron paramagnetic resonance study of tobacco. 1. Manganese (II) as a marker. J Agric Food Chem 49:683–686

80.

Kim JG, Dixon JB, Chusuei CC, Deng Y (2002) Oxidation of chromium (III) to (VI) by manganese oxides. Soil Sci Soc Am J 66:306–315

81.

Sundar IK, Javed F, Romanos GE, Rahman I (2016) E-cigarettes and flavorings induce inflammatory and pro-senescence responses in oral epithelial cells and periodontal fibroblasts. Oncotarget 7:77196–77204. https://doi.org/10.18632/oncotarget.12857

82.

Rouabhia M, Park HJ, Semlali A, Zakrzewski A, Chmielewski W, Chakir J (2017) E-cigarette vapor induces an apoptotic response in human gingival epithelial cells through the caspase-3 pathway. J Cell Physiol 232:1539–1547. https://doi.org/10.1002/jcp.25677

83.

Arora M, Weuve J, Schwartz J, Wright RO (2009) Association of environmental cadmium exposure with periodontal disease in U.S. adults. Environ Health Perspect 117:739–744. https://doi.org/10.1289/ehp.0800312

84.

Wallin M, Barregard L, Sallsten G, Lundh T, Karlsson MK, Lorentzon M, Ohlsson C, Mellström D (2016) Low-level cadmium exposure is associated with decreased bone mineral density and increased risk of incident fractures in elderly men: the MrOS Sweden study. J Bone Miner Res 31:732–741. https://doi.org/10.1002/jbmr.2743

85.

Brzóska MM, Moniuszko-Jakoniuk J (2004) Low-level lifetime exposure to cadmium decreases skeletal mineralization and enhances bone loss in aged rats. Bone 35:1180–1191

86.

Yaprak E, Yolcubal I, Sinanoğlu A, Doğrul-Demiray A, Guzeldemir-Akcakanat E, Marakoğlu I (2017) High levels of heavy metal accumulation in dental calculus of smokers: a pilot inductively coupled plasma mass spectrometry study. J Periodontal Res 52:83–88. https://doi.org/10.1111/jre.12371

87.

Alomary A, Al-Momani IF, Massadeh AM (2006) Lead and cadmium in human teeth from Jordan atomic absorption spectrometry: some factors influencing their concentrations. Sci Total Environ 369:69–75

88.

Khlifi R, Olmedo P, Gil F, Hammami B, Chakroun A, Rebai A, Hamza-Chaffai A (2013) Arsenic, cadmium, chromium and nickel in cancerous and healthy tissues from patients with head and neck cancer. Sci Total Environ 452-453:58–67. https://doi.org/10.1016/j.scitotenv.2013.02.050

89.

Won YS, Kim JH, Kim YS, Bae KH (2013) Association of internal exposure of cadmium and lead with periodontal disease: a study of the fourth Korean National Health and Nutrition Examination Survey. J Clin Periodontol 40:118–124. https://doi.org/10.1111/jcpe.12033

90.

Saraiva MCP, Taichman RS, Braun T, Nriagu J, Eklund SA, Burt BA (2007) Lead exposure and periodontitis in US adults. J Periodont Res 42:45–52

91.

Su CC, Lin YY, Chang TK, Chiang CT, Chung JA, Hsu YY, Lian IB (2010) Incidence of oral cancer in relation to nickel and arsenic concentrations in farm soils of patients' residential areas in Taiwan. BMC Public Health 10. https://doi.org/10.1186/1471-2458-10-67

92.

Smith TJ (1992) Occupational exposure and dose over time: limitations of cumulative exposure. Am J Ind Med 21:35–51

93.

Cheah NP, Chong NW, Tan J, Morsed FA, Yee SK (2014) Electronic nicotine delivery systems: regulatory and safety challenges: Singapore perspective. Tob Control 23:119–125. https://doi.org/10.1136/tobaccocontrol-2012-050483

94.

Pepper JK, Ribisl KM, Brewer NT (2016) Adolescents' interest in trying flavored e-cigarettes. Tob Control 25(Suppl 2):ii62–ii66. https://doi.org/10.1136/tobaccocontrol-2016-053174.
Ethics declarations
Conflict of Interest
The authors declare that they have no conflict of interest.
About this article
Cite this article
Gaur, S., Agnihotri, R. Health Effects of Trace Metals in Electronic Cigarette Aerosols—a Systematic Review. Biol Trace Elem Res 188, 295–315 (2019). https://doi.org/10.1007/s12011-018-1423-x
Received:

Accepted:

Published:

Issue Date:
Keywords
Chromium

Cadmium

Electronic cigarettes

Health

Lead

Nickel

Trace metals

Vaping