Abstract
Augmentation of mitochondrial oxidative stress through activating a series of deadly events has implicated as the main culprit of arsenic toxicity and therapeutic approaches based on improving mitochondrial function hold a great promise for attenuating the arsenic-induced toxicity. Acetyl-l-carnitine (ALC) through balancing the coenzyme A (CoA)/acyl-CoA ratio plays an important role in mitochondrial metabolism and thereby can help protect hippocampal neurons from oxidative damage. In the present study, we aimed to explore the effect of arsenic interactions on the mitochondrial function in the hippocampus of rats. Rats were randomly divided into five groups of control (distilled water), sodium arsenite (NaAsO2, 20 mg/kg), and co-treatment of NaAsO2 with various doses of ALC in three groups (100, 200, 300 mg/kg) and were treated orally for 21 consecutive days. Our results point out that arsenic exposure caused oxidative stress in rats' hippocampus, which led to the reactive oxygen species (ROS) generation, mitochondrial swelling, the collapse of the mitochondrial membrane potential, and release of cytochrome c. It also altered Bcl-2/Bax expression ratio and increased caspase-3 and caspase-9 activities. Furthermore, arsenic exposure via activation of NF-κB and microglia increased inflammation. ALC could concentration-dependently counteract the arsenic-induced oxidative stress, modulate the antioxidant defense capacity, and improve mitochondrial functions. In addition, ALC decreased the expression of both death-associated proteins and of inflammatory markers. These findings indicate that ALC improved the arsenic-induced hippocampal mitochondrial dysfunction which underlines the importance of ALC in providing a possible therapeutic strategy for the prevention of arsenic-induced neurodegeneration.
This is a preview of subscription content, log in to check access.
Access options
Buy single article
Instant access to the full article PDF.
US$ 39.95
Price includes VAT for USA
Subscribe to journal
Immediate online access to all issues from 2019. Subscription will auto renew annually.
US$ 954
This is the net price. Taxes to be calculated in checkout.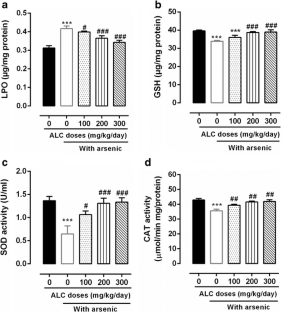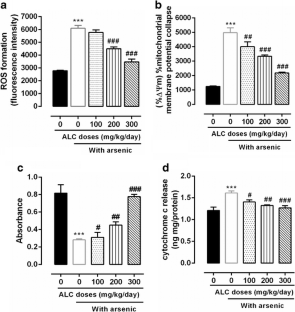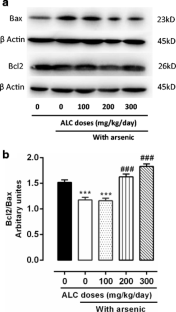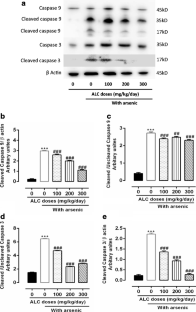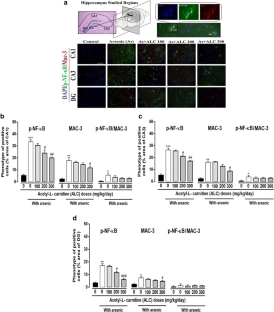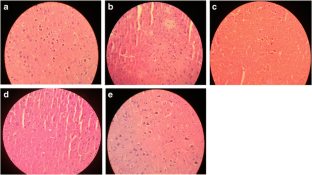 References
1.

Abdul HM, Butterfield DA (2007) Involvement of PI3K/PKG/ERK1/2 signaling pathways in cortical neurons to trigger protection by cotreatment of acetyl-L-carnitine and α-lipoic acid against HNE-mediated oxidative stress and neurotoxicity: implications for Alzheimer's disease. Free Radic Biol Med 42(3):371–384. https://doi.org/10.1016/j.freeradbiomed.2006.11.006

2.

Bielefeld EC, Coling D, Chen G-D, Henderson D (2008) Multiple dosing strategies with acetyl L-carnitine (ALCAR) fail to alter age-related hearing loss in the Fischer 344/NHsd rat. J Negat Results in Biomed 7(1):4. https://doi.org/10.1186/1477-5751-7-4

3.

Bradford MM (1976) A rapid and sensitive method for the quantitation of microgram quantities of protein utilizing the principle of protein-dye binding. Anal Biochem 72(1-2):248–254. https://doi.org/10.1016/0003-2697(76)90527-3

4.

Buege JA, Aust SD (1978) [30] Microsomal lipid peroxidation. Methods Enzymol 52:302–310. https://doi.org/10.1016/S0076-6879(78)52032-6

5.

Burnette WN (1981) "Western blotting": electrophoretic transfer of proteins from sodium dodecyl sulfate-polyacrylamide gels to unmodified nitrocellulose and radiographic detection with antibody and radioiodinated protein A. Anal Biochem 112(2):195–203. https://doi.org/10.1016/0003-2697(81)90281-5

6.

Carta A, Calvani M, Bravi D, Bhuachalla S (1993) Acetyl-l-carnitine and Alzheimer's disease: pharmacological considerations beyond the cholinergic sphere. Ann N Y Acad Sci 695(1):324–326. https://doi.org/10.1111/j.1749-6632.1993.tb23077.x

7.

Chen X, Zhong Z, Xu Z, Chen L, Wang Y (2010) 2′,7′-Dichlorodihydrofluorescein as a fluorescent probe for reactive oxygen species measurement: forty years of application and controversy. Free Radic Res 44(6):587–604. https://doi.org/10.3109/10715761003709802

8.

Choong TS, Chuah T, Robiah Y, Koay FG, Azni I (2007) Arsenic toxicity, health hazards and removal techniques from water: an overview. Desalination 217(1-3):139–166. https://doi.org/10.1016/j.desal.2007.01.015

9.

Di Cesare Mannelli L, Ghelardini C, Calvani M, Nicolai R, Mosconi L, Vivoli E, Pacini A, Bartolini A (2007) Protective effect of acetyl-l-carnitine on the apoptotic pathway of peripheral neuropathy. Eur J Neurosci 26(4):820–827. https://doi.org/10.1111/j.1460-9568.2007.05722.x

10.

Flora SJ (2011) Arsenic-induced oxidative stress and its reversibility. Free Radic Biol Med 51(2):257–281. https://doi.org/10.1016/j.freeradbiomed.2011.04.008

11.

Flora SJ, Pachauri V (2010) Chelation in metal intoxication. Int J Environ Res Public Health 7(12):2745–2788. https://doi.org/10.3390/ijerph7072745

12.

Fry RC, Navasumrit P, Valiathan C, Svensson JP, Hogan BJ, Luo M, Bhattacharya S, Kandjanapa K, Soontararuks S, Nookabkaew S, Mahidol C, Ruchirawat M, Samson LD (2007) Activation of inflammation/NF-κB signaling in infants born to arsenic-exposed mothers. PLoS Genet 3(11):e207. https://doi.org/10.1371/journal.pgen.0030207

13.

Galluzzi L, Zamzami N, Rouge TDLM, Lemaire C, Brenner C, Kroemer G (2007) Methods for the assessment of mitochondrial membrane permeabilization in apoptosis. Apoptosis 12(5):803–813. https://doi.org/10.1007/s10495-007-0720-1

14.

Hosseini M-J, Shaki F, Ghazi-Khansari M, Pourahmad J (2013a) Toxicity of arsenic (III) on isolated liver mitochondria: a new mechanistic approach. Iran J Pharm Res: IJPR 12(Suppl):121–138

15.

Hosseini M-J, Shaki FS, Ghazi-Khansari M, Pourahmad J (2013b) Toxicity of arsenic (III) on isolated liver mitochondria: a new mechanistic approach. Iran J Pharm Res 12(Suppl):121–138

16.

Kadirvel R, Sundaram K, Mani S, Samuel S, Elango N, Panneerselvam C (2007) Supplementation of ascorbic acid and α-tocopherol prevents arsenic-induced protein oxidation and DNA damage induced by arsenic in rats. Human Exp Toxicol 26(12):939–946. https://doi.org/10.1177/0960327107087909

17.

Khairul I, Wang QQ, Jiang YH, Wang C, Naranmandura H (2017) Metabolism, toxicity and anticancer activities of arsenic compounds. Oncotarget 8(14):23905–23926. 10.18632/oncotarget.14733

18.

Kosnett MJ (2013) The role of chelation in the treatment of arsenic and mercury poisoning. In: J Med Toxicol, vol 4. Springer, p 347–354

19.

Luo J-H, Qiu Z-Q, Shu W-Q, Zhang Y-Y, Zhang L, Chen J-A (2009) Effects of arsenic exposure from drinking water on spatial memory, ultra-structures and NMDAR gene expression of hippocampus in rats. Toxicol Lett 184(2):121–125. https://doi.org/10.1016/j.toxlet.2008.10.029

20.

Malaguarnera M, Gargante MP, Russo C, Antic T, Vacante M, Malaguarnera M, Avitabile T, Li Volti G, Galvano F (2010) L-carnitine supplementation to diet: a new tool in treatment of nonalcoholic steatohepatitis—a randomized and controlled clinical trial. Am J Gastroenterol 105(6):1338–1345. https://doi.org/10.1038/ajg.2009.719

21.

Meharg AA, Rahman MM (2003) Arsenic contamination of Bangladesh paddy field soils: implications for rice contribution to arsenic consumption. Environ Sci Technol 37(2):229–234. https://doi.org/10.1021/es0259842

22.

Mishra D, Mehta A, Flora SJ (2007) Reversal of arsenic-induced hepatic apoptosis with combined administration of DMSA and its analogues in guinea pigs: role of glutathione and linked enzymes. Chem Res Toxicol 21(2):400–407. https://doi.org/10.1021/tx700315a

23.

Muthumani M, Miltonprabu S (2015) Ameliorative efficacy of tetrahydrocurcumin against arsenic induced oxidative damage, dyslipidemia and hepatic mitochondrial toxicity in rats. Chem Biol Interact 235:95–105. https://doi.org/10.1016/j.cbi.2015.04.006

24.

Neves RNPD, Carvalho F, Carvalho M, Fernandes E, Soares E, Bastos MDL, Pereira MDL (2004) Protective activity of hesperidin and lipoic acid against sodium arsenite acute toxicity in mice. Toxicol Pathol 32(5):527–535. https://doi.org/10.1080/01926230490502566

25.

OECD (1994) OECD guidelines for the testing of chemicals. Organization for Economic

26.

Perry VH, Teeling J (2013) Microglia and macrophages of the central nervous system: the contribution of microglia priming and systemic inflammation to chronic neurodegeneration. In: Seminars in immunopathology, vol 5. Springer, p 601–612

27.

Petruzzella V, Baggetto LG, Penin F, Cafagna F, Ruggiero FM, Cantatore P, Gadaleta MN (1992) In vivo effect of acetyl-L-carnitine on succinate oxidation, adenine nucleotide pool and lipid composition of synaptic and non-synaptic mitochondria from cerebral hemispheres of senescent rats. Arch Gerontol Geriatr 14(2):131–144. https://doi.org/10.1016/0167-4943(92)90048-9

28.

Prakash C, Soni M, Kumar V (2016) Mitochondrial oxidative stress and dysfunction in arsenic neurotoxicity: a review. J Appl Toxicol 36(2):179–188. https://doi.org/10.1002/jat.3256

29.

Ramroodi N, Khani M, Ganjali Z, Javan MR, Sanadgol N, Khalseh R, Ravan H, Sanadgol E, Abdollahi M (2015) Prophylactic effect of BIO-1211 small-molecule antagonist of VLA-4 in the EAE mouse model of multiple sclerosis. Immunol Investig 44(7):694–712. https://doi.org/10.3109/08820139.2015.1085391

30.

Reddy PH, Beal MF (2005) Are mitochondria critical in the pathogenesis of Alzheimer's disease? Brain Res Rev 49(3):618–632. https://doi.org/10.1016/j.brainresrev.2005.03.004

31.

Romano M, Vacante M, Cristaldi E, Colonna V, Gargante MP, Cammalleri L, Malaguarnera M (2008) L-Carnitine treatment reduces steatosis in patients with chronic hepatitis C treated with α-interferon and ribavirin. Dig Dis Sci 53(4):1114–1121. https://doi.org/10.1007/s10620-007-9983-1

32.

Sanadgol N, Golab F, Mostafaie A, Mehdizadeh M, Abdollahi M, Sharifzadeh M, Ravan H (2016) Ellagic acid ameliorates cuprizone-induced acute CNS inflammation via restriction of microgliosis and down-regulation of CCL2 and CCL3 pro-inflammatory chemokines. Cell Mol Biol (Noisy-le-Grand, France) 62:24

33.

Santra A, Chowdhury A, Ghatak S, Biswas A, Dhali GK (2007) Arsenic induces apoptosis in mouse liver is mitochondria dependent and is abrogated by N-acetylcysteine. Toxicol Appl Pharmacol 220(2):146–155. https://doi.org/10.1016/j.taap.2006.12.029

34.

Sanz E, Munoz-Olivas R, Camara C, Sengupta MK, Ahamed S (2007) Arsenic speciation in rice, straw, soil, hair and nails samples from the arsenic-affected areas of Middle and Lower Ganga plain. J Environ Sci Health Part A 42(12):1695–1705. https://doi.org/10.1080/10934520701564178

35.

Sarvandi SS, Joghataei MT, Parivar K, Khosravi M, Sarveazad A, Sanadgol N (2015) In vitro differentiation of rat mesenchymal stem cells to hepatocyte lineage. Iran J Basic Med Sci 18(1):89–97

36.

Schnaitman C, Greenawalt JW (1968) Enzymatic properties of the inner and outer membranes of rat liver mitochondria. J Cell Biol 38(1):158–175. https://doi.org/10.1083/jcb.38.1.158

37.

Sepand MR, Razavi-Azarkhiavi K, Omidi A, Zirak MR, Sabzevari S, Kazemi AR, Sabzevari O (2016) Effect of acetyl-L-carnitine on antioxidant status, lipid peroxidation, and oxidative damage of arsenic in rat. Biol Trace Elem Res 171(1):107–115. https://doi.org/10.1007/s12011-015-0436-y

38.

Shadboorestan A, Shokrzadeh M, Ahangar N, Abdollahi M, Omidi M, Payam SSH (2015) The chemoprotective effects of L-carnitine against genotoxicity induced by diazinon in rat blood lymphocyte. Toxicol Ind Health 31(12):1334–1340. https://doi.org/10.1177/0748233713491811

39.

Shih R-H, Wang C-Y, Yang C-M (2015) NF-kappaB signaling pathways in neurological inflammation: a mini review. Front Mol Neurosci 8:77. https://doi.org/10.3389/fnmol.2015.00077

40.

Shoshan-Barmatz V, Golan M (2012) Mitochondrial VDAC1: function in cell life and death and a target for cancer therapy. Curr Med Chem 19(5):714–735. https://doi.org/10.2174/092986712798992110

41.

Singh S, Mishra A, Srivastava N, Shukla R, Shukla S (2016) Acetyl-l-carnitine via upegulating dopamine D1 receptor and attenuating microglial activation prevents neuronal loss and improves memory functions in parkinsonian rats. Mol Neurobiol 1–20

42.

Sinha M, Manna P, Sil PC (2008) Protective effect of arjunolic acid against arsenic-induced oxidative stress in mouse brain. J Biochem Mol Toxicol 22(1):15–26. https://doi.org/10.1002/jbt.20209

43.

Smeland OB, Meisingset TW, Borges K, Sonnewald U (2012) Chronic acetyl-L-carnitine alters brain energy metabolism and increases noradrenaline and serotonin content in healthy mice. Neurochem Int 61(1):100–107. https://doi.org/10.1016/j.neuint.2012.04.008

44.

Song M-K, Seon H-J, Kim I-G, Han J-Y, Choi I-S, Lee S-G (2012) The effect of combined therapy of exercise and nootropic agent on cognitive function in focal cerebral infarction rat model. Ann Rehabil Med 36(3):303–310. https://doi.org/10.5535/arm.2012.36.3.303

45.

Srivastava P, Yadav RS, Chandravanshi LP, Shukla RK, Dhuriya YK, Chauhan LKS, Dwivedi HN, Pant AB, Khanna VK (2014) Unraveling the mechanism of neuroprotection of curcumin in arsenic induced cholinergic dysfunctions in rats. Toxicol Appl Pharmacol 279(3):428–440. https://doi.org/10.1016/j.taap.2014.06.006

46.

Tietze F (1969) Enzymic method for quantitative determination of nanogram amounts of total and oxidized glutathione: applications to mammalian blood and other tissues. Anal Biochem 27(3):502–522. https://doi.org/10.1016/0003-2697(69)90064-5

47.

Tolins M, Ruchirawat M, Landrigan P (2014) The developmental neurotoxicity of arsenic: cognitive and behavioral consequences of early life exposure. Ann Global Health 80(4):303–314. https://doi.org/10.1016/j.aogh.2014.09.005

48.

Wu C-C, Bratton SB (2013) Regulation of the intrinsic apoptosis pathway by reactive oxygen species. Antioxid Redox Signal 19(6):546–558. https://doi.org/10.1089/ars.2012.4905

49.

Yadav RS, Sankhwar ML, Shukla RK, Chandra R, Pant AB, Islam F, Khanna VK (2009) Attenuation of arsenic neurotoxicity by curcumin in rats. Toxicol Appl Pharmacol 240(3):367–376. https://doi.org/10.1016/j.taap.2009.07.017

50.

Zeevalk G, Bernard L, Song C, Gluck M, Ehrhart J (2005) Mitochondrial inhibition and oxidative stress: reciprocating players in neurodegeneration. Antioxid Redox Signal 7(9-10):1117–1139. https://doi.org/10.1089/ars.2005.7.1117

51.

Zou X, Sadovova N, Patterson TA, Divine RL, Hotchkiss CE, Ali SF, Hanig JP, Paule MG, Slikker W Jr, Wang C (2008) The effects of L-carnitine on the combination of, inhalation anesthetic-induced developmental, neuronal apoptosis in the rat frontal cortex. Neuroscience 151(4):1053–1065. https://doi.org/10.1016/j.neuroscience.2007.12.013
Funding
This publication and work are based on studies sponsored and funded by vice chancellor for research (Project No. 31789), Tehran University of Medical Sciences, Tehran, Iran.
Ethics declarations
All experiments were carried out in accordance with the guidelines of the Ethical Committee for the Use and Care of Laboratory Animals, Tehran University of Medical Sciences (Tehran, Iran).
Conflict of Interest
The authors declare that there are no conflicts of interest.
About this article
Cite this article
Keshavarz-Bahaghighat, H., Sepand, M.R., Ghahremani, M.H. et al. Acetyl-l-Carnitine Attenuates Arsenic-Induced Oxidative Stress and Hippocampal Mitochondrial Dysfunction. Biol Trace Elem Res 184, 422–435 (2018). https://doi.org/10.1007/s12011-017-1210-0
Received:

Accepted:

Published:

Issue Date:
Keywords
Arsenic

Acetyl-

l

-carnitine

Hippocampus

Oxidative stress

Inflammation