Abstract
Breast cancer is a disease of high mortality, characterized by the progressive accumulation of mutations that contribute to the uncontrolled development of breast tissue cells. Literature shows that disturbances in mineral homeostasis, such as magnesium, may interfere with tumor progression. The objective of this study is to provide updated information about magnesium's role in the pathogenesis of breast cancer. A review of literature was carried out from a search for articles in the PubMed and CAPES Periodicals databases published between 1995 and 2016 with the cross-references of the descriptors "magnesium," "breast neoplasms," and "oxidative stress" and the corresponding words in Portuguese. We included studies on the metabolism and bioavailability of magnesium and studies related to breast cancer and excluded articles in which only the abstract was available, dissertations, theses, articles involving adjuvant and/or neoadjuvant therapies, and supplementation of minerals in breast cancer patients. Magnesium is a mineral that participates in the metabolism of various nutrients and nucleic acids. In the presence of breast cancer, neoplastic cells increase the expression of magnesium transport channels, which raises the intracellular concentration of the mineral, contributing to tumor growth through its function of increasing energy demand. The data obtained in this review illustrates the influence of magnesium on the progression of breast cancer. However, the existing data are scarce and inconsistent, which demonstrates a need for further studies on the subject with a goal to have better control of the disease.
Access options
Buy single article
Instant access to the full article PDF.
USD 39.95
Price includes VAT (USA)
Tax calculation will be finalised during checkout.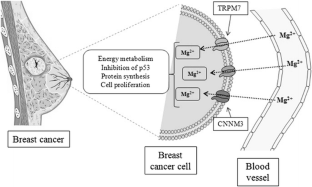 References
1.

Pavithra V, Sathisha TG, Kasturi K, Mallika DS, Amos SJ, Ragunatha S (2015) Serum levels of metal ions in female patients with breast cancer. J Clin Diagn Res 9(1):25–27

2.

Takagi A, Kano M, Kaga C (2015 may) Possibility of breast cancer prevention: use of soy isoflavones and fermented soy beverage produced using probiotics. Int J Mol Sci 16(5):10907–10920. https://doi.org/10.3390/ijms160510907

3.

Baaij JHF, Hoenderop JGJ, Bindels RJM (2012) Regulation of magnesium balance: lessons learned from human genetic disease. Clin Kidney J 5(1):15–24

4.

Blaszczyk U, Duda-Chodak A (2013) Magnesium: its role in nutrition and carcinogenesis. Rocz Panstw Zakl Hig 64(3):165–171

5.

Gobato RC, Chaves DFS, Chaim EA (2014) Micronutrient and physiologic parameters before and 6 months after RYGB. Surg Obes Relat Dis 10(5):944–951

6.

Anastassopoulou J, Theophanides T (2002) Magnesium-DNA interactions and the possible relation of magnesium to carcinogenesis. Irradiation and free radicals. Crit Rev Oncol Hematol 42(1):79–91. https://doi.org/10.1016/S1040-8428(02)00006-9

7.

Wolf FI, Cittadini ARM, Maier JAM (2009) Magnesium and tumors: ally or foe? Cancer Treat Rev 35(4):378–382. https://doi.org/10.1016/j.ctrv.2009.01.003

8.

Abdelgawad IA, El-Mously RH, Saber MM, Mansour OA, Shouman SA (2015) Significance of serum levels of vitamin D and some related minerals in breast cancer patients. Int J Clin Exp Pathol 8(4):4074–4082

9.

Baaij JHF, Hoenderop GJJ, Bindels RJM (2015) Magnesium in man: implications for health and disease. Physiol Rev 95(1):1–46. https://doi.org/10.1152/physrev.00012.2014

10.

Brandão K, Deason-Towne F, Perraud AL, Schimitz C (2013) The role of Mg2+ in immune cells. Immunol Res 55(1–3):261–269. https://doi.org/10.1007/s12026-012-8371-x

11.

Shen B, Sun L, Zheng H, Yang D, Zhang J, Zhang Q (2014) The association between single-nucleotide polymorphisms of TRPM7 gene and breast cancer in Han population of Northeast China. Med Oncol 31(7):51. https://doi.org/10.1007/s12032-014-0051-3

12.

Blanchard A, Vargas-Poussou R (2012) Désordres de La magnésémie. Néphrol Thér 8(6):482–491

13.

AMP R (2011) Cellular magnesium homeostasis. Arch Biochem Biophys 512(1):1–23

14.

Vormann J (2003) Magnesium: nutrition and metabolism. Mol Asp Med 24(1–3):27–37

15.

Ravell J, Chaigne-Delalande B, Leonardo M (2014) X-linked immunodeficiency with magnesium defect, Epstein–Barr virus infection, and neoplasia disease: a combined immune deficiency with magnesium defect. Curr Opin Pediatr 26(6):713–719

16.

Kolte D, Vijayaraghavan K, Khera S, Sica DA, Frishman WH (2014) Role of magnesium in cardiovascular diseases. Cardiol Rev 22(4):182–189

17.

Elin RJ (2010) Assessment of magnesium status for diagnosis and therapy. Magnes Res 23(4):194–198

18.

Bohl CH, Volpe SL (2002) Magnesium and exercise. Crit Rev Food Sci Nutr 42(6):533–563. https://doi.org/10.1080/20024091054247

19.

Gibson B, Duffy AM, Gould Fogerite S, Krause-Elsmore S, Lu R, Shang G, Chen ZW, Mannino RJ, Bouchier-Hayes DJ, Harmey JH (2004) A novel gene delivery system for mammalian cells. Anticancer Res 24(2A):483–488

20.

Rocha VS (2009) Avaliação bioquímica e do consumo alimentar de magnésio em mulheres saudáveis no terceiro trimestre gestacional. 2009. 97 f. Dissertação (Pós-graduação em Ciência dos Alimentos) – Faculdade de Ciências Farmacêuticas, Universidade de São Paulo, São Paulo

21.

Martin KJ, González EA, Slatopolsky E (2009) Clinical consequences and management of hypomagnesemia. J Am Soc Nephrol 20(11):2291–2295

22.

Severo JS, Morais JBS, Freitas TEC, Cruz KJC, Oliveira ARS, Poltronieri F et al (2015) Aspectos Metabólicos e Nutricionais do Magnésio. Nutr Clín Diet Hosp 35(2):67–74

23.

Institute of Medicine, Food and Nutrition Board (1997) Dietary reference intakes for calcium, phosphorus, magnesium, vitamin D and fluoride. National Academy Press, Washington, DC

24.

Jahnen-Dechent W, Ketteler M (2012) Magnesium basics. Clin Kidney J 5(Suppl 1):i3–i14. https://doi.org/10.1093/ndtplus/sfr163

25.

Naithani M, Bharadwaj J, Darbari A (2014) Magnesium: the fifth electrolyte. J Med Nutr Nutraceut 3(2):66–72

26.

Feng JF, Lu L, Zeng P, Yang YH, Luo J, Yang YW et al (2012) Serum total oxidant/antioxidant status and trace element levels in breast cancer patients. Int J Clin Oncol 17(6):575–583

27.

Karki K, Pande D, Negi R, Khanna S, Khanna RS, Khanna HD (2015) Association between biomarkers of oxidative stress, trace elements, and cell proliferation index in patients with benign and malignant breast diseases. J Environ Pathol Toxicol Oncol 34(1):1–10

28.

Karki K, Pande D, Negi R, Khanna S, Khanna RS, Khanna HD (2015) Correlation of serum toll like receptor 9 and trace elements with lipid peroxidation in the patients of breast diseases. J Trace Elem Med Biol 30:11–16. https://doi.org/10.1016/j.jtemb.2014.12.003

29.

Wolf FI, Maier JA, Nasulewicz A, Feillet-Coudray C, Simonacci M, Mazur A et al (2007) Magnesium and neoplasia: from carcinogenesis to tumor growth and progression or treatment. Arch Biochem Biophys 458(1):24–32. https://doi.org/10.1016/j.abb.2006.02.016

30.

Darbari DS, Ballas SK, Clauw DJ (2014) Thinking beyond sickling to better understand pain in sickle cell disease. Eur J Haematol 93(2):89–95

31.

Guilbert A, Gautier M, Dhennin-Duthille I, Haren N, Sevestre H, Ouadid-Ahidouch H Evidence that TRPM7 is required for breast cancer cell proliferation. Am J Phys Cell Phys 297(3):493–502

32.

Middelbeek J, Kuipers AJ, Henneman L, Visser D, Eidhof I, van Horssen R, Wieringa B, Canisius SV, Zwart W, Wessels LF, Sweep FCGJ, Bult P, Span PN, van Leeuwen FN, Jalink K (2012) TRPM7 is required for breast tumor cell metastasis. Cancer Res 72(16):4250–4261. https://doi.org/10.1158/0008-5472.CAN-11-3863

33.

Guilbert A, Gautier M, Dhennin-Duthille I, Rybarczyk P, Sahni J, Sevestre H, Scharenberg AM, Ouadid-Ahidouch H (2013) Transient receptor potential melastatin 7 is involved in oestrogen receptor-negative metastatic breast cancer cells migration through its kinase domain. Eur J Cancer 49(17):3694–3707. https://doi.org/10.1016/j.ejca.2013.07.008

34.

Nakai K (2012) Magnesium homeostasis and its disturbances. Clin Calcium 22(8):1167–1172

35.

Hardy S, Uetani N, Wong N, Kostantin E, Labbé DP, Bégin LR, Mes-Masson A, Miranda-Saavedra D, Tremblay ML (2015) The protein tyrosine phosphatase PRL-2 interacts with the magnesium transporter CNNM3 to promote oncogenesis. Oncogene 34(8):986–995. https://doi.org/10.1038/onc.2014.33

36.

Kostantin E, Hardy S, Valinsky WC, Kompatscher A, de Baaij JH, Zolotarov Y et al (2016) Inhibition of PRL-2·CNNM3 protein complex formation decreases breast cancer proliferation and tumor growth. J Biol Chem 291(20):10716–10725. https://doi.org/10.1074/jbc.M115.705863

37.

Castiglioni S, Maier JA (2011) Magnesium and cancer: a dangerous liason. Magnes Res 24(3):92–100

38.

Yu E, Ahn YS, Jang SJ, Kim MJ, Yoon HS, Gong G, Choi J (2007) Overexpression of the wip1 gene abrogates the p38 MAPK/p53/Wip1 pathway and silences p16 expression in human breast cancers. Breast Cancer Res Treat 101(3):269–278. https://doi.org/10.1007/s10549-006-9304-y

39.

De La Cruz-Morcillo MA, García-Cano J, Arias-González L, García-Gil E et al (2013) Abrogation of the p38 MAPK α signaling pathway does not promote radioresistance but its activity is required for 5-fluorouracil-associated radiosensitivity. Cancer Lett 335(1):66–74. https://doi.org/10.1016/j.canlet.2013.01.050

40.

Thornton TM, Rincon M (2009) Non-classical p38 map kinase functions: cell cycle checkpoints and survival. Int J Biol Sci 5(1):44–52

41.

Valko M, Morris H, Cronin MT (2005) Metals, toxicity and oxidative stress. Curr Med Chem 12(10):1161–1208. https://doi.org/10.2174/0929867053764635

42.

Ogasawara S, Kiyota Y, Chuman Y, Kowata A, Yoshimura F, Tanino K, Kamada R, Sakaguchi K (2015) Novel inhibitors targeting PPM1D phosphatase potently suppress cancer cell proliferation. Bioorg Med Chem 23(19):6246–6249. https://doi.org/10.1016/j.bmc.2015.08.042

43.

Scimeca M, Giannini E, Antonacci C, Pistolese CA, Spagnoli LG, Bonanno E (2014) Microcalcifications in breast cancer: an active phenomenon mediated by epithelial cells with mesenchymal characteristics. BMC Cancer 14:286

44.

Czerny B, Krupka K, Ożarowski M, Seremak-Mrozikiewicz A (2014) Screening of trace elements in hair of the female population with different types of cancers in Wielkopolska region of Poland. Sci World J 2014:1–15

45.

Mirmalek SA, Jangholi E, Jafari M, Yadollah-Damavandi S, Javidi MA, Parsa Y, Parsa T, Salimi-Tabatabaee SA, Kolagar HG, Jalil SK, Alizadeh-Navaei R (2016) Comparison of in vitro cytotoxicity and apoptogenic activity of magnesium chloride and cisplatin as conventional chemotherapeutic agents in the MCF-7 cell line. Asian Pac J Cancer Prev 17(S3):131–134. https://doi.org/10.7314/APJCP.2016.17.S3.131

46.

Tao MH, Dai Q, Millen AE, Nie J, Edge SB, Trevisan M, Shields PG, Freudenheim JL (2015) Associations of intakes of magnesium and calcium and survival among women with breast cancer: results from Western New York Exposures and Breast Cancer (WEB) Study. Am J Cancer Res 6(1):105–113 eCollection 2016
Ethics declarations
Conflict of Interest
The authors declare that they have no conflict of interest.
About this article
Cite this article
Mendes, P.M.V., Bezerra, D.L.C., dos Santos, L.R. et al. Magnesium in Breast Cancer: What Is Its Influence on the Progression of This Disease?. Biol Trace Elem Res 184, 334–339 (2018). https://doi.org/10.1007/s12011-017-1207-8
Received:

Accepted:

Published:

Issue Date:
Keywords
Magnesium

Breast cancer

Breast neoplasms