Abstract
Chromium (Cr) is considered as an important mineral, involved in biochemical reactions in human metabolic pathways. Organically bound Cr supplementation has been suggested to improve glycemia especially in patients with type 2 diabetes mellitus, but there are conflicting reports on efficacy. Effect of Cr is not clear in prediabetes status. Seventy patients with metabolic syndrome and impaired glucose tolerance (IGT), who are observed and treated in the Center of Preventive Cardiology of the University Hospital in Pilsen, were included in the prospective, randomized, double-blind, and placebo-controlled clinical study. Effect of Cr-enriched yeast (200 μg of elementary Cr in the morning and 100 μg in the evening) on glucose, lipid metabolism, fat tissue hormones, oxidative stress, and DNA damage markers was analyzed. There were no significant changes in glucose and lipid parameters, oxidative stress, or other laboratory markers. Only resting heart rate was significantly reduced in patients treated by Cr yeast, reflecting reduced sympathetic activity. This could represent an important cardiovascular risk reduction in patients with high cardiometabolic risk.
Access options
Buy single article
Instant access to the full article PDF.
USD 39.95
Price excludes VAT (USA)
Tax calculation will be finalised during checkout.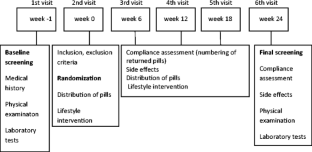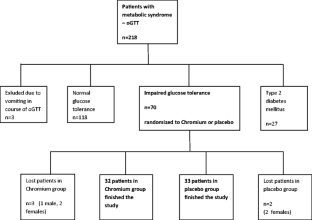 References
Authors/Task Force Members, Ryden L, Grant PJ, Anker SD, Berne C, Cosentino F, Danchin N, Deaton C, Escaned J, Hammes H, Huikuri H, Marre M, Marx N, Mellbin L, Ostergren J, Patrono C, Seferovic P, Sousa Uva M, Taskinen M, Tendera M, Tuomilehto J, Valensi P, Zamorano JL (2013) ESC guidelines on diabetes, pre-diabetes, and cardiovascular diseases developed in collaboration with EASD. Eur Heart J 34:3035–3087

Cefalu WT, Hu FB (2004) Role of chromium in human health and in diabetes. Diabetes Care 27:2741–2751

Mahdi GS (1995) Barley as high-chromium food. J Am Diet Assoc 95:7

Institute of Medicine, Food and Nutrition Board (2001) Dietary reference intakes for vitamin A, vitamin K, arsenic, boron, chromium, copper, iodine, iron, manganese, molybdenum, nickel, silicon, vanadium, and zinc. National Academy Press, Washington, DC

Wallach S (1985) Clinical and biochemical aspects of chromium deficiency. J Am Coll Nutr 4:107–120

Sreekanth R, Pattabhi V, Rajan SS (2008) Molecular basis of chromium insulin interactions. Biochem Biophys Res Commun 369:725–729

Balk EM, Tatsioni A, Lichtenstein AH et al (2007) Effect of chromium supplementation on glucose metabolism and lipids: a systematic review of randomized controlled trials. Diabetes Care 30:2154–2163

Racek J, Sindberg CD, Moesgaard S et al (2013) Effect of chromium-enriched yeast on fasting plasma glucose, glycated haemoglobin and serum lipid levels in patients with type 2 diabetes mellitus treated with insulin. Biol Trace Elem Res 155(1):1–4

Alberti KGMM, Eckel R, Grundy S et al (2009) Harmonizing the metabolic syndrome. Circulation 120:1640–1645

Rosolová H, Mayer O, Šimon J et al (1999) Detection of insulin resistance in Czech population. Cas Lek Ces (in Czech) 137:80–83

Jentzsch AM, Bachmann H, Fürst P, Biesalski HK (1996) Improved anylysis of malondialdehyde in human body fluids. Free Radic Biol Med 20:251–256

Kalousová M, Škrha J, Zima T (2002) Advanced glycation end-produts and advanced oxidation protein products in patients with diabetes mellitus. Physiol Res 51:597–604

Levy JC, Matthews DR, Hermans MP (1998) Correct homeostasis model assessment (HOMA) evaluation uses the computer program. Diabetes Care 21:2191–2192

Dobiášová M (2004) Atherogenic index of plazma [Log triglycerides/HDL-cholesterol]: theoretical and practical implications. Clin Chem 50:113–115

Osterberg L, Blaschke T (2005) Adherence to medication. N Engl J Med 353:487–497

Reaven GM, Lithell L, Landsberg L (1996) Hypertension and associated metabolic abnormalities—the role of insulin resistance and the sympathoadrenal system. N Engl J Med 334:374–381

Mancia G, Di Rienzo M, Giannattasio C et al (1998) Early and late sympathetic activation in hypertension. Scand Cardiovasc J 32:9–13

Gami AS, Witt BJ, Howard DE, Erwin PJ, Gami LA, Somers VK, Montori VM (2007) Metabolic syndrome and risk of incident cardiovascular events and death: a systematic review and meta-analysis of longitudinal studies. J Am Coll Cardiol 49:403–414

Ashoush S, Abou-Gamrah A, Baumy H et al (2016) Chromium picolinate reduces insulin resistance in polycystic ovary syndrome. Randomized controlled trial J Obstet Gynecol Res 42:279–285

Wiernsperger N, Rapin J (2010) Trace elements in glucometabolic disorders: an update. Diabetol Metab Syndr 2:70

Fiorentino TV, Prioletta A, Zuo P, Folli F (2013) Hyperglycemia-induced oxidative stress and its role in diabetes mellitus related cardiovascular diseases. Curr Pharm Des 19(32):5695–5703

Roberts CK, Sindhu KK (2009) Oxidative stress and metabolic syndrome. Life Sci 84(21–22):705–712

Jeejeebhoy KN (1999) The role of chromium in nutrition and therapeutics and as a potential toxin. Nutr Rev 57:329–335

Mclyer DJ, Grizales AM, Brownstein JS et al (2015) Risk of type 2 diabetes is lower in US adults taking chromium containing supplements. J Nutr 145:2675–2682

Gunton JE, Cheung NW, Hitchman R et al (2005) Chromium supplementation does not improve glucose tolerance, insulin sensitivity, or lipid profile: a randomized, placebo-controlled, double-blind trial of supplementation in subjects with impaired glucose tolerance. Diabetes Care 28:712–713

Bailey CH (2014) Improved meta-analytic methods show no effect of chromium supplements on fasting glucose. Biol Trace Elem Res 157:1–8

Iqbal N, Cardillo S, Volger S et al (2009) Chromium picolinate does not improve key features of metabolic syndrome in obese nondiabetic adults. Metab Syndr Relat Disord 7:143–150

Vincent JB (2014) Is chromium pharmacologically relevant? Biol Trace Elem Res 28(4):397–405

Ali A, Ma Y, Reynolds J, Wise JP Sr et al (2011) Chromium effects on glucose tolerance and insulin sensitivity in persons at risk for diabetes mellitus. Endocr Pract 17(1):16–25

Wang ZW, Cefalu WT (2010) Current concepts about chromium supplementation in type 2 diabetes and insulin resistance. Curr Diab Rep 10:145–151
Acknowledgements
Christian Sindberg, M.Sc., is an empolyee of Research Department, Pharma Nord ApS, Vejle, Denmark. Pharma Nord, Denmark, provided placebo, Cr tablets, and glucose solutions for oGTT. However, no monies were received from Pharma Nord. Laboratory methods were supported by the Charles University Research Grant (Medical Faculty in Pilsen P-36).
Ethics declarations
The study was approved by the local Ethical Committee of the University Hospital in Pilsen.
About this article
Cite this article
Nussbaumerova, B., Rosolova, H., Krizek, M. et al. Chromium Supplementation Reduces Resting Heart Rate in Patients with Metabolic Syndrome and Impaired Glucose Tolerance. Biol Trace Elem Res 183, 192–199 (2018). https://doi.org/10.1007/s12011-017-1128-6
Received:

Accepted:

Published:

Issue Date:

DOI: https://doi.org/10.1007/s12011-017-1128-6
Keywords
Metabolic syndrome

Impaired glucose tolerance

Chromium yeast