Abstract
Hypomagnesemia is associated with the development of neuropathy and abnormal platelet activity, both of which are risk factors for diabetic foot ulcer (DFU). This study was carried out to evaluate the effects of magnesium administration on wound healing and metabolic status in subjects with DFU. This randomized, double-blind, placebo-controlled trial was performed among 70 subjects with grade 3 DFU. Subjects were randomly divided into two groups (35 subjects each group) to receive either 250 mg magnesium oxide supplements or placebo daily for 12 weeks. Pre- and post-intervention wound depth and appearance were scored in accordance with the "Wagner-Meggitt's" wound assessment tool. Fasting blood samples were taken at baseline and after the 12-week intervention to assess related markers. After the 12-week treatment, compared with the placebo, magnesium supplementation resulted in a significant increase in serum magnesium (+0.3 ± 0.3 vs. −0.1 ± 0.2 mg/dL, P < 0.001) and significant reductions in ulcer length (−1.8 ± 2.0 vs. −0.9 ± 1.1 cm, P = 0.01), width (−1.6 ± 2.0 vs. −0.8 ± 0.9 cm, P = 0.02), and depth (−0.8 ± 0.8 vs. −0.3 ± 0.5 cm, P = 0.003). In addition, significant reductions in fasting plasma glucose (−45.4 ± 82.6 vs. −10.6 ± 53.7 mg/dL, P = 0.04), serum insulin values (−2.4 ± 5.6 vs. +1.5 ± 9.6 μIU/mL, P = 0.04), and HbA1c (−0.7 ± 1.5 vs. −0.1 ± 0.4%, P = 0.03) and a significant rise in the quantitative insulin sensitivity check index (+0.01 ± 0.01 vs. −0.004 ± 0.02, P = 0.01) were seen following supplementation of magnesium compared with the placebo. Additionally, compared with the placebo, taking magnesium resulted in significant decrease in serum high-sensitivity C-reactive protein (hs-CRP) (−19.6 ± 32.5 vs. −4.8 ± 11.2 mg/L, P = 0.01) and significant increase in plasma total antioxidant capacity (TAC) concentrations (+6.4 ± 65.2 vs. −129.9 ± 208.3 mmol/L, P < 0.001). Overall, magnesium supplementation for 12 weeks among subjects with DFU had beneficial effects on parameters of ulcer size, glucose metabolism, serum hs-CRP, and plasma TAC levels. Clinical trial registration number: http://www.irct.ir: IRCT201612225623N96
Access options
Buy single article
Instant access to the full article PDF.
USD 39.95
Price excludes VAT (USA)
Tax calculation will be finalised during checkout.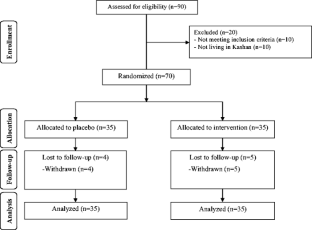 References
Jain AKC (2012) A new classification of diabetic foot complications: a simple and effective teaching tool. J Diab Foot Comp 4:1–5

Hingorani A, LaMuraglia GM, Henke P et al (2016) The management of diabetic foot: a clinical practice guideline by the Society for Vascular Surgery in collaboration with the American Podiatric Medical Association and the Society for Vascular Medicine. J Vasc Surg 63:3S–21S

Singh N, Armstrong DG, Lipsky BA (2005) Preventing foot ulcers in patients with diabetes. JAMA 293:217–228

Karadurmus N, Sahin M, Tasci C et al (2010) Potential benefits of hyperbaric oxygen therapy on atherosclerosis and glycaemic control in patients with diabetic foot. Endokrynol Pol 61:275–279

Sytze Van Dam P, Cotter MA, Bravenboer B, Cameron NE (2013) Pathogenesis of diabetic neuropathy: focus on neurovascular mechanisms. Eur J Pharmacol 719:180–186

Garland HO (1992) New experimental data on the relationship between diabetes mellitus and magnesium. Magnes Res 5:193–202

Keskek SO, Kirim S, Karaca A, Saler T (2013) Low serum magnesium levels and diabetic foot ulcers. Pak J Med Sci 29:1329–1333

Rodriguez-Moran M, Guerrero-Romero F (2001) Low serum magnesium levels and foot ulcers in subjects with type 2 diabetes. Arch Med Res 32:300–303

Tosiello L (1996) Hypomagnesemia and diabetes mellitus. A review of clinical implications. Arch Intern Med 156:1143–1148

Bresater LE, Welin L, Romanus B (1996) Foot pathology and risk factors for diabetic foot disease in elderly men. Diabetes Res Clin Pract 32:103–109

Asemi Z, Karamali M, Jamilian M et al (2015) Magnesium supplementation affects metabolic status and pregnancy outcomes in gestational diabetes: a randomized, double-blind, placebo-controlled trial. Am J Clin Nutr 102:222–229

Rodriguez-Moran M, Guerrero-Romero F (2014) Oral magnesium supplementation improves the metabolic profile of metabolically obese, normal-weight individuals: a randomized double-blind placebo-controlled trial. Arch Med Res 45:388–393

Rodriguez-Moran M, Guerrero-Romero F (2003) Oral magnesium supplementation improves insulin sensitivity and metabolic control in type 2 diabetic subjects: a randomized double-blind controlled trial. Diabetes Care 26:1147–1152

Moslehi N, Vafa M, Rahimi-Foroushani A, Golestan B (2012) Effects of oral magnesium supplementation on inflammatory markers in middle-aged overweight women. J Res Med Sci 17:607–614

Kowluru A, Chen HQ, Modrick LM, Stefanelli C (2001) Activation of acetyl-CoA carboxylase by a glutamate- and magnesium-sensitive protein phosphatase in the islet beta-cell. Diabetes 50:1580–1587

Mazur A, Maier JA, Rock E, Gueux E, Nowacki W, Rayssiguier Y (2007) Magnesium and the inflammatory response: potential physiopathological implications. Arch Biochem Biophys 458:48–56

Berbari EF, Kanj SS, Kowalski TJ et al (2015) 2015 Infectious Diseases Society of America (IDSA) clinical practice guidelines for the diagnosis and treatment of native vertebral osteomyelitis in adults. Clin Infect Dis 61:e26–e46

Ainsworth BE, Haskell WL, Whitt MC et al (2000) Compendium of physical activities: an update of activity codes and MET intensities. Med Sci Sports Exerc 32:S498–S504

Santamaria N, Ogce F, Gorelik A (2012) Healing rate calculation in the diabetic foot ulcer: comparing different methods. Wound Repair Regen 20:786–789

Pisprasert V, Ingram KH, Lopez-Davila MF, Munoz AJ, Garvey WT (2013) Limitations in the use of indices using glucose and insulin levels to predict insulin sensitivity: impact of race and gender and superiority of the indices derived from oral glucose tolerance test in African Americans. Diabetes Care 36:845–853

Tatsch E, Bochi GV, Pereira Rda S et al (2011) A simple and inexpensive automated technique for measurement of serum nitrite/nitrate. Clin Biochem 44:348–350

Benzie IF, Strain JJ (1996) The ferric reducing ability of plasma (FRAP) as a measure of "antioxidant power": the FRAP assay. Anal Biochem 239:70–76

Beutler E, Gelbart T (1985) Plasma glutathione in health and in patients with malignant disease. J Lab Clin Med 105:581–584

Janero DR (1990) Malondialdehyde and thiobarbituric acid-reactivity as diagnostic indices of lipid peroxidation and peroxidative tissue injury. Free Radic Biol Med 9:515–540

Weng LC, Lee NJ, Yeh WT, Ho LT, Pan WH (2012) Lower intake of magnesium and dietary fiber increases the incidence of type 2 diabetes in Taiwanese. J Formos Med Assoc 111:651–659

Walti MK, Zimmermann MB, Spinas GA, Hurrell RF (2003) Low plasma magnesium in type 2 diabetes. Swiss Med Wkly 133:289–292

Barbagallo M, Dominguez LJ (2007) Magnesium metabolism in type 2 diabetes mellitus, metabolic syndrome and insulin resistance. Arch Biochem Biophys 458:40–47

Takaya J, Higashino H, Kobayashi Y (2004) Intracellular magnesium and insulin resistance. Magnes Res 17:126–136

Toprak O, Kurt H, Sari Y, Sarkis C, Us H, Kirik A (2017) Magnesium replacement improves the metabolic profile in obese and pre-diabetic patients with mild-to-moderate chronic kidney disease: a 3-month, randomised, double-blind, placebo-controlled study. Kidney Blood Press Res 42:33–42

Veronese N, Watutantrige-Fernando S, Luchini C et al (2016) Effect of magnesium supplementation on glucose metabolism in people with or at risk of diabetes: a systematic review and meta-analysis of double-blind randomized controlled trials. Eur J Clin Nutr 70:1354–1359

Lee S, Park HK, Son SP, Lee CW, Kim IJ, Kim HJ (2009) Effects of oral magnesium supplementation on insulin sensitivity and blood pressure in normo-magnesemic nondiabetic overweight Korean adults. Nutr Metab Cardiovasc Dis 19:781–788

Purvis JR, Cummings DM, Landsman P et al (1994) Effect of oral magnesium supplementation on selected cardiovascular risk factors in non-insulin-dependent diabetics. Arch Fam Med 3:503–508

Shahbah D, Hassan T, Morsy S et al (2017) Oral magnesium supplementation improves glycemic control and lipid profile in children with type 1 diabetes and hypomagnesaemia. Medicine (Baltimore) 96:e6352

Verma H, Garg R (2017) Effect of magnesium supplementation on type 2 diabetes associated cardiovascular risk factors: a systematic review and meta-analysis. J Hum Nutr Diet. doi:10.1111/jhn.12454

Levigne D, Tobalem M, Modarressi A, Pittet-Cuenod B (2013) Hyperglycemia increases susceptibility to ischemic necrosis. Biomed Res Int 2013:490964

Volpe SL (2013) Magnesium in disease prevention and overall health. Adv Nutr 4:378S–383S

Shah NC, Shah GJ, Li Z, Jiang XC, Altura BT, Altura BM (2014) Short-term magnesium deficiency downregulates telomerase, upregulates neutral sphingomyelinase and induces oxidative DNA damage in cardiovascular tissues: relevance to atherogenesis, cardiovascular diseases and aging. Int J Clin Exp Med 7:497–514

Chiuve SE, Sun Q, Curhan GC et al (2013) Dietary and plasma magnesium and risk of coronary heart disease among women. J Am Heart Assoc 2:e000114

Hayashi Y, Ohtani M, Hiraishi T, Kobayashi Y, Nakamura T (2006) "Initial, continuous and intermittent bolus" administration of minimally-diluted blood cardioplegia supplemented with potassium and magnesium for hypertrophied hearts. Heart Lung Circ 15:325–331

Villegas R, Gao YT, Dai Q et al (2009) Dietary calcium and magnesium intakes and the risk of type 2 diabetes: the Shanghai Women's Health Study. Am J Clin Nutr 89:1059–1067

Murakami M, Ishizuka J, Sumi S et al (1992) Role of extracellular magnesium in insulin secretion from rat insulinoma cells. Proc Soc Exp Biol Med 200:490–494

Malpuech-Brugere C, Nowacki W, Daveau M et al (2000) Inflammatory response following acute magnesium deficiency in the rat. Biochim Biophys Acta 1501:91–98

Blache D, Devaux S, Joubert O et al (2006) Long-term moderate magnesium-deficient diet shows relationships between blood pressure, inflammation and oxidant stress defense in aging rats. Free Radic Biol Med 41:277–284

Guerrero-Romero F, Rodriguez-Moran M (2002) Relationship between serum magnesium levels and C-reactive protein concentration, in non-diabetic, non-hypertensive obese subjects. Int J Obes Relat Metab Disord 26:469–474

Rodriguez-Moran M, Guerrero-Romero F (2008) Serum magnesium and C-reactive protein levels. Arch Dis Child 93:676–680

Dibaba DT, Xun P, He K (2014) Dietary magnesium intake is inversely associated with serum C-reactive protein levels: meta-analysis and systematic review. Eur J Clin Nutr 68:510–516

Song Y, Ridker PM, Manson JE, Cook NR, Buring JE, Liu S (2005) Magnesium intake, C-reactive protein, and the prevalence of metabolic syndrome in middle-aged and older U.S. women. Diabetes Care 28:1438–1444

Bo S, Durazzo M, Guidi S et al (2006) Dietary magnesium and fiber intakes and inflammatory and metabolic indicators in middle-aged subjects from a population-based cohort. Am J Clin Nutr 84:1062–1069

Nielsen FH, Johnson LK, Zeng H (2010) Magnesium supplementation improves indicators of low magnesium status and inflammatory stress in adults older than 51 years with poor quality sleep. Magnes Res 23:158–168

Manuel y Keenoy B, Moorkens G, Vertommen J, Noe M, Neve J, De Leeuw I (2000) Magnesium status and parameters of the oxidant-antioxidant balance in patients with chronic fatigue: effects of supplementation with magnesium. J Am Coll Nutr 19:374–382

Mortazavi M, Moeinzadeh F, Saadatnia M, Shahidi S, McGee JC, Minagar A (2013) Effect of magnesium supplementation on carotid intima-media thickness and flow-mediated dilatation among hemodialysis patients: a double-blind, randomized, placebo-controlled trial. Eur Neurol 69:309–316

Soltani N, Nematbakhsh M, Eshraghi-Jazi F, Talebi A, Ashrafi F (2013) Effect of oral administration of magnesium on cisplatin-induced nephrotoxicity in normal and streptozocin-induced diabetic rats. Nephrourol Mon 5:884–890

Aneiros E, Philipp S, Lis A, Freichel M, Cavalie A (2005) Modulation of Ca2+ signaling by Na+/Ca2+ exchangers in mast cells. J Immunol 174:119–130

Liu YX, Guo YM, Wang Z (2007) Effect of magnesium on reactive oxygen species production in the thigh muscles of broiler chickens. Br Poult Sci 48:84–89

Boujelben M, Ghorbel F, Vincent C et al (2006) Lipid peroxidation and HSP72/73 expression in rat following cadmium chloride administration: interactions of magnesium supplementation. Exp Toxicol Pathol 57:437–443
Acknowledgments
The current study was funded by a grant from the Vice-chancellor for Research, KUMS, and Iran. The authors gratefully acknowledge Dr. Fariba Kolahdooz, who reviewed the manuscript and offered critical comments.
Ethics declarations
Conflict of Interest
The authors declare that they have no conflict of interest.
About this article
Cite this article
Razzaghi, R., Pidar, F., Momen-Heravi, M. et al. Magnesium Supplementation and the Effects on Wound Healing and Metabolic Status in Patients with Diabetic Foot Ulcer: a Randomized, Double-Blind, Placebo-Controlled Trial. Biol Trace Elem Res 181, 207–215 (2018). https://doi.org/10.1007/s12011-017-1056-5
Received:

Accepted:

Published:

Issue Date:

DOI: https://doi.org/10.1007/s12011-017-1056-5
Keywords
Magnesium supplementation

Wound healing

Metabolic status

Diabetic foot