Abstract
Camel tear metabolomics and elemental analysis are useful in getting the information regarding the components responsible for maintaining the protective system that allows living in the desert and dry regions. The aim of this study was to correlate that the camel tears can be used as artificial tears for the evaluation of dryness in the eye. Eye biomarkers of camel tears were analyzed by gas chromatography-mass spectroscopy (GC-MS) and inductively coupled plasma mass spectroscopy (ICP-MS). The major compounds detected in camel tears by GC-MS were alanine, valine, leucine, norvaline, glycine, cadaverine, urea, ribitol, sugars, and higher fatty acids like octadecanoic acid and hexadecanoic acid. GC-MS analysis of camel tears also finds several products of metabolites and its associated metabolic participants. ICP-MS analysis showed the presence of different concentration of elemental composition in the camel tears.
Access options
Buy single article
Instant access to the full article PDF.
US$ 39.95
Tax calculation will be finalised during checkout.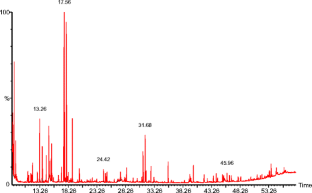 References
1.

Al-Shehri AM (2015) A lesson learned from Middle East respiratory syndrome (MERS) in Saudi Arabia. Med Teach 37:S88–S93

2.

Al-Ruwaili MA, Khalil OM, Selim SA (2012) Viral and bacterial infections associated with camel (Camelus dromedarius) calf diarrhea in North Province, Saudi Arabia. Saudi J Biol Sci 19:35–41

3.

Holly FJ, Lemp MA (1977) Tear physiology and dry eyes. Surv Ophthalmol 22:69–87

4.

Redl B (2000) Human tear lipocalin. Biochim Biophys Acta 1482:241–248

5.

Lehrer RI, Xu G, Abduragimov A, Dinh NN, Qu XD, Martin D, Glasgow BJ (1998) Lipophilin, a novel heterodimeric protein of human tears. FEBS Lett 432:163–167

6.

Grus FH, Podust VN, Bruns K, Lackner K, Fu S, Dalmasso EA, Wirthlin A, Pfeiffer N (2005) SELDI-TOFMS protein chip array profiling of tears from patients with dry eye. Invest Ophthalmol Vis Sci 46:863–876

7.

Zhou L, Huang LQ, Beuerman RW, Grigg ME, Li SF, Chew FT, Ang L, Stem ME, Tan D (2004) Proteomic analysis of human tears: defensin expression after ocular surface surgery. J Proteome Res 3:410–416

8.

Zhou L, Beuerman RW, Barathi A, Tan D (2003) Analysis of rabbit tear proteins by high-pressure liquid chromatography/electrospray ionization mass spectrometry. Rapid Commun Mass Spectrom 17:401–412

9.

Fung KY, Morris C, Sathe S, Sack R, Duncan MW (2004) Characterization of the in vivo forms of lacrimal-specific proline-rich proteins in human tear fluid. Proteomics 4:3953–3959

10.

de Souza GA, Godoy LM, Mann M (2006) Identification of 491 proteins in the tear fluid proteome reveals a large number of proteases and protease inhibitors. Genome Biol 7:R72

11.

Molloy MP, Bolis S, Herbert BR, Ou K, Tyler MI, van Dyk DD, Willcox MD, Gooley AA, Williamd KL, Morris CA, Walsh BJ (1997) Establishment of the human reflex tear two-dimensional polyacrylamide gel electrophoresis reference map: new proteins potential diagnostic value. Electrophoresis 18:2811–2815

12.

Grus FH, Augustin AJ (2001) High performance liquid chromatography analysis of tear protein patterns in diabetic and non-diabetic dry-eye patients. Eur J Ophthalmol 11:19–24

13.

McCulley JP, Shine WE (2003) Meibomian gland function and the tear lipid layer. Ocul Surf 1:97–106

14.

Butovich IA, Millar TJ, Ham BM (2008) Understanding and analyzing Meibomian lipids—a review. Curr Eye Res 33:405–420

15.

Lindon JC, Nicholson JK (2008) Analytical technologies for metabonomics and metabolomics, and multi-omic information recovery. Trend Anal Chem 27:194–204

16.

Lenz EM (2011) Nuclear magnetic resonance (NMR)-based drug metabolite profiling. Methods Mol Biol 708:299–319

17.

Ası T. Tablolarla Biyokimya. Ankara, Turkey: Nobel Tıp Kitapları Dağıtım (in Turkish)

18.

Haenlein GFW, Anke M (2011) Mineral and trace element research in goats: a review. Small Ruminant Res 95:2–19

19.

Hefnawy AEG, Tortora-Pérez JL (2010) The importance of selenium and the effects of its deficiency in animal health. Small Ruminant Res 89:185–192

20.

Ahamad SR, Raish M, Ahmad A, Shakeel F (2016) Potential health benefits and metabolomics of camel milk by GC-MS and ICP-MS. Biol Trace Elem Res. doi:10.1007/s12011-016-0771-7

21.

Raish M, Ahmad A, Alkharfy KM, Al-Jenoobi FI, Al-Mohizea AM, Mohsin K, Ahamad SR, Ali M, Shakeel F (2016) Antioxidant potential and in situ analysis of major and trace element determination of Ood-saleeb, a known Unani herbal medicine by ICP-MS. Biol Trace Elem Res 172:521–527

22.

Koenig R (2007) Veterinary medicine. "Camelized" antibodies make waves. Science 318:1373

23.

Shamsi FA, Chen Z, Liang J, Li K, Al-Rajhi AA, Chaudhry IA, Li M, Wu K (2011) Analysis and comparison of proteomic profiles of tear fluid from human, cow, sheep, and camel eyes. Inves Ophthalmol Vis Sci 52:9156–9165

24.

Bacha AB, Abid I (2013) Secretory phospholipase A in dromedary tears: a host defense against staphylococci and other gram-positive bacteria. Appl Biochem Biotechnol 169:1858–1869

25.

The epidemiology of dry eye disease: report of the Epidemiology Subcommittee of the International Dry Eye Workshop (2007). Ocul Surf 5: 93–107

26.

Lu P, Chen X, Liu X, Yu L, Kang Y, Xie Q, Ke L, Wei X (2008) Dry eye syndrome in elderly Tibetans at high altitude: a population-based study in China. Cornea 27:545–551

27.

Wolkoff P (2010) Ocular discomfort by environmental and personal risk factors altering the precorneal tear film. Toxicol Lett 199:203–212

28.

Motamedifar M, Bazargani A, Reza M, Sarai E, Sedigh H (2014) Antimicrobial activity of mandelic acid against methicillin-resistant Staphylococcus aureus: a novel finding with important practical implications. World Appl Sci J 31:925–929

29.

Inaba T, Hisatsune C, Sasaki Y, Ogawa Y, Ebisui E, Ogawa N, Matsui M, Takeuchi T, Mikoshiba K, Tsubota K (2014) Mice lacking inositol 1,4,5-trisphosphate receptors exhibit dry eye. PLoS One 9:e99205

30.

Tsukamoto S, Fujiwara K, Ikeguchi M (2009) Fatty acids bound to recombinant tear lipocalin and their role in structural stabilization. J Biochem 146:343–350

31.

Simonsen LO, Harbak H, Bennekou P (2012) Cobalt metabolism and toxicology—a brief update. Sci Total Environ 432:210–215

32.

Ayiannidis A, Giroussi S, Voulgaropoulos A (1996) Aspects of protein bound copper in sheep plasma and its release in vitro especially after treatment with ammonium tetrathiomolybdate. J Trace Elements Med Biol 10:245–250

33.

Patching SG, Gardiner PH (1999) Recent developments in selenium metabolism and chemical speciation: a review. J Trace Elements Med Biol 13:193–214
Acknowledgements
The authors extend their sincere appreciation to the Research Center, College of Pharmacy, King Saud University, Riyadh, Saudi Arabia, for funding this project.
Ethics declarations
Conflict of Interest
The authors declare that they have no conflicts of interest.
About this article
Cite this article
Ahamad, S.R., Raish, M., Yaqoob, S.H. et al. Metabolomics and Trace Element Analysis of Camel Tear by GC-MS and ICP-MS. Biol Trace Elem Res 177, 251–257 (2017). https://doi.org/10.1007/s12011-016-0889-7
Received:

Accepted:

Published:

Issue Date:
Keywords
Camel tear

Elements

Gas chromatography mass spectrophotometer

Inductively coupled plasma mass spectrophotometer