Abstract
The current study was conducted to evaluate the effects of zinc supplementation on endocrine outcomes, biomarkers of inflammation, and oxidative stress in patients with polycystic ovary syndrome (PCOS). This study was a randomized double-blind, placebo-controlled trial. Forty-eight women (18–40 years) with PCOS diagnosed according to Rotterdam criteria were randomly assigned to receive either 220 mg zinc sulfate (containing 50 mg zinc) (group 1; n = 24) and/or placebo (group 2; n = 24) for 8 weeks. Hormonal profiles, biomarkers of inflammation, and oxidative stress were measured at study baseline and after 8-week intervention. After 8 weeks of intervention, alopecia (41.7 vs. 12.5 %, P = 0.02) decreased compared with the placebo. Additionally, patients who received zinc supplements had significantly decreased hirsutism (modified Ferriman-Gallwey scores) (−1.71 ± 0.99 vs. −0.29 ± 0.95, P < 0.001) and plasma malondialdehyde (MDA) levels (−0.09 ± 1.31 vs. +2.34 ± 5.53 μmol/L, P = 0.04) compared with the placebo. A trend toward a significant effect of zinc intake on reducing high-sensitivity C-reactive protein (hs-CRP) levels (P = 0.06) was also observed. We did observe no significant changes of zinc supplementation on hormonal profiles, inflammatory cytokines, and other biomarkers of oxidative stress. In conclusion, using 50 mg/day elemental zinc for 8 weeks among PCOS women had beneficial effects on alopecia, hirsutism, and plasma MDA levels; however, it did not affect hormonal profiles, inflammatory cytokines, and other biomarkers of oxidative stress.
This is a preview of subscription content, log in to check access.
Access options
Buy single article
Instant access to the full article PDF.
US$ 39.95
Price includes VAT for USA
Subscribe to journal
Immediate online access to all issues from 2019. Subscription will auto renew annually.
US$ 954
This is the net price. Taxes to be calculated in checkout.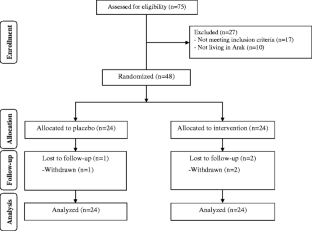 References
1.

Teede HJ, Misso ML, Deeks AA, Moran LJ, Stuckey BG, Wong JL, Norman RJ, Costello MF (2011) Assessment and management of polycystic ovary syndrome: summary of an evidence-based guideline. Med J Aust 195(6):S65–112

2.

Scicchitano P, Dentamaro I, Carbonara R, Bulzis G, Dachille A, Caputo P, Riccardi R, Locorotondo M, Mandurino C, Matteo Ciccone M (2012) Cardiovascular risk in women with PCOS. Int J Endocrinol Metab 10(4):611–618

3.

Caglar GS, Oztas E, Karadag D, Pabuccu R, Demirtas S (2011) Ischemia-modified albumin and cardiovascular risk markers in polycystic ovary syndrome with or without insulin resistance. Fertil Steril 95(1):310–313

4.

Goodarzi MO, Dumesic DA, Chazenbalk G, Azziz R (2011) Polycystic ovary syndrome: etiology, pathogenesis and diagnosis. Nat Rev Endocrinol 7(4):219–231

5.

Alpanes M, Luque-Ramirez M, Martinez-Garcia MA, Fernandez-Duran E, Alvarez-Blasco F, Escobar-Morreale HF (2015) Influence of adrenal hyperandrogenism on the clinical and metabolic phenotype of women with polycystic ovary syndrome. Fertil Steril 103(3):795–801 e792

6.

Su C, Chen M, Huang H, Lin J (2015) Testosterone enhances lipopolysaccharide-induced interleukin-6 and macrophage chemotactic protein-1 expression by activating the extracellular signal-regulated kinase 1/2/nuclear factor-kappaB signalling pathways in 3T3-L1 adipocytes. Mol Med Rep 12(1):696–704

7.

Nasiri N, Moini A, Eftekhari-Yazdi P, Karimian L, Salman-Yazdi R, Zolfaghari Z, Arabipoor A (2015) Abdominal obesity can induce both systemic and follicular fluid oxidative stress independent from polycystic ovary syndrome. Eur J Obstet Gynecol Reprod Biol 184:112–116

8.

Foresta C, Garolla A, Cosci I, Menegazzo M, Ferigo M, Gandin V, De Toni L (2014) Role of zinc trafficking in male fertility: from germ to sperm. Hum Reprod 29(6):1134–1145

9.

Prasad AS (2014) Zinc: an antioxidant and anti-inflammatory agent: role of zinc in degenerative disorders of aging. J Trace Elem Med Biol 28(4):364–371

10.

Amini L, Tehranian N, Movahedin M, Ramezani Tehrani F, Ziaee S (2015) Antioxidants and management of polycystic ovary syndrome in Iran: a systematic review of clinical trials. Iran J Reprod Med 13(1):1–8

11.

Zheng G, Wang L, Guo Z, Sun L, Wang C, Zuo Z, Qiu H (2015) Association of serum heavy metals and trace element concentrations with reproductive hormone levels and polycystic ovary syndrome in a Chinese population. Biol Trace Elem Res. [Epub ahead of print]

12.

Guler I, Himmetoglu O, Turp A, Erdem A, Erdem M, Onan MA, Taskiran C, Taslipinar MY, Guner H (2014) Zinc and homocysteine levels in polycystic ovarian syndrome patients with insulin resistance. Biol Trace Elem Res 158(3):297–304

13.

Michaelsson G, Vahlquist A, Juhlin L (1977) Serum zinc and retinol-binding protein in acne. Br J Dermatol 96(3):283–286

14.

Rostami Mogaddam M, Safavi Ardabili N, Maleki N, Soflaee M (2014) Correlation between the severity and type of acne lesions with serum zinc levels in patients with acne vulgaris. Biomed Res Int 2014:474108. doi:10.1155/2014/474108 Epub 2014 Jul 24

15.

Kim J, Ahn J (2014) Effect of zinc supplementation on inflammatory markers and adipokines in young obese women. Biol Trace Elem Res 157(2):101–106

16.

Kirkil G, Hamdi Muz M, Seckin D, Sahin K, Kucuk O (2008) Antioxidant effect of zinc picolinate in patients with chronic obstructive pulmonary disease. Respir Med 102(6):840–844

17.

Chimienti F, Aouffen M, Favier A, Seve M (2003) Zinc homeostasis-regulating proteins: new drug targets for triggering cell fate. Curr Drug Targets 4(4):323–338

18.

de Oliveira KJ, Donangelo CM, de Oliveira AV, da Silveira Jr CL, Koury JC (2009) Effect of zinc supplementation on the antioxidant, copper, and iron status of physically active adolescents. Cell Biochem Funct 27(3):162–166

19.

Rotterdam ESHRE/ASRM-Sponsored PCOS Consensus Workshop Group (2004) Revised 2003 consensus on diagnostic criteria and long-term health risks related to polycystic ovary syndrome. Fertil Steril 81(1):19–25

20.

Ramezani Tehrani F, Minooee S, Azizi F (2014) Validation of a simplified method to assess hirsutism in the iranian population. Eur J Obstet Gynecol Reprod Biol 174:91–95

21.

Hatch R, Rosenfield RL, Kim MH, Tredway D (1981) Hirsutism: implications, etiology, and management. Am J Obstet Gynecol 140(7):815–830

22.

Kolodziejczyk B, Duleba AJ, Spaczynski RZ, Pawelczyk L (2000) Metformin therapy decreases hyperandrogenism and hyperinsulinemia in women with polycystic ovary syndrome. Fertil Steril 73(6):1149–1154

23.

Olsen EA, Hordinsky MK, Price VH, Roberts JL, Shapiro J, Canfield D, Duvic M, King Jr LE, McMichael AJ (2004) Alopecia areata investigational assessment guidelines—part II. National Alopecia Areata Foundation. J Am Acad Dermatol 51(3):440–447

24.

Atsch E, Bochi GV, Pereira Rda S, Kober H, Agertt VA, de Campos MM, Gomes P, Duarte MM, Moresco RN (2011) A simple and inexpensive automated technique for measurement of serum nitrite/nitrate. Clin Biochem 44(4):348–350

25.

Benzie IF, Strain JJ (1996) The ferric reducing ability of plasma (FRAP) as a measure of "antioxidant power": the FRAP assay. Anal Biochem 239(1):70–76

26.

Beutler E, Gelbart T (1985) Plasma glutathione in health and in patients with malignant disease. J Lab Clin Med 105(5):581–584

27.

Janero DR (1990) Malondialdehyde and thiobarbituric acid-reactivity as diagnostic indices of lipid peroxidation and peroxidative tissue injury. Free Radic Biol Med 9(6):515–540

28.

Bargiota A, Diamanti-Kandarakis E (2012) The effects of old, new and emerging medicines on metabolic aberrations in PCOS. Ther Adv Endocrinol Metab 3(1):27–47

29.

Park H, Kim CW, Kim SS, Park CW (2009) The therapeutic effect and the changed serum zinc level after zinc supplementation in alopecia areata patients who had a low serum zinc level. Ann Dermatol 21(2):142–146

30.

Bhat YJ, Manzoor S, Khan AR, Qayoom S (2009) Trace element levels in alopecia areata. Indian J Dermatol Venereol Leprol 75(1):29–31

31.

Lux-Battistelli C (2015) Combination therapy with zinc gluconate and PUVA for alopecia areata totalis: an adjunctive but crucial role of zinc supplementation. Dermatol Ther. doi:10.1111/dth.12215

32.

Sonnichsen N, Reinicke C, Herrmann C, Glatzel E (1984) Zinc therapy of alopecia areata. Dermatol Monatsschr 170(7):437–442

33.

Ead RD (1981) Oral zinc sulphate in alopacia areata-a double blind trial. Br J Dermatol 104(4):483–484

34.

Vivoli G, Fantuzzi G, Bergomi M, Tonelli E, Gatto MR, Zanetti F, Del Dot M (1990) Relationship between zinc in serum and hair and some hormones during sexual maturation in humans. Sci Total Environ 95:29–40

35.

Plonka PM, Handjiski B, Popik M, Michalczyk D, Paus R (2005) Zinc as an ambivalent but potent modulator of murine hair growth in vivo- preliminary observations. Exp Dermatol 14(11):844–853

36.

Dias PC, Sena-Evangelista KC, Paiva MS, Ferreira DQ, Ururahy MA, Rezende AA, Abdalla DS, Pedrosa LF (2014) The beneficial effects of rosuvastatin are independent of zinc supplementation in patients with atherosclerosis. J Trace Elem Med Biol 28(2):194–199

37.

Kelishadi R, Hashemipour M, Adeli K, Tavakoli N, Movahedian-Attar A, Shapouri J, Poursafa P, Rouzbahani A (2010) Effect of zinc supplementation on markers of insulin resistance, oxidative stress, and inflammation among prepubescent children with metabolic syndrome. Metab Syndr Relat Disord 8(6):505–510

38.

da Costa CM, Brazao V, Collins Kuehn C, Rodrigues Oliveira LG, do Prado Junior JC, Sala MA, Carraro Abrahao AA (2013) Zinc and pregnancy: marked changes on the immune response following zinc therapy for pregnant females challenged with Trypanosoma cruzi. Clin Nutr 32(4):592–598

39.

Roussel AM, Kerkeni A, Zouari N, Mahjoub S, Matheau JM, Anderson RA (2003) Antioxidant effects of zinc supplementation in tunisians with type 2 diabetes mellitus. J Am Coll Nutr 22(4):316–321

40.

Shaheen AA, el Fattah AA (1995) Effect of dietary zinc on lipid peroxidation, glutathione, protein thiols levels and superoxide dismutase activity in rat tissues. Int J Biochem Cell Biol 27(1):89–95

41.

Tang QQ, Su SY, Fang MY (2014) Zinc supplement modulates oxidative stress and antioxidant values in rats with severe acute pancreatitis. Biol Trace Elem Res 159(1–3):320–324

42.

Venneria E, Intorre F, Foddai MS, Azzini E, Palomba L, Raguzzini A, Polito A, Ciarapica D, Zaccaria M (2014) Antioxidant effect of zinc supplementation on both plasma and cellular red-ox status markers in a group of elderly italian population. J Nutr Health Aging 18(4):345–350

43.

Gupta S, Ghulmiyyah J, Sharma R, Halabi J, Agarwal A (2014) Power of proteomics in linking oxidative stress and female infertility. Biomed Res Int 2014:916212

44.

Mier-Cabrera J, Genera-Garcia M, De la Jara-Diaz J, Perichart-Perera O, Vadillo-Ortega F, Hernandez-Guerrero C (2008) Effect of vitamins C and E supplementation on peripheral oxidative stress markers and pregnancy rate in women with endometriosis. Int J Gynaecol Obstet 100(3):252–256

45.

Nielsen F, Mikkelsen BB, Nielsen JB, Andersen HR, Grandjean P (1997) Plasma malondialdehyde as biomarker for oxidative stress: reference interval and effects of life-style factors. Clin Chem 43(7):1209–1214

46.

Powell SR (2000) The antioxidant properties of zinc. J Nutr 130:1447S–1454S

47.

McCormick CC, Menard MP, Cousins RJ (1981) Induction of hepatic metallothionein by feeding zinc to rats of depleted zinc status. Am J Physiol 240(4):E414–E421
Acknowledgments
The current study was supported by a grant from the Vice-chancellor for Research, AUMS, and Iran. The authors would like to thank the staff of Kosar Clinic (Arak, Iran) for their assistance in this project.
Conflict of Interest
The authors declare that they have no competing interests.
Authors' Contributions
Z.A. contributed in the conception, design, statistical analysis, and drafting of the manuscript. M.J., F.F., F.B., R.T., and M.M. contributed in data collection and manuscript drafting. Z.A. supervised the study. All authors approved the final version for submission.
Funding
The study was supported by a grant (no. 93164) from Arak University of Medical Sciences.
Additional information
Clinical trial registration number: www.irct.ir: IRCT201407115623N24
About this article
Cite this article
Jamilian, M., Foroozanfard, F., Bahmani, F. et al. Effects of Zinc Supplementation on Endocrine Outcomes in Women with Polycystic Ovary Syndrome: a Randomized, Double-Blind, Placebo-Controlled Trial. Biol Trace Elem Res 170, 271–278 (2016). https://doi.org/10.1007/s12011-015-0480-7
Received:

Accepted:

Published:

Issue Date:
Keywords
Zinc

Supplementation

Polycystic ovary syndrome

Reproductive outcomes

Inflammation

Oxidative stress