Abstract
Cadmium (Cd) stimulates the production of reactive oxygen species and causes tissue damage. We investigated here the protective effect of Physalis peruviana L. (family Solanaceae) against cadmium-induced testes toxicity in rats. Twenty-eight Wistar albino rats were used. They were divided into four groups (n = 7). Group 1 was used as control. Group 2 was intraperitoneally injected with 6.5 mg/kg body weight (bwt) of cadmium chloride for 5 days. Group 3 was orally treated with 200 mg/kg bwt of methanolic extract of physalis (MEPh). Group 4 was pretreated with MEPh before cadmium for 5 days. Changes in body and testes weights were determined. Oxidative stress markers, antioxidant enzymes, and testosterone level were measured. Histopathological changes of testes were examined, and the immunohistochemical staining for the proapoptotic (caspase-3) protein was performed. The injection of cadmium caused a significant decrease in body weight, while a significant increase in testes weight and testes weight index was observed. Pretreatment with MEPh was associated with significant reduction in the toxic effects of Cd as shown by reduced testicular levels of malondialdehyde, nitric oxide, and caspase-3 expression and increased glutathione content, and the activities of superoxide dismutase, catalase, glutathione reductase, glutathione peroxidase, and testosterone were also increased. Testicular histopathology showed that Cd produced an extensive germ cell apoptosis, and the pretreatment of MEPh in Cd-treated rats significantly reduced Cd-induced testicular damage. On the basis of the above results, it can be hypothesized that P. peruviana L. has a protective effect against cadmium-induced testicular oxidative stress and apoptosis in the rat.
Access options
Buy single article
Instant access to the full article PDF.
USD 39.95
Price excludes VAT (USA)
Tax calculation will be finalised during checkout.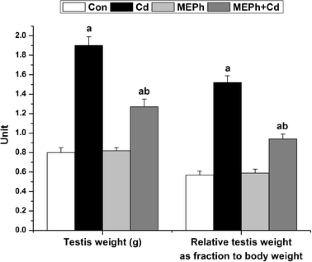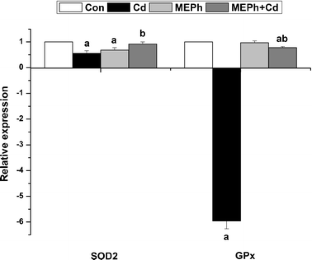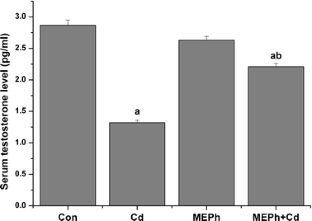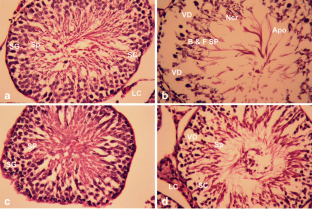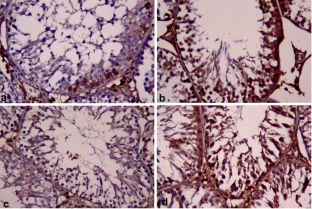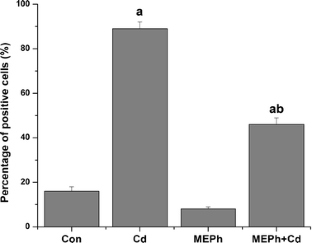 Abbreviations
Cas-3:

Caspase-3

CAT:

Catalase

Cd:

Cadmium

CdCl2 :

Cadmium chloride

GPx:

Glutathione peroxidase

GR:

Glutathione reductase

GSH:

Glutathione

MDA:

Malondialdehyde

MEPh:

Methanolic extract of physalis

NO:

Nitric oxide

ROS:

Reactive oxygen species

SOD:

Superoxide dismutase
References
Yang Z, Yang S, Qian SY et al (2007) Cadmium-induced toxicity in rat primary mid-brain neuroglia cultures: role of oxidative stress from microglia. Toxicol Sci 98(2):488–494

Waalkes MP (2003) Cadmium carcinogenesis. Mutat Res 533(1–2):107–120

Foote RH (1999) Cadmium affects testes and semen of rabbits exposed before and after puberty. Reprod Toxicol 13(4):269–277

Al-Azemi M, Omu FE, Kehinde EO, Anim JT, Oriowo MA, Omu AE (2010) Lithium protects against toxic effects of cadmium in the rat testes. J Assist Reprod Genet 27(8):469–476

Burukoglu D, Baycu C (2008) Protective effects of zinc on testes of cadmium-treated rats. Bull Environ Contam Toxicol 81(6):521–524

Blanco A, Moyano R, Vivo J et al (2007) Quantitative changes in the testicular structure in mice exposed to low doses of cadmium. Environ Toxicol Pharmacol 23(1):96–101

de Souza PF, Diamante MA, Dolder H (2010) Testis response to low doses of cadmium in Wistar rats. Int J Exp Pathol 91(2):125–131

Xu LC, Wang SY, Yang XF, Wang XR (2001) Effects of cadmium on rat sperm motility evaluated with computer assisted sperm analysis. Biomed Environ Sci 14(4):312–317

Zhou T, Zhou G, Song W et al (1999) Cadmium-induced apoptosis and changes in expression of p53, c-jun and mt-i genes in testes and ventral prostate of rats. Toxicology 142(1):1–13

Chang JC, Lin CC, Wu SJ et al (2008) Antioxidative and hepatoprotective effects of Physalis peruviana extract against acetaminophen-induced liver injury in rats. Pharm Biol 46(10–1):724–731

Al-Olayan E, Elkhadragy MF, Othman MS, Aref A, Kassab R, Abdel Moneim AE (2014) The potential protective effect of Physalis peruviana L. Against carbon tetrachloride-induced hepatotoxicity in rats is mediated by suppression of oxidative stress and downregulation of mmp-9 expression. Oxid Med Cell Longev

El-Gengaihi SE, Hassan EE, Hamed MA, Zahran HG, Mohammed MA (2013) Chemical composition and biological evaluation of Physalis peruviana root as hepato-renal protective agent. J Diet Suppl 10(1):39–53

Wu SJ, Ng LT, Lin DL, Huang SN, Wang SS, Lin CC (2004) Physalis peruviana extract induces apoptosis in human Hep G2 cells through CD95/CD95l system and the mitochondrial signaling transduction pathway. Cancer Lett 215(2):199–208

Wu SJ, Ng LT, Huang YM et al (2005) Antioxidant activities of Physalis peruviana. Biol Pharm Bull 28(6):963–966

Nürnberg HW (1983) Processing biological samples for metal analysis. In: Brown SS, Savory J (eds) International Union of Pure and Applied Chemistry. Academic, New York, pp 31–44

Green LC, Wagner DA, Glogowski J, Skipper PL, Wishnok JS, Tannenbaum SR (1982) Analysis of nitrate, nitrite, and [15n]nitrate in biological fluids. Anal Biochem 126(1):131–138

Ohkawa H, Ohishi N, Yagi K (1979) Assay for lipid peroxides in animal tissues by thiobarbituric acid reaction. Anal Biochem 95(2):351–358

Ellman GL (1959) Tissue sulfhydryl groups. Arch Biochem Biophys 82(1):70–77

Aebi H (1984) Catalase in vitro. Methods Enzymol 105:121–126

Nishikimi M, Appaji N, Yagi K (1972) The occurrence of superoxide anion in the reaction of reduced phenazine methosulfate and molecular oxygen. Biochem Biophys Res Commun 46(2):849–854

Habig WH, Pabst MJ, Jakoby WB (1974) Glutathione S-transferases. The first enzymatic step in mercapturic acid formation. J Biol Chem 249(22):7130–7139

Paglia DE, Valentine WN (1967) Studies on the quantitative and qualitative characterization of erythrocyte glutathione peroxidase. J Lab Clin Med 70(1):158–169

Factor VM, Kiss A, Woitach JT, Wirth PJ, Thorgeirsson SS (1998) Disruption of redox homeostasis in the transforming growth factor-alpha/c-myc transgenic mouse model of accelerated hepatocarcinogenesis. J Biol Chem 273(25):15846–15853

Ates I, Suzen HS, Aydin A, Karakaya A (2004) The oxidative DNA base damage in testes of rats after intraperitoneal cadmium injection. Biometals 17(4):371–377

Amara S, Abdelmelek H, Garrel C et al (2008) Preventive effect of zinc against cadmium-induced oxidative stress in the rat testis. J Reprod Dev 54(2):129–134

Saygi S, Deniz G, Kutsal O, Vural N (1991) Chronic effects of cadmium on kidney, liver, testis, and fertility of male rats. Biol Trace Elem Res 31(3):209–214

Foulkes EC (2000) Transport of toxic heavy metals across cell membranes. Proc Soc Exp Biol Med 223(3):234–240

Yang PM, Chiu SJ, Lin LY (2005) Differential effects of salen and manganese–salen complex (euk-8) on the regulation of cellular cadmium uptake and toxicity. Toxicol Sci 85(1):551–559

Valko M, Rhodes CJ, Moncol J, Izakovic M, Mazur M (2006) Free radicals, metals and antioxidants in oxidative stress-induced cancer. Chem Biol Interact 160(1):1–40

Watjen W, Beyersmann D (2004) Cadmium-induced apoptosis in c6 glioma cells: influence of oxidative stress. Biometals 17(1):65–78

Filipic M, Hei TK (2004) Mutagenicity of cadmium in mammalian cells: implication of oxidative DNA damage. Mutat Res 546(1–2):81–91

Amara S, Abdelmelek H, Garrel C et al (2006) Influence of static magnetic field on cadmium toxicity: study of oxidative stress and DNA damage in rat tissues. J Trace Elem Med Biol 20(4):263–269

Muller L (1986) Consequences of cadmium toxicity in rat hepatocytes: mitochondrial dysfunction and lipid peroxidation. Toxicology 40(3):285–295

Hibbs JB Jr, Taintor RR, Vavrin Z, Rachlin EM (1988) Nitric oxide: a cytotoxic activated macrophage effector molecule. Biochem Biophys Res Commun 157(1):87–94

Abdel Moneim AE (2012) Evaluating the potential role of pomegranate peel in aluminum-induced oxidative stress and histopathological alterations in brain of female rats. Biol Trace Elem Res 150(1–3):328–336

Misra RR, Hochadel JF, Smith GT, Cook JC, Waalkes MP, Wink DA (1996) Evidence that nitric oxide enhances cadmium toxicity by displacing the metal from metallothionein. Chem Res Toxicol 9(1):326–332

Hassoun EA, Stohs SJ (1996) Cadmium-induced production of superoxide anion and nitric oxide, DNA single strand breaks and lactate dehydrogenase leakage in J774A.1 cell cultures. Toxicology 112(3):219–226

Wu SJ, Tsai JY, Chang SP et al (2006) Supercritical carbon dioxide extract exhibits enhanced antioxidant and anti-inflammatory activities of Physalis peruviana. J Ethnopharmacol 108(3):407–413

Bauer R, Demeter I, Hasemann V, Johansen JT (1980) Structural properties of the zinc site in Cu, Zn-superoxide dismutase; perturbed angular correlation of gamma ray spectroscopy on the Cu, 111Cd-superoxide dismutase derivative. Biochem Biophys Res Commun 94(4):1296–1302

Trabelsi H, Azzouz I, Ferchichi S, Tebourbi O, Sakly M, Abdelmelek H (2013) Nanotoxicological evaluation of oxidative responses in rat nephrocytes induced by cadmium. Int J Nanomedicine 8:3447–3453

Wasowicz W, Gromadzinska J, Rydzynski K (2001) Blood concentration of essential trace elements and heavy metals in workers exposed to lead and cadmium. Int J Occup Med Environ Health 14(3):223–229

Lee HZ, Liu WZ, Hsieh WT, Tang FY, Chung JG, Leung HW (2009) Oxidative stress involvement in Physalis angulata-induced apoptosis in human oral cancer cells. Food Chem Toxicol 47(3):561–570

Abdel Moneim AE, El-Deib KM (2012) The possible protective effects of Physalis peruviana on carbon tetrachloride-induced nephrotoxicity in male albino rats. Life Sci J 9(3):1038–1052

El-Shahat AE-R, Gabr A, Meki A-R, Mehana E-S (2009) Altered testicular morphology and oxidative stress induced by cadmium in experimental rats and protective effect of simultaneous green tea extract. Int J Morphol 27:757–764

Santos FW, Oro T, Zeni G, Rocha JB, Do Nascimento PC, Nogueira CW (2004) Cadmium induced testicular damage and its response to administration of succimer and diphenyl diselenide in mice. Toxicol Lett 152(3):255–263

Messaoudi I, Banni M, Said L, Said K, Kerkeni A (2010) Evaluation of involvement of testicular metallothionein gene expression in the protective effect of zinc against cadmium-induced testicular pathophysiology in rat. Reprod Toxicol 29(3):339–345

Thompson J, Bannigan J (2008) Cadmium: toxic effects on the reproductive system and the embryo. Reprod Toxicol 25(3):304–315

Waalkes MP (2000) Cadmium carcinogenesis in review. J Inorg Biochem 79(1–4):241–244

Wang B, Li Y, Tan Y, Miao X, Liu XD, Shao C, Yang XH, Turdi S, Ma LJ, Ren J, Cai L (2012) Low-dose Cd induces hepatic gene hypermethylation, along with the persistent reduction of cell death and increase of cell proliferation in rats and mice. PLoS One 7(3):e33853

Abdel Moneim AE, Othman MS, Mohmoud SM, El-Deib KM (2013) Pomegranate peel attenuates aluminum-induced hepatorenal toxicity. Toxicol Mech Methods 23(8):624–633
About this article
Cite this article
Othman, M.S., Nada, A., Zaki, H.S. et al. Effect of Physalis peruviana L. on Cadmium-Induced Testicular Toxicity in Rats. Biol Trace Elem Res 159, 278–287 (2014). https://doi.org/10.1007/s12011-014-9955-1
Received:

Accepted:

Published:

Issue Date:

DOI: https://doi.org/10.1007/s12011-014-9955-1
Keywords