Abstract
Cumulative evidence indicates that oxidative stress and inflammation frequently occurs in patients undergoing maintenance hemodialysis (HD) and as a result of overproduction of reactive oxygen species (ROS) and a decrease of antioxidant defenses such as selenium (Se). Previous studies in our laboratory showed that the supplementation of 1 unit of Brazil nut (the richest known food source of Se) a day during 3 months is effective to improve Se status and increase glutathione peroxidase (GPx) levels in HD patients. The aim of this study was to evaluate the effect of Brazil nut supplementation on oxidative stress and inflammation markers in HD patients. Forty HD patients from Rio de Janeiro, Brazil were studied. All patients received one nut per day for 3 months. The Se plasma levels and GPx, 8-isoprostane, 8-hydroxy-2-deoxyguanosine (8-OHdG), and cytokine (TNF-α and IL-6) levels and lipid profile were determined before and after 3 months of supplementation. The plasma Se and GPx activity increased, while cytokines, 8-OHdG, and 8-isoprostane plasma levels decreased significantly after 3 months supplementation. HDL-c levels increased and LDL-c levels decreased significantly. These data suggest that the consumption of only one Brazil nut per day during 3 months was effective to reduce the inflammation, oxidative stress markers, and the atherogenic risk, thereby increasing the antioxidant defenses in HD patients. Our results indicate that Brazil nut as Se source plays an important role as an anti-inflammatory and antioxidant agent in HD patients.
Access options
Buy single article
Instant access to the full article PDF.
USD 39.95
Price excludes VAT (USA)
Tax calculation will be finalised during checkout.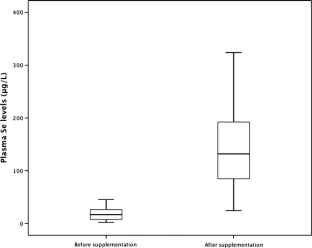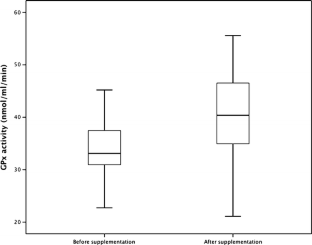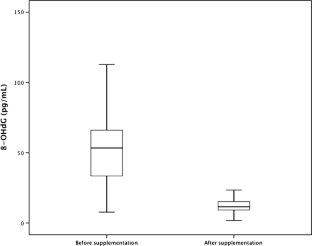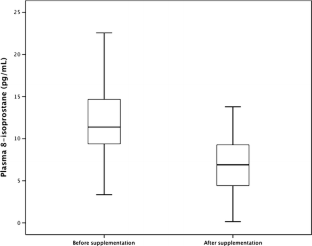 References
Ross R (1999) Atherosclerosis is an inflammatory disease. Am Heart J 5:419–420

Himmelfarb J, Stenvinkel P, Ikizler TA et al (2002) The elephant in uremia: oxidant stress as a unifying concept of cardiovascular disease in uremia. Kidney Int 62:1524–1538

Kim HJ, Vaziri ND (2010) Contribution of impaired Nrf2-Keap1 pathway to oxidative stress and inflammation in chronic renal failure. Am J Physiol Renal Physiol 298:662–671

Köken T, Serteser M, Kahraman A et al (2004) Changes in serum markers of oxidative stress with varying periods of haemodialysis. Nephrology 9:77–82

Shad SV, Baliga R, Rajapurkar M et al (2007) Oxidants in chronic kidney disease. J Am Soc Nephrol 18:16–28

Locatelli F, Canaud B, Eckardt KU et al (2003) Oxidative stress in end-stage renal disease: an emerging threat to patient outcome. Nephrol Dial Transplant 18:1272–1280

Zachara BA, Gromadzinska J, Wasowicz W et al (2006) Red blood cell and plasma glutathione peroxidase activities and selenium concentration in patients with chronic kidney disease: a review. Acta Biochem Pol 53:663–677

Wieczorowska-Tobis K, Wisniewska J, Korybalska K et al (2001) Plasma glutathione peroxidase activity in the elderly. Intern Urol Nephrol 32:463–467

Santangelo F, Witko-Sarsat V, Drüeke T et al (2004) Restoring glutathione as a therapeutic strategy in chronic kidney disease. Nephrol Dial Transplant 19:1951–1955

Margis R, Dunand C, Teixeira FK et al (2008) Glutathione peroxidase family–an evolution overview. FEBS J 275:3959–3970

El-Far MA, Bakr MA, Farahat SE et al (2009) Glutathione peroxidase activity in patients with renal disorders. Clin Exp Nephrol 9:127–131

Rayman MP (2000) The importance of selenium to the human health. Lancet 356:233–241

Thomson CD (2004) Assessment of requirements for selenium and adequacy of selenium status: a review. Eur J Nutr 58:391–402

Finley J (2005) Selenium accumulation in plant foods. Nutr Rev 63:196–202

Food and Nutrition Board of the Institute of Medicine (2000) Dietary reference intakes for vitamin C, vitamin E, selenium and carotenoids. National Academy Press, Washington, DC

Stockler-Pinto MB, Mafra D, Farage NE et al (2010) Effect of Brazil nut supplementation on the blood levels of selenium and glutathione peroxidase in hemodialysis patients. Nutr 11:1065–1069

Stockler-Pinto MB, Lobo J, Moraes C et al (2012) Effect of Brazil nut supplementation on plasma levels of selenium in hemodialysis patients: 12 months of follow-up. J Renal Nutr 4:434–449

Fouque D, Vennegoor M, Ter Wee P et al (2007) EBPG guideline on nutrition. Nephrol Dial Transplant 22(Suppl 2):ii45–ii87

Ferreira KS, Gomes JC, Bellato CR et al (2002) Concentrações de selênio em alimentos consumidos no Brasil. Pan Am J Public Health 11:172–177

Friedwald WT, Levi RI, Fredrickson DS (1972) Estimation of the concentration of low-density lipoprotein cholesterol in plasma, without use of the preparative ultracentrifuge. Clin Chem 18:499–502

Castelli WP, Abbott RD, Mcnamara PM (1983) Summary estimates of cholesterol used to predict coronary heart disease. Circulation 63:730–734

Ortuño J, Ros G, Periago MJ et al (1997) Nutritional importance of selenium. Arch Lat Am Nutr 47:1–13

Van Dael P, Deelstra H (1993) Selenium. Int J Vitam Nutr Res 63:312–316

Zachara BA, Adamowicz A, Trafikowska U et al (2000) Decreased plasma glutathione peroxidase activity in uremic patients. Nephrol 84:278–279

Zachara BA, Trafikowska U, Adamowicz A et al (2001) Selenium, glutathione peroxidases, and somer other antioxidant parameters in blood of patients with chronic renal failure. J Trace Elem Med Biol 15:161–166

Zachara BA, Salak A, Koterska D et al (2004) Selenium and glutathione peroxidases in blood of patients with different stages of chronic renal failure. J Trace Elem Med Biol 17:291–299

Yang CY, Wu ML, Chou YY et al (2012) Essential trace element status and clinical outcomes in long-term dialysis patients: a two-year prospective observational cohort study. Clin Nutr 31:630–636

Koide S, Kinoshita Y, Ito N et al (2010) Determination of human serum 8-hydroxy-2′-deoxyguanosine (8-OHdG) by HPLC-ECD combined with solid phase extraction (SPE). J Chromatogr B Analyt Technol Biomed Life Sci 878:2163–2167

Valavanidis A, VlachogianniT FC (2009) 8-Hydroxy-2′-deoxyguanosine (8-OHdG): a critical biomarker of oxidative stress and carcinogenesis. j Environ Sci Health, Part C: Environ Carcinog Ecotoxicol Rev 27:120–139

Tarng DC, Liu TY, Huang TP (2004) Protective effect of vitamin C on 8-hydroxy-2-deoxyguanosine level in peripheral blood lymphocytes of chronic hemodialysis patients. Kidney Int 66:820–831

Marstalerz-Migas A, Steciwko A, Pokorski M et al (2006) What influences the level of oxidative stress as measured by 8-hydroxy-2′-deoxyguanosine in patients on hemodialysis? J Physiol Pharmacol 57(Suppl 4):199–205

Kaya Y, Ari E, Demir H et al (2012) Accelerated atherosclerosis in haemodialysis patients; correlation of endothelial function with oxidative DNA damage. Nephrol Dial Transplant 27:1164–1169

Zachara BA, Gromadzinska J, Palus J et al (2011) The effect of selenium supplementation in the prevention of DNA damage in white blood cells of hemodialyzed patients: a pilot study. Biol Trace Elem Res 142:274–283

Stopper H, Treutlein AT, Bahner U et al (2008) Reduction of the genomic damage level in haemodialysis patients by folic acid and vitamin B12 supplementation. Nephrol Dial Transplant 23:3272–3279

Schupp N, Schmid U, Heidland A et al (2008) New approaches for the treatment of genomic damage in end-stage renal disease. J Ren Nutr 18:127–133

Grotto D, Barcelos GRM, Valentini J et al (2009) Low level of methylmercury induce DNA damage in rats: protective effects of selenium. Arch Toxicol 83:249–254

Handelman GJ, Walter MF, Adhikarla R et al (2011) Elevated plasma F2-isoprostanes in patients on long-term hemodialysis. Kidney Int 59:1960–1966

Johnson-Davis KL, Fernelius C, Eliason NB et al (2011) Blood enzymes and oxidative stress in chronic kidney disease: a cross sectional study. Ann Clin Lab Sci 41:331–339

Hsu SP, Chiang CK, Yang SY et al (2010) N-Acetylcysteine for the management of anemia and oxidative stress in hemodialysis patients. Nephron Clin Pract 116:207–216

Cominetti C, de Bortoloi M, Jr G et al (2012) Brazilian nut consumption improves selenium status and glutathione activity and reduces atherogenic risk in obese women. Nutr Res 32:403–407

Ingelsson E, Schaefer EJ, Contois JH et al (2007) Clinical utility of different lipid measures for prediction of coronary heart disease in men and women. JAMA 298:776–785

Fairweather-Tait SJ, Bao Y, Broadley MR et al (2011) Selenium in human health and disease. Antioxid Redox Signal 14:1337–1383

Pedruzzi LM, Stockler-Pinto MB, Leite M Jr et al (2012) Nrf2-keap1 system versus NF-kB: the good and the evil in chronic kidney disease? Biochimi 12:2461–2466

Cardozo LFMF, Preduzzi LM, Stockler-Pinto et al (2013) Effect of Brazilian nut supplementation on Nrf2 and NF-κB expression in hemodialysis patients. Annals of American Society of Nephrology, Kidney Week, 188p
Acknowledgments
We wish to thank the Clinic RenalCor, Rio de Janeiro, for allowing their patients to participate in this study. This study was supported by FAPERJ (Foundation for Research of the state of Rio de Janeiro) and as well as by the Brazilian National Council for Scientific and Technological Development (CNPq).
Conflict of Interest
The authors have no relevant affiliations or financial involvement with any organization or entity with a financial interest in or financial conflict with the subject matter or materials discussed in the manuscript.
About this article
Cite this article
Stockler-Pinto, M.B., Mafra, D., Moraes, C. et al. Brazil Nut (Bertholletia excelsa, H.B.K.) Improves Oxidative Stress and Inflammation Biomarkers in Hemodialysis Patients. Biol Trace Elem Res 158, 105–112 (2014). https://doi.org/10.1007/s12011-014-9904-z
Received:

Accepted:

Published:

Issue Date:

DOI: https://doi.org/10.1007/s12011-014-9904-z
Keywords
Selenium

Chronic kidney disease

Hemodialysis

Oxidative stress and inflammation