Abstract
To investigate the effect of noradrenaline (NE) on the immunosuppression induced by aluminum trichloride (AlCl3), the peritoneal macrophages were cultured with RPMI-1640 medium containing 0.97 mM AlCl3 (1/10 IC50). NE was added to the medium at the final concentrations of 0 (control group, N-C), 0.1 (low-dose group, N-L), 1 (mid-dose group, N-M), and 10 (high-dose group, N-H) nM, respectively. No addition of both AlCl3 and NE serviced as blank group (D-C). Chemotaxis, adhesion, phagocytosis, tumor necrosis factor α (TNF-α) secretion, cyclic adenosine monophosphate (cAMP) content, β2 adrenergic receptors (β2-AR) density, and messenger RNA (mRNA) expression of macrophages were detected. The results showed that AlCl3 reduced the chemotaxis, adhesion, phagocytosis, and TNF-α secretion and increased the cAMP content, β2-AR density, and mRNA expression of peritoneal macrophages. Meanwhile, the chemotaxis, adhesion, phagocytosis, TNF-α secretion, β2-AR density, and mRNA expression were reduced while the cAMP content was increased in NE-treated groups than those in N-C group. The results indicated that NE strengthens the immunosuppression induced by AlCl3 in cultured rat peritoneal macrophages through the β2-AR/cAMP pathway.
Access options
Buy single article
Instant access to the full article PDF.
USD 39.95
Price excludes VAT (USA)
Tax calculation will be finalised during checkout.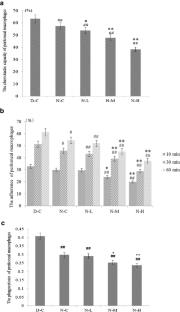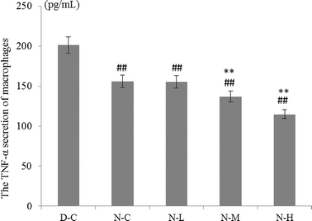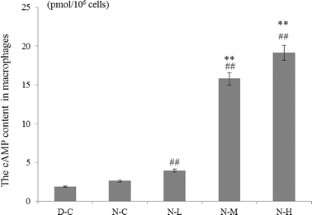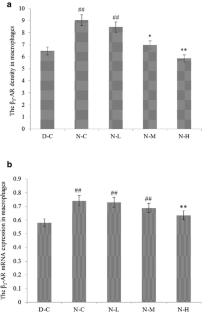 References
HogenEsch H (2002) Mechanisms of stimulation of the immune response by aluminum adjuvants. Vaccine. 20. Supplement 3:S34–S39

Synzynys B, Sharetskiĭ A, Kharlamova O (2003) Immunotoxicity of aluminum chloride. Gigiena i Sanit 4:70–72

Khalaf AE-AA, Morgan AM, Mekawy MM, Ali MF (2008) Immunotoxicity following pre-and post-natal aluminum exposure in rats. Toxicol Res 24:51–58

Willhite CC, Ball GL, McLellan CJ (2012) Total allowable concentrations of monomeric inorganic aluminum and hydrated aluminum silicates in drinking water. Crit Rev Toxicol 42:358–442

Ayuob NN (2013) Can vitamin E and selenium alleviate the immunologic impact of aluminium on pregnant rats' spleens? Cell Immunol 284:104–110

Gräske A, Thuvander A, Johannisson A, Gadhasson I, Schütz A, Festin R, Glynn AW (2000) Influence of aluminium on the immune system-an experimental study on volunteers. Biometals 13:123–133

Zhu YZ, Zhao HS, Li XW, Zhang L, Hu CW, Shao B, Sun H, Bah AA, Li YF, Zhang Z (2011) Effects of subchronic aluminum exposure on the immune function of erythrocytes in rats. Biol Trace Elem Res 143:1576–1580

Zhu Y, Hu C, Li X, Shao B, Sun H, Zhao H, Li Y (2012) Suppressive effects of aluminum trichloride on the T lymphocyte immune function of rats. Food Chem Toxicol 50:532–535

McKee AS, Munks MW, MacLeod MK, Fleenor CJ, Van Rooijen N, Kappler JW, Marrack P (2009) Alum induces innate immune responses through macrophage and mast cell sensors, but these sensors are not required for alum to act as an adjuvant for specific immunity. J Immunol 183:4403–4414

Hu C, Li J, Zhu Y, Sun H, Zhao H, Shao B, Li Y (2011) Effects of aluminum exposure on the adherence, chemotaxis, and phagocytosis capacity of peritoneal macrophages in rats. Biol Trace Elem Res 144:1032–1038

Dimitrijević M, Stanojević S, Kuštrimović N, Mitić K, Vujić V, Aleksić I, Radojević K, Leposavić G (2013) The influence of aging and estradiol to progesterone ratio on rat macrophage phenotypic profile and NO and TNF-α production. Exp Gerontol 48:1243–1254

Ortega E, Garcia JJ, De la Fuente M (2000) Ageing modulates some aspects of the non-specific immune response of murine macrophages and lymphocytes. Exp Physiol 85:519–525

Doherty D, Haslett C, Tonnesen M, Henson P (1987) Human monocyte adherence: a primary effect of chemotactic factors on the monocyte to stimulate adherence to human endothelium. J Immunol 138:1762–1771

Barriga C, Martín MI, Ortega E, Rodríguez AB (2003) The effect of melatonin and corticosterone on the phagocytic function of BALB/c mice macrophages. Biogenic Amines 18:107–116

Sesti-Costa R, Ignacchiti MDC, Chedraoui-Silva S, Marchi LF, Mantovani B (2012) Chronic cold stress in mice induces a regulatory phenotype in macrophages: correlation with increased 11 β-hydroxysteroid dehydrogenase expression. Brain Behav Immun 26:50–60

Mantovani A, Sica A, Locati M (2007) New vistas on macrophage differentiation and activation. Eur J Immunol 37:14–16

Mosser DM, Edwards JP (2008) Exploring the full spectrum of macrophage activation. Nat Rev Immunol 8:958–969

Silva LC, Ortigosa LC, Benard G (2010) Anti-TNF-α agents in the treatment of immune-mediated inflammatory diseases: mechanisms of action and pitfalls. Immunotherapy 2:817–833

Wang Z, Li Y (2008) Immunotoxic effects of aluminium on chicken splenic lymphocyte cultured in vitro. Asian J Ecotoxicol 3:174–177

Tong S (1990) The effects of aluminum, zinc, copper, chromium ion on the phagocytosis capacity of macrophage in mice. J Immunol Chin 6:219–221

Schlager JJ, Wagner A, Bleckmann C, England E, Hussain H (2006) J Phys Chem B 111:7353–7359

Khan MM, Sansoni P, Silverman ED, Engleman EG, Melmon KL (1986) Beta-adrenergic receptors on human suppressor, helper, and cytolytic lymphocytes. Biochem Pharmacol 35:1137–1142

Yanagawa Y, Hiraide S, Matsumoto M, Togashi H (2014) Rapid induction of REDD1 gene expression in macrophages in response to stress-related catecholamines. Immunol Lett 158:109–115

Kammer GM (1988) The adenylate cyclase-cAMP-protein kinase A pathway and regulation of the immune response. Immunol Today 9:222–229

Tasken K, Aandahl EM (2004) Localized effects of cAMP mediated by distinct routes of protein kinase A. Immunol Today 84:137–167

Bhattacharjee R, Xiang W, Wang Y, Zhang X, Billiar TR (2012) cAMP prevents TNF-induced apoptosis through inhibiting DISC complex formation in rat hepatocytes. Biochem Biophys Res Comm 423:85–90

Grandoch M, Roscioni SS, Schmidt M (2010) The role of Epac proteins, novel cAMP mediators, in the regulation of immune, lung and neuronal function. Br J Pharmacol 159:265–284

Kobsar A, Heeg S, Krohne K, Opitz A, Walter U, Böck M, Gambaryan S, Eigenthaler M (2008) Cyclic nucleotide-regulated proliferation and differentiation vary in human hematopoietic progenitor cells derived from healthy persons, tumor patients, and chronic myelocytic leukemia patients. Stem Cell Dev 17:81–92

Fritz JH, Brunner S, Birnstiel ML, Buschle M, Mattner F, Zauner W (2004) The artificial antimicrobial peptide KLKLLLLLKLK induces predominantly a TH2-type immune response to co-injected antigens. Vaccine 22:3274–3284

Webster JI, Tonelli L, Sternberg EM (2002) Neuroendocrine regulation of immunity. Annu Rev Immunol 20:125–163

Goyarts E, Matsui M, Mammone T, Bender AM, Wagner JA, Maes D, Granstein RD (2008) Norepinephrine modulates human dendritic cell activation by altering cytokine release. Annu Rev Immunol 17:188–196

Zinyama RB, Bancroft GJ, Sigola LB (2001) Adrenaline suppression of the macrophage nitric oxide response to lipopolysaccharide is associated with differential regulation of tumour necrosis factor-α and interleukin-10. Immunology 104:439–446

Yanagawa Y, Matsumoto M, Togashi H (2010) Enhanced dendritic cell antigen uptake via α2 adrenoceptor-mediated PI3K activation following brief exposure to noradrenaline. J Immunol 185:5762–5768

Kohm AP, Sanders VM (2001) Norepinephrine and β2-adrenergic receptor stimulation regulate CD4+ T and B lymphocyte function in vitro and in vivo. Pharmacol Rev 53:487–525

Nance DM, Sanders VM (2007) Autonomic innervation and regulation of the immune system (1987–2007). Brain Behav Immun 21:736–745

Riether C, Kavelaars A, Wirth T, Pacheco-López G, Doenlen R, Willemen H, Heijnen CJ, Schedlowski M, Engler H (2011) Stimulation of β2-adrenergic receptors inhibits calcineurin activity in CD4+ T cells via PKA-AKAP interaction. Brain Behav Immun 25:59–66

Zhang JH, Hu CW, Zhu YZ, Liu SM, Bai CS, Han YF, Xia SL, Li YF (2013) Effects of norepinephrine on immune functions of cultured splenic lymphocytes exposed to aluminum trichloride. Biol Trace Elem Res 154:275–280

Hu CW, Li J, Zhu YZ, Bai CS, Zhang JH, Xia SL, Li YF (2013) Effects of Al on the splenic immune function and NE in rats. Food Chem Toxicol 62:194–198

Asfora KK, da Silva SMCM, Montes MAJR, Castro CMMB (2005) Evaluation of biocompatibility of sodium perborate and 30 % hydrogen peroxide using the analysis of the adherence capacity and morphology of macrophages. J Dent 33:155–162

Vı́ctor VM, Rocha M, De la Fuente M (2003) Regulation of macrophage function by the antioxidant N-acetylcysteine in mouse-oxidative stress by endotoxin. Int Immunopharm 3:97–106

Boyden S (1962) The chemotactic effect of mixtures of antibody and antigen on polymorphonuclear leucocytes. J Exp Med 115:453–466

Puerto M, Guayerbas N, Victor V, De la Fuente M (2002) Effects of N-acetylcysteine on macrophage and lymphocyte functions in a mouse model of premature ageing. Pharmacol Biochem Behav 73:797–804

Maddali S, Stapleton PP, Freeman TA, Smyth GP, Duff M, Yan Z, Daly JM (2004) Neuroendocrine responses mediate macrophage function after trauma. Surgery 136:1038–1046

Ortega E, Garcia J, De la Fuente M (2000) Modulation of adherence and chemotaxis of macrophages by norepinephrine. Influence of ageing. Mol Cell Biochem 203:113–117

Perdomo MC, Santos JE, Badinga L (2011) Trans-10, cis-12 conjugated linoleic acid and the PPAR-γ agonist rosiglitazone attenuate lipopolysaccharide-induced TNF-α production by bovine immune cells. Domest Anim Endocrinol 41:118–125

Mokhtari AM, Sankian M, Eftekharzadeh MI, Varasteh A, Vahedi F, Sadrizadeh A, Spotin A (2011) Apoptosis of human lymphocytes after exposure to hydatid fluid. Iran J Parasitol 6:9–16

Geissmann F, Manz MG, Jung S, Sieweke MH, Merad M, Ley K (2010) Development of monocytes, macrophages, and dendritic cells. Science 327:656–661

Unanue ER, Allen PM (1987) The basis for the immunoregulatory role of macrophages and other accessory cells. Science 236:551–557

Victor VM, Rocha M, De la Fuente M (2003) Regulation of macrophage function by the antioxidant N-acetylcysteine in mouse-oxidative stress by endotoxin. Int Immunopharmacol 3:97–106

De la Fuente M, Del Rio M, Medina S (2001) Changes with aging in the modulation by neuropeptide Y of murine peritoneal macrophage functions. J Neuroimmunol 116:156–167

Xiu F, Stanojcic M, Jeschke MG (2013) Norepinephrine inhibits macrophage migration by decreasing CCR2 expression. PLoS One 8:e69167

Gosain A, Muthu K, Gamelli RL, DiPietro LA (2007) Norepinephrine suppresses wound macrophage phagocytic efficiency through alpha-and beta-adrenoreceptor dependent pathways. Surgery 142:170–179

Hu X, Goldmuntz EA, Brosnan CF (1991) The effect of norepinephrine on endotoxin-mediated macrophage activation. J Neuroimmunol 31:35–42

Szelenyi J, Kiss JP, Vizi ES (2000) Differential involvement of sympathetic nervous system and immune system in the modulation of TNF-alpha production by alpha2-and beta-adrenoceptors in mice. J Neuroimmunol 103:34–40

Spengler RN, Allen RM, Remick DG, Strieter RM, Kunkel SL (1990) Stimulation of alpha-adrenergic receptor augments the production of macrophage-derived tumor necrosis factor. J Immunol 145:1430–1434

Koga K, Takaesu G, Yoshida R, Nakaya M, Kobayashi T, Kinjyo I, Yoshimura A (2009) Cyclic adenosine monophosphate suppresses the transcription of proinflammatory cytokines via the phosphorylated c-Fos protein. Immunity 30:372–383

Tannenbaum C (1989) Lipopolysaccharide-induced gene expression in murine peritoneal macrophages is selectively suppressed by agents that elevate intracellular cAMP. J Immunol 142:1274–1280

Itoh CE, Kizaki T, Hitomi Y, Hanawa T, Kamiya S, Ookawara T, Suzuki K, Izawa T, Saitoh D, Haga S, Ohno H (2004) Down-regulation of beta2-adrenergic receptor expression by exercise training increases IL-12 production by macrophages following LPS stimulation. Biochem Biophys Res Commun 322:979–984

Wirth T, Westendorf AM, Bloemker D, Wildmann J, Engler H, Mollerus S, Wadwa M, Schäfer MK, Schedlowski M, Rey A (2014) The sympathetic nervous system modulates CD4+Foxp3+ regulatory T cells via noradrenaline-dependent apoptosis in a murine model of lymphoproliferative disease. Brain Behav Immun 38:100–110

Torgersen KM, Vang T, Abrahamsen H, Yaqub S, Taskén K (2002) Molecular mechanisms for protein kinase A-mediated modulation of immune function. Cell Signal 14:1–9
Acknowledgements
The study was supported by a grant from the National Science Foundation Project (31172375, 31372496) and a grant from the National Science Foundation Project (31302147).
About this article
Cite this article
Li, M., Yang, X., Zhuang, C. et al. NE Strengthens the Immunosuppression Induced by AlCl3 Through β2-AR/cAMP Pathway in Cultured Rat Peritoneal Macrophages. Biol Trace Elem Res 164, 234–241 (2015). https://doi.org/10.1007/s12011-014-0217-z
Received:

Accepted:

Published:

Issue Date:

DOI: https://doi.org/10.1007/s12011-014-0217-z
Keywords
NE

Immunosuppression

AlCl3

Peritoneal macrophages

β2-AR/cAMP pathway