Abstract
Selenium (Se) influences the metabolism of thyroid hormones in mammals. However, the role of Se deficiency in the regulation of thyroid hormones in chickens is not well known. In the present study, we examined the levels of thyroidal triiodothyronine (T3), thyroidal thyroxine (T4), free triiodothyronine, free thyroxine (FT4), and thyroid-stimulating hormone in the serum and the mRNA expression levels of 25 selenoproteins in chicken thyroids. Then, principal component analysis (PCA) was performed to analyze the relationships between the selenoproteins. The results indicated that Se deficiency influenced the conversion of T4 to T3 and induced the accumulation of T4 and FT4. In addition, the mRNA expression levels of the selenoproteins were generally decreased by Se deficiency. The PCA showed that eight selenoproteins (deiodinase 1 (Dio1), Dio2, Dio3, thioredoxin reductase 2 (Txnrd2), selenoprotein i (Seli), selenoprotein u (Selu), glutathione peroxidase 1 (Gpx1), and Gpx2) have similar trends, which indicated that they may play similar roles in the metabolism of thyroid hormones. The results showed that Se deficiency inhibited the conversion of T4 to T3 and decreased the levels of the crucial metabolic enzymes of the thyroid hormones, Dio1, Dio2, and Dio3, in chickens. In addition, the decreased selenoproteins (Dio1, Dio2, Dio3, Txnrd2, Seli, Selu, Gpx1, and Gpx2) induced by Se deficiency may indirectly limit the conversion of T4 to T3 in chicken thyroids. The information presented in this study is helpful to understand the role of Se in the thyroid function of chickens.
Access options
Buy single article
Instant access to the full article PDF.
US$ 39.95
Tax calculation will be finalised during checkout.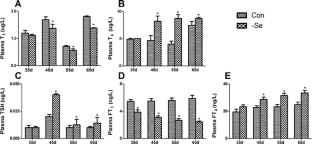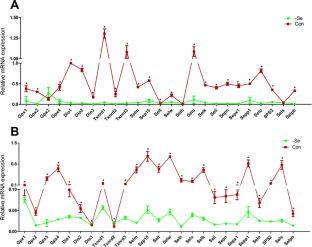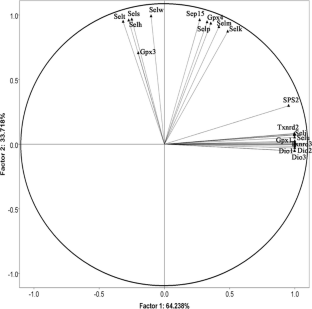 References
1.

Kohrle J, Jakob F, Contempre B et al (2005) Selenium, the thyroid, and the endocrine system. Endocr Rev 26:944–984

2.

Meinhold H, Campos-Barros A, Walzog B et al (1993) Effects of selenium and iodine deficiency on type I, type II and type III iodothyronine deiodinases and circulating thyroid hormones in the rat. Exp Clin Endocrinol 101:87–93

3.

Beckett GJ, Beddows SE, Morrice PC et al (1987) Inhibition of hepatic deiodination of thyroxine is caused by selenium deficiency in rats. Biochem J 248:443–447

4.

Arthur JR, Morrice PC, Beckett GJ (1988) Thyroid hormone concentrations in selenium deficient and selenium sufficient cattle. Res Vet Sci 45:122–123

5.

Yu S, Howard KA, Wedekind KJ et al (2002) A low-selenium diet increases thyroxine and decreases 3,5,3′triiodothyronine in the plasma of kittens. J Anim Physiol Anim Nutr 86:36–41

6.

Kryukov GV, Castellano S, Novoselov SV et al (2003) Characterization of mammalian selenoproteomes. Science 300:1439–1443

7.

Stadtman TC (2000) Selenium biochemistry. Mammalian selenoenzymes. Ann N Y Acad Sci 899:399–402

8.

Pappas AC, Zoidis E, Surai PF et al (2008) Selenoproteins and maternal nutrition. Comp Biochem Physiol B Biochem Mol Biol 151:361–372

9.

Lescure A, Rederstorff M, Krol A et al (2009) Selenoprotein function and muscle disease. Biochim Biophys Acta 1790:1569–1574

10.

Bellinger FP, Raman AV, Reeves MA et al (2009) Regulation and function of selenoproteins in human disease. Biochem J 422:11–22

11.

Reeves MA, Hoffmann PR (2009) The human selenoproteome: recent insights into functions and regulation. Cell Mol Life Sci 66:2457–2478

12.

Huang JQ, Li DL, Zhao H et al (2012) The selenium deficiency disease exudative diathesis in chicks is associated with downregulation of seven common selenoprotein genes in liver and muscle. J Nutr 141:1605–1610

13.

Liu Y, Zhao H, Zhang QS et al (2012) Prolonged dietary selenium deficiency or excess does not globally affect selenoprotein gene expression and/or protein production in various tissues of pigs. J Nutr 142:1410–1416

14.

Yao HD, Wu Q, Zhang ZW et al (2013) Gene expression of endoplasmic reticulum resident selenoproteins correlates with apoptosis in various muscles of Se-deficient chicks. J Nutr 143:613–619

15.

Zhang JL, Li JL, Huang XD et al (2012) Dietary selenium regulation of transcript abundance of selenoprotein N and selenoprotein W in chicken muscle tissues. Biometals 25:297–307

16.

Ruan H, Zhang Z, Wu Q et al (2012) Selenium regulates gene expression of selenoprotein W in chicken skeletal muscle system. Biol Trace Elem Res 145:59–65

17.

Sun B, Wang R, Li J et al (2011) Dietary selenium affects selenoprotein W gene expression in the liver of chicken. Biol Trace Elem Res 143:1516–1523

18.

Li JL, Ruan HF, Li HX et al (2011) Molecular cloning, characterization and mRNA expression analysis of a novel selenoprotein: avian selenoprotein W from chicken. Mol Biol Rep 38:4015–4022

19.

Li JL, Li HX, Li S et al (2012) Effects of selenoprotein W gene expression by selenium involves regulation of mRNA stability in chicken embryos neurons. Biometals 25:459–468

20.

Zhang ZW, Zhang JL, Gao YH et al (2013) Effect of oxygen free radicals and nitric oxide on apoptosis of immune organ induced by selenium deficiency in chickens. Biometals 26:355–365

21.

Wang R, Sun B, Zhang Z et al (2011) Dietary selenium influences pancreatic tissue levels of selenoprotein W in chickens. J Inorg Biochem 105:1156–1160

22.

Gao X, Xing H, Li S et al (2012) Selenium regulates gene expression of selenoprotein W in chicken gastrointestinal tract. Biol Trace Elem Res 145:181–188

23.

Peirson SN, Butler JN, Foster RG (2003) Experimental validation of novel and conventional approaches to quantitative real-time PCR data analysis. Nucleic Acids Res 31:e73

24.

Livak KJ, Schmittgen TD (2001) Analysis of relative gene expression data using real-time quantitative PCR and the 2(−Delta Delta C(T)) Method. Methods 25:402–408

25.

Darras VM, Kotanen SP, Geris KL et al (1996) Plasma thyroid hormone levels and iodothyronine deiodinase activity following an acute glucocorticoid challenge in embryonic compared with posthatch chickens. Gen Comp Endocrinol 104:203–212

26.

Jianhua H, Ohtsuka A, Hayashi K (2000) Selenium influences growth via thyroid hormone status in broiler chickens. Br J Nutr 84:727–732

27.

Arthur JR, Nicol F, Beckett GJ (1992) The role of selenium in thyroid hormone metabolism and effects of selenium deficiency on thyroid hormone and iodine metabolism. Biol Trace Elem Res 34:321–325

28.

Kohrle J (1999) The trace element selenium and the thyroid gland. Biochimie 81:527–533

29.

Kandhro GA, Kazi TG, Sirajuddin et al (2011) Effects of selenium supplementation on iodine and thyroid hormone status in a selected population with goitre in Pakistan. Clin Lab 57:575–585

30.

St Germain DL, Galton VA (1997) The deiodinase family of selenoproteins. Thyroid 7:655–668

31.

Baur A, Buchfelder M, Kohrle J (2002) Expression of 5′-deiodinase enzymes in normal pituitaries and in various human pituitary adenomas. Eur J Endocrinol 147:263–268

32.

Burmeister LA, Pachucki J, St Germain DL (1997) Thyroid hormones inhibit type 2 iodothyronine deiodinase in the rat cerebral cortex by both pre- and posttranslational mechanisms. Endocrinology 138:5231–5237

33.

Beckett GJ, Russell A, Nicol F et al (1992) Effect of selenium deficiency on hepatic type I 5-iodothyronine deiodinase activity and hepatic thyroid hormone levels in the rat. Biochem J 282(Pt 2):483–486

34.

Bermano G, Nicol F, Dyer JA et al (1995) Tissue-specific regulation of selenoenzyme gene expression during selenium deficiency in rats. Biochem J 311(Pt 2):425–430

35.

Kohrle J, Gartner R (2009) Selenium and thyroid. Best Pract Res Clin Endocrinol Metab 23:815–827

36.

Beckett GJ, Arthur JR (2005) Selenium and endocrine systems. J Endocrinol 184:455–465

37.

Abdulah R, Miyazaki K, Nakazawa M et al (2005) Chemical forms of selenium for cancer prevention. J Trace Elem Med Bio 19:141–150

38.

Howie AF, Walker SW, Akesson B et al (1995) Thyroidal extracellular glutathione peroxidase: a potential regulator of thyroid-hormone synthesis. Biochem J 308(Pt 3):713–717

39.

Lu J, Holmgren A (2014) The thioredoxin antioxidant system. Free Radic Biol Med 66:75–87

40.

Burek CL, Rose NR (2008) Autoimmune thyroiditis and ROS. Autoimmun Rev 7:530–537

41.

Dayan CM, Daniels GH (1996) Chronic autoimmune thyroiditis. N Engl J Med 335:99–107

42.

Poncin S, Gerard AC, Boucquey M et al (2008) Oxidative stress in the thyroid gland: from harmlessness to hazard depending on the iodine content. Endocrinology 149:424–433

43.

Mariotti M, Ridge PG, Zhang Y et al (2012) Composition and evolution of the vertebrate and mammalian selenoproteomes. PLoS One 7:e33066

44.

Lobanov AV, Hatfield DL, Gladyshev VN (2009) Eukaryotic selenoproteins and selenoproteomes. Biochim Biophys Acta 1790:1424–1428
Acknowledgments
This study was supported by the Major Projects of International Cooperation and Exchanges NSFC (31320103920), the National Natural Science Foundation of China (31272626), the Doctoral Fund of the Ministry of Education of China (20122325110018), the Heilongjiang Postdoctoral Fund (LBH-Z13028), and the Heilongjiang Province Science Foundation for Youths (QC2014C015), the Study Abroad Foundation of Heilongjiang Province (LC201031). The authors thank Elsevier English Language Editing System to correct grammatical, spelling, and other common errors.
Conflict of Interest
The authors declare that there were no conflicts of interest
Additional information
All authors have read the manuscript and agreed to submit it in its current form for consideration for publication in the journal
About this article
Cite this article
Lin, Sl., Wang, Cw., Tan, Sr. et al. Selenium Deficiency Inhibits the Conversion of Thyroidal Thyroxine (T4) to Triiodothyronine (T3) in Chicken Thyroids. Biol Trace Elem Res 161, 263–271 (2014). https://doi.org/10.1007/s12011-014-0083-8
Received:

Accepted:

Published:

Issue Date:
Keywords
Thyroid function

Selenium deficiency

Selenoproteins

Chicken

Thyroid