Abstract
This study aimed to compare the effect of excess iodine and herbs with excess iodine on treating iodine deficiency-induced goiter from the perspective of oxidative stress and to measure selenium values in Chinese herbs. One hundred twenty 4-week-old Wistar rats were selected and randomly divided into four groups after inducing iodine-deficiency goiter: normal control group (NC), model control group (MC), iodine excess group (IE), and herbs with iodine excess group (HIE). The activities of oxidative enzymes and levels of oxidative products were measured using biochemical tests. The expression of 4-hydroxynonenal (4-HNE) in the thyroid was detected by immunohistochemistry and the expression of peroxiredoxin 5 (PRDX5) by the Western blot and immunohistochemistry. Selenium values in iodine-excessive herbs were measured by hydride generation-atomic fluorescence spectrometry. The herbs with iodine excess were tested to contain rich selenium. The activities of superoxide dismutase (SOD) and PRDX5 increased markedly, and the values of malondialdehyde (MDA) and 4-HNE decreased significantly in the HIE group. In conclusion, compared with excess iodine, herbs with excess iodine damaged thyroid follicular cells less, which may be related to the increase of antioxidant capacity and rich selenium values in iodine-excessive herbs.
This is a preview of subscription content, log in to check access.
Access options
Buy single article
Instant access to the full article PDF.
US$ 39.95
Price includes VAT for USA
Subscribe to journal
Immediate online access to all issues from 2019. Subscription will auto renew annually.
US$ 954
This is the net price. Taxes to be calculated in checkout.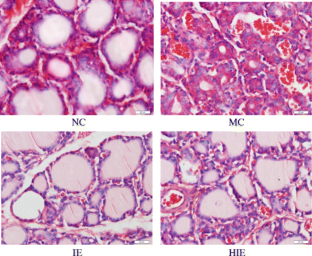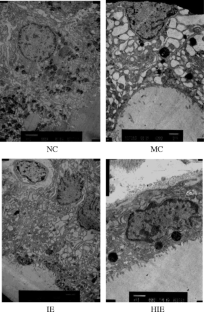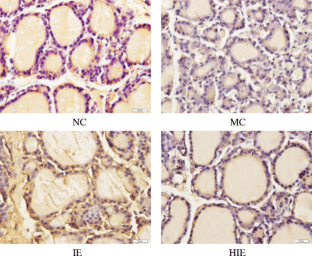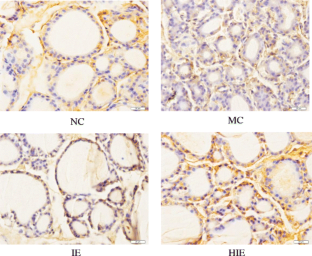 References
1.

Gao T-S, Teng W-P (2004) Effect of mild and moderate iodine excess on thyroid function and morphology in iodine deficiency rats. Chin J Endocrinol Metab 20:353–356

2.

Gao T-S, Cui P, Li H-M et al (2008) A study on the effect of Seaweed Jade Kettle Decoction on thyroid function and morphology in iodine deficiency induced goiter rats. Chin J Basic Med Tradit Chin Med 14:113–116

3.

Zhang N, Tong YJ, Shan Z-Y, Teng W-P (2006) Effect of Chronic mild and moderate iodine excess on thyroid anti-oxidative ability of iodine deficiency and non-iodine deficiency Wistar rats. Natl Med J Chin 86:1274–1278

4.

Gobe G, Crane D (2010) Mitochondria, reactive oxygen species and cadmium in the kidney. Toxicol Letters 198(1):49–55

5.

Milenkovic M, De Deken X et al (2007) Duox expression and related H2O2 measurement in mouse thyroid: onset in embryonic development and regulation by TSH in adult. J Endocrinol 192:615–626

6.

Poncin S, Gerard A-C, Boucquey M et al (2008) Oxidative stress in the thyroid gland: from harmlessness to hazard depending on the iodine content. Endocrinology 149:424–433

7.

Cui P, Gao T-S (2007) To measure the content of iodine in herbal medicine and compound prescription used in softening hard mass and disintegrating masses. Chin Arch Tradit Chin Med 25:1396–1398

8.

Wu L, Yu JC, Kang WM, Ma ZQ (2013) Iodine nutrition and thyroid diseases. Zhongguo Yi Xue Ke Xue Yuan Xue Bao 35(4):363–8

9.

Gao T-S, Hu F-N, Teng W-P (2003) Effect of mild and moderate excessive iodine on thyroid function and morphology in non-iodine deficiency rats. Chin J Int Med 42:705–708

10.

Many MC, Denef JF, Hamudi S et al (1986) Increased follicular heterogeneity in experimental colloid goiter produced by refeeding iodine excess after thyroid hyperplasia. Endocrinology 118:637–644

11.

Denef JF, Many MC, Van den Hove MF (1996) Iodine-induced thyroid inhibition and cell necrosis: two consequences of the same free radical mediated mechanism? Mol Cel Endocrinology 121:101–103

12.

Köhrle J (2013) Selenium and the thyroid. Curr Opin Endocrinol Diabetes Obes 20(5):441–8

13.

Duntas LH (2006) The role of selenium in thyroid autoimmunity and cancer. Thyroid 16(5):455–460

14.

Xu J, Yang XF, Guo HL et al (2006) Selenium supplement alleviated the toxic effects of excessive iodine in mice. Biol Trace Elem Res 111(1–3):229–238

15.

Yun-xia J, Rong L, Guo-qing Z et al (2010) The research status and application of organic iodine. Guangdong Trace Elem Sci 17:12–15

16.

Yu J, Shan Z, Chong W et al (2011) Vitamin E ameliorates iodine-induced cytotoxicity in thyroid. J Endocrinol 209:299–306
Acknowledgments
This work received grants from the Specialized Research Fund for the Doctoral Program of Higher Education of China (grant no. 20092133110004), Liaoning Province Education Department (grant no. 2009A492), and Talents Project of Liaoning Province Education Department (grant no. LR201026). And thanks for the support from Prof. Teng Weiping and Prof. Shan Zhongyan, Endocrinology and Metabolism Institute, China Medical University.
About this article
Cite this article
Gao, T., Shi, R., Qi, T. et al. A Comparative Study on the Effects of Excess Iodine and Herbs with Excess Iodine on Thyroid Oxidative Stress in Iodine-Deficient Rats. Biol Trace Elem Res 157, 130–137 (2014). https://doi.org/10.1007/s12011-013-9873-7
Received:

Accepted:

Published:

Issue Date:
Keywords
Oxidative stress

Goiter

Iodine

Herbs with excess iodine