Abstract
The Chapeu-de-couro (Echinodorus macrophyllus (Kunth) Micheli) is a native plant from Brazil, which has been mainly used in medicinal application being a potent antirheumatic and diuretic, in the production of soft drinks, and also in the ornamentation of aquariums. In this paper, the metals and metalloids for the leaves of chapeu-de-couro collected in the Paraguacu River from the city Cachoeira, Bahia State, Brazil, was determined and evaluated using multivariate analysis. The samples were digested using nitric acid and hydrogen peroxide and were analyzed using inductively coupled plasma mass spectrometry. The accuracy of the method was confirmed by analysis of a certified reference material of apple leaves, furnished by National Institute of Standard and Technology. The study involved 15 samples of the Paraguacu River. The results expressed as milligrams of element per kilogram of sample demonstrated that the concentration ranges varied: 1.39–5.27 for chromium, 44.85–165.39 for manganese, 0.55–0.84 for arsenic, 0.01–3.94 for antimony, and 0.18–0.31 for lead. The principal component analysis and hierarchical cluster analysis evidenced that the concentrations of the metals and metalloids varied according with the variations in the water of the Paraguacu.
Access options
Buy single article
Instant access to the full article PDF.
USD 39.95
Price includes VAT (USA)
Tax calculation will be finalised during checkout.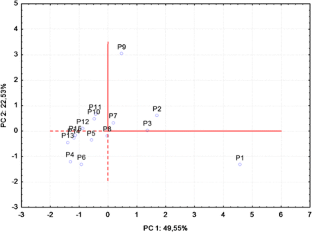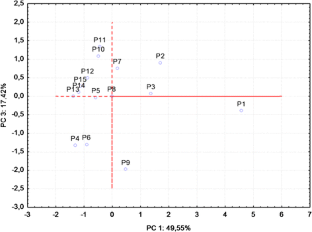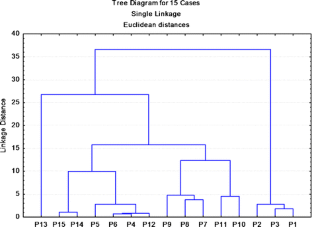 References
1.

Ashraf MY, Sadiq R, Hussain M, Ashraf M, Ahmad MSA (2010) Toxic effect of nickel (Ni) on growth and metabolism in germinating seeds of sunflower (Helianthus annuus L.). Biol Trace Elem Res 143:1695–1703

2.

Divrikli U, Horzum N, Soylak M, Elci L (2006) Trace heavy metal contents of some spices and herbal plants from western Anatolia, Turkey. Int J Food Sci Tech. doi:10.1111/j.1365-2621.2005.01140.x

3.

Martins VS, de Jesus RM, da Silva EGP, Fragoso WD, Ferreira SLC (2011) Determination and evaluation of the mineral composition of obi (Cola acuminate). Biol Trace Elem Res 143:478–488

4.

dos Santos IF, Barbosa UA, dos Santos AMP, Lima JS, dos Santos DC, Matos GD (2013) Multivariate analysis of the mineral content of raw and cooked okra (Abelmoschus esculentus L.). Microchem J. doi:10.1016/j.microc.2013.05.008

5.

Ebrahimzadeh MA, Eslami S, Nabavi SM, Nabavi SF, Moghaddam AH, Bekhradnia AR (2011) Estimation of essential and toxic mineral elements in Mentha Specie. Asian J Chem 23:1648–1650

6.

Pinto AC, Rego GCG, Siqueira AM, Cardoso CC, Reis PA, Marques EA, Coelho MGP, Sabino KCD (2010) Immunosuppressive effects of Echinodorus macrophyllus aqueous extract. J Ethnopharmacol 111:435–439

7.

Tanus-Rangel E, Santos SR, Lima JCS, Lopes L, Noldin V, Monache FD, Cechinel-Filho V, Martins DTO (2010) Topical and systemic anti-inflammatory effects of Echinodorus macrophyllus (Kunth) Micheli (Alismataceae). J Med Food 13:1161–1166

8.

Lopes LD, Albano F, Laranja GAT, Alves LM, Martins LF, de Souza GP, Araujo ID, Nogueira-Neto JF, Felzenszwalb I, Kovary K (2000) Toxicological evaluation by in vitro and in vivo assays of an aqueous extract prepared from Echinodorus macrophyllus leaves. Toxicol Lett 116:189–198

9.

Kobayashi J, Sekiguchi M, Shimamoto S, Shigemori H, Ohsaki A (2000) Echinophyllins C−F, new nitrogen-containing clerodane diterpenoids from Echinodorus macrophyllus. J Nat Prod 63:1576–1579

10.

Vidal LS, Alves AM, Kuster RM, Lage C, Leitao AC (2010) Genotoxicity and mutagenicity of Echinodorus macrophyllus (chapeu-de-couro) extracts. Genet Mol Biol 33:549–577

11.

Kannan RRR, Arumugam R, Anantharaman P (2011) Chemometric studies of multielemental composition of few seagrasses from Gulf of Mannar, India. Biol Trace Elem Res 143:1149–1158

12.

Aldrabee A, Wriekat AH (2011) Archaeometric characterization of ancient glazed pottery sherds from Khirbet Faris, Jordan by inductively coupled plasma mass spectrometry (ICP-MS). Microchem J 99:289–295

13.

Pasha Q, Malik SA, Iqbal J, Shah MH (2007) Characterization and distribution of the selected metals in the scalp hair of cancer patients in comparison with normal donors. Biol Trace Elem Res 118:207–216

14.

Panero FS, da Silva HEB (2008) Application of exploratory data analysis for the characterization of tubular wells of the north of Brazil. Microchem J 88:194–200

15.

Sharaf MA, Illman DL, Kowalski BR (1986) Chemometrics. Wiley, New York

16.

Choi MK, Kang MH, Kim MH (2009) The analysis of copper, selenium, and molybdenum contents in frequently consumed foods and an estimation of their daily intake in Korean adults. Biol Trace Elem Res 128:104–117

17.

Yuan XF, Shi JY, Yang YQ, Luan J, Gao JJ, Wang YW (2010) Establishment of element fingerprint and multielement analysis of Fritillaria thunbergii by inductively coupled plasma optical emission spectrometry. Biol Trace Elem Res 135:304–313

18.

Frisk P, Danersund A, Hudecek R, Lindh U (2007) Changed clinical chemistry pattern in blood after removal of dental amalgam and other metal alloys supported by antioxidant therapy. Biol Trace Elem Res 120:163–170

19.

Pasha Q, Malik SA, Shaheen N, Shah MH (2010) Characterization and distribution of the selected metals in the scalp hair of cancer patients in comparison with normal donors. Biol Trace Elem Res 134:160–173

20.

Pasha Q, Malik SA, Iqbal J, Shaheen N, Shah MH (2008) Comparative evaluation of trace metal distribution and correlation in human malignant and benign breast tissues. Biol Trace Elem Res 125:30–40

21.

Larcher W (2000) Ecofisiologia vegetal, 2nd edn. Rima, São Carlos, p 531

22.

Cakmak I, Welch RM, Hart J, Norvell WA, Ozturk L, Kochian LV (2000) Uptake and retranslocation of leaf-applied cadmium (109Cd) in diploid, tetraploid and hexaploid wheats. J Exp Bot 51:221–226

23.

FAO/OMS (2001) Human vitamin and mineral requirements. In: Report 7th Joint FAO/OMS Expert Consultation. Bangkok, Thailand. vol. 22, 286p
Acknowledgments
The authors are grateful to the Fundação de Amparo à Pesquisa do Estado da Bahia, the Conselho Nacional de Desenvolvimento Científico e Tecnológico, and the Coordenação de Aperfeiçoamento de Pessoal de Nível Superior for providing grants, fellowships, and other financial support.
About this article
Cite this article
Barbosa, U.A., dos Santos, I.F., dos Santos, A.M.P. et al. Determination and Evaluation of the Metals and Metalloids in the Chapeu-de-couro (Echinodorus macrophyllus (Kunth) Micheli). Biol Trace Elem Res 154, 412–417 (2013). https://doi.org/10.1007/s12011-013-9730-8
Received:

Accepted:

Published:

Issue Date:
Keywords
Metals and metalloids

Chapeu-de-couro
Echinodorus

ICP-MS

PCA

HCA