Abstract
The distribution and speciation of selenium (Se) in freshwater fish (muscle and liver tissue) from lakes in Argentina was investigated. Three introduced species, brown trout (Salmo trutta), rainbow trout (Oncorhynchus mykiss) and brook trout (Salvelinus fontinalis), and one native species, creole perch (Percichthys trucha), were investigated. Values for total selenium in muscle ranged from 0.66 to 1.61 μg/g, while in the liver, concentrations were much higher, from 4.46 to 73.71 μg/g on a dry matter basis. Separation of soluble Se species (SeCys2, selenomethionine (SeMet), SeMeSeCys, selenite and selenate) was achieved by ion exchange chromatography and detection was performed by inductively coupled plasma–mass spectrometry. The results showed that in fish muscle, from 47 to 55 % of selenium was soluble and the only Se species identified was SeMet, which represented around 80 % of soluble Se, while in the liver, the amount of soluble Se ranged from 61 to 76 % and the percentage of species identified (SeMet and SeCys2) was much lower and ranged from 8 to 17 % of soluble Se.
This is a preview of subscription content, log in to check access.
Access options
Buy single article
Instant access to the full article PDF.
US$ 39.95
Price includes VAT for USA
Subscribe to journal
Immediate online access to all issues from 2019. Subscription will auto renew annually.
US$ 954
This is the net price. Taxes to be calculated in checkout.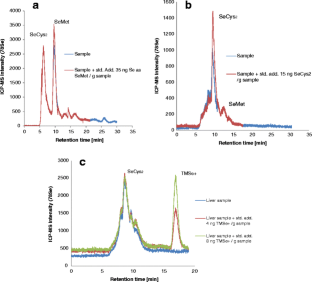 References
1.

Stone NJ (1996) Fish consumption, fish oil, lipids and coronary heart disease. Circulation 94:2337–2340

2.

Kris Etherton PM, Hariss WS, Appel LJ, For the Nutrition Committee (2002) AHA scientific statement. Fish consumption, fish oil, omega-3 fatty acids, and cardiovascular disease. Circulation 106:2747–2757

3.

Plessi M, Bertelli D, Monzani A (2001) Mercury and selenium content in selected seafood. J Food Compos Anal 14:461–467

4.

Lavilla I, Gonzáles Costas Benicho C (2007) Improved microwave-assisted wet digestion procedures for accurate Se determination in fish and shellfish by flow injection-hydride generation-atomic absorption spectrometry. Anal Chim Acta 591:225–230

5.

Yoshida S, Haratake M, Fuchigami T, Nakayama M (2011) Selenium in seafood materials. J Health Sci 57:215–224

6.

Önning G (2000) Separation of soluble selenium compounds in different fish species. Food Chem 68:133–139

7.

Moreno P, Quijano MA, Gutiérrez AM, Pérez Conde MC, Cámara C (2004) Study of selenium species distribution in biological tissues by size exclusion and ion exchange chromatography inductively coupled plasma mass spectrometry. Anal Chim Acta 524:315–327

8.

Cabañero AI, Madrid Y, Càmara C (2004) Selenium and mercury bioaccessibility in fish samples: an in vitro digestion method. Anal Chim Acta 526:51–61

9.

Cabañero AI, Madrid Y, Cámara C (2007) Mercury selenium species ratio in representative fish samples and their bioaccessibility by an in vitro digestion method. Biol Trace Elem Res 119:195–211

10.

Quijano MA, Moreno P, Gutierrez AM, Perez Conde MC, Camara C (2000) Selenium speciation in animal tissues after enzymatic digestion by high-performance liquid chromatography coupled to inductively coupled plasma mass spectrometry. J Mass Spectrom 35:878–884

11.

Gonçalves-Ventura M (2008) Studies for the evaluation of selenium levels in typical constituents of Portuguese diets. Dissertation, Technical University of Lisbon

12.

Arribére MA, Ribeiro Guevara S, Bubach DF, Arcagni M, Vigliano PH (2008) Selenium and mercury in native and introduced fish species of Patagonia lakes, Argentina. Biol Trace Elem Res 122:42–63

13.

Smrkolj P, Stibilj V, Kreft I, Kapolna E (2005) Selenium species determination in selenium-enriched pumpkin (Cucurbita pepo L.) seeds by HPLC-UV-HG-AFS. Anal Sci 21:1501–1504

14.

Mazej D, Falnoga I, Veber M, Stibilj V (2006) Determination of selenium species in plant leaves by HPLC-UV-HG-AFS. Talanta 68:558–568

15.

Smrkolj P, Stibilj V (2004) Determination of selenium in vegetables by hydride generation atomic fluorescence spectrometry. Anal Chim Acta 512:11–17

16.

Cuderman P, Kreft I, Germ M, Kovačevič M, Stibilj V (2008) Selenium species in selenium-enriched and drought exposed potatoes. J Agric Food Chem 56:9114–9120

17.

Miklavčič A, Stibilj V, Heath E, Polak T, Snoj Tratnik J, Klavž J, Mazej D, Horvat M (2011) Mercury, selenium, PCBs and fatty acids in fresh and canned fish available on the Slovenia market. Food Chem 124:711–720

18.

Kaneko JJ, Ralston NVC (2007) Selenium and mercury in pelagic fish in the Central North Pacific near Hawai. Biol Trace Elem Res 119:242–254

19.

Lemly AD (1998) Pathology of selenium poisoning in fish. In: Frankenberger J, William T, Engberg RA (eds) Environmental chemistry of selenium, 1st edn. Marcel Dekker, New York, pp 281–296

20.

Adotey D, Cuderman P, Stibilj V (2011) Selenium speciation in fish from Ghana (IJS working report no. 10811)
Acknowledgments
The authors are grateful to Sergio Ribeiro Guevara from Laboratorio de Análisis por Activación Neutrónica, Comisión Nacional de Energía Atómica, Centro Atómico Bariloche in Argentina for donation and preparation of the fish samples. We would like to thank Prof. Kevin A. Francesconi and his group from Karl-Franzens-University, Graz, Austria, for the donation of the TMSe+ standard. This research was financed by the Ministry of Higher Education, Science and Technology of the Republic of Slovenia through the programme 'Young researchers' (03781) and the programme P1-0143.
About this article
Cite this article
Kristan, U., Arribére, M.A. & Stibilj, V. Selenium Species and Their Distribution in Freshwater Fish from Argentina. Biol Trace Elem Res 151, 240–246 (2013). https://doi.org/10.1007/s12011-012-9560-0
Received:

Accepted:

Published:

Issue Date:
Keywords
Selenium

Fish

Liver

Speciation

HPLC-ICP-MS

HG-AFS