Abstract
Selenium salts as well as elemental selenium nanoparticles are attracting the attention of researchers due to their excellent biological properties. The aim of the present work was to study immunomodulation by applying elemental Se NPs to stimulate the immune response of mice bearing 4 T1 breast cancer tumors. Six- to 8-week-old female inbred BALB/c mice were divided into two groups of test and control, each containing 15 mice. Every day, for 2 weeks prior to tumor induction, selenium nanoparticles were orally administered to the mice at a dose of 100 μg/day. Then, 1 × 106 cells from a 4 T1 cell line were injected subcutaneously to each mouse. Oral nanoparticle administration was continued daily for 3 weeks after tumor induction. Different immunological parameters were then evaluated including cytokine level, delayed type hypersensitivity (DTH) response as well as tumor growth and the survival rates in all treated or nontreated animals. The production of Th1 cytokines, such as IFN-γ and IL-12, in spleen cell culture was increased in the test mice-administered selenium nanoparticles. The DTH response of test mice also showed a significant increase when compared to the control mice. The survival rate was notably higher for the selenium nanoparticle-treated mice compared to the control mice. Our results suggest that selenium nanoparticle administration can result in considerable induction of the Th1 platform of immune response through the elevation of IFN-γ and IL-12 and may be a cause for better prognosis in mice with tumors.
Access options
Buy single article
Instant access to the full article PDF.
USD 39.95
Price excludes VAT (USA)
Tax calculation will be finalised during checkout.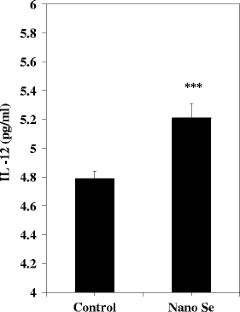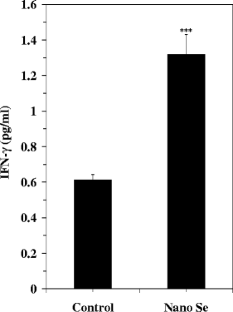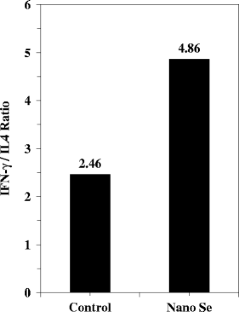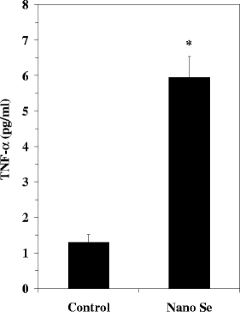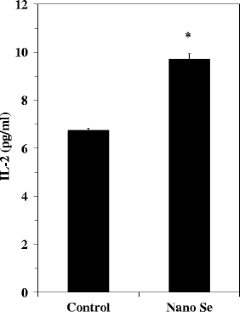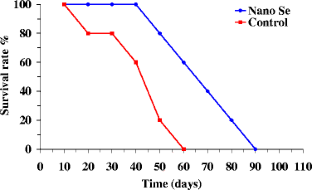 References
Tapiero H, Townsend DM, Tew KD (2003) The antioxidant role of selenium and seleno-compounds. Biomed Pharmacother 57:134–144

Zeng H, Combs GF Jr (2008) Selenium as an anticancer nutrient: rolls in cell proliferation and tumor cell invasion. J Nutr Biochem 19:1–7

Beck MA, Levander OA, Handy J (2003) Selenium deficiency and viral infection. J Nutr 133:1463–1467

Schrauzer GN (2000) Anticarcinognic effects of selenium. CMLS, Cell Molec Life Sci 57:1864–1873

Schrauzer GN (2009) Selenium and selenium-antagonistic elements in nutritional cancer prevention. Crit Rev Biotechnol 29:10–17

Schrauzer GN, White CJ, Schneider CJ (1977) Cancer mortality correlation studies. III. Associations with dietary selenium intakes. Bioinorg Chem 7:23–34

Ip C (1985) Selenium inhibition of chemical carcinogenesis. Fed Proc 44:2573–2578

Milner JA (1985) Effect of selenium on virally induced and transplantable tumor models. Fed Proc 44:2568–2572

Schrauzer GN (2006) Interactive effects of selenium and chromium on mammary tumor development and growth in MMTV-infected female mice and their relevance to human cancer. Biol Trace Elem Res 109:281–292

Schrauzer GN (2008) Interactive effects of selenium and cadmium on mammary tumor development and growth in MMTV-infected female mice. A model study on the roles of cadmium and selenium in human breast cancer. Biol Trace Elem Res 123:27–34

Kryukov GV, Castellano S, Novoselov SV, Lobanov AV, Zehtab O, Guigo R, Gladyshev VN (2003) Characterization of mammalian selenoproteomes. Science 300:1439–1443

Bainbridge DR (1976) Use of (75Se) L-selenomethionine as a label for lymphoid cells. Immunology 30:135–144

Kiremidjian-Schumacher L, Stotzky G (1987) Selenium and immune responses. Environ Res 42(2):277–303

Whanger P, Vendeland S, Park YC, Xia YM (1996) Metabolism of subtoxic levels of selenium in animals and humans. Ann Clin Lab Sci 26:99–113

Takahashi T (1982) Comparative x-ray–photoemission study of monoclinic, trigonal, and amorphous selenium. Phys Rev B 26:5963

Takahashi T, Yagi S, Sagawa T, Nagata K, Miyamoto Y (1985) X-ray photoemission study of orthorhombic selenium; a new allotrope of crystalline selenium. J Phys Soc Jpn 54:1018–1022

Cherin P, Unger P (2002) The crystal structure of trigonal selenium. Inorg Chem 6:1589

Yang LB, Shen YH, Xie AJ, Liang JJ, Zhang BC (2008) Synthesis of Se nanoparticles by using TSA ion and its photocatalytic application for decolorization of cango red under UV irradiation. Mater Res Bull 43:572–582

Zhang J, Wang X, Xu T (2007) Elemental selenium at nano size (Nano-Se) as a potential chemopreventive agent with reduced risk of selenium toxicity: comparison with se-methylselenocysteine in mice. Toxicol Sci 101:22–31

Zhang JS, Gao XY, Zhang LD, Bao YP (2001) Biological effect of a nano red elemental selenium. Biofactors 15:27–38

Tran PA, Sarin L, Hurt RH, Webster TJ (2010) Titanium surfaces with adherent selenium nanoclusters as a novel anticancer orthopedic material. J Biomed Mater Res A 1593:1417–1428

Shakibaie M, Forootanfar H, Mollazadeh-Moghaddam K, Bagherzadeh Z, Nafissi-Varcheh N, Shahverdi AR, Faramarzi MA (2010) Green synthesis of gold nanoparticles by the marine microalga Tetraselmis suecica. Biotechnol Appl Biochem 57:71–75

Attia M, Weiss DW (1996) Immunology of spontaneous mammary carcinomas in mice. V. Acquired tumour resistance and enhancement in strain mice infected with mammary tumor virus. Cancer Res 26:1787–1792

Jin H, Li Y, Ma Z, Zhang F, Xie Q, Gu D, Wang B (2004) Effect of chemical adjuvants on DNA vaccination. Vaccine 22:2925–2935

Mcpherson K, Steel CM, Dixon JM (2003) Breast cancer epidemiology, risk factors and genetics. Br Med J 321:624–628

Li Y, Tang JH, Huang XE, Li CG (2011) Clinical comparison on the safety and efficacy of fluorouracil/pirarubicin/cyclophosphamide (FPC) with fluorouracil/epirubicin/cyclophosphamide (FEC) as postoperative adjuvant chemotherapy in breast cancer. Asian Pac J Cancer Prev 12:1795–1798

Kojouri GA, Jahanabadi S, Shakibaie M, Ahadi AM, Shahverdi AR (2011) Effect of selenium supplementation with sodium selenite and selenium nanoparticles on iron homeostasis and transferrin gene expression in sheep: a preliminary study. Res Vet Sci Online published.

Angiolillo AL, Sgadari C, Taub DD, Liao F, Farber JM, Maheshwari S (1995) Human interferon-inducible protein 10 is a potent inhibitor of angiogenesis in vivo. J Exp Med 182:155–162

Trinchieri G (1994) Interleukin-12, a cytokine produced by antigen-presenting cells with immunoregulatory functions in the generation of T-helper cells type 1 and cytotoxic lymphocytes. Blood 84:4008–4027

Fujiwara D, Inoue S, Wakabayashi H (2004) The anti-allergic effects of lactic acid bacteria are strain dependent and mediated by effects on both Th1/Th2 cytokine expression and balance. Int Arch Allergy Immunol 135:205–215

Cantrell DA, Smith KA (2004) The interleukin-2 T-cell system: a new cell growth model. Science 224:1312–1316

Smith KA (1988) Interleukin-2: inception, impact, and implications. Science 240:1169–1176

Turcotte S, Rosenberg SA (2011) Immunotherapy for metastatic solid cancers. Adv Surg 45:341–360

Mitchell RS, Kumar V, Abbas AK, Fausto N (2007) Robbins basic pathology, 8th edn. Saunders, Philadelphia, PA
Acknowledgments
This work was supported by the Biotechnology Research Center, Tehran University of Medical Sciences (Tehran, Iran).There is no conflict of interest in this work.
About this article
Cite this article
Yazdi, M.H., Mahdavi, M., Varastehmoradi, B. et al. The Immunostimulatory Effect of Biogenic Selenium Nanoparticles on the 4T1 Breast Cancer Model: an In Vivo Study. Biol Trace Elem Res 149, 22–28 (2012). https://doi.org/10.1007/s12011-012-9402-0
Received:

Accepted:

Published:

Issue Date:

DOI: https://doi.org/10.1007/s12011-012-9402-0
Keywords