Abstract
The aim of this study was to investigate total mercury (THg) and methylmercury (MeHg) exposure of 75 mother–child pairs in relation to their thyroid hormone status (thyroid-stimulating hormone (TSH), triiodothyronine (T3), free triiodothyronine (fT3), thyroxine (T4), and free thyroxine (fT4)). THg and MeHg in blood samples were measured by atomic absorption spectrometry and gas chromatography-inductively coupled plasma-mass spectrometry, respectively. The median THg and MeHg levels in maternal blood, cord blood, and blood of 6-month-old children were 0.50, 0.53, and 0.32 and 0.22, 0.32, and 0.08 μg/L, respectively. There were significant correlations between paired maternal–cord blood levels for THg and MeHg, with a greater transplacental transport of MeHg compared with THg (mean cord/maternal blood ratio, 1.80 vs. 1.24). The maternal blood THg was found to be a better predictor of TSH levels in children than their current THg exposure. There was a positive correlation between maternal THg and children's TSH. T3 and fT3 levels in children were negatively related to cord blood THg in the majority (Caucasian) subgroup, whereas these associations were positive in the Roma subgroup. Mothers with dental amalgam fillings had significantly lower T4 and fT4 levels. Moreover, fT4 in the mothers of boys negatively correlated with maternal THg levels. MeHg exposure lowered T3 levels in the mothers of girls. Our results suggest that low-level exposure to Hg can affect thyroid hormone status during prenatal and early postnatal exposure depending on the form of Hg, gender, ethnicity, lifestyle, or socioeconomic status (dental amalgam fillings).
Access options
Buy single article
Instant access to the full article PDF.
USD 39.95
Price excludes VAT (USA)
Tax calculation will be finalised during checkout.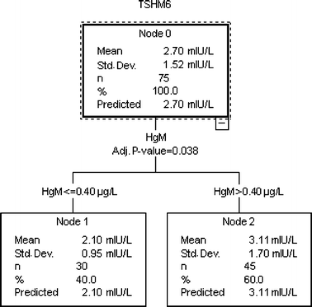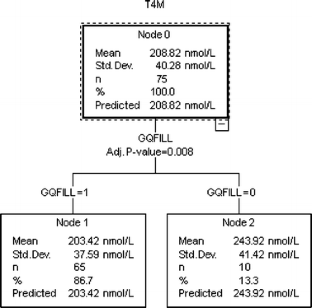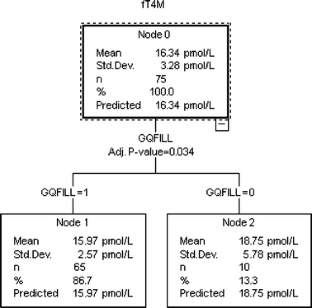 References
EPA (2000) Mercury research strategy. EPA/600/R-00/073. Office of Research and Development, National Risk Management Research Laboratory, U.S. Environmental Protection Agency, Cincinnati (http://cfpub.epa.gov/ncea/cfm/recordisplay.cfm?deid=20853, accessed 19 Aug 2011)

WHO (2001) Principles for evaluating health risks to reproduction associated with exposure to chemicals. Environmental health criteria 225. WHO, Geneva

WHO (2004) Children's environment and health action plan for Europe. Declaration. EUR/04/5046267/6. Fourth Ministerial Conference on Environment and Health, Budapest, Hungary, 23–25 June 2004. Copenhagen, WHO Regional Office for Europe. (http://www.euro.who.int/document/e83335.pdf, accessed 23 August 2011)

WHO (1990) Methylmercury. Environmental health criteria 101. WHO, Geneva

WHO (1991) Inorganic mercury. Environmental health criteria 118. WHO, Geneva

Medeiros D, Wildman R, Liebes R (1997) Metal metabolism and toxicity. In: Massaro EJ (ed) Handbook of human toxicology. CRC Press LLC, Boca Raton, pp 149–188

National Research Council (2000) Toxicological effects of methylmercury. National Academy Press, Washington DC

Myers GJ, Davidson PW, Shamlaye CF (1998) A review of methylmercury and child development. Neurotoxicology 19:313–328

Palkovicova L, Ursinyova M, Masanova V, Yu Z, Herz-Picciotto I (2008) Maternal amalgam dental fillings as the source of mercury exposure in developing fetus and newborn. J Expo Sci Environ Epidemiol 18:326–331

Vahter M, Akesson A, Lind B, Bjors U, Schutz A, Berglund M (2000) Longitudinal study of methylmercury and inorganic mercury in blood and urine of pregnant and lactating women, as well as in umbilical cord blood. Environ Res 84:186–194

Null DH, Gartside PS, Wei E (1973) Methylmercury accumulation in brains of pregnant, non-pregnant and fetal rats. Life Sci 12:65–72

Soldin OP, O'Mara DM, Aschner M (2008) Thyroid hormones and methylmercury toxicity. Biol Trace Elem Res 126:1–12

Iavicoli I, Fontana L, Bergamaschi A (2009) The effects of metals as endocrine disruptors. J Toxicol Environ Health Part B Crit Rev 12:206–223

Maervoet J, Vermeir G, Covaci A, Van Larebeke N, Koppen G, Schoeters G, Nelen V, Baeaens W, Schepens P, Viaene MK (2007) Association of thyroid hormone concentrations with levels of organochlorine compounds in cord blood of neonates. Environ Health Perspect 115:1780–1786

WHO (2000) Air quality guidelines for Europe. WHO Regional Publications, European Series No.91, 2nd edn, 273pp

Koupilova I, Epstein H, Holcik J, Hajioff S, Mckee M (2001) Health needs of the Roma population in the Czech and Slovak Republics. Soc Sci Med 53:1191–1204

Ursinyova M, Hladikova V (2005) Cadmium, lead and mercury in human milk from Slovakia. Food Add Contam 22:579–589

Serbin R, Uhnakova I, Husekova Z, Ursinyova M (2011) Determination of mercury species in human blood using GC-ICP-MS. Chem List 105:890–895

Batariova A, Spevackova V, Benes B, Cejchanova M, Smid J, Cerna M (2006) Blood and urine levels of Pb, Cd and Hg in the general population of the Czech Republic and proposed reference values. Int J Hyg Environ Health 209:359–366

Kapelari K, Kirchlechner Ch, Hogler W, Schweitzer K, Virgolini I, Moncayo R (2008) Pediatric reference intervals for thyroid hormone levels from birth to adulthood: a retrospective study. BMC Endocr Disord 8:15

Springer D, Limanova Z, Zima T, Calda P (2009) Functional examination of maternal thyroid in pregnancy; our results. Actual Gyn 1:50–54

Stricker Rt, Echenard M, Eberhart R, Chevailler MC, Perez V, Quinn FA, Stricker Rn (2007) Evaluation of maternal thyroid function during pregnancy: the importance of using gestational age-specific reference intervals. Eur J Endocrinol 157:509–514

Abraham JE, Svare CW, Frank CW (1984) The effect of dental amalgam restorations on blood mercury levels. J Dent Res 63:71–73

Regenda J (2006) National Aquaculture Sector Overview. Slovakia. National Aquaculture Sector overview fact sheets. In: FAO Fisheries and Aquaculture Department [online]. Rome (http://www.fao.org/fishery/countrysector/naso_slovakia/en, accessed 10 Jan 2012)

Heintze U, Edwardsson S, Derand T, Birkhed D (1983) Methylation of mercury from dental amalgam and mercuric chloride by oral streptococci in vitro. Scand J Dent Res 91:150–152

Liang L, Brooks RJ (1995) Mercury reactions in the human mouth with dental amalgams. Water Air Soil Pollut 80:103–107

Yannai S, Berdicevsky I, Duek L (1991) Transformations of inorganic mercury by Candida albicans and Saccharomyces cerevisiae. Appl Environ Microbiol 57:245–247

Leistevuo J, Leistevuo T, Helenius H, Pyy L, Osterblad M, Huovinen P, Tenovuo J (2001) Dental amalgam fillings and the amount of organic mercury in human saliva. Caries Res 35:163–166

Stern AH, Smith AE (2003) An assessment of the cord blood:maternal blood methylmercury ratio: implications for risk assessment. Environ Health Perspect 111:1465–1470

Diez S (2009) Human health effects of methylmercury exposure. In: Whitacre DM (ed) Rev Environ Contam Toxicol, vol 198. Springer, New York, pp 111–132

Schell LM, Gallo MV, Denham M, Ravenscroft J, DeCaprio AP, Carpenter DO (2008) Relationship of thyroid hormone levels to levels of polychlorinated biphenyls, lead, p, p′-DDE, and other toxicants in Akwesasne Mohawk youth. Environ Health Perspect 116:806–813

Nishida M, Muraoka K, Nishikawa K, Takagi T, Kawada J (1989) Differential effects of methylmercuric chloride and mercuric chloride on the histochemistry of rat thyroid peroxidase and the thyroid peroxidase activity of isolated pig thyroid cells. J Histochem Cytochem 37:723–727

Nishida M, Sato K, Kawada J (1990) Differential effects of methylmercuric chloride and mercuric chloride on oxidation and iodination reactions catalyzed by thyroid peroxidase. Biochem Int 22:369–378

Abdelouahab N, Mergler D, Takser L, Vanier C, St-Jean M, Baldwin M, Spear PA, Chan HM (2008) Gender differences in the effects of organochlorines, mercury, and lead on thyroid hormone levels in lakeside communities of Quebec (Canada). Environ Res 107:380–392

Gochfeld M (2007) Framework for gender differences in human and animal toxicology. Environ Res 104:4–21

Vahter M, Gochfeld M, Casati B, Thiruchelvam M, Falk-Filippson A, Kavlock R, Marafante E, Cory-Slechta D (2007) Implications of gender differences for human health risk assessment and toxicology. Environ Res 104:70–84

Barregard L, Lindstedt G, Schutz A, Sallsten G (1994) Endocrine function in mercury exposed chloralkali workers. Occup Environ Med 51:536–540

Ellingsen DG, Efskind J, Haug E, Thomassen Y, Martinsen I, Gaarder PI (2000) Effects of low mercury vapour exposure on the thyroid function in chloralkali workers. J Appl Toxicol 20:483–489

Takser L, Mergler D, Baldwin M, de Grosbois S, Smargiassi A, Lafond J (2005) Thyroid hormones in pregnancy in relation to environmental exposure to organochlorine compounds and mercury. Environ Health Perspect 113:1039–1045

Kawada J, Nishida M, Yoshimura Y, Mitani K (1980) Effects of organic and inorganic mercurials on thyroidal functions. J Pharmacobiodyn 3:149–159

Osius N, Karmaus W, Kruse H, Witten J (1999) Exposure to polychlorinated biphenyls and levels of thyroid hormones in children. Environ Health Perspect 107:843–849

Mori K, Yoshida K, Hoshikawa S, Ito S, Yoshida M, Satoh M, Watanabe C (2006) Effects of perinatal exposure to low doses of cadmium or methylmercury on thyroid hormone metabolism in metallothionein-deficient mouse neonates. Toxicology 228:77–84

Nishida M, Yamamoto T, Yoshimura Y, Kawada J (1986) Subacute toxicity of methylmercuric chloride and mercuric chloride on mouse thyroid. J Pharmacobiodyn 9:331–338
Acknowledgment
This study was supported by grants through the EEA and Norwegian Financial Mechanisms and the state budget of the Slovak Republic (Project SK0020), and Ministry of Health of the Slovak Republic (Project 2005/41-SZU-19).
About this article
Cite this article
Ursinyova, M., Uhnakova, I., Serbin, R. et al. The Relation Between Human Exposure to Mercury and Thyroid Hormone Status. Biol Trace Elem Res 148, 281–291 (2012). https://doi.org/10.1007/s12011-012-9382-0
Received:

Accepted:

Published:

Issue Date:

DOI: https://doi.org/10.1007/s12011-012-9382-0
Keywords
Mercury

Methylmercury

Thyroid hormones

Blood

Dental amalgam fillings

Roma population