Abstract
A total of 75 male mice were allotted to five groups of 15 each in a completely randomized experimental design to study the effects of probiotics, inorganic selenium, and selenium-enriched probiotics on male fertility in hyperlipidemic status. The mice in group 1 were fed a normal basal diet and served as negative control. The mice in group 2 were fed a high fat diet and served as positive control. The mice in groups 3, 4, and 5 were fed the high fat diet supplemented with probiotics, inorganic selenium, and selenium-enriched probiotics, respectively. The high fat diet was composed of 15% lard, 1% cholesterol, 0.3% cholic acid, and 83.7% basal diet. Over 90% of the selenium in the selenium-enriched probiotics was present in forms of organic selenium. After the mice were fed these diets for 75 days, serumal total cholesterol, triglycerides, low density lipoprotein, high density lipoprotein, and testosterone levels, plus sperm index (count, motility and abnormalities), penis length, and weight and histopathology of testes were measured. The results showed that in the mice fed the high fat diet were significant (P < 0.01) elevations of serumal total cholesterol, triglycerides and low density lipoprotein, and decreases of high density lipoprotein. The high fat diet caused a decline in serumal testosterone level, reduced semen quality, and atrophy and degeneration of seminiferous tubules. No effects on penis length or relative weight of testis were observed. Supplementation of probiotics, inorganic selenium, or selenium-enriched probiotics to the high fat diet significantly alleviated (P < 0.05) the adverse effects of hyperlipidemia by reducing testicular tissue injury, increasing serumal testosterone level, and improving sperm indexes. It was concluded that hyperlipidemia had significant adverse effects on male fertility, which could be ameliorated at various degrees by feeding the diets supplemented with probiotics, inorganic selenium, or selenium-enriched probiotics. Selenium-enriched probiotics or inorganic selenium supplementation gave better results than probiotics supplementation and may be used to improve animal and human male fertility compromised by hyperlipidemia or obesity.
Access options
Buy single article
Instant access to the full article PDF.
USD 39.95
Price excludes VAT (USA)
Tax calculation will be finalised during checkout.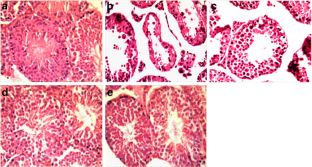 Abbreviations
CFU:

Colony forming unit

HDL:

High density lipoprotein

HDL-C:

HDL-cholesterol

HFD:

High fat diet

ISe:

Inorganic form of selenium or sodium selenite

LDL:

Low density lipoprotein

LDL-C:

LDL-cholesterol

NC:

Negative control

OSe:

Organic form of selenium

OSePB:

Selenium-enriched probiotics that contain organic form of selenium

PB:

Probiotics

Se:

Selenium

SEM:

Standard error of the means

TC:

Total cholesterol

TG:

Triglyceride
References
Padron RS, Mas J, Zamora R et al (1989) Lipids and testicular function. Int Urol Nephrol 21:515–519

Ohara Y, Peterson TE, Harrison DG (1993) Hypercholesterolemia increases endothelial superoxide anion production. J Clin Invest 91:2546–2551

Sanchez EET, Marquette ML, Brown DB et al (2006) The effect of oxidative stress on human sperm morphology. Fertil Steril 86:S444–S444

Yamamoto Y, Shimamoto K, Sofikitis N et al (1999) Effects of hypercholesterolaemia on Leydig and Sertoli cell secretory function and the overall sperm fertilizing capacity in the rabbit. Hum Reprod 14:1516–1521

Mourvaki E, Cardinali R, Dal Bosco A et al (2010) Effects of flaxseed dietary supplementation on sperm quality and on lipid composition of sperm subfractions and prostatic granules in rabbit. Theriogenology 73:629–637

Saez Lancellotti TE, Boarelli PV, Monclus MA et al (2010) Hypercholesterolemia impaired sperm functionality in rabbits. PLoS One 5(10):e13457

Oguntibeju OO, Esterhuyse JS, Truter EJ (2009) Selenium: its potential role in male infertility. Pak J Med Sci 25(2):332–337

Mahmoud KZ, Edens FW (2003) Influence of selenium sources on age-related and mild heat stress-related changes of blood and liver glutathione redox cycle in broiler chickens (Gallus domesticus). Comp Biochem Physiol B Biochem Mol Biol 136:921–934

De Camargo EV, Dos Anjos Lopes ST, Costa MM et al (2010) Neutrophil oxidative metabolism and haemogram of sheep experimentally infected with Haemonchus contortus and supplemented with selenium and vitamin E. J Anim Physiol Anim Nutr 94:e1–e6

Hansen JC, Deguchi Y (1996) Se and fertility in animals and man. Acta Vet Scand 37(1):19–30

Rayman MP (2008) Food-chain selenium and human health: emphasis on intake. Br J Nutr 100:254–268

Iizuka Y, Sakurai E, Tanaka Y (2001) Effect of selenium on serum, hepatic and lipoproteins lipids concentration in rats fed on a high-cholesterol diet [in Japanese]. Yakugaku Zasshi 121:93–96

Böhmer BM, Kramer W, Roth-Maier DA (2006) Dietary probiotic supplementation and resulting effects on performance, health status, and microbial characteristics of primiparous sows. J Anim Physiol Anim Nutr 90:309–315

Hideya H, Taku SH (2004) Effects of probiotic Bacillus cereus toyoi on abdominal fat accumulation in the Japanese quail (Coturnix japonica). Anim Sci J 75:37–41

Fabian E, Elmadfa I (2006) Influence of daily consumption of probiotic and conventional yoghurt on the plasma lipid profile in young healthy women. Ann Nutr Metab 50:387–393

Shalini S, Bansal MP (2008) Dietary selenium deficiency as well as excess supplementation induce multiple defects in mouse epididymal spermatozoa: understanding the role of selenium in male fertility. Int J Androl 31(4):438–449

Yang J, Huang K, Qin S et al (2009) Antibacterial action of selenium-enriched probiotics against pathogenic Escherichia coli. Dig Dis Sci 54:246–254

Pan C, Zhao Y, Liao SF et al (2011) Effect of selenium-enriched probiotics on laying performance, egg quality, egg selenium content, and egg glutathione peroxidase activity. J Agric Food Chem 59:11424–11431

Hauschka TS, Mirand EA (1973) The "Breeder: Ha-(ICR)" Swiss mouse, a multipurpose stock selected for fecundity. In: Murphy GP (ed) Perspectives in cancer research and treatment. A. R. Liss, New York, pp 319–331

National Research Council (1995) Nutrient requirements of laboratory animals, 4th edn. National Academies, Washington, DC

Friedewald WT, Levy RI, Fredrickson DS (1972) Estimation of the concentration of low-density lipoprotein cholesterol in plasma, without use of the preparative ultracentrifuge. Clin Chem 18:499–502

Filler R (1993) Methods for evaluation of rat epididymal sperm morphology. In: Chapin RE, Heindel JJ (eds) Methods in toxicology. Male reproductive toxicology. Academic, New York, pp 334–343

Bancroft DJ, Cook CH, Stirling RW et al (1994) Manual of histological techniques and their diagnostic application. Churchill Livingstone, Edinburg, pp 210–215

Shalaby MA, El Zorba HY, Gehan MK (2003) Effect of α-tocopherol and simvastatin on male fertility in hypercholesterolemic rats. Pharmacol Res 50:137–142

Bashandy AES (2007) Effect of fixed oil of Nigella sativa on male fertility in normal and hyperlipidemic rats. Int J Pharmacol 3:27–33

Purohit A, Daradka HM (1999) Effect of mild hyperlipidemia on testicular cell population dynamics in albino rats. Ind J Exp Biol 37:396–398

Padron RS, Mas I, Boston P (1989) Lipid and testicular function. Int Urol Nephrol 21:515–519

Zhu ZP, Huang YF, Pan IJ et al (2005) The effects of diabetic hyperlipidemia on the development of testes and penis in male New Zealand rabbits. Zhonghua Nan Ke Xue 11:904–907

De La Cruz JP, Quintero L, Villalobos MA et al (2000) Lipid peroxidation and glutathione system in hyperlipidemic rabbits: influence of olive oil administration. Biochem Biophys Acta 1485:36–44

Agarwal S, Saleh RA, Bedaiway MA (2003) Role of reactive oxygen species in the pathology of human reproduction. Fertil Steril 79:829–843

Mohammad AK, Najmeh Zare-Zadeh MD, Hamideh Hashemi MD (2009) Correlation between serum lipids profile with sperm parameters of infertile men with abnormal semen analysis. Iranian J Reprod Med 7(3):123–127

Glander HJ, Schiller J, Süss R et al (2002) Deterioration of spermatozoal plasma membrane is associated with an increase of sperm lysophosphatidyl cholines. Andrologia 34:360–366

Fukushima M, Nakao M (1995) The effect of a probiotic on faecal and liver lipid classes in rats. Br J Nutr 73:701–710

Taranto M (1999) Effect of lactobacillus reuteri on the prevention of hypercholesterolemia in mice. J Dairy Sci 83:401–403

Ataie-Jafaria A, Larijani B, Alavi Majd H et al (2009) Cholesterol-lowering effect of probiotic yogurt in comparison with ordinary yogurt in mildly to moderately hypercholesterolemic subjects. Ann Nutr Metab 54:22–27

Martin FP, Wang Y, Sprenger N et al (2008) Probiotic modulation of symbiotic gut microbial–host metabolic interactions in a humanized microbiome mouse model. Mol Syst Biol 4:157

Endo T, Nakano M, Shimizu S et al (1999) Effects of a probiotic on the lipid metabolism of cocks fed on a cholesterol-enriched diet. Biosci Biotechnol Biochem 63:1569–1575

Mike B (1999) Does yogurt reduce cholesterol levels? Medicinal food news. www.medicinalfoodnews.com/vol03/issue2/yogurt. Accessed 19 November 2011

Bottazzi V, Zacconi C, Gorzaea E et al (1986) Absorption of cholesterol by intestinal lactic acid bacteria. Ann Microbiol 36:1–6

Brady LJ, Gallaher DD, Busta FF (2000) The role of probiotic cultures in the prevention of colon cancer. J Nutr 130((2S Suppl)):410S–414S

De Simone C, Rosati E, Moretti S et al (1991) Probiotics and stimulation of the immune response. Eur J Clin Nutr 45:32–34

Perdigon G, Alvarez S, Rachid M et al (1995) Immune system stimulation by probiotics. J Dairy Sci 78:1597–1606

Wang AN, Yi XW, Yu HF et al (2009) Free radical scavenging activity of Lactobacillus fermentum in vitro and its antioxidative effect on growing-finishing pigs. J Appl Microbiol 107:1140–1148

Kullisaar T, Songisepp E, Mikelsaar M et al (2003) Antioxidative probiotic fermented goats' milk decreases oxidative stress-mediated atherogenicity in human subjects. Br J Nutr 90:449–456

Niyazi N, Lauzon CR, Shelly TE (2004) Effect of probiotic adult diets on fitness components of sterile male Mediterranean fruit flies (Diptera: Tephritidae) under laboratory and field cage conditions. J Econ Entomol 97:1570–1780

Gioacchini G, Maradonna F, Lombardo F et al (2010) Increase of fecundity by probiotic administration in zebrafish (Danio rerio). Reproduction 140:953–959

Dhingra S, Bansal MP (2005) Hypercholesterolemia and apolipoprotein B expression: regulation by selenium status. Lipids Health Dis 4(28):1–13

Dhingra S, Bansal MP (2006) Hypercholesterolemia and tissue-specific differential mRNA expression of type-1 5′-iodothyronine deiodinase under different selenium status in rats. Biol Res 39:307–319

Kang BPS, Mehta U, Bansal MP (2000) Hyperlipidemia and type-I 5′-monodeiodinase activity: regulation by selenium supplementation. Ind J Biochem Biophys 7:183–187

Hussein O, Rosenblat M, Refael G et al (1997) Dietary selenium increases cellular glutathione peroxidase activity and reduces the enhanced susceptibility to lipid peroxidation of plasma and low density lipoprotein in kidney transplant recipients. Transplantation 63:679–685

Gonca S, Ceylan S, Yardimoglu M et al (2000) Protective effects of vitamin E and selenium on the renal morphology in rats fed high-cholesterol diets. Pathobiology 68:258–263

Wojcicki J, Rozewicka L, Wiszniewska BB et al (1991) Effect of selenium and vitamin E on the development of experimental atherosclerosis in rabbits. Atherosclerosis 87:9–16

Asha GS, Indira M (2004) Combined effect of selenium and ascorbic acid on alcohol induced hyperlipidemia in male guinea pigs. Comp Biochem Physiol C Toxicol Pharmacol 137:109–114

Boitani C, Puglisi R (2008) Selenium, a key element in spermatogenesis and male fertility. Adv Exp Med Biol 636:65–73

Hawkes WC, Alkan Z, Wong K (2009) Selenium supplementation does not affect testicular selenium status or semen quality in North American men. J Androl 30(5):525–533

Kaushal N, Bansal MP (2009) Diminished reproductive potential of male mice in response to selenium-induced oxidative stress: involvement of HSP70, HSP70-2, and MSJ-1. J Biochem Mol Toxicol 23:125–136

Rayman MP (2004) The use of high-selenium yeast to raise selenium status: how does it measure up. Br J Nutr 92:557–573

Brown KM, Pickard K, Nicol F et al (2000) Effects of organic and inorganic selenium supplementation on selenoenzyme activity in blood lymphocytes, granulocytes, platelets and erythrocytes. Clin Sci 98:593–599

Liao SF, Brown KR, Stromberg AJ et al (2011) Dietary supplementation of selenium in inorganic and organic forms differentially and commonly alters blood and liver selenium concentrations and liver gene expression profiles of growing beef heifers. Biol Trace Elem Res 140:151–169
Acknowledgements
This research was supported by the National Natural Science Foundation of China (grant numbers: 30871892, 31011130155) and by the Priority Academic Program Development of Jiangsu Higher Education Institutions. We thank Professor A. A. Jameel, Department of Pathology, Faculty of Veterinary Medicine, University of Khartoum, Sudan, for reviewing the manuscript. Appreciation also goes to Ms. F. Tang for her help in diet preparation and Mr. M. O. A. Abdelrahim for his available support throughout the study.
About this article
Cite this article
Ibrahim, H.A.M., Zhu, Y., Wu, C. et al. Selenium-Enriched Probiotics Improves Murine Male Fertility Compromised by High Fat Diet. Biol Trace Elem Res 147, 251–260 (2012). https://doi.org/10.1007/s12011-011-9308-2
Received:

Accepted:

Published:

Issue Date:

DOI: https://doi.org/10.1007/s12011-011-9308-2
Keywords