Abstract
The detoxification capacity of the clinoptilolite modification KLS-10-MA used as food additive in small mammals, chronically lead-exposed, was proven for the first time. The modified clinoptilolite was prepared based on natural Bulgarian clinoptilolite deposits. As a powder, it was mechanically mixed at 12.5% concentration with the conventional forage for small rodents. Lead in the form of aqueous solution of Pb(NO3)2 was diluted in the drinking water. In the ecotoxicological experiment covering 90 days, imprinting control region laboratory mice were used. They were allocated into four groups: group 1, (control): animals fed with conventional food for small rodents and water; group 2: animals fed with conventional food + clinosorbent KLS-10-MA and water; group 3: animals fed with conventional food and water + Pb(NO3)2; and group 4: animals fed with conventional food + KLS-10-MA and water + Pb(NO3)2. A group of non-exposed healthy animals was fed with conventional forage mixed with KLS-10-MA to prove eventual toxicity of the sorbent and influence on growth performance. The changes in the chromosome structure, mitotic index, erythrocyte form, erythropoiesis, and body weight gain were recorded. On day 90, the following relations were established: Pb-exposed and clinoptilolite-supplemented mice exhibited 2.3-fold lower chromosome aberrations frequency, 2.5-fold higher mitotic index, and 1.5-fold higher percentage normal erythrocytes 1.3-fold higher body weight compared to Pb-exposed and unsupplemented animals. The obtained data showed that the sorbent is practically non-toxic. The results of the present study encourage a further elaboration of a reliable drug based on the tested substance in the cases of chronic lead intoxication.
Access options
Buy single article
Instant access to the full article PDF.
USD 39.95
Price excludes VAT (USA)
Tax calculation will be finalised during checkout.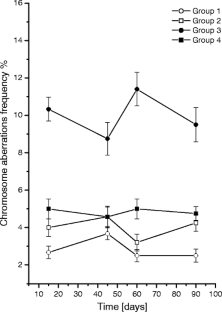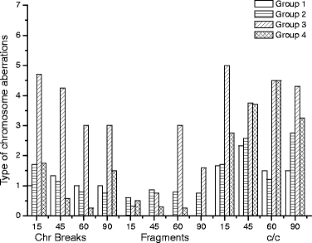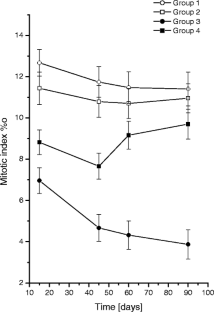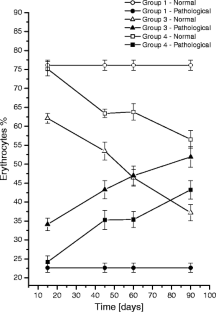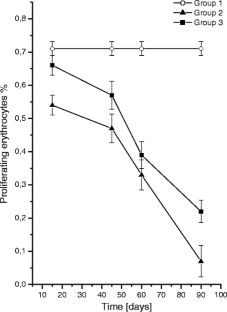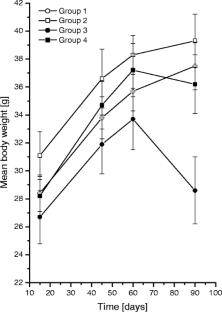 References
Tsuchia K (1979) Lead. In: Friberg L (ed) Handbook on the toxicology of metals. Elsevier/North-Holland Biomedical, Amsterdam, pp 451–484

Goyer RA (1993) Lead toxicity: current concerns. Environ Health Perspect 100:177–187

Jin Y, Liao Y, Lu C, Li G, Yu F, Zhi X, Xu J, Liu S, Liu M, Yang J (2006) Health effects of children aged 3–6 years induced by environmental lead exposure. Ecotoxicol Environ Saf 63:313–317

Patil AJ, Bhagwat VR, Patil JA, Dongre NN, Ambekar JG, Das KK (2006) Biochemical aspects of lead exposure in silver jewelry workers in western Maharashtra (India). J Basic Clin Physiol Pharmacol 17:213–229

Milton A, Cooke JA, Johnson MS (2003) Accumulation of lead, zinc and cadmium in a wild population of Clethrionomys glareolus from an abandoned lead mine. Arch Environ Contam Toxicol 44:405–411

Ma WC (1996) Lead in mammals. In: Beyer WN, Heinz GH, Redmon-Norwood AW (eds) Environmental contaminants in wildlife interpreting tissue concentrations. Lewis, Boca Raton, pp 281–296

Robles HV, Romo E, Sanchez-Mendoza A, Rios A, Soto V, Avila-Casado MC, Medina A, Escalante B (2007) Lead exposure effect on angiotensin II renal vasoconstriction. Hum Exp Toxicol 26:499–507

Sindhu RK, Sindhu KK, Roberts CK (2007) Role of lead in hypertension and chronic kidney disease. Environ Res J 1(3/4):345–359

Goyer RA (1996) Toxic effects of metals. In: McGraw-Hill (ed) Casarett and Doull's toxicology. The basic science of poisons, 5th edn. Health Professions Division, New York, pp 691–735

Marques CC, Nunes AC, Pinheiro T, Lopes PA, Santos MC, Viegas-Crespo AM, Ramalhinho MG, Mathias ML (2006) An assessment of time-dependent effects of lead exposure in Algerian mice (Mus spretus) using different methodological approaches. Biol Trace Elem Res 109:75–90

Nayak BN, Ray M, Persaud TVN (1989) Maternal and fetal chromosomal aberrations in mice following prenatal exposure to subembryotoxic doses of lead nitrate. Acta Anat 135:185–188

Hartwig A, Schlepegrell R, Beyersmann D (1990) Indirect mechanism of lead-induced genotoxicity in cultured mammalian cells. Mutat Res 241:75–82

Topashka-Ancheva M, Metcheva R, Teodorova SE (2003) Bioaccumulation and damaging action of polymetal industrial dust on laboratory mice Mus musculus alba II. Genetic, cell and metabolic disturbances. Environ Res 92:152–160

Topashka-Ancheva M, Metcheva R, Teodorova SE (2003) A comparative analysis of the heavy metal loading of small mammals in different regions of Bulgaria II: chromosomal aberrations and blood pathology. Ecotoxicol Environ Saf 54:188–193

Valverde M, Trejo C, Rojas E (2005) Is the capacity of lead acetate and cadmium chloride to induce genotoxic damage due to direct DNA–metal interaction? Toxicol Ind Health 21:243–248

Shaik AP, Sankar S, Ready SC, Das PG, Jamil K (2006) Lead-induced genotoxicity in lymphocytes from peripheral blood samples of humans: in vitro studies. Drug Chem Toxicol 29:111–124

Silbergeld EK, Waalkes M, Rice MJ (2000) Lead as a carcinogen: experimental evidence and mechanisms of action. Am J Ind Med 38:316–323

Beyersmann D, Hartwig A (2008) Carcinogenic metal compounds: recent insight into molecular and cellular mechanisms. Arch Toxicol 82:493–512

Roy NK, Rossman TG (1992) Mutagenesis and comutagenesis by lead compounds. Mutat Res 298:97–103

Mumpton FA, Fishman PH (1977) The application of natural zeolites in animal science and agriculture. J Anim Sci 45:1188–1203

Pond WG (1995) Zeolite in animal nutrition and health: a review. In: Ming DW, Mumpton FA (eds) Natural zeolites '93: occurrence, properties, use. Int. Comm. Natural Zeolites, Brockport New York, pp 449–457

Oguz H (2011) A review from experimental trials on detoxification of aflatoxin in poultry feed. Eurasia J Vet Sci 27(1):1–12

Pavelić K, Hadžija M, Bedrica L, Pavelić J, Dikić I, Katić M, Kralj M, Bosnar NJ, Kapitanović S, Poljak-Blaži M, Krizaneć S, Stojković R, Jurin M, Subotić B, Colić M (2001) Natural zeolite clinoptilolite: a new adjuvant in anticancer therapy. J Mol Med 78:708–720

Zarkovic N, Zarkovic K, Kraij M, Borovic S, Sabolovic S, Poliakblazi M, Cipak A, Pacelic K (2003) Anticancer and antioxidative effects of micronized zeolite clinoptilolite. Anticancer Res 23:1589–1596

Sverko V, Sobočanec S, Balog T, Colić M, Marotti T (2004) Natural micronised clinoptilolite and clinoptilolite mixtures with Urtica dioica L. extract as possible antioxidants. Food Technol Biotechnol 42:189–192

Pavelić K, Katic M, Sverko V, Marroti T, Bosnjak B, Balog T, Stojkovic R, Radacic M, Colic M, Poljak-Blazi M (2002) Immunostimulatory effect of natural clinoptilolite as a possible mechanism of its antimetastatic ability. J Cancer Res Clin Oncol 128:37–44

Jung BG, Toan NT, Cho SJ, Ko JH, Jung YK, Lee BG (2010) Dietary aluminosilicate supplement enhances immune activity in mice and reinforces clearance of porcine circovirus type 2 in experimentally infected pigs. Vet Microbiol 143:117–125

Armbruster T (2001) Clinoptilolite–heulandite: applications and basic research. In: Galarnau A, Di Renzo F, Faujula F, Vedrine J (eds) Studies in surface science and catalysis, vol 135, Zeolites and mesoporous materials at the dawn of the 21st century. Elsevier Science, Montpellier, pp 101–200

Papaioannou D, Katsoulos PD, Panousis N, Karatzias H (2005) The role of natural and synthetic zeolites as feed additives on the prevention and/or the treatment of certain farm animal diseases: a review. Micropor Mesopor Mat 84:161–170

Tiwari J (2007) Zeolite as natural feed additives to reduce environmental impacts of swine manure. Department of Bioresource Engineering, McGill University, Montreal

Tao YF, Qui Y, Fang SY, Liu ZY, Wang Y, Zhu JH (2010) Trapping the lead ion in multi-component aqueous solutions by natural clinoptilolite. J Hazard Mater 180:282–288

Sampson R (1997) Application for the approval of clinoptilolite. Euremica Environmental, Cleveland

Beltcheva M, Metcheva R, Popov N, Teodorova SE, Heredia Rojas JA, Rodriguez De la Fuente AO, Rodríguez-Flores LE, Topashka-Ancheva M (2011) Natural clinoptilolite detoxifies small mammal's organism loaded with lead I. Lead disposition and kinetic model for lead bioaccumulation. Biol Trace Elem Res (in press)

Fethiere R, Milles RD, Harms RH (1994) The utilization of sodium in sodium zeolite A by broilers. Poult Sci 73:118–121

Vrzgula L, Bartko P, Blažovsky J, Kozač J (1982) The effect of feeding clinoptilolite on health status, blood picture and weight gain in pigs. Vet Med-Czesh 27:267–274

Tl W, Watkins KL, Southern LL, Hoyt PG, French DD (1991) Interactive effects of sodium zeolite A and copper in growing swine: growth, and bone and tissue mineral concentrations. J Anim Sci 69:726–733

Eady SJ, Pritchard DA, Martin MOJ (1980) The effect of sodium bentonite on zeolite on wool growth of sheep fed either mulga (Acacia aneura) or lucerne (Medicago sativa). Proc Aust Soc Anim Prod 18:188–191

Keshavarz K, McCormick CC (1991) Effect of sodium aluminosilicates, oyster shell, and their combination on acid–base balance and eggshell quality. Poult Sci 70:313–325

Preston RY, Dean LY, Galloway Sh, Helden H, Me Fee A (1987) Mammalian in vivo cytogenetic assays. Analysis of chromosome aberrations in bone marrow cells. Mutat Res 189:157–165

Hoff J (2000) Methods of blood collection in the mouse. Lab Anim Tech 29:10–50

Environment, Health and Safety Committee [EHSC] (2001) Note On "LD50" [Lethal Dose 50%], version 2–31/7/01. Royal Society of Chemistry, London

Mumpton FA (1985) Using zeolites in agriculture in innovative biological technologies for lesser developed countries. Workshop Proceedings, Washington DC

Mumpton FA (1999) La Roca Magica: uses of natural zeolites in agriculture and industry. Proc Natl Acad Sci USA 96:3463–3470

International Commission for Protection Against Environmental Mutagens and Carcinogens (1983) Report of Committee I. Mutat Res 114:120–177

World Health Organization (1985) Environmental health criteria 51, guide to short-term tests for detecting mutagenic and carcinogenic chemicals. WHO, Geneva, pp 100–114

Demarque D, Jouanny J, Poitevin B, Saint Jean Y (1995) Pharmacologie et Matiere Medicale Homeopathique. Boiron–C.E.D.H., France

Dhir H, Roy AK, Sharma A, Talukder G (1990) Modification of clastogenicity of lead and aluminum in mouse bone marrow cells by dietary ingestion of Phyllanthus emblica fruit extract. Mutat Res 241:305–312

Sorsa M, Wilbourn J, Vainio H (1992) Human cytogenetic damage as a predictor of cancer risk. In: Vainio H, Magee PH, McGregor DB, McMichael AJ (eds) Mechanisms of carcinogenesis in risk identification. International Agency for Research on Cancer, Lyons, pp 543–554

Albertini RJ, Anderson D, Douglas GR, Hagmar L, Hemmimki K, Merlo F, Natarajan AT, Norppa H, Shuker DE, Tice R, Waters MD, Aitio A (2000) IPCS guidelines for the monitoring of genotoxic effects of carcinogens in humans. International Programme on Chemical Safety. Mutat Res 463:111–172

Hagmar L, Stromberg U, Bonassi S, Hansteen I-L, Knudsen LE, Lindholm C, Norppa H (2004) Impact of types of lymphocyte chromosomal aberrations on human cancer risk: results from Nordic and Italian cohorts. Cancer Res 64:2258–2263

Franco S, Alt FW, Manis JP (2006) Pathways that suppress programmed DNA breaks from progressing to chromosomal breaks and translocations. DNA Repair 5:1030–1041

Mateuca R, Lombaert N, Aka PV, Decordier I, Kirsch-Volders M (2006) Chromosomal changes: induction, detection methods and applicability in human monitoring. Biochimie 88:1515–1531

Privezentsev KV, Sirota NP, Gaziev AJ (1996) The genotoxic of cadmium studied in vivo. Tsitologia i genetika 30:45–51

Pfeiffer P, Goedecke W, Obe G (2000) Mechanisms of DNA double-strand repair and their potential to induce chromosomal aberrations. Mutagenesis 15:289–302

Kipling D, Wilson HE, Mitchell AR, Teylor BA, Cooke HJ (1994) Mouse centromeric mapping using oligonucleotide probe that detect variants of the minor satellite. Chromosoma 103:46–55

Kelsey KT, Yano E, Liber HL, Little JB (1986) The in vitro genetic effects of fibrous erionite and crocidolite asbestos. Br J Cancer 54:107–114

Paglia DE, Valentine WN, Dahlgner JG (1975) Effects of low-level lead exposure on pyrimidine-5-nucleosidase and other erythrocyte enzymes. J Clin Invest 56:1164–1169

Ershov YA, Pleteneva TV (1989) Mechanisms of toxic action of inorganic compounds. Medizina, Moscow

Martin-Kleiner I, Flegar-Meštić Z, Zadro R, Breljak D, Stanović Janda S, Stojković R, Marušić M, Radačić M, Boranić M (2001) The effect of the zeolite clinoptilolite on serum chemistry and hematopoiesis in mice. Food Chem Toxicol 39:717–727

Shurson GC, Ku PK, Miller ER, Yokoyama MT (1984) Effects of zeolite A or clinoptilolite in diets of growing swine. J Anim Sci 59:1536–1545

Kyriakis SC, Papaioannou DS, Alexopoulos C, Polizopoulou Z, Tzika ED, Kyriakis CS (2002) Experimental studies on safety and efficacy of the dietary use of a clinoptilolite-rich tuff in sows: a review of recent research in Greece. Micropor Mesopor Mat 51:65–74

Pond WG, Yen JT (1988) Response of growing pigs to dietary clinoptilolite from two geographic sources. Nutr Rep Int 25:837–848

Yannakopoulos A, Tserveni-Gousi A, Kassoli-Four-Naraki A, Tsirambides A, Michailidis K, Filippidis A, Lutat U (2000) Effects of dietary clinoptilolite-rich tuff on the performance of growing-finishing pigs. In: Coela C, Mumpton FA (eds) Natural zeolites for the third millennium. De Frede Editore, Napoli, pp 471–481

Norouzian MA, Valizadeh R, Khadem AA, Afzalzadeh A, Nabipour A (2010) The effects of feeding clinoptilolite on hematology, performance, and health of newborn lambs. Biol Trace Elem Res 137:168–176

Nestorov N (1984) Possible applications of natural zeolites in animal husbandry. In: Pond WG, Mumpton FA (eds) Zeo-agriculture: use of natural zeolite in agriculture and aquaculture. International Committee on Natural Zeolites. Westview, Boulder, pp 167–174

Kondo N, Wagai B (1968) Experimental use of clinoptilolite-tuff as a dietary supplement for pigs. Yotonkai, May 1968, 1–4
Acknowledgments
Authors express their special thanks to "Mineral agro Z" LTD—Bulgaria for the total financial support of this work.
About this article
Cite this article
Topashka-Ancheva, M., Beltcheva, M., Metcheva, R. et al. Modified Natural Clinoptilolite Detoxifies Small Mammal's Organism Loaded with Lead II: Genetic, Cell, and Physiological Effects. Biol Trace Elem Res 147, 206–216 (2012). https://doi.org/10.1007/s12011-011-9289-1
Received:

Accepted:

Published:

Issue Date:

DOI: https://doi.org/10.1007/s12011-011-9289-1
Keywords