Abstract
Zeolites, especially clinoptilolites, have wide application in removing heavy metals from different solutions and wastewater. The detoxification capacity of the clinoptilolite sorbent KLS–10-MA, a modified natural Bulgarian zeolite, applied as a food supplement in conditions of an ecotoxicological experiment with conventional food and lead was demonstrated for the first time. Laboratory mice, inbred imprinting control region strain, were used in a 90-day ecotoxicological experiment. Animals were divided into four experimental groups. Lead bioaccumulations in exposed and non-supplemented/supplemented with KLS–10-MA animals were compared. As additional control, healthy animals non-exposed to Pb were fed with conventional forage mixed with 12.5% KLS–10-MA. The dietary inclusion of the sorbent reduced Pb concentrations in exposed and supplemented mice by 84%, 89%, 91%, 77%, and 88% in carcass, liver, kidneys, bones, and feces, respectively. A mathematical model was proposed to outline the common trends of bone Pb bioaccumulation in exposed and non-supplemented/supplemented animals. Characteristic parameters of the kinetics of Pb concentrations were determined. Based on the model, the coefficient of absorption of Pb by gastrointestinal mucosa in the supplemented mice was found—η = 3.53% (versus η = 15% in non-supplemented ones). The present study clearly indicates that there is a realistic perspective to create a new drug based on modified natural clinoptilolites in cases of chronic heavy metal intoxication, without negatively affecting the environment.
Access options
Buy single article
Instant access to the full article PDF.
USD 39.95
Price excludes VAT (USA)
Tax calculation will be finalised during checkout.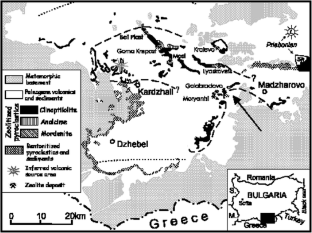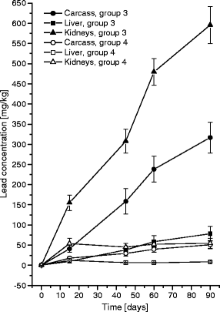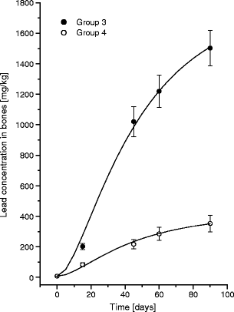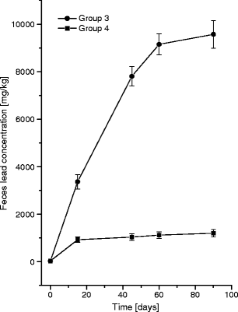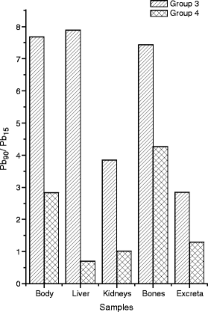 References
Goyer RA (1996) Toxic effects of metals. In: McGraw-Hill (ed) Casarett and Doull's toxicology. The basic science of poisons, fifth edition. Health Professions Revision, New York • London • Tokyo • Toronto, pp 691–735

O'Flaherty EJ (1998) Physiologically based models of metal kinetics. Crit Rev Toxicol 28:271–317

Robles HV, Romo E, Sanchez-Mendoza A, Rios A, Soto V, Avila-Casado MC, Medina A, Escalante B (2007) Lead exposure effect on angiotensin II renal vasoconstriction. Hum Exp Toxicol 26:499–507

Johnson FM (1998) The genetic effects of environmental lead. Mutat Res-Rev Mutat 410:123–140

Topashka-Ancheva M, Metcheva R, Teodorova SE (2003) Bioaccumulation and damaging action of polymetal industrial dust on laboratory mice Mus musculus alba II. Genetic, cell, and metabolic disturbances. Environ Res 92:152–160

Valverde M, Trejo C, Rojas E (2005) Is the capacity of lead acetate and cadmium chloride to induce genotoxic damage due to direct DNA-metal interaction? Toxicol Ind Health 21:243–248

Tao YF, Qui Y, Fang SY, Liu ZY, Wang Y, Zhu JH (2010) Trapping the lead ion in multi-component aqueous solutions by natural clinoptilolite. J Hazard Mater 180:282–288

Papaioannou D, Katsoulos PD, Panousis N, Karatzias H (2005) The role of natural and synthetic zeolites as feed additives on the prevention and/or the treatment of certain farm animal diseases: a review. Micropor Mesopor Mat 84:161–170

Stylianou MA, Hadjiconstantinou MP, Inglezakis VJ, Moustakas KG, Loizidou MD (2007) Use of natural clinoptilolite for the removal of lead, copper and zinc in fixed bed column. J Hazard Mater 143:575–581

Sheppard RA (1984) Characterization of zeolitic materials in agricultural research. In: Pond WG, Mumption FA (eds) Zeo-agriculture: use of natural zeolites in agriculture and aquaculture. Westview, Boulder, Colorado, pp 81–90

Bernal MP, Lopez-Real JM, Scott KM (1993) Application of natural zeolites for the reduction of ammonia emissions during the composting of organic wastes in a laboratory composting simulator. Bioresource Technol 43:35–39

Mumpton FA (1960) Clinoptilolite redefined. Am Mineral 45:351–369

Elaiopoulos K, Perraki T, Grigoropoulou E (2008) Mineralogical study and porosimetry measurements of zeolites from Scaloma area, Thrace, Greece. Micropor Mesopor Mat 112:441–449

Godelitsas A, Armbruster T (2003) HEU-zeolites modified by transition elements and lead. Micropor Mesopor Mat 61:3–24

Mumpton FA (1999) La Roca Magica: uses of natural zeolites in agriculture and industry. Proc Nat Acad Sci U S A 96:3463–3470

Wingenfelder U, Nowack B, Furrer G, Schulin R (2005) Adsorption of Pb and Cd by amine-modified zeolite. Water Res 39:3287–3297

Inglezakis VJ, Stylianou MA, Gkantzou D, Loizidou MD (2007) Removal of Pb(II) from aqueous solutions by using clinoptilolite and bentonite as adsorbents. Desalination 210:248–256

Sprynskyy P, Kosobucki M, Kowalkowski T, Buszewski B (2007) Influence of clinoptilolite rock on chemical speciation of selected heavy metals in sewage sludge. J Hazard Mater 149:310–316

Llanes-Monter MM, Olguin MT, Solache-Rios MJ (2007) Lead sorption by a Mexican, clinoptilolite-rich tuff. Environ Sci Pollut Res Int 14:397–403

Argun ME (2008) Use of clinoptilolite for the removal of nickel ions from water: kinetics and thermodynamics. J Hazard Mater 150:587–595

Orhan Y, Kocaoba S (2007) Adsorption of toxic metals by natural and modified clinoptilolite. Ann Chim 97:781–790

Pitcher SK, Slade RCT, Ward NI (2004) Heavy metal removal from motorway stormwater using zeolites. Sci Total Environ 334–335:161–166

Kazemian H, Mallah MH (2006) Elimination of Cd2+ and Mn2+ from wastewaters using natural clinoptilolite and synthetic zeolite P. Iran J Chem Chem Eng 25:91–94

Oter O, Akcay H (2007) Use of natural clinoptilolite to improve water quality: sorption and selectivity studies of lead(II), copper(II), zinc(II), and nickel(II). Water Environ Res 79:329–335

Popov N, Jilov G, Popova T (1997) Study of the use of natural clinoptilolites and their modifications as effective sorbents of Sr and Cs and heavy metals from water solutions and drinking waters. 5-th International Conference of Natural Zeolites "Zeolite–97", September 21–29, Ischia (Naples), Italy

Kosobucki P, Kruk M, Buszewski B (2008) Immobilization of selected heavy metals in sewage sludge by natural zeolites. Bioresource Technol 99:5972–5976

Cammack KM, Wright CL, Austin KJ, Johnson PS, Cockrum RR, Kessler KL, Olson KC (2010) Effects of high-sulfur water and clinoptilolite on health and growth performance of steers fed forage-based diets. J Anim Sci 88:1777–1785

Dwairi IM (1998) Conserving toxic ammoniacal nitrogen in manure using natural zeolite tuff: a comparative study. Bull Environ Contam Toxicol 60:126–133

Mumpton FA (1983) The role of natural zeolites in agriculture and aquaculture. In: Pond WG, Mumption FA (eds) Zeo-agriculture: use of natural zeolites in agriculture and aquaculture. Westview, Boulder, Colorado, pp 33–43

EMFEMA (2005) International association of the European manufacturers of major, trace and specific feed minerals secretariat. Wetstraat-Rue de la Loi 223/3B-1040 Brussels, Belgium. Available at http://www.emfema.org/minerals

Topashka-Ancheva M, Beltcheva M, Metcheva R, Heredia Rojas JA, Rodriguez De la Fuente AO, Gerasimova Ts, Rodríguez-Flores LE, Teodorova SE (2011) Modified natural clinoptilolite detoxifies small mammal's organism loaded with lead II. Genetic, cell, and physiological effects. Biol Trace Elem Res (in press)

Ming DW, Dixon JB (1987) Quantitative determination of clinoptilolite in soils by a cation-exchange capacity method. Clays Clay Miner 35:463–468

Sawicka-Kapusta K, Gorecki A, Swiergosz R, Juszczak G, Mielczarek M, Wojcik B (1987) Effect of metabolic rate on the rate of elimination of high and low concentrations of cadmium and lead in the bank vole. Ecologia Polska 35:399–430

Ershov YA, Pleteneva TV (1989) Mechanisms of toxic action of inorganic compounds. Medizina Publ, House, Moscow (in Russian)

Alexandrov L (1971) Regularized computerizing processes of Newton-Kantarovich type. JVM i MF 2:31–41 (In Russian)

Alexandrov L, Drenska M, Karadjov D (1984) Program System REGN for solution of nonlinear system of equations PRS-165/REGN RSIC. Ooak Ridge, Tennesee

Ivanova T, Stoyanov I, Stoilov G, Kostov P, Sapunova S (1997) In: Kirov G, Filizova L, Petrov O (eds) Natural zeolites—Sofia '95. Pensoft, Sofia

Rajnov N, Popov N, Janev J, Popova T, Parvanov B, Konkin G (1997) Mineralogical–physico–chemical and technological characteristics of zeolitesed tuff deposits in the Eastern Rhodopes. Natural Zeolites 2:263–275

Rodriguez-Fuentes G, Barrinos M, Iraizoz A, Perdomo I, Cedre B (1997) Enterex: anti-diarrheic drug based on purified natural clinoptilolite. Zeolites 19:441–448

Tiwari J (2007) Zeolite as natural feed additives to reduce environmental impacts of swine manure. Department of Bioresource Engineering, McGill University, Montreal

Zhou CF, Zhu JH (2005) Adsorption of nitrosamines in acidic solution by zeolites. Chemosphere 58:109–114

Sprynskyy M, Buszewski B, Terzyk AP, Namielsnik J (2006) Study of the selection mechanism of heavy metal (Pb2+, Cu2+, Ni2+, and Cd2+) adsorption on clinoptilolite. J Colloid Interf Sci 304:21–28

Djurova E, Stefanova I, Gradev G (1989) Geological, mineralogical, and ion exchange characteristics of zeolite rocks from Bulgaria. J Radioanal Nucl Ch, Articles 130:425–432

Çulfaz M, Yagiz M (2004) Ion exchange properties of natural clinoptilolite: lead–sodium and cadmium–sodium equilibria. Sep Purif Technol 37:93–105

Moattar F, Hayeripour S (2004) Application of chitin and zeolite adsorbents for treatment of low level radioactive liquid wastes. Int J Environ Sci Technol 1:45–50

Samuels ER, Meranger JC, Tracy BL, Subramanian KS (1989) Lead concentrations in human bones from the Canadian population. Sci Total Environ 89:261–269

Hamilton JD, O'Flaherty EJ (1995) Influence of lead on the mineralization during bone growth. Fund Appl Toxicol 26:265–271

O'Flaherty EJ (2000) Modeling normal aging bone loss, with consideration of bone loss in osteoporosis. Toxicol Sci 55:171–188

Pond WG (1996) Bone density and tissue lead accretion in growing rats fed low high calcium with or without supplemental clinoptilolite. Bull Environ Contam Toxicol 57:713–721
Acknowledgments
Authors express their special thanks to "Mineral agro Z" LTD–Bulgaria for the total financial support of this work.
About this article
Cite this article
Beltcheva, M., Metcheva, R., Popov, N. et al. Modified Natural Clinoptilolite Detoxifies Small Mammal's Organism Loaded with Lead I. Lead Disposition and Kinetic Model for Lead Bioaccumulation. Biol Trace Elem Res 147, 180–188 (2012). https://doi.org/10.1007/s12011-011-9278-4
Received:

Accepted:

Published:

Issue Date:

DOI: https://doi.org/10.1007/s12011-011-9278-4
Keywords