Abstract
In the present study, the protective effect of curcumin against sodium fluoride-induced nephrotoxicity was evaluated in rats. Renal injury was induced by daily administration of 600 ppm sodium fluoride in drinking water for 1 week. One week before the administration of fluoride, the animals selected as study group were given curcumin (10 and 20 mg/kg body weight, intraperitoneally). After 1 week, lipid peroxidation level, activities of superoxide dismutase, catalase, and level of glutathione in kidney homogenate were measured. Blood serum samples were examined for creatinine, serum urea, and blood urea nitrogen levels. Another group of rats received vitamin C (10 mg/kg) as standard antioxidant. The results show that curcumin and vitamin C treatment prior to fluoride administration normalized the levels of serum creatinine, serum urea, and blood urea nitrogen. Moreover, curcumin and vitamin C administrations prevented the antioxidant enzyme decreasing and lipid peroxidation levels imbalance. In conclusion, curcumin treatment at the doses of 10 and 20 mg/kg (intraperitoneally) showed significant nephroprotective effects.
Access options
Buy single article
Instant access to the full article PDF.
US$ 39.95
Tax calculation will be finalised during checkout.
Subscribe to journal
Immediate online access to all issues from 2019. Subscription will auto renew annually.
US$ 399
Tax calculation will be finalised during checkout.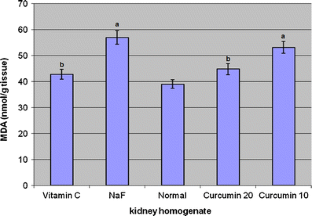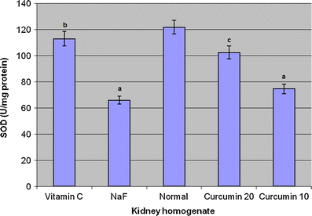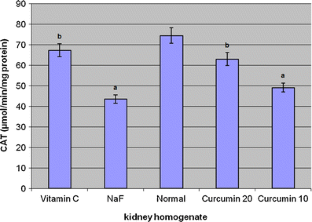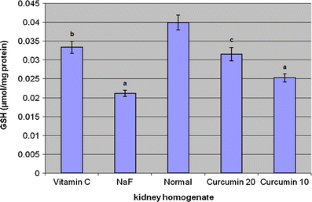 Abbreviations
GSH:

Reduced glutathione

NaF:

Sodium fluoride

TCA:

Trichloro acetic acid

TBA:

Thiobarbituric acid

BSA:

Bovine serum albumin

BUN:

Blood urea nitrogen

Cr:

Creatinine

CAT:

Catalase

SOD:

Superoxide dismutase
References
1.

Uehara T, Miyoshi T, Tsuchiya N, Masuno K, Okada M, Inoue S, Torii M, Yamate J, Maruyama T (2007) Comparative analysis of gene expression between renal cortex and papilla in nedaplatin-induced nephrotoxicity in rats. Hum Exp Toxicol 26:767–780

2.

Nabavi SF, Ebrahimzadeh MA, Nabavi SM, Eslami B (2010) Antioxidant activity of flower, stem and leaf extracts of Ferula gummosa Boiss. Grasas Aceites 61(3):244–250

3.

Lin HM, Yen FL, Ng LT, Lin CC (2007) Protective effects of Ligustrum lucidum fruit extract on acute butylated hydroxytoluene-induced oxidative stress in rats. J Ethnopharmacol 111:129–136

4.

Ayoob S, Gupta AK (2006) Fluoride in Drinking Water: A Review on the Status and Stress Effects. Crit Rev Environ Sci Technol 36(6):433–487

5.

Inkielewicz I, Krechniak J (2003) Fluoride content in soft tissues and urine of rats exposed to sodium fluoride in drinking water. Fluoride 36:263–266

6.

Blaszczyk I, Grucka-Mamczar E, Kasperczyk S, Birkner E (2009) Influence of Methionine upon the Concentration of Malondialdehyde in the Tissues and Blood of Rats Exposed to Sodium Fluoride. Biol Trace Elem Res 129:229–238

7.

Şimşek M, Nazıroğlu M, Erdinç A (2005) Moderate Exercise with a Dietary Vitamin C and E Combination Protects Against Streptozotocin-Induced Oxidative Damage to the Kidney and Lens in Pregnant Rats. Exp Clin Endocrinol Diabetes 113(1):53–59

8.

Özkaya D, Nazıroğlu M, Armağan A et al (2011) Dietary vitamin C and E modulates oxidative stress induced-kidney and lens injury in diabetic aged male rats through modulating glucose homeostasis and antioxidant systems. Cell Biochem Funct 29:287–293

9.

Kutlu M, Naziroğlu M, Simşek H, Yilmaz T, Sahap Kükner A (2005) Moderate exercise combined with dietary vitamins C and E counteracts oxidative stress in the kidney and lens of streptozotocin-induced diabetic-rat. Int J Vitam Nutr Res 75(1):71–80

10.

Ammon H, Wahl MA (1991) Pharmacology of Curcuma longa. Planta Med 57:1–7

11.

Scapagnini G, Foresti R, Calabrese V, Giuffrida Stella AM, Green CJ, Motterlini R (2002) Caffeic Acid Phenethyl Ester and Curcumin: A Novel Class of HemeOxygenase-1 Inducers. Mol Pharmacol 3:554–561

12.

Masuda T, Hidaka K, Shinohara A, Maekawa T, Takeda Y, Yamaguchi H (1999) Chemical Studies on Antioxidant Mechanism of Curcuminoid: Analysis of Radical Reaction Products from Curcumin. J Agric Food Chem 47:71–77

13.

Chattopadhyay I, Biswas K, Bandyopadhyay U, Banerjee RK (2004) Turmeric and curcumin: Biological actions and medicinal applications. Curr Sci 87(1):44–53

14.

Ali BH, Al-Wabel N, Mahmoud O, Mousa HM, Hashad M (2005) Curcumin has a palliative action on gentamicin-induced nephrotoxicity in rats. Fundam Clin Pharmacol 19(4):473–477

15.

Tiwari H, Rao MV (2010) Curcumin supplementation protects from genotoxic effects of arsenic and fluoride. Food Chem Toxicol 48(5):1234–1238

16.

Bradford MM (1976) A rapid and sensitive method for the quantitation of microgram quantities of protein utilizing the principle of protein-dye binding. Anal Biochem 72:248–254

17.

Esterbauer H, Cheeseman KH (1990) Determination of aldehydic lipid peroxidation products: malonaldehyde and 4-hydroxynonenal. Method Enzymol 186:407–421

18.

Misra HP, Fridovich I (1972) The role of superoxide anion in the autooxidation of epinephrine and simple assay for superoxide dismutase. J Biol Chem 247:3170–3175

19.

Bonaventura J, Schroeder WA, Fang S (1972) Human erythrocyte catalase: an improved method of isolation and a reevaluation of reported properties. Arch Biochem Biophys 150:606–617

20.

Ellman GL (1959) Tissue sulphydryl group. Arch Biochem Biophys 82:70–77

21.

Shivarajashankara YM, Shivashankara AR, Bhat PG, Rao PG (2001) Effect of fluoride intoxication on lipid peroxidation and antioxidant systems in rats. Fluoride 34:108–113

22.

Hajizadeh Moghaddam A, Javaheri M, Nabavi SF, Mahdavi MR, Nabavi SM, Ebrahimzadeh MA (2010) Protective role of Pleurotus porrigens (Angel's wings) against gentamicin-induced nephrotoxicty in mice. Eur Rev Med Pharmacol Sci 14:1011–1014

23.

Yu RA, Xia T, Wang AG, Chen XM (2006) Effects of Selenium and Zinc on Renal Oxidative Stress and Apoptosis Induced by Fluoride in Rats. Biomed Environ Sci 19:439–444

24.

Liu GY, Chai CY, Li C (2003) Fluoride causing abnormally elevated serum nitric oxide levels in chicks. Environ Toxicol Pharmacol 13:199–204

25.

Goligorsky MS, Brodsky SV, Noiri E (2002) Nitric oxide in acute renal failure: NOS versus NOS. Kidney Int 61:855–861

26.

Ebrahimzadeh MA, Nabavi SM, Nabavi SF, Eslami Sh (2010) Antioxidant and Free Radical Scavenging Activities of Culinary-Medicinal Mushrooms, Golden Chanterelle Cantharellus cibarius and Angel's Wings Pleurotus porrigens. Int J Med Mush 12:265–272

27.

Singh P, Srivastava MM, Khemani LD (2009) Renoprotective effects of Andrographis paniculata (Burm. f.) Nees in rats. Ups J Med Sci 114:136–139

28.

Sumanont Y, Murakami Y, Tohda M, Vajragupta O, Matsumoto K, Watanabe H (2004) Evaluation of the Nitric Oxide Radical Scavenging Activity of Manganese Complexes of Curcumin and Its Derivative. Biol Pharm Bull 27(2):170–173

29.

Ak T, Gülçin I (2008) Antioxidant and radical scavenging properties of curcumin. Chem-Biol Interact 174(1):27–37

30.

Chan MMY, Huang HI (1998) Fenton MR and Fong D. In Vivo Inhibition of Nitric Oxide Synthase Gene Expression by Curcumin, a Cancer Preventive Natural Product with Anti-Inflammatory Properties. Biochem Pharmacol 55(12):1955–1962

31.

Guven A, Uysal B, Akgul O et al (2008) Scavenging of Peroxynitrite Reduces Renal Ischemia/Reperfusion Injury. Ren Fail 30:747–754
Acknowledgements
The authors acknowledge the financial support of the National Elite's Foundation of Iran (Tehran, Iran-grant No. Nabavi2009). We would like to thank Dr. Ali Roohbakhsh for English language editing. This paper is dedicated to Mrs. Seyed Maryam Nabavi and with the memory of Mr. Seyed Ali Asghar Nabavi.
About this article
Cite this article
Nabavi, S.F., Moghaddam, A.H., Eslami, S. et al. Protective Effects of Curcumin against Sodium Fluoride-Induced Toxicity in Rat Kidneys. Biol Trace Elem Res 145, 369–374 (2012). https://doi.org/10.1007/s12011-011-9194-7
Received:

Accepted:

Published:

Issue Date:
Keywords
Oxidative stress

Creatinine

Serum urea

SOD