Abstract
Select trace elements (Fe, Cu, Zn, Al, K, Na, Ba, Sb, Pb, As) were determined by ICP-AES after nitric acid–perchloric acid wet digestion in samples of scalp hair of University students. Some metal-to-metal intercorrelations were found. The more often the hair was dyed and marcelled, the higher were the contents of iron, copper, potassium, sodium, barium, lead, and arsenic. Copper levels increased with the degree of myopia, while zinc, lead, aluminum, iron, and potassium decreased with the myopic degree. Copper, zinc, iron, and arsenic levels were lower in white hair, while sodium and lead were higher. The levels of the elements were generally higher in the hair samples of students who drink and smoke. The hair metal contents were found to be influenced by alcohol use and smoking. Hair element analyses thus could be used as noninvasive means of detecting unhealthy lifestyles in college students.
Access options
Buy single article
Instant access to the full article PDF.
US$ 39.95
Tax calculation will be finalised during checkout.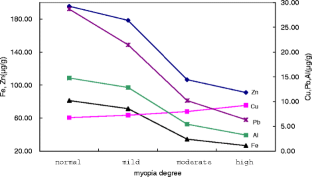 References
1.

Pereira R, Ribeiro R, Gonçalves F (2004) Scalp hair analysis as a tool in assessing human exposure to heavy metals. Sci Total Environ 327(1–3):81–92

2.

Wang T, Fu JJ, Wang YW, Liao CY, Tao YQ, Jiang GB (2009) Use of scalp hair as indicator of human exposure to heavy metals in an electronic waste recycling area. Environ Pollut 157(8–9):2445–2451

3.

Nowak B, Chmielnicka J (2000) Relationship of lead and cadmium to essential elements in hair, teeth, and nails of environmentally exposed people. Ecotoxicol Environ Saf 46(3):265–274

4.

Moon J, Smith TJ, Tamaro S, Enarson D, Fadl S, Davison AJ, Weldon L (1986) Trace metals in scalp hair of children and adults in three Alberta Indian villages. Sci Total Environ 54:107–125

5.

Yao-guo WU, You-ning XU, Jiang-hua ZHANG, Si-hai HU (2010) Evaluation of ecological risk and primary empirical research on heavy metals in polluted soil over Xiaoqinling gold mining region, Shaanxi, China. Trans Nonferrous Met Soc China 20(4):688–694

6.

Shah MH, Shaheen N, Khalique A, Alrabti AAA, Jaffar M (2006) Comparative metal distribution in hair of Pakitani and Libyan population and source identification by multivariate analysis. Environ Monit Assess 114:505–519

7.

Li YH, Wang LZ, Wang WY et al (2007) Determination of trace mercury and arsenic in human hair of polymetallic mining area by HG-ICP-AES. Spectroscopy Spectral Anal 27(4):789–791

8.

Wang Y, Kang WL, Xin SG, Xu P (2007) Determination of trace elements in different human hair and the comparison and research on living environment. Spectroscopy Spectral Anal 27(11):2333–2336

9.

D'Ilio S, Violante N, Senofonte O, Caroli S (2000) Occupational exposure of goldsmith workers of the area of Rome to potentially toxic metals as monitored through hair analysis. Microchem J 67(1–3):343–349

10.

Özden TA, Gökçay G, Ertem HV, Süoğlu ÖD, Kılıç A, Sökücü S, Saner G (2007) Elevated hair levels of cadmium and lead in school children exposed to smoking and in highways near schools. Clin Biochem 40(1–2):52–56

11.

Afridi HI, Kazi TG, Kazi N, Kandhro GA, Baig JA, Shah AQ, Jamali MK, Arain MB (2010) Evaluation of toxic elements in scalp hair samples of myocardial infarction patients at different stages as related to controls. Biol Trace Elem Res 134(1):1–12

12.

Pasha Q, Malik SA, Shaheen N, Shah MH (2010) Comparison of trace elements in the scalp hair of malignant and benign breast lesions versus healthy women. Biol Trace Elem Res 134(2):160–173

13.

Kordas K, Queirolo EI, Ettinger AS, Wright RO, Stoltzfus RJ (2010) Prevalence and predictors of exposure to multiple metals in preschool children from Montevideo, Uruguay. Sci Total Environ 408(20):4488–4494

14.

Oyoo-Okoth E, Admiraal W, Osano O, Ngure V, Kraak MHS, Omutange ES (2010) Monitoring exposure to heavy metals among children in Lake Victoria, Kenya: Environmental and fish matrix. Ecotoxicol Environ Saf 73(7):1797–1803

15.

Unkiewicz-Winiarczyk A, Bagniuk A, Gromysz-Kałkowska K, Szubartowska E (2009) Calcium, magnesium, iron, zinc and copper concentration in the hair of tobacco smokers. Biol Trace Elem Res 128(2):152–160

16.

Vaghri Z, Barr S, Wong H, Chapman G, Hertzman C (2008) Age-based differences in hair zinc of vancouver preschoolers. Biol Trace Elem Res 126(1):21–30
About this article
Cite this article
Cai, Y. Determination of Select Trace Elements in Hair of College Students in Jinzhou, China. Biol Trace Elem Res 144, 469–474 (2011). https://doi.org/10.1007/s12011-011-9145-3
Received:

Accepted:

Published:

Issue Date:
Keywords
Trace elements

Dye

Marcel

Myopia

Drinking

Smoking