Abstract
It is well known that chronic exposure to lead (Pb+2) alters a variety of behavioral tasks in rats and mice. Here, we investigated the effect of flaxseed oil (1,000 mg/kg) on lead acetate (20 mg/kg)-induced brain oxidative stress and neurotoxicity in rats. The levels of Pb+2, lipid peroxidation, nitric oxide (NO), and reduced glutathione (GSH) and the activity of catalase (CAT), superoxide dismutase (SOD), glutathione reductase (GR), glutathione-S-transferase (GST), and glutathione peroxidase (GPx) were determined in adult male albino rats. The level of Pb+2 was markedly elevated in brain and blood of rats. This leads to enhancement of lipid peroxidation and NO production in brain with concomitant reduction in GSH, CAT, SOD, GR, GST, and GPx activities. These findings were associated with DNA fragmentation. In addition, lead acetate induced brain injury as indicated by histopathological changes of the brain. Treatment of rats with flaxseed oil resulted in marked improvement in most of the studied parameters as well as histopathological features. These findings suggest to the conclusion that flaxseed oil significantly decreased the adverse harmful effects of lead acetate exposure on the brain as well as Pb+2-induced oxidative stress.
This is a preview of subscription content,
to check access.
Access this article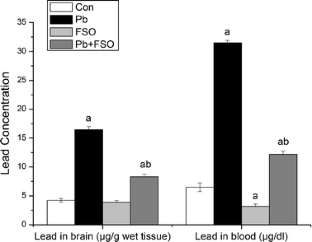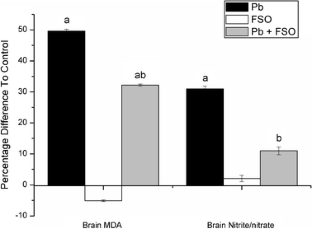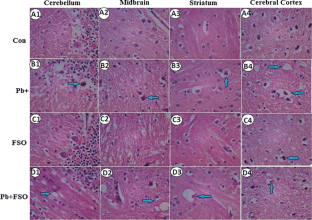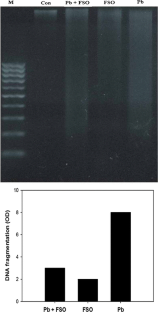 Similar content being viewed by others
References
Gracia RC, Snodgrass WR (2007) Lead toxicity and chelation therapy. Am J Health-Syst Pharm 64:45–53

Acharya UR, Acharya S, Mishra M (2003) Lead acetate induced cytotoxicity in male germinal cells of Swiss mice. Ind Health 41:291–294

Ito Y, Niiya Y, Kurita H, Shima S, Sarai S (1985) Serum lipid peroxide level and blood superoxide dismutase activity in workers with occupational exposure to lead. Int Arch Occup Environ Health 56:119–127

Abdel Moniem AE, Dkhil MA, Al-Quraishy S (2010) Protective role of flaxseed oil against lead acetate induced oxidative stress in testes of adult rats. Afr J Biotechnol 9:7216–7223

Abdel-Moneim AE, Dkhil MA, Al-Quraishy S (2010) The redox status in rats treated with flaxseed oil and lead-induced hepatotoxicity. Biol Trace Elem Res (in press)

Verina T, Rohde CA, Guilarte TR (2007) Environmental lead exposure during early life alters granule cell neurogenesis and morphology in the hippocampus of young adult rats. Neuroscience 145:1037–1047

Pande M, Flora SJ (2002) Lead induced oxidative damage and its response to combined administration of alpha-lipoic acid and succimers in rats. Toxicology 177:187–196

Milder IE, Arts IC, van de Putte B, Venema DP, Hollman PC (2005) Lignan contents of Dutch plant foods: a database including lariciresinol, pinoresinol, secoisolariciresinol and matairesinol. Br J Nutr 93:393–402

Uauy R, Dangour AD (2006) Nutrition in brain development and aging: role of essential fatty acids. Nutr Rev 64:S24–S533, discussion S72-S91

Mazza M, Pomponi M, Janiri L, Bria P, Mazza S (2007) Omega-3 fatty acids and antioxidants in neurological and psychiatric diseases: an overview. Prog Neuropsychopharmacol Biol Psychiatry 31:12–26

Dabrowska-Bouta B, Struzynska L, Rafalowska U (1996) Effect of acute and chronic lead exposure on the level of sulfhydryl groups in rat brain. Acta Neurobiol Exp Wars 56:233–236

Dabrowska-Bouta B, Struzynska L, Rafalowska U (1996) Does lead provoke the peroxidation process in rat brain synaptosomes? Mol Chem Neuropathol 29:127–139

Nowak P, Szczerbak G, Nitka D, Kostrzewa RM, Sitkiewicz T, Brus R (2008) Effect of prenatal lead exposure on nigrostriatal neurotransmission and hydroxyl radical formation in rat neostriatum: dopaminergic–nitrergic interaction. Toxicology 246:83–89

Bhatia AL, Sharma A, Patni S, Sharma AL (2007) Prophylactic effect of flaxseed oil against radiation-induced hepatotoxicity in mice. Phytother Res 21:852–859

Tsakiris S, Schulpis KH, Marinou K, Behrakis P (2004) Protective effect of l-cysteine and glutathione on the modulated suckling rat brain Na+, K+, -ATPase and Mg2+ -ATPase activities induced by the in vitro galactosaemia. Pharmacol Res 49:475–479

Jones DT, Hopkin SP (1998) Reduced survival and body size in the terrestrial isopod Porcellio scaber from a metal-polluted environment. Environ Pollut 99:215–223

Del Rosario AR, Guirguis GN, Perez GP, Matias VC, Li TH, Flessel CP (1982) A rapid and precise system for lead determination in whole blood. Int J Environ Anal Chem 12:223–231

Ohkawa H, Ohishi N, Yagi K (1979) Assay for lipid peroxides in animal tissues by thiobarbituric acid reaction. Anal Biochem 95:351–358

Berkels R, Purol-Schnabel S, Roesen R (2004) Measurement of nitric oxide by reconversion of nitrate/nitrite to NO. Meth Mol Biol 279:1–8

Ellman GL (1959) Tissue sulfhydryl groups. Arch Biochem Biophys 82:70–77

Aebi H (1984) Catalase in vitro. Meth Enzymol 105:121–126

Nishikimi M, Appaji N, Yagi K (1972) The occurrence of superoxide anion in the reaction of reduced phenazine methosulfate and molecular oxygen. Biochem Biophys Res Commun 46:849–854

Habig WH, Pabst MJ, Jakoby WB (1974) Glutathione-S-transferases. The first enzymatic step in mercapturic acid formation. J Biol Chem 249:7130–7139

Paglia DE, Valentine WN (1967) Studies on the quantitative and qualitative characterization of erythrocyte glutathione peroxidase. J Lab Clin Med 70:158–169

Factor VM, Kiss A, Woitach JT, Wirth PJ, Thorgeirsson SS (1998) Disruption of redox homeostasis in the transforming growth factor-alpha/c-myc transgenic mouse model of accelerated hepatocarcinogenesis. J Biol Chem 273:15846–15853

Watabe M, Masuda Y, Nakajo S, Yoshida T, Kuroiwa Y, Nakaya K (1996) The cooperative interaction of two different signaling pathways in response to bufalin induces apoptosis in human leukemia U937 cells. J Biol Chem 271:14067–14072

Jaya Prasanthi RP, Hariprasad Reddy G, Bhuvaneswari Devi C, Rajarami Reddy G (2005) Zinc and calcium reduce lead induced perturbations in the aminergic system of developing brain. Biometals 18:615–626

Costa LG (1998) Signal transduction in environmental neurotoxicity. Annu Rev Pharmacol Toxicol 38:21–43

Devi CB, Reddy GH, Prasanthi RP, Chetty CS, Reddy GR (2005) Developmental lead exposure alters mitochondrial monoamine oxidase and synaptosomal catecholamine levels in rat brain. Int J Dev Neurosci 23:375–381

Xu Y, Li G, Han C, Sun L, Zhao R, Cui S (2005) Protective effects of Hippophae rhamnoides L. juice on lead-induced neurotoxicity in mice. Biol Pharm Bull 28:490–494

Soltaninejad K, Kebriaeezadeh A, Minaiee B, Ostad SN, Hosseini R, Azizi E, Abdollahi M (2003) Biochemical and ultrastructural evidences for toxicity of lead through free radicals in rat brain. Hum Exp Toxicol 22:417–423

Valverde M, Trejo C, Rojas E (2001) Is the capacity of lead acetate and cadmium chloride to induce genotoxic damage due to direct DNA–metal interaction? Mutagenesis 16:265–270

Ye XB, Fu H, Zhu JL, Ni WM, Lu YW, Kuang XY, Yang SL, Shu BX (1999) A study on oxidative stress in lead-exposed workers. J Toxicol Environ Health A 57:161–172

Bondy SC, Guo SX (1996) Lead potentiates iron-induced formation of reactive oxygen species. Toxicol Lett 87:109–112

Ribarov SR, Benov LC, Benchev IC (1981) The effect of lead on hemoglobin-catalyzed lipid peroxidation. Biochim Biophys Acta 664:453–459

Ramesh GT, Jadhav AL (2001) Levels of protein kinase C and nitric oxide synthase activity in rats exposed to sub chronic low level lead. Mol Cell Biochem 223:27–33

Ercal N, Gurer-Orhan H, Aykin-Burns N (2001) Toxic metals and oxidative stress part I: mechanisms involved in metal-induced oxidative damage. Curr Top Med Chem 1:529–539

Harlan JM, Levine JD, Callahan KS, Schwartz BR, Harker LA (1984) Glutathione redox cycle protects cultured endothelial cells against lysis by extracellularly generated hydrogen peroxide. J Clin Invest 73:706–713

Prasad K (2005) Hypocholesterolemic and antiatherosclerotic effect of flax lignan complex isolated from flaxseed. Atherosclerosis 179:269–275

Clasen RA, Hartmann JF, Coogan PS, Pandolfi S, Laing I, Becker RA (1974) Experimental acute lead encephalopathy in the juvenile rhesus monkey. Environ Health Perspect 7:175–185

Sidhu P, Nehru B (2004) Lead intoxication: histological and oxidative damage in rat cerebrum and cerebellum. J Trace Elem Exp Med 17:45–53

Danadevi K, Rozati R, Saleha Banu B, Hanumanth Rao P, Grover P (2003) DNA damage in workers exposed to lead using comet assay. Toxicology 187:183–193

Sharifi AM, Mousavi SH (2008) Studying the effects of lead on DNA fragmentation and proapoptotic bax and antiapoptotic bcl-2 protein expression in PC12 cells. Toxicol Mech Methods 18:75–79

Saleh AM, Vijayasarathy C, Masoud L, Kumar L, Shahin A, Kambal A (2003) Paraoxon induces apoptosis in EL4 cells via activation of mitochondrial pathways. Toxicol Appl Pharmacol 190:47–57
Acknowledgements
The authors extend their appreciation to the Deanship of Scientific Research at King Saud University for funding the work through the research group project No. RGP-VPP-002.
About this article
Cite this article
Abdel Moneim, A.E., Dkhil, M.A. & Al-Quraishy, S. Effects of Flaxseed Oil on Lead Acetate-Induced Neurotoxicity in Rats. Biol Trace Elem Res 144, 904–913 (2011). https://doi.org/10.1007/s12011-011-9055-4
Received:

Accepted:

Published:

Issue Date:

DOI: https://doi.org/10.1007/s12011-011-9055-4
Keywords