Abstract
The effects of vanadium-enriched and wild Inonotus obliquus were tested on hyperglycemic mice. The vanadium content of the culture medium was 0.6%, reaching a concentration of 3.0 mg/g in the cultured mushroom while in the wild variety is 1/100 of that amount. The toxicity of vanadium at the 3.0 mg/g level is negligible, but its anti-diabetic effects are significantly different to those of the wild variety (p < 0.05). Due to its high bioavailability and low toxicity, vanadium-enriched I. obliquus could be used as a means of vanadium supplementation, with expectation of obtaining higher bioavailability and lower toxicity in animals.
Access options
Buy single article
Instant access to the full article PDF.
US$ 39.95
Tax calculation will be finalised during checkout.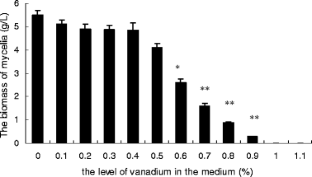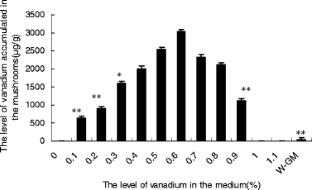 References
1.

Lv Y, Han L, Yuan C, Guo J (2009) Comparison of hypoglycemic activity of trace elements absorbed in fermented mushroom of Coprinus comatus. Biol Trace Elem Res 131:177–185

2.

Xu Q, Guo J (2009) Activity and toxicity of Cr (III)-enriched Grifola frondosa in insulin-resistant mice. Biol Trace Elem Res 131:271–277

3.

Guo JY, Han CC, Liu YM (2010) A contemporary treatment approach to both diabetes and depression by Cordyceps sinensis, rich in Vanadium. Evid-Based Compl Alt 7:387–389

4.

Semiz S, Orvig C, McNeill JH (2002) Effects of diabetes, vanadium, and insulin on glycogen synthase activation in Wistar rats. Mol Cell Biochem 231:23–35

5.

Goldfine AB, Simonson DC, Folli F, Patti ME, Kahn CR (1995) In vivo and in vitro studies of vanadate in human and rodent diabetes mellitus. Mol Cell Biochem 153:217–31

6.

Han C, Li J, Hui Q (2008) Determination of trace elements in Jinqi a traditional Chinese medicine. Biol Trace Elem Res 122:122–126

7.

Han C, Cui B, Wang Y (2008) Vanadium uptake by biomass of Coprinus comatus and their effect on hyperglycemic mice. Biol Trace Elem Res 124:35–39

8.

Han C, Yuan J, Wang Y (2006) Hypoglycemic activity of fermented mushroom of Coprinus comatus rich in vanadium. J Trace Elem Med Biol 20(3):191–196

9.

Zhou G, Han C (2008) The co-effect of vanadium and fermented mushroom of Coprinus comatus on glycaemic metabolism. Biol Trace Elem Res 124(1):20–27

10.

Kalac P, Niznamska M, Bevilaqua D, Staskova I (1996) Concentrations of mercury, copper, cadmium and lead in fruiting bodies of edible mushrooms in the vicinity of a mercury smelter and a copper smelter. Sci Total Enxiron 177:251–258

11.

Kalac P, Svoboda L (2000) A review of trace element concentrations in edible mushrooms. Food Chem 69:273–81

12.

Malinowska E, Szefer P, Falandaysz J (2004) Metals bioaccumulation by bay bolete, Xerocomus badius, from selected sites in Poland. Food Chem 84:405–16

13.

Kim YO, Park HW, Kim JH, Lee JY, Moon SH, Shin CS (2006) Anti-cancer effect and structural characterization of endo-polysaccharide from cultivated mycelia of Inonotus obliquus. Life Sci 79(1):72–80

14.

Wasser SP (2002) Medicinal mushrooms as a source of antitumor and immunomodulating polysaccharides. Appl Microbio Biotechnol 60:258–274

15.

Kim YO, Han SB, Lee HW et al (2005) Immuno-stimulating effect of the endo-polysaccharide produced by submerged culture of Inonotus obliquus. Life Sci 77(19):2438–2456

16.

Xu HY, Sun JE, Lu ZM, Zhang XM, Dou WF, Xu ZH (2010) Beneficial effects of the ethanol extract from the dry matter of a culture broth of Inonotus obliquus in submerged culture on the antioxidant defence system and regeneration of pancreatic beta-cells in experimental diabetes in mice. Nat Prod Res 24(6):542–53

17.

Lozak A, Soltyk K, Stapczuk PO et al (2002) Determination of selected trace elements in herbs and their infusions. Sci Total Environ 289:33–40

18.

Chausmer AB (1998) Zinc, insulin and diabetes. J Am Coll Nutr 17:109–115

19.

Anderson RA, Cheng N, Bryden NA et al (1997) Elevated intakes of supplemental chromium improve glucose and insulin variables in individuals with type 2 diabetes. Diabetes 46:1786–1791

20.

You Y, Lin Z (2003) Antioxidant effect of Ganoderma polysaccharide peptide. Acta Pharm Sinica 38:85–88

21.

Beran M, Stahl R, Beran M Jr (2002) Glycaemic activity of vanadium (III)-b-nicotinamide adenine dinucleotide phosphate complex and its presence in yeast extracts. Analyst 120:979–981

22.

Davis CM, Vincent JB (2002) Vanadium in carbohydrate and lipid metabolism. J Biol Inorg Chem 2:675–679
Acknowledgments
This research was supported by project from the Chongqing Education committee (KJ090311).
About this article
Cite this article
Zhang, Y., Zhao, Y., Cui, H. et al. Comparison of Hypoglycemic Activity of Fermented Mushroom of Inonotus obliquus Rich in Vanadium and Wild-Growing I. obliquus . Biol Trace Elem Res 144, 1351–1357 (2011). https://doi.org/10.1007/s12011-011-9043-8
Received:

Accepted:

Published:

Issue Date:
Keywords
Vanadium

Inonotus obliquus

AAS

Blood glucose