Abstract
The venerid clam Chamelea gallina is a popular and economic foodstuff around the Mediterranean countries especially in Italy, Spain, and France. The aim of this study is to evaluate the nutritional quality of striped venus of Southern Marmara. Samples were harvested seasonally at five stations and analyzed to determine meat yield, proximate, and elemental composition. According to the results, meat yield ranged from 20.24% to 29.94%. Means of water, protein, lipid, and ash content were 67%, 10.12%, 2.57%, and 1.66%, respectively. The mean concentrations (mg/kg wet weight) of elements in tissues are as follows: B: 2.37–4.24; Cr: 0–0.76; Co: 0–0.43; Cu: 0.71–5.30; Mn: 0.30–5.94; Zn: 13.08–77.76; Ni: 0–1.22; Fe: 2.46–114.22; Al: 1.23–75.49; Pb: 0.18–3.24; Ba: 0.66–15.97; Cd: 0.04–0.69. Among the reported metal levels, only Pb and Zn in two stations exceeded the maximum critical concentrations enforced by Turkish legislation and European Commission. Therefore, we report that striped venus from Southern Marmara Sea, in general, are safe for human consumption; nonetheless, Pb and Zn levels should be closely monitored in the future.
Access options
Buy single article
Instant access to the full article PDF.
US$ 39.95
Tax calculation will be finalised during checkout.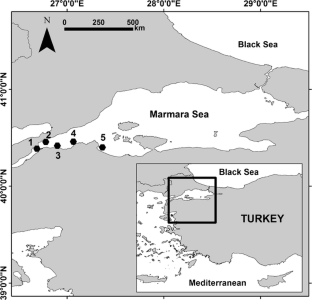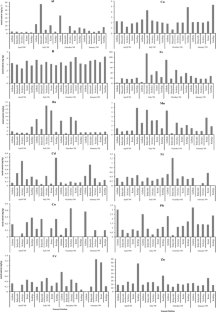 References
1.

Moschino V, Marin M-G (2006) Seasonal changes in physiological responses and evaluation of "well-being" in the venus clam Chamelea gallina from the Northern Adriatic Sea. Comp Biochem Physiol Part A 145:433–440

2.

Ramón M, Richardson C-A (1992) Age determination and shell growth of Chamelea gallina (Bivalvia: Veneridae) in the western Mediterranean. Mar Ecol Prog Ser 89:15–23

3.

FAO-FIGIS (2009) Global capture statistics of stripped venus. http://www.fao.org/figis/servlet/SQServlet?file=/usr/local/tomcat/FI/5.5.23/figis/webapps/figis/temp/hqp_35166.xml&outtype=html (visit date 29 Jul 2009)

4.

Belitz H-D, Grosch W, Schieberle P (2001) Lehrbuch der lebensmittelchemie. Springer, Berlin

5.

Sivaperumal P, Sankar T-V, Nair P-G-V (2007) Heavy metal concentration in fish, shellfish and fish products from internal markets of India vis-à-vis international standards. Food Chem 102:612–620

6.

Altug G, Cardak M, Ciftci P-S (2008) Indicator and other bacteria in striped venus (Chamelea gallina, L.) and wedge clam (Donax trunculus) from the northern coast of the Sea Marmara, Turkey. J Shellfish Res 27(4):783–788

7.

Dalgıc G, Karayucel S (2007) Investigations on the stocks of striped venus (Chamelea gallina L., 1758) in Ordu's coastal zone of the Eastern Black Sea. J Fish Int 2:12–16

8.

Orban E, Di Lena G, Nevigato T, Casini I, Caproni R, Santaroni G, Giulini G (2006) Nutritional and commercial quality of the striped venus clam, Chamelea gallina, from the Adriatic Sea. Food Chem 101:1063–1070

9.

Özden Ö, Erkan N, Ulusoy S (2008) Seasonal variations in the macronutrient mineral and proximate composition of two clams (Chamelea gallina and Donax trunculus). Int J Food Sci Nutr 60(5):402–412

10.

Özden Ö, Erkan N, Deval M-C (2009) Trace mineral profiles of the bivalve species Chamelea gallina and Donax trunculus. Food Chem 113:222–226

11.

Freeman K-R (1974) Growth mortality and seasonal cycle of Mytilus edulis in two Nova Scotian embayments. Technical report no. 500. Department of the Environment, Fisheries and Marine Service, Canada, p 112

12.

AOAC (2000) Official method of analysis, vol II, 17th edn. Association of Official Analytical Chemists, Washington, DC

13.

Bligh E-G, Dyer W-J (1959) A rapid method of total lipid extraction and purification. Can J Biochem Physiol 37:911–917

14.

EPA (1998) Microwave assisted acid digestion of sediments, sludges, soils, and oils. Method 3051A. http://www.epa.gov/osw/hazard/testmethods/sw846/pdfs/3051a.pdf (visit date Mar 2009)

15.

EPA (2000) Inductively coupled plasma-atomic emission spectrometry. Method 6010C. http://www.epa.gov/osw/hazard/testmethods/sw846/pdfs/6010c.pdf (visit date Mar 2009)

16.

Zar J-H (1999) Biostatistical analysis, 4th edn. Department of Biological Sciences, Northern Illinois University, DeKalb

17.

Köseoğlu M (2005) Batı Marmara'da Kum Midyesi'nin (Chamelea gallina Linnaeus 1758) Büyümesi, Üremesi ve Stok Tahmini Üzerine Bir Çalışma. Yüksek Lisans Tezi, ÇOMÜ, Fen Bilimleri Enstitüsü, Çanakkale

18.

Ölmez M, Atar H-H, Seçer S (2003) A study on meat yield and nutrition contents of striped venus (Chamelea gallina L. 1758). Gıda 28(3):169–173 (In Turkish)

19.

Anonymous (1989) Yield and nutritional value of the commercially more important fish species. FAO Fisheries technical paper 187

20.

Okumus I, Stirling H-P (1998) Seasonal variations in the meat weight, condition index and biochemical composition of mussels (Mytilus edulis L.) in suspended culture in two Scottish Sea lochs. Aquaculture 159(3–4):249–261

21.

Orban E, Di Lena G, Nevigato T, Casini I, Marzetti A, Caproni R (2002) Seasonal changes in meat content, condition index and chemical composition of mussels (Mytilus galloprovincialis) cultured in two different Italian sites. Food Chem 77:57–65

22.

Moore J-A (1997) An assessment of boric acid and borax using the IEHR evaluative process for assessing human developmental and reproductive toxicity of agents. Expert Scientific Committee. Reprod Toxicol 11:123–160

23.

FDA (1993) Guidance document for chromium in shellfish. DHHS/PHS/FDA/CFSAN/Office of Seafood, Washington, DC

24.

Aras N-K, Ataman O-Y (2006) Trace element analysis of food and diet. RSC, Cambridge

25.

Moll M, Moll N (2000) Lexique. Pre´cis des risques alimentaires, pt 2. Tec & Doc, Paris, pp 193–383

26.

Anonymous (2001) Parameters to be sought in live bivalve mollusks to be offered directly for human consumption (Annex-3). Purification of live bivalve mollusks. SHBHM circular 2001-02

27.

Gokoglu N, Gokoglu M, Yerlikaya P (2006) Seasonal variations in proximate and elemental composition of pearl oyster (Pinctada radiata, Leach, 1814). J Sci Food Agric 86:2161–2165

28.

Kucuksezgin F, Kacar A, Kucuksezgin G, Uluturhan E (2010) Monitoring metal contamination levels and fecal pollution in clam (Tapes decussatus) collected from Izmir Bay (Turkey). Environ Monit Assess 162:407–415

29.

FDA (2007) Action levels, tolerances and guidance levels for poisonous or deleterious substances in seafood, Section IV Chapter II.04. In: National Shellfish Sanitation Program guide for the control of molluscan shellfish

30.

FAO/WHO (1999) A Joint Expert Committee on Food Additives. In: Summary and conclusions, 53rd meeting, Rome (1–10 June)

31.

Anonymous (2008) Fisheries regulations (Annex-7). Official gazette, September 21, Iss: 27004

32.

EC (2001) Commission Regulation (EC) no. 221/2002 of 6 February 2002 amending regulation (EC) no. 466/2002 setting maximum levels for certain contaminants in foodstuffs. Official Journal of the European Communities, Brussels, 6 February 2002

33.

EPA (2009) National primary drinking water regulations. EPA 816-F-09-004 May

34.

Tuzen M, Soylak M (2007) Determination of trace metals in canned fish marketed in Turkey. Food Chem 101:1378–1382

35.

Olivier F, Ridd M, Klumpp D (2002) The use of transplanted cultured tropical oysters (Saccostrea Commercialis) to monitor Cd levels in North Queensland Coastal Waters (Australia). Mar Pollut Bull 44:1051–1062
Acknowledgments
The present study was carried out with financial support of COMU BAP project 2007/52. The authors would like to thank COMU Scientific Technology Research Center for elemental analysis.
About this article
Cite this article
Arik Colakoglu, F., Ormanci, H.B., Berik, N. et al. Proximate and Elemental Composition of Chamelea gallina from the Southern Coast of the Marmara Sea (Turkey). Biol Trace Elem Res 143, 983–991 (2011). https://doi.org/10.1007/s12011-010-8943-3
Received:

Accepted:

Published:

Issue Date:
Keywords
Chamelea gallina

Meat yield

Proximate composition

Elemental composition

Marmara Sea