Abstract
Heteropolyoxometalate complexes have been widely applied in many fields. In this paper, the interaction between a series of novel rare earth molybdotungstosilicate heteropolyoxometalates, K10H3[Ln(SiMo6W5O39)2]·xH2O (abbr. LnW5, Ln = Pr (x = 30), Gd (x = 29), Dy (x = 28), and Yb (x = 31)), and bovine serum albumin (BSA) was investigated by spectroscopic approach under the physiological conditions. In the mechanism discussion, it was proved that the fluorescence quenching of BSA by LnW5 is a result of the formation of LnW5–BSA complex. Fluorescence quenching constants were determined using the Stern–Volmer equation to provide a measure of the binding affinity between LnW5 and BSA. The binding affinity ranked in the order GdW5 > DyW5 > PrW5 > YbW5. The results of thermodynamic parameters ΔG, ΔH, and ΔS at different temperatures indicate that van der Waals interactions and hydrogen bonds play a major role for LnW5–BSA association. Furthermore, the distance r between donor (BSA) and acceptor (LnW5) was obtained according to fluorescence resonance energy transfer.
Access options
Buy single article
Instant access to the full article PDF.
USD 39.95
Price excludes VAT (USA)
Tax calculation will be finalised during checkout.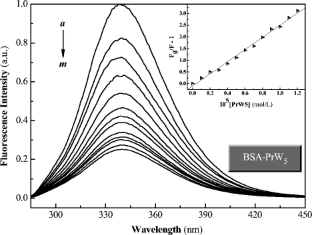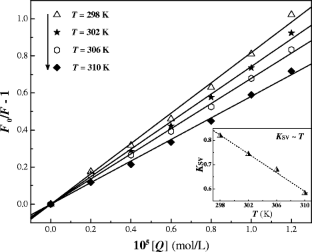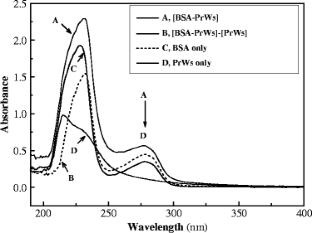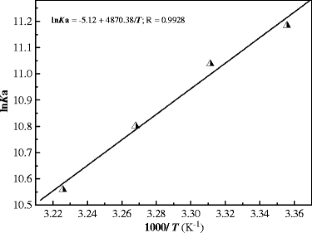 References
Tomsa AR, Muresan L, Koutsodimou A, Falaras P, Rusu M (2003) Synthesis and characterisation of two new lanthanide sandwich-type heteropolyoxometalates. Polyhedron 22:2901–2909

Legagneux N, Jeanneau E, Basset JM, Lefebvre F (2009) Trialkyl tin salts of polyoxometalates: synthesis and characterization of [α-SiW12O40][(CH3)3Sn(DMSO)2]4·2DMSO. J Mol Struct 921:300–306

Jing J, Burton-Pye BP, Francesconi LC, Antonio MR (2008) Europium(III) reduction and speciation within a Wells–Dawson heteropolytungstate. Inorg Chem 47:6889–6899

Zhou Y, Bao R, Yue B, Gu M, Pei S, He H (2007) Synthesis, characterization and catalytic application of SBA-15 immobilized rare earth metal sandwiched polyoxometalates. J Mol Catal A: Chem 270:50–55

Bakala PC, Briot E, Salles L, Brégeault JM (2006) Comparison of liquid-phase olefin epoxidation over MoOx inserted within mesoporous silica (MCM-41, SBA-15) and grafted onto silica. Appl Catal A: Gen 300:91–99

Kłonkowski AM, Grobelna B, But S, Lis S (2006) Luminescent materials consisting of Eu(III) ions complexed in heteropolyoxometalates incorporated into silica xerogels. J Non-Cryst Solids 352:2213–2219

Ben-Daniel R, Weiner L, Neumann R (2002) Activation of nitrous oxide and selective epoxidation of alkenes catalyzed by the manganese-substituted polyoxometalate, [Mn III2 ZnW(Zn2W9O34)2]10-. J Am Chem Soc 124:8788–8789

Maksimovskaya RI, Maksimov GM (2001) NMR studies of heteropolyanion [P2W20O70(H2O)2]10- complexes with metal cations. Inorg Chem 40:1284–1290

Rhule JT, Hill CL, Judd DA, Schinazi RF (1998) Polyoxometalates in medicine. Chem Rev 98:327–357

Wang XH, Liu JF, Li JX, Yang Y, Liu JT, Li B, Michael TP (2003) Synthesis and antitumor activity of cyclopentadienyltitanium substituted polyoxotungstate [CoW11O39(CpTi)]7- (Cp = η-C5H5). J Inorg Biochem 94:279–284

Liu J, Mei WJ, Xu AW, Tan CP, Shi S, Ji LN (2004) Synthesis, characterization and antiviral activity against influenza virus of a series of novel manganese-substituted rare earth borotungstates heteropolyoxometalates. Antiviral Res 62:65–71

Yamamoto A, Schols ND, De Clercq E (1992) Mechanism of anti-human immunodeficiency virus action of polyoxometalates. A class of broad-spectrum antiviral agents. Mol Pharmacol 42:1109–1117

Shigeta S, Mori S, Watanabe J (1995) In vitro antimyxovirus and anti-human immunodeficiency virus activities of polyoxometalates. Antiviral Chem Chemother 6:114–122

Kumar CV, Buranaprapuk A, Opiteck GJ, Moyer MB, Jockusch S, Turro NJ (1998) Photochemical protease: site-specific photocleavage of hen egg lysozyme and bovine serum albumin. Proc Natl Acad Sci U S A 95:10361–10366

Olson RE, Christ DD (1996) Plasma protein binding of drugs. Ann Rep Med Chem 31:327–336

Carter DC, Chang B, Ho JX, Keeling K, Krishnasami Z (1994) Preliminary crystallographic studies of four crystal forms of serum albumin. Eur J Biochem 226:1049–1052

Dockal M, Carter DC, Rüker F (2000) Conformational transitions of the three recombinant domains of human serum albumin depending on pH. J Biol Chem 275:3042–3050

Lázaro E, Lowe PJ, Briand X, Faller B (2008) New approach to measure protein binding based on a parallel artificial membrane assay and human serum albumin. J Med Chem 51:2009–2017

Hu YJ, Liu Y, Xiao XH (2009) Investigation of the interaction between berberine and human serum albumin. Biomacromolecules 10:517–521

Zhang Y, Qi Z, Zheng D, Li C, Liu Y (2009) Interactions of chromium (III) and chromium (VI) with bovine serum albumin studied by UV spectroscopy, circular dichroism, and fluorimetry. Biol Trace Elem Res 130:172–184

Hu YJ, Ou-Yang Y, Zhao RM, Liu Y (2009) Biological activation of heteropoly complex of molybdotungstosilicate containing lanthanum K10H3La(SiMo6W5O39)2·26H2O: spectroscopic approach and microcalorimetry. Biol Trace Elem Res. doi:10.1007/s12011-009-8493-8

Zhang G, Keita B, Craescu CT, Miron S, Oliveira P, Nadjo L (2008) Molecular interactions between Wells–Dawson type polyoxometalates and human serum albumin. Biomacromolecules 9:812–817

Cui F, Qin L, Zhang G, Liu X, Yao X, Lei B (2008) A concise approach to 1, 11-didechloro-6-methyl-4'-O-demethyl rebeccamycin and its binding to human serum albumin: fluorescence spectroscopy and molecular modeling method. Bioorg Med Chem 16:7615–7621

Zhou BB, Shan YK, Liu ZX, Zhang XL (1991) Studies on the synthesis, structure and properties of K10H3[Ln(SiMo11−nWnO39)2]·mH2O (n = 5, 7, 9). Chem J Chin Univ-Chin 12:1425–1429

Lakowicz JR (2006) Principles of fluorescence spectroscopy, 3rd edn. Plenum, New York

Lehrer SS (1971) Solute perturbation of protein fluorescence. The quenching of the tryptophyl fluorescence of model compounds and of lysozyme by iodide ion. Biochemistry 10:3254–3263

Colmenarejo G, Alvarez-Pedraglio A, Lavandera JL (2001) Cheminformatic models to predict binding affinities to human serum albumin. J Med Chem 44:4370–4378

Ross PD, Subramanian S (1981) Thermodynamics of protein association reactions: forces contributing to stability. Biochemistry 20:3096–3102

Stryer L, Haugland RP (1967) Energy transfer: a spectroscopic ruler. Proc Natl Acad Sci U S A 58:719–726

Weiss S (1999) Fluorescence spectroscopy of single biomolecules. Science 283:1676–1683

Cyril L, Earl JK, Sperry WM (1961) Biochemists' handbook. E. & F. N. Spon, London, p 84

Valeur B, Brochon JC (2001) New trends in fluorescence spectroscopy. Springer, Berlin, p 25
Acknowledgments
The authors gratefully acknowledge financial support of the National Natural Science Foundation of China (grant no. 20803019, 20873096, and 20621502), the Research Foundation of Education Bureau of Hubei Province, China (grant no. Q20082205), and Hubei Normal University Foundation, China (grant no. 2007F10).
About this article
Cite this article
Hu, YJ., Ou-Yang, Y., Bai, AM. et al. A Series of Novel Rare Earth Molybdotungstosilicate Heteropolyoxometalates Binding to Bovine Serum Albumin: Spectroscopic Approach. Biol Trace Elem Res 136, 8–17 (2010). https://doi.org/10.1007/s12011-009-8521-8
Received:

Accepted:

Published:

Issue Date:

DOI: https://doi.org/10.1007/s12011-009-8521-8
Keywords
Rare earth

Molybdotungstosilicate heteropolyoxometalates

Bovine serum albumin

Thermodynamic parameters

Spectroscopic approach