Abstract
The objective of this work was to evaluate the effects of selenomethionine (SeMet) on the induction, repair, and persistence of DNA damage in human leukocytes challenged with bleomycin (BLM). Comet assay was used to determine DNA strand breaks and hOGG1 for the specific recognition of oxidative damage. Leukocytes were (A) stimulated with phytohemagglutinin, (B) damaged with BLM, and (C) incubated to allow DNA repair. Comet assay was performed after each phase. SeMet (50 μM) was supplemented either during phase A, B, or C, or AB, or ABC. Treatment with SeMet decreased BLM-induced stand breaks when added during phase AB. Results obtained after the repair period indicate that SeMet favors repair of DNA damage especially when applied during phase AB. The comparison between DNA damage before and after repair showed that BLM-induced damage was repaired better in the presence of SeMet. Our results showed antigenotoxic effect of SeMet on BLM-induced DNA and also on repair and persistence of this damage when applied before and simultaneously with BLM.
Access options
Buy single article
Instant access to the full article PDF.
USD 39.95
Price excludes VAT (USA)
Tax calculation will be finalised during checkout.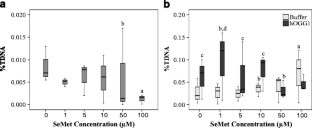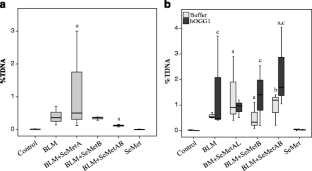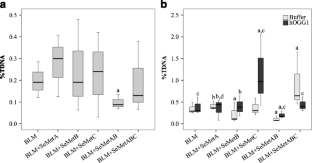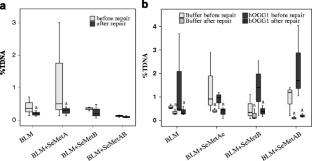 References
Wozniak K, Arabski M, Malecka-Panas E, Drzewoski J, Blasiak J (2004) DNA damage in human colonic mucosa cells induced by bleomycin and the protective action of vitamin E. Cell Mol Biol Lett 9:31–45

Puerto S, Surrallés J, Ramírez MJ, Carbonell E, Creus A, Marcos R (1999) Analysis of bleomycin- and cytosine arabinoside-induced chromosome aberrations involving chromosomes 1 and 4 by painting FISH. Mutat Res 439:3–11

Milic M, Kopjar N (2004) Evaluation of in vitro genotoxic activity of bleomycin and mitomycin C in human lymphocytes using the alkaline comet assay. Arh Hig Rada Toksikol 55:249–259

Povirk LF, Austin MJF (1991) Genotoxicity of bleomycin. Mutat Res 257:127–143

Gajecka M, Rydzanicz M, Jaskula-Sztul R, Wierzbicka M, Szyfter W, Szyfter K (2005) Reduced DNA repair capacity in laryngeal cancer subjects. Curr Res Head Neck Cancer 62:25–37

Wei Z, Lifen J, Jiliang H, Jianlin L, Baohong W, Hongping D (2005) Detecting DNA repair capacity of peripheral lymphocytes from cancer patients with UVC challenge test and bleomycin challenge test. Mutagenesis 20:271–277

Angerer J, Ewers U, Wilhelm M (2007) Human biomonitoring: State of the art. Int J Hyg Environ Health 210:201–228

Kuo H-W, Chou S-Y, Hu T-W, Wu F-Y, Chen D-J (2007) Urinary 8-hydroxy-2'-deoxyguanosine (8-OHdG) and genetic polymorphisms in breast cancer patients. Mutat Res 631:62–68

Laffon B, Pásaro E, Méndez J (2002) DNA damage and repair in human leukocytes exposed to styrene-7, 8-oxide measured by the comet assay. Toxicol Lett 126:61–68

Singh NP, McCoy MT, Tice RR, Schneider EL (1988) A simple technique for quantitation of low levels of DNA damage in individual cells. Exp Cell Res 175:184–191

Laffon B, Teixeira JP, Silva S, Loureiro J, Torres J, Pásaro E, Méndez J, Mayan O (2005) Genotoxic effects in a population of nurses handling antineoplastic drugs, and relationship with genetic polymorphisms in DNA repair enzymes. Am J Ind Med 48:128–136

Smith CC, O'Donovan MR, Martin EA (2006) hOGG1 recognizes oxidative damage using the comet assay with greater specificity than FPG or ENDOIII. Mutagenesis 21:185–190

Rajaee-Behbahani N, Schmezer P, Risch A, Rittgen W, Kayser KW, Dienemann H, Schulz V, Drings P, Thiel S, Bartsch H (2001) Altered DNA repair capacity and bleomycin sensitivity as risk markers for non-small cell lung cancer. Int J Cancer (Pred Oncol) 95:86–91

Schrauzer GN (2003) The nutritional significance, metabolism and toxicology of selenomethionine. Adv Food Nutr Res 47:73–112

Alaejos MS, Diaz Romero FJ, Diaz Romero C (2000) Selenium and cancer: some nutritional aspects. Nutrition 16:376–383

Clark LC (1985) The epidemiology of selenium and cancer. Fed Proc 44:2584–2589

Schrauzer GN (2000) Anticarcinogenic effects of selenium. Cell Mol Life Sci 57:1864–1873

Waters DJ, Shen S, Glickman LT, Cooley DM, Bostwick DG, Qian J, Combs GF Jr, Morris JS (2005) Prostate cancer risk and DNA damage: translational significance of selenium supplementation in a canine model. Carcinogenesis 26:1256–1262

Vega L, Rodriguez-Sosa M, García-Montalvo EA, Del Razo LM, Elizondo G (2007) Non-optimal levels of dietary selenomethionine alter splenocyte response and modify oxidative stress markers in female mice. Food Chem Toxicol 45:1147–1153

Roussyn I, Briviba K, Masumoto H, Sies H (1996) Selenium-containing compounds protect DNA from single-strand breaks caused by peroxynitrite. Arch Bioquim Biophys 330:216–218

Rafferty TS, Green MHL, Lowe JE, Arlett C, Hunter JAA, Beckett GJ, McKenzie RC (2003) Effects of selenium compounds on induction of DNA damage by broadband ultraviolet radiation in human keratinocytes. Br J Dermatol 148:1001–1009

Santos RA, Jordao AA Jr, Vannucch H, Takahashi CS (2007) Protection of doxorubicin-induced DNA damage by sodium selenite and selenomethionine in Wistar rats. Nutr Res 27:343–348

Santos RA, Takahashi CS (2008) Anticlastogenic and antigenotoxic effects of selenomethionine on doxorubicin-induced damage in vitro in human lymphocytes. Food Chem Toxicol 46:671–677

Rao M, Kamath R, Rao MNA (1998) Protective effect of selenomethionine against cisplatin-induced nephrotoxicity in C57BL76J mice bearing B16F1 melanoma without reducing antitumour activity. Pharm Pharmacol Commun 4:549–552

Cao S, Durrani FA, Rustum YM (2004) Selective modulation of the therapeutic efficacy of anticancer drugs by selenium containing compounds against human tumor xenografts. Clin Cancer Res 10:2561–2569

Kaur P, Evje L, Aschner M, Syversen T (2009) The in vitro effects of selenomethionine on methylmercury-induced neurotoxicity. Toxicol In Vitro 23:378–385

Schmezer P, Rajaee-Behbahani N, Risch A, Thiel S, Rittgen W, Drings P, Dienemann H, Kayser KW, Schulz V, Bartsch H (2001) Rapid screening assay for mutagen sensitivity and DNA repair capacity in human peripheral blood lymphocytes. Mutagenesis 16:25–30

Seo YR, Christopher S, Smith ML (2002) Selenomethionine induction of DNA repair response in human fibroblasts. Oncogene 21:3663–3669

Fischer JL, Mihelc EM, Pollok KE, Smith ML (2007) Chemotherapeutic selectivity conferred by selenium: a role for p53-dependent DNA repair. Mol Cancer Ther 6:355–361

Collins AR, Harrington V, Drew J, Melvin R (2003) Nutritional modulation of DNA repair in a human intervention study. Carcinogenesis 24:511–515

Zhang J, Peng D, Lu H, Liu Q (2008) Attenuating the toxicity of cisplatin by using selenosulfate with reduced risk of selenium toxicity as compared with selenite. Toxicol Appl Pharmacol 226:251–259

Kim Y-J, Baek SH, Bogner PN, Ip C, Rustum YM, Fakih MG, Ramnath N, Park YM (2007) Targeting the Nrf2-Prx1 pathway with selenium to enhance the efficacy and selectivity of cancer therapy. J Cancer Mol 3:37–43
Acknowledgements
This work was funded by a grant from the Xunta de Galicia (INCITE08PXIB106155PR). V. Valdiglesias was supported by a fellowship from the University of A Coruña.
About this article
Cite this article
Laffon, B., Valdiglesias, V., Pásaro, E. et al. The Organic Selenium Compound Selenomethionine Modulates Bleomycin-Induced DNA Damage and Repair in Human Leukocytes. Biol Trace Elem Res 133, 12–19 (2010). https://doi.org/10.1007/s12011-009-8407-9
Received:

Accepted:

Published:

Issue Date:

DOI: https://doi.org/10.1007/s12011-009-8407-9
Keywords
Selenomethionine

Bleomycin

Comet assay

Oxidative damage

Antigenotoxicity