Abstract
The levels of blood lipid peroxidation, glutathione peroxidase, reduced glutathione, and vitamin C were used to follow the level of oxidative damage caused by 2.45 GHz electromagnetic radiation in rats. The possible protective effects of selenium and L-carnitine were also tested and compared to untreated controls. Thirty male Wistar Albino rats were equally divided into five groups, namely Groups A1 and A2: controls and sham controls, respectively; Group B: EMR; Group C: EMR + selenium, Group D: EMR + L-carnitine. Groups B–D were exposed to 2.45 GHz electromagnetic radiation during 60 min/day for 28 days. The lipid peroxidation levels in plasma and erythrocytes were significantly higher in group B than in groups A1 and A2 (p < 0.05), although the reduced glutathione and glutathione peroxidase values were slightly lower in erythrocytes of group B compared to groups A1 and A2. The plasma lipid peroxidation level in group A2 was significantly lower than in group B (p < 0.05). Erythrocyte reduced glutathione levels (p < 0.01) in group B; erythrocyte glutathione peroxidase activity in group A2 (p < 0.05), group B (p < 0.001), and group C (p < 0.05) were found to be lower than in group D. In conclusion, 2.45 GHz electromagnetic radiation caused oxidative stress in blood of rat. L-carnitine seems to have protective effects on the 2.45-GHz-induced blood toxicity by inhibiting free radical supporting antioxidant redox system although selenium has no effect on the investigated values.
This is a preview of subscription content, log in to check access.
Access options
Buy single article
Instant access to the full article PDF.
US$ 39.95
Price includes VAT for USA
Subscribe to journal
Immediate online access to all issues from 2019. Subscription will auto renew annually.
US$ 954
This is the net price. Taxes to be calculated in checkout.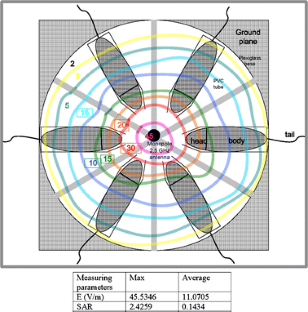 Abbreviations
CAT:

catalase

EMR:

electromagnetic radiation

GSH:

glutathione

GSH-Px:

glutathione peroxidase

ip:

intraperitoneally

L-CAR:

L-carnitine

LP:

lipid peroxidation

MDA:

malondialdehyde

RF:

radio frequency

ROS:

reactive oxygen species

SAR:

specific absorption rate

Se:

selenium

SOD:

superoxide dismutase
References
1.

Maoquan LI, Yanyan W, Yanwen Z, Zhou Z, Zhengping YU (2008) Elevation of plasma corticosterone levels and hippocampal glucocorticoid receptor translocation in rats: a potential mechanism for cognition impairment following chronic low-power-density microwave exposure. J Radial Res 49:163–170

2.

Koyu A, Nazıroglu M, Ozguner F, Yilmaz HR, Uz E, Cesur G (2005) Caffeic acid phenethyl ester modulates 1800 MHz microwave-ınduced oxidative stress in rat liver. Electromagn Biol Med 24:135–142

3.

Wang J, Sakurai T, Koyama S, Komatubara Y, Suzuki Y, Taki M, Miyakoshi J (2005) Effects of 2450 MHz electromagnetic fields with a wide range of SARs on methylcholanthrene-induced transformation in C3H10T1/2 cells. J Radial Res 46:351–361

4.

Crouzier D, Testylier G, Perrin A, Debouzy JC (2007) Which neurophysiologic effects at low level 2.45 GHz RF exposure? Pathol Biol (Paris) 55:235–41

5.

Aweda MA, Gbenebitse, S, Meidinyo RO (2003) Effects of 2.45 GHz microwave exposures on the peroxidation status in Wistar rats. Niger Postgrad Med J 10:243–246

6.

Omura Y, Losco M (1993) Electro-magnetic fields in the home environment (color TV, computer monitor, microwave oven, cellular phone, etc) as potential contributing factors for the induction of oncogen C-fos Ab1, oncogen C-fos Ab2, alpha 5 beta 1 and development of cancer, as well as effects of microwave on amino acid composition of food and living human brain. Acupunct Electrother Res 18:33–73

7.

Murphy JC, Kaden DA, Warren J, Sivak A (1993) International commission for protection against environmental mutagens and carcinogens. Power frequency electric and magnetic fields: a review of genetic toxicology. Mutat Res 296:221–240

8.

Kim MJ, Rhee SJ (2004) Green tea catechins protect rats from microwave-induced oxidative damage to heart tissue. J Med Food 7:299–304

9.

Moustafa YM, Moustafa RM, Beacy A, Abou-El-Ela SH, Ali FM (2001) Effects of acute exposure to the radiofrequency fields of cellular phones on plasma lipid peroxide and antioxidase activities in human erythrocytes. J Pharm Biomed Anal 26:605–608

10.

Irmak MK, Fadillioglu E, Gulec M, Erdogan H, Yagmurca M, Akyol O (2002) Effects of electromagnetic radiation from a cellular telephone on the oxidant and antioxidant levels in rabbits. Cell Biochem Funct 20:279–283

11.

Naziroglu M, Simsek M, Kutlu M (2004) Moderate exercise with dietary vitamin C and E combination protects streptozotocininduced oxidative damage to the blood and improves fetal outcomes in pregnant rats. Clin Chem Lab Med 42:511–517

12.

Naziroglu M, Karaoglu A, Aksoy AO (2004) Selenium and high dose vitamin E administration protects cisplatin-induced oxidative damage to renal, liver and lens tissues in rats. Toxicology 195:221–230

13.

Arrigoni O, De Tullio MC (2002) Ascorbic acid: much more than just an antioxidant. Biochim Biophys Acta 1569:1–9

14.

Inazu M, Matsumiya T (2008) Physiological functions of carnitine and carnitine transporters in the central nervous system. Nihon Shinkei Seishin Yakurigaku Zasshi. 28:113–20

15.

Dutta A, Ray K, Singh VK, Vats P, Singh SN, Singh SB. (2008) L-carnitine supplementation attenuates intermittent hypoxia induced oxidative stress and delays muscle fatigue in rats. Exp Physiol 93:1139–1146

16.

Faraone A, Ballen M, Bit-Babik G, Gressner AV, Kanda MY, Swicord ML, Chou CK. (2004). RF dosimetry fort he ferris-wheel mouse exposure system. Motorola Labs Final Report, August.

17.

Koylu H, Mollaoglu H, Ozguner F, Naziroglu M, Delibas N (2006) Melatonin modulates 900 MHz microwave-induced lipid peroxidation changes in rat brain. Toxicol Ind Health 22:211–216

18.

Placer ZA, Cushman L, Johnson BC (1966) Estimation of products of lipid peroxidation (malonyldialdehyde) in biological fluids. Anal Biochem 16:359–364

19.

Eren I, Naziroglu M, Demirdaş A (2007) Protective effects of lamotrigine, aripirazole and escitalopram on depression- induced oxidative stress in rat brain. Neurochem Res 32:1188–1195

20.

Sedlak J, Lindsay RHC (1968) Estimation of total, protein bound and non-protein sulfhydryl groups in tissue with Ellmann's reagent. Anal Biochem 25:192–205

21.

Naziroglu M (2003) Enhanced testicular antioxidant capacity in streptozotocin induced diabetic rats: protective role of vitamins C, E and selenium. Biol Trace Elem Res 94:61–71

22.

Lawrence RA, Burk RF. (1971) Glutathione peroxidase activity in selenium-deficient rat liver. Biochem Biophys Res Commun 71:952–958

23.

Cannan RK (1958) Proposal for a certified standard for use in hemoglobinometry; second and final report. Clin Chem 4:246–51

24.

Jagota SK, Dani HM (1982) A new colorimetric technique for the estimation of vitamin C using Folin phenol reagent. Anal Biochem 127:178–182

25.

Braune S, Wrocklage C, Raczek J, Galius T, Lucking CH (1998) Resting blood pressure increase during exposure to a radio frequency electromagnetic field. Lancet 351:1857–1858

26.

Meral I, Mert H, Mert N, Deger Y, Yoruk I, Yetkin A, Keskin S (2007) Effects of 900-MHz electromagnetic field emitted from cellular phone on brain oxidative stress and some vitamin levels of guinea pigs. Brain Res 1169:120–124.

27.

Halliwell B, Gutteridge JMC (1984) Lipid peroxidation, oxygen radicals, cell damage and antioxidant therapy. Lancet 1:1396–1397

28.

Halliwell B, Gutteridge JMC (1999) Free radicals, other reactive species and disease. In: Halliwell B, Gutteridge JMC (eds) Free Radicals in Biology and Medicine, 3rd edn. Oxford University Press, New York, pp 639–645

29.

Naziroglu M (2007) New molecular mechanisms on the activation of TRPM2 channels by oxidative stress and ADP-ribose. Neurochem Res 32:1990–2001

30.

Reznick AZ, Kagan VE, Ramsey R, Tsuchiya M, Khwaja S, Serbinova EA, Packer L (1992) Antiradical effects in L-propionyl carnitine protection of the heart against ischemia-reperfusion injury: the possible role of iron chelation. Arch Biochem Biophys 296:394–401

31.

Rani PJ, Panneerselvam C (2001) Effect of L-carnitine on brain lipid peroxidation and antioxidant enzymes in old rats. J. Gerontol. A. Biol. Sci. Med. Sci. 2002, 57, 134–137

32.

Arockia-Rani PJ, Panneerselvam C. (2001) Carnitine as a free radical scavenger in ageing. Exp Gerontol 36:1713–1726

33.

Esposti D, Mariani M, Demartini G, Lucini V, Fraschini F, Mancia M (1994) Modulation of melatonin secretion by acetyl-L-carnitine in adult and old rats. J Pineal Res 17:132–136

34.

Olatunji-Bello II, Reiter RJ (1997) Effect of acute acetyl-l-carnitine treatment on daytime melatonin synthesis in the rat. Afr J Med Sci 26:175–177

35.

Pessotto P, Liberati R, Petrella O, Romanelli L, Calvani M, Peluso G (1997) In experimental diabetes the decrease in the eye of lens carnitine levels is an early important and selective event. Exp Eye Res 64:195–201

36.

Kocer I, Taysi S, Ertekin MV, Karslioglu I, Gepdiremen A, Sezen O, Serifoglu K (2007) The effect of L-carnitine in the prevention of ionizing radiation-induced cataracts: a rat model. Graefes Arch Clin Exp Ophthalmol 245:588–94
About this article
Cite this article
Gumral, N., Naziroglu, M., Koyu, A. et al. Effects of Selenium and L-Carnitine on Oxidative Stress in Blood of Rat Induced by 2.45-GHz Radiation from Wireless Devices. Biol Trace Elem Res 132, 153 (2009). https://doi.org/10.1007/s12011-009-8372-3
Received:

Accepted:

Published:
Keywords
2.45 GHz electromagnetic radiation

Oxidative stress

Glutathione peroxidase

Vitamin C

L-carnitine

Selenium