Abstract
This study aimed to investigate a possible connection between removal of dental amalgam restorations supported by antioxidant therapy and indicative changes of clinical chemistry parameters. A group of 24 patients, referred for complaints related to amalgam restorations, underwent a removal of their amalgams. All patients were treated with antioxidants (vitamin B-complex, vitamin C, vitamin E, and sodium selenite). An age- and sex-matched control group of 22 individuals was also included. The mercury (Hg) and selenium (Se) concentration in plasma, Hg concentration in erythrocytes, and 17 clinical chemistry variables were examined in three groups: patients before amalgam removal (Before), patients after amalgam removal (After), and control individuals (Control). The Hg and Se values decreased (p < 0.05) in plasma, and the Hg concentration decreased (p < 0.05) in erythrocytes after amalgam removal. The variables serum lactate dehydrogenase (serum LDH) and serum sodium differed significantly both when comparing Control with Before (p < 0.01) and Before with After (p < 0.01). The variables white blood cell count (WBC), blood neutrophil count, blood eosinophil count, blood basophil count, blood lymphocyte count, blood monocyte count, serum potassium, and serum creatinine differed in the Before/After test (p < 0.05). Multivariate statistics (discriminant function analysis) could separate the groups Before and After with only one misclassification.
This is a preview of subscription content,
to check access.
Access this article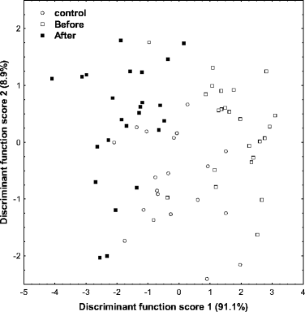 References
Lorscheider FL, Vimy MJ (1991) Mercury exposure from "silver" fillings. Lancet 337:1103

Lorscheider FL, Vimy MJ, Summers AO (1995) Mercury exposure from "silver" tooth fillings: emerging evidence questions a traditional dental paradigm. FASEB J 9:504–508

Hahn LJ, Kloiber R, Vimy MJ, Takahashi Y, Lorscheider FL (1989) Dental "silver" tooth fillings: a source of mercury exposure revealed by whole-body image scan and tissue analysis. FASEB J 3:2641–2646

Hahn LJ, Kloiber R, Leininger RW, Vimy MJ, Lorscheider FL (1990) Whole-body imaging of the distribution of mercury released from dental fillings into monkey tissues. Faseb J 4:3256–3260

Danscher G, Horsted-Bindslev P, Rungby J (1990) Traces of mercury in organs from primates with amalgam fillings. Exp Mol Pathol 52:291–299

Vimy MJ, Takahashi Y, Lorscheider FL (1990) Maternal-fetal distribution of mercury (203Hg) released from dental amalgam fillings. Am J Physiol 258:R939–R945

Gottwald B, Traenckner I, Kupfer J, Ganss C, Eis D, Schill WB, Gieler U (2001) "Amalgam disease"—poisoning, allergy, or psychic disorder. Int J Hyg Environ Health 204:223–229

Kingman A, Albertini T, Brown LJ (1998) Mercury concentrations in urine and whole blood associated with amalgam exposure in a US military population. J Dent Res 77:461–471

Zimmer H, Ludwig H, Bader M, Bailer J, Eickholz P, Staehle HJ, Triebig G (2002) Determination of mercury in blood, urine and saliva for the biological monitoring of an exposure from amalgam fillings in a group with self-reported adverse health effects. Int J Hyg Environ Health 205:205–211

Mutter J, Naumann J, Sadaghiani C, Walach H, Drasch G (2004) Amalgam studies: disregarding basic principles of mercury toxicity. Int J Hyg Environ Health 207:391–397

Lindh U, Hudecek R, Danersund A, Eriksson S, Lindvall A (2002) Removal of dental amalgam and other metal alloys supported by antioxidant therapy alleviates symptoms and improves quality of life in patients with amalgam-associated ill health. Neuro Endocrinol Lett 23:459–482

Lindh U, Carlmark B, Gronquist SO, Lindvall A (2001) Metal exposure from amalgam alters the distribution of trace elements in blood cells and plasma. Clin Chem Lab Med 39:134–142

Frisk P, Lindvall A, Hudecek R, Lindh U (2003) Decrease of trace elements in erythrocytes and plasma after removal of dental amalgam and other metal alloys. Biol Trace Elem Res 113:247–260

Ilback NG, Benyamin G, Lindh U, Fohlman J, Friman G (2003) Trace element changes in the pancreas during viral infection in mice. Pancreas 26:190–196

Ilback NG, Benyamin G, Lindh U, Friman G (2003) Sequential changes in Fe, Cu, and Zn in target organs during early Coxsackievirus B3 infection in mice. Biol Trace Elem Res 91:111–124

Brownawell AM, Berent S, Brent RL, Bruckner JV, Doull J, Gershwin EM, Hood RD, Matanoski GM, Rubin R, Weiss B, Karol MH (2005) The potential adverse health effects of dental amalgam. Toxicol Rev 24:1–10

Guzzi G, Grandi M, Cattaneo C, Calza S, Minoia C, Ronchi A, Gatti A, Severi G (2006) Dental amalgam and mercury levels in autopsy tissues: food for thought. Am J Forensic Med Pathol 27:42–45

Vanderlinde RE (1985) Measurement of total lactate dehydrogenase activity. Ann Clin Lab Sci 15:13–31

Veech RL (1991) The metabolism of lactate. NMR Biomed 4:53–58

El-Demerdash FM (2001) Effects of selenium and mercury on the enzymatic activities and lipid peroxidation in brain, liver, and blood of rats. J Environ Sci Health B 36:489–499

Endo T, Haraguchi K, Sakata M (2003) Renal toxicity in rats after oral administration of mercury-contaminated boiled whale livers marketed for human consumption. Arch Environ Contam Toxicol 44:412–416

Reichl FX, Walther UI, Durner J, Kehe K, Hickel R, Kunzelmann KH, Spahl W, Hume WR, Benschop H, Forth W (2001) Cytotoxicity of dental composite components and mercury compounds in lung cells. Dent Mater 17:95–101

Kidd P (2003) Th1/Th2 balance: the hypothesis, its limitations, and implications for health and disease. Altern Med Rev 8:223–246
Acknowledgements
The authors would like to thank the personnel at the former Department of Clinical Metal Biology, University Hospital, Uppsala, Sweden. Financial support from the Ministry of Health and Social Affairs is duly recognized.
About this article
Cite this article
Frisk, P., Danersund, A., Hudecek, R. et al. Changed Clinical Chemistry Pattern in Blood After Removal of Dental Amalgam and other Metal Alloys Supported by Antioxidant Therapy. Biol Trace Elem Res 120, 163–170 (2007). https://doi.org/10.1007/s12011-007-8026-2
Received:

Revised:

Accepted:

Published:

Issue Date:

DOI: https://doi.org/10.1007/s12011-007-8026-2
Keywords