Abstract
Zinc (Zn)-enriched yeast and gluconate are considered two of the more biologically available supplements. However, there have been few reports comparing the bioavailability of these supplements. The objective of this study was to demonstrate whether Zn was absorbed better by healthy male volunteers when given supplements where the mineral is found organically bound in yeast or as a salt gluconate form. The trial used a randomized, two-way crossover design. Urine, blood, and fecal samples were collected and analyzed over a 48-h period after a single dose of supplement. The net Zn balance and the relative bioavailability were calculated. No differences were observed in urine excretion of the two supplements. Zinc gluconate gave higher Zn concentrations in the blood in the first 6 h but also showed greater losses in the feces. Zinc yeast also increased in blood with time but showed significantly less loss in the feces. Thus, the net Zn balance after 48 h for Zn yeast was 9.46 but for Zn gluconate it was −2.00, indicating that Zn gluconate supplementation contributed to a net loss of Zn. It was concluded that organic Zn yeast supplements are more biologically available than Zn gluconate salts.
Access options
Buy single article
Instant access to the full article PDF.
US$ 39.95
Tax calculation will be finalised during checkout.
Subscribe to journal
Immediate online access to all issues from 2019. Subscription will auto renew annually.
US$ 399
Tax calculation will be finalised during checkout.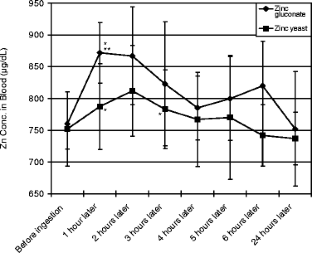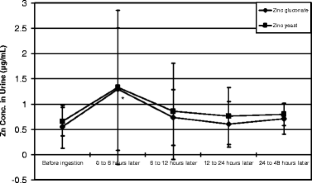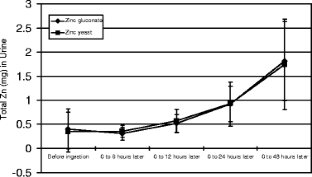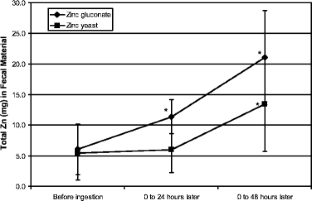 References
1.

Maret W, Sandstead HH (2006) Zinc requirements and the risks and benefits of zinc supplementation. J Trace Elem Med Biol 20:3–18

2.

Cuevas LE, Koyanagi A (2005) Zinc and infection: a review. Ann Trop Paediatr 25:149–160

3.

Shah D, Sachdev HP (2006) Zinc deficiency in pregnancy and fetal outcome. Nutr Rev 64:15–30

4.

Hughes S, Samman S (2006) The effect of zinc supplementation in humans on plasma lipids, antioxidant status and thrombogenesis. J Am Coll Nutr 24:285–291

5.

Beletate V, El Dib R, Atallah A (2007) Zinc supplementation for the prevention of type 2 diabetes mellitus. Cochrane Database Syst Rev 24:CD005525

6.

Salgueiro MJ, Zubillaga MB, Lysionek AE, Sarabia MI, Caro RA, De Paoli T, Hager A, Ettlin E, Weill R, Boccio JR (2000) Bioavailability, biodistribution, and toxicity of BioZn-AAS; a new zinc source, comparative studies in rats. Nutrition 16:7623–766

7.

Neathery MW, Lassiter JW, Miller WJ, Gentry RP (1975) Absorption, excretion and tissue distribution of natural organic and inorganic zinc-65 in the rat. Proc Soc Exp Biol Med 149:1–4

8.

Vinson JA, Tompkins TA, Agbor GA (2007) Comparative bioavailability of mineral enriched gluconates and yeasts in rat liver following depletion–repletion feeding. Biol Trace Elem Res (in press)

9.

Vinson JA, Bose P, Lemoine L, Hsiao KH (1989) Comparative human bioavailability of zinc. In: Southgate D, Johnson I, Fenwick GR (eds) Nutrient availability: chemical and biological aspects. Royal Society of Chemistry Publications, Cambridge, England, pp 125–127

10.

Fischer PWF, Giroux A, L'Abbe MR (1984) Effect of zinc supplementation on copper status in adult man. Am J Clin Nutr 40:743–746

11.

Yadrick MK, Kennery MA, Winterfeldt EA (1989) Iron, copper, and zinc status: response to supplementation with zinc and iron in adult females. Am J Clin Nutr 49:145–150

12.

Spencer H, Kramer L, Osis D (1982) Zinc balances in humans. In: Prasad AS (ed) Clinical, biochemical and nutritional aspects of trace elements. Alan R. Liss, New York, NY, pp 103–115

13.

Camara F, Amaro MA (2003) Nutritional aspect of zinc availability. Int J Food Sci Nutr 54:143–151
Acknowledgements
The authors wish to gratefully acknowledge the technical support staff from the Medical Corporation LTA (Souseikai Osaki Clinic); B. M. L. Association; and Japan Food Research Laboratories and Sogo Clinical Pharmacology Co., Ltd. In addition, they wish to acknowledge the financial support of Lallemand Inc. (Montreal, Canada) and Space-H Enterprise Ltd. (Tokyo, Japan).
About this article
Cite this article
Tompkins, T.A., Renard, N.E. & Kiuchi, A. Clinical Evaluation of the Bioavailability of Zinc-enriched Yeast and Zinc Gluconate in Healthy Volunteers. Biol Trace Elem Res 120, 28–35 (2007). https://doi.org/10.1007/s12011-007-0072-2
Received:

Accepted:

Published:

Issue Date:
Keywords
Zinc gluconate

Zinc-enriched yeast

Bioavailability

Zinc absorption