Abstract
Chicken feathers are available in large quantities around the world causing environmental challenges. The feathers are composed of keratin that is a recalcitrant protein and is hard to degrade. In this work, chicken feathers were aerobically pretreated for 2–8 days at total solid concentrations of 5, 10, and 20 % by Bacillus sp. C4, a bacterium that produces both α- and β-keratinases. Then, the liquid fraction (feather hydrolysate) as well as the total broth (liquid and solid fraction of pretreated feathers) was used as substrates for biogas production using anaerobic sludge or bacteria granules as inoculum. The biological pretreatment of feather waste was productive; about 75 % of feather was converted to soluble crude protein after 8 days of degradation at initial feather concentration of 5 %. Bacteria granules performed better during anaerobic digestion of untreated feathers, resulting in approximately two times more methane yield (i.e., 199 mlCH4/gVS compared to 105 mlCH4/gVS when sludge was used). Pretreatment improved methane yield by 292 and 105 % when sludge and granules were used on the hydrolysate. Bacteria granules worked effectively on the total broth, yielded 445 mlCH4/gVS methane, which is 124 % more than that obtained with the same type of inoculum from untreated feather.
This is a preview of subscription content, log in to check access.
Access options
Buy single article
Instant access to the full article PDF.
US$ 39.95
Price includes VAT for USA
Subscribe to journal
Immediate online access to all issues from 2019. Subscription will auto renew annually.
US$ 199
This is the net price. Taxes to be calculated in checkout.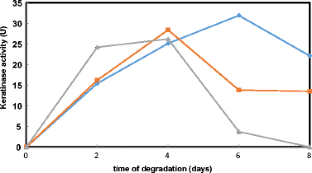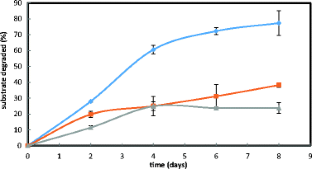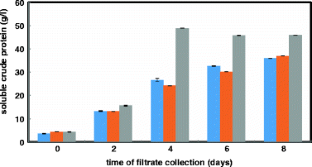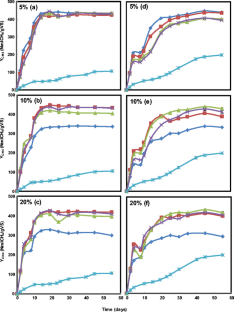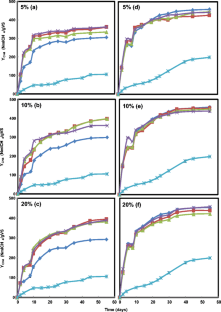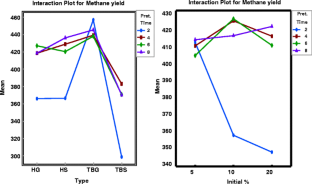 References
1.

FAOSTAT. (2013) Live animals. Food and Agriculture Organization of the United Nations. FAO Statistics Division 2016. http://faostat.fao.org/site/573/DesktopDefault.aspx?PageID=573#ancor. Accessed 18 Feb 2016.

2.

Matikevičienė, V., Masiliūnienė, D. and Grigiškis, S. (2015) Degradation of keratin containing wastes by bacteria with keratinolytic activity. Environment. Technology. Resources. Proceedings of the International Scientific and Practical Conference, pp. 284–289.

3.

Wang, L., Xin, J., Li, X., & Wang, Y. (2015). The variability of biomass burning and its influence on regional aerosol properties during the wheat harvest season in North China. Atmospheric Research, 157, 153–163.

4.

Fellahi, S., Zaghloul, T. I., Feuk-Lagerstedt, E., & Taherzadeh, M. J. (2014). A bacillus strain able to hydrolyze alpha- and beta-keratin. Journal of Bioprocessing and Biotechniques, 4, 7.

5.

Johnson, D. K. and Elander, R. T. (2009), In Biomass Recalcitrance, Blackwell Publishing Ltd., pp. 436–453.

6.

Taherzadeh, M. J., & Karimi, K. (2008). Pretreatment of lignocellulosic wastes to improve ethanol and biogas production: a review. International Journal of Molecular Sciences, 9, 1621–1651.

7.

Zhao, W., Yang, R., Zhang, Y., & Wu, L. (2012). Sustainable and practical utilization of feather keratin by an innovative physicochemical pretreatment: high density steam flash-explosion. Green Chemistry, 14, 3352–3360.

8.

Korniłłowicz-Kowalska, T., & Bohacz, J. (2011). Biodegradation of keratin waste: theory and practical aspects. Waste Management, 31, 1689–1701.

9.

Onifade, A. A., Al-Sane, N. A., Al-Musallam, A. A., & Al-Zarban, S. (1998). A review: potentials for biotechnological applications of keratin-degrading microorganisms and their enzymes for nutritional improvement of feathers and other keratins as livestock feed resources. Bioresource Technology, 66, 1–11.

10.

Barone, J. R., Schmidt, W. F., & Gregoire, N. T. (2006). Extrusion of feather keratin. Journal of Applied Polymer Science, 100, 1432–1442.

11.

Cai, C.-G., Lou, B.-G., & Zheng, X.-D. (2008). Keratinase production and keratin degradation by a mutant strain of Bacillus subtilis. Journal of Zhejiang University. Science. B, 9, 60–67.

12.

Zaghloul, T. I., Embaby, A. M., & Elmahdy, A. R. (2011). Biodegradation of chicken feathers waste directed by Bacillus subtilis recombinant cells: scaling up in a laboratory scale fermentor. Bioresource Technology, 102, 2387–2393.

13.

Kanchana, R., & Mesta, D. (2013). Native feather degradation by a keratinophilic fungus. International Journal of Chemtech Research, 5, 2947–2954.

14.

Kim, J.-D. (2003). Preliminary characterization of keratinolytic enzyme of aspergillus flavus K-03 and its potential in biodegradation of keratin wastes. Mycobiology, 31, 209–213.

15.

Mazotto, A. M., Couri, S., Damaso, M. C. T., & Vermelho, A. B. (2013). Degradation of feather waste by Aspergillus niger keratinases: comparison of submerged and solid-state fermentation. International Biodeterioration & Biodegradation, 85, 189–195.

16.

Forgács, G., Alinezhad, S., Mirabdollah, A., Feuk-Lagerstedt, E., & Horváth, I. S. (2011). Biological treatment of chicken feather waste for improved biogas production. Journal of Environmental Sciences, 23, 1747–1753.

17.

Park, G.-T., & Son, H.-J. (2009). Keratinolytic activity of Bacillus megaterium F7-1, a feather-degrading mesophilic bacterium. Microbiological Research, 164, 478–485.

18.

Wawrzkiewicz, K., Łobarzewski, J., & Wolski, T. (1987). Intracellular keratinase of Trichophyton gallinae. Journal of Medical and Veterinary Mycology, 25, 261–268.

19.

Angelidaki, I., Alves, M., Bolzonella, D., Borzacconi, L., Campos, J. L., Guwy, A. J., Kalyuzhnyi, S., Jenicek, P., & Van Lier, J. B. (2009). Defining the biomethane potential (BMP) of solid organic wastes and energy crops: a proposed protocol for batch assays. Water Science and Technology, 59, 927–934.

20.

Teghammar, A., Yngvesson, J., Lundin, M., Taherzadeh, M. J., & Horváth, I. S. (2010). Pretreatment of paper tube residuals for improved biogas production. Bioresource Technology, 101, 1206–1212.

21.

APHA-AWWA-WEF. (2005) Standard methods for the examination of water and wastewater 21st Edition. 21st Edition ed., American Public Health Association, 800 I Street, NW, Washington, DC 20001–3710.

22.

LABCONCO. (2015) A guide to Kjeldahl nitrogen determination. Methods and Apparatus. LABCONCO, An Industry Service Publication. Accessed 8th of April. http://www.expotechusa.com/catalogs/labconco/pdf/KJELDAHLguide.PDF. ed.

23.

Haug, R. T. (1993), In The Practical Handbook of Compost Engineering., Taylor & Francis, pp. 247–257

24.

Carpenter, D. C. (2010), In Food Analysis Laboratory Manual: Food Science Texts Series, (Nielsen, S. S., ed.), Springer US, pp. pp 29–37.

25.

Suntornsuk, W., & Suntornsuk, L. (2003). Feather degradation by Bacillus sp. FK 46 in submerged cultivation. Bioresource Technology, 86, 239–243.

26.

Korniłłowicz-Kowalska, T. (1997). Studies on the decomposition of keratin wastes by saprotrophic microfungi. I. Criteria for evaluating keratinolytic activity. Acta Mycologica, 32, 51–79.

27.

Ghasemi, Y., Shahbazi, M., Rasoul-Amini, S., Kargar, M., Safari, A., Kazemi, A., & Montazeri-Najafabady, N. (2012). Identification and characterization of feather-degrading bacteria from keratin-rich wastes. Annals of Microbiology, 62, 737–744.

28.

Deivasigamani, B., & Alagappan, K. M. (2008). Industrial application of keratinase and soluble proteins from feather keratins. Journal of Environmental Biology, 29, 933–936.

29.

Bálint, B., Bagi, Z., Tóth, A., Rákhely, G., Perei, K., & Kovács, K. (2005). Utilization of keratin-containing biowaste to produce biohydrogen. Applied Microbiology and Biotechnology, 69, 404–410.

30.

Deublein, D. and Steinhauser, A. (2011) Biogas from waste and renewable resources. ed. Wiley-VCH.
Acknowledgments
The authors greatly acknowledge Håkantorp Slakteri AB, Genomfatrsvägen, Sweden for supplying the chicken feathers and Alex Osagie Osadolor for helpful discussion.
About this article
Cite this article
Patinvoh, R.J., Feuk-Lagerstedt, E., Lundin, M. et al. Biological Pretreatment of Chicken Feather and Biogas Production from Total Broth. Appl Biochem Biotechnol 180, 1401–1415 (2016). https://doi.org/10.1007/s12010-016-2175-8
Received:

Accepted:

Published:

Issue Date:
Keywords
Chicken feather

Pretreatment

Bacillus substilis strain

Keratinase

Biogas production

Mesophilic

Hydrolysate

Total broth

Bacteria granules