Abstract
Artocarpus altilis (breadfruit) pulp, peel and whole fruit were extracted with various solvents such as hexane, dichloromethane (DCM) and methanol. The antioxidant activity of these extracts were examined using the stable 2,2-diphenyl-1-picrylhydrazyl (DPPH) radical scavenging test. IC50 was 55 ± 5.89 μg/ml for the pulp part of methanol extract. In the β-carotene bleaching assay, the antioxidant activity was 90.02 ± 1.51 % for the positive control (Trolox) and 88.34 ± 1.31 % for the pulp part of the fruit methanol extract. The total phenolic content of the crude extracts was determined using the Folin-Ciocalteu procedure; methanol pulp part demonstrated the highest phenol content value of 781 ± 52.97 mg GAE/g of dry sample. While the total flavonoid content was determined using the aluminium chloride colorimetric assay, the highest value of 6213.33 ± 142.22 mg QE/g was indicated by pulp part of the fruit methanol extract. The antimicrobial activity of the crude extracts was tested using disc diffusion method against pathogenic microorganisms: Staphylococcus aureus, Staphylococcus epidermidis, Bacillus cereus, Salmonella typhimurium, Escherichia coli, Klebsiella pneumonia and Candida albicans. Methanol extract of pulp part was recorded to have the highest zone of inhibition against Gram-positive and Gram-negative bacteria. The minimum inhibitory concentration (MIC) and MBC/minimal fungicidal concentration (MFC) for the extracts were also determined using the microdilution method ranging from 4000 to 63 μg/ml against pathogenic microbes. The MBC/MFC values varied from 250 to 4000 μg/ml. A correlation between antioxidant activity assays, antimicrobial activity and phenolic content was established. The results shows that the various parts of A. altilis fruit extracts promising antioxidant activities have potential bioactivities due to high content of phenolic compounds.
Access options
Buy single article
Instant access to the full article PDF.
USD 39.95
Price includes VAT (USA)
Tax calculation will be finalised during checkout.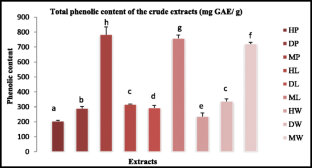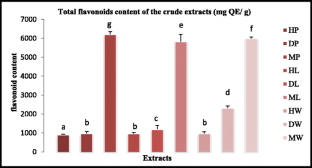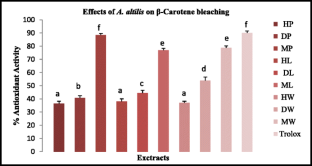 References
1.

Aboaba, O. O., & Efuwape, B. M. (2001). Antibacterial properties of some Nigerian species. Biochemical and Biophysical Research Communications, 13, 183–188.

2.

Akinmoladun, A. C., Ibukun, E. O., Afor, E., Akinrinlola, B. L., Onibon, T. R., Akinboboye, A. O., Obuotor, E. M., & Farombi, E. O. (2007). Chemical constituents and antioxidant activity of Alstonia boonei. African Journal of Biotechnology, 6, 1197–1201.

3.

Akrout, A., El Jani, H., Zammouri, T., Mighri, H., & Neffati, M. (2010). Phytochemical screening and mineral contents of annual plants growing wild in the southern of Tunisia. Journal of Phytology, 2(1), 034–040.

4.

Charalampos, P., Boziaris, I. S., Kapsokefalou, M., & Komaitis, M. (2008). Natural antioxidant constituents from selected aromatic plants and their antimicrobial activity against selected pathogenic microorganisms. Food Technology and Biotechnology, 46(2), 151–156.

5.

Elija, K., Adsul, V. B., Kulkarni, M. M., Deshpande, N. R., & Kashalkar, R. V. (2010). Spectroscopic determination of total phenol and flavonoid contents of Ipomoea carnea. International Journal of ChemTech Research, 2(3), 1698–1701.

6.

Gazzani, G., Papetti, A., Daglia, M., Berte, F., & Gregotti, C. (1998). Protective activity of water soluble components of some common diet vegetables on rat liver microsome and the effect of thermal treatment. Journal of Agricultural and Food Chemistry, 46, 4123–4127.

7.

Green RJ. (2004). Antioxidant activity of peanut plant tissues. Msc.thesis, North Carolina State University, USA.

8.

Halliwell B, & Gutteridge JMC. (1999). Free radical in biology and medicine. 3rd Edition. London: Oxford. 36–40 pp. 311–312.

9.

Houghton, P. J., & Raman, A. (1998). Laboratory handbook for fractionation of natural extracts (p. 199). London: Chapman and Hall.

10.

Huda-Faujan, N., Noriham, A., Norrakiah, A. S. & Babji, A.S. ( 2009). Antioxidant activity of plants methanolic extracts containing phenolic compounds. African Journal of Biotechnology, 8(3), 484–489.

11.

Jung, C., Maeder, V., Funk, F., Frey, B., Stich, E. H., & Fross, E. E. (2003). Release of phenols from Lupinus albus L. roots exposed to Cu and their possible role in Cu detoxification. Plant and Soil, 252, 301.

12.

Kabouche, A., Kabouche, Z., Ôzturk, M., Kolal, U., & Topçu, G. (2007). Antioxidant abietane diterpenoids from Salvia barrelieri. Food Chemistry, 102, 1281–1287.

13.

Klancnik, A., Piskernik, S., Jeršek, B., & Smole, M. S. (2010). Evaluation of diffusion and dilution methods to determine the antibacterial activity of plant extracts. Journal of Microbiological Methods, 81, 121–126.

14.

Kumar, B., Vijayakumar, M., Govindarajan, R., & Pushpangadan, P. (2007). Ethnopharmacological approaches to wound healing-exploring medicinal plants in India. Journal of Ethnopharmacology, 114(2), 103–113.

15.

Langfield, R. D., Scarano, F. J., Heitzman, M. E., Kondo, M., Hammond, G. B., & Neto, C. C. (2004). Use of a modified microplate bioassay method to investigate antibacterial activity in the Peruvian medicinal plant Peperomia galiodes. Journal of Ethnopharmacology, 94(2–3), 279–281.

16.

Levy, S. B. (1994). Drug resistance the new apocalypse (special issue). Trends in Microbiology, 2, 341–425.

17.

Maltophilia, S., Betts, J. W., Murphy, C., Kelly, S. M., & Haswell, S. J. (2012). Synergistic antibacterial effects of theaflavin in combination with ampicillin against hospital isolates of Stenotrophomonas maltophilia. Journal of Microbiology, Biotechnology and Food Sciences, 2(3), 1068–1078.

18.

Mathekaga, A. D. M., & Meyer, J. J. M. (1998). Antibacterial activity of South African Helichrysum species. South African Journal of Botany, 64, 293–295.

19.

McDonald, S., Prenzler, P. D., Autolovich, M., & Robards, K. (2001). Phenolic content and antioxidant activity of olive extracts. Food Chemistry, 73, 73–84.

20.

Mensor, L. L., Menezes, F. S., Leitao, G. G., Reis, A. S., Santos, T. C., Coube, C. S., & Leitao, S. G. (2001). Screening of Brazilian plant extracts for antioxidant activity by the use of DPPH free radical method. Phytotherapy Research, 15, 127–130.

21.

Ncube, N. S., Afolayan, A. J., & Okoh, A. I. (2008). Assessment techniques of antimicrobial properties of natural compounds of plant origin. Current Methods and Future Trends, 7(12), 1797–1806.

22.

Njenga, E., Van Vuuren, S. F., & Viljoen, A. M. (2005). Antimicrobial activity of Eriocephalus species. South African Journal of Botany, 71, 81–87.

23.

Nostro, A., Germarno, M. P., D'Angelo, V., Marino, A., & Canatelli, M. A. (2000). Extraction methods and bioautography for evaluation of medicinal plant antimicrobial activity. Letters in Applied Microbiology, 30, 379–384.

24.

Norshazila, S., Syed Zahir, I., Mustapha Suleiman, K., Aisyah, M. R., & Kamarul Rahim, K. (2010). Antioxidant levels and activities of selected seeds of Malaysian tropical fruits. Malaysian Journal Nutrition, 16, 149–159.

25.

Omar, K., Geronikaki, A., Zoumpoulakis, P., Camoutsis, C., Sokovic, M., Ciric, A., & Glamoclija, J. (2010). Novel 4-thiazolidinone derivatives as potential antifungal and antibacterial drugs. Bioorganic & Medicinal Chemistry, 18, 426–432.

26.

Pradhan, C., Mohanty, M., & Rout, A. (2013). Assessment of the antibacterial potential of breadfruit leaf. International Journal of Pharmacy, 3(2), 374–379.

27.

Pradhan C, Mohanty M, & Rout A. (2013). Front Life Sci, 2155–3777 published online 5th March.

28.

Parekh, J., Jadeja, D., & Chanda, S. (2005). Efficacy of aqueous and methanol extracts of some medicinal plants for potential antibacterial activity. Turkish Journal of Biology, 29, 203–210.

29.

Ragone D. (1997). Breadfruit-Artocarpus altilis (Parkinson) Fosberg: promoting the conservation and use of underutilized and neglected crops. Rome, Italy pp.77.

30.

Sari, F., Turkmen, N., Polat, G., & Velioglu, Y. S. (2007). Total polyphenol, antioxidant and antibacterial activities of black mate tea. Food Science and Technology Research, 13(3), 265–269.

31.

Seifried, H. E., Anderson, D. E., Fisher, E. I., & Milner, J. A. (2007). A review of the interaction among dietary antioxidants and reactive oxygen species. Journal of Nutritional Biochemistry, 1, 1–8.

32.

Sengul, M., Hilal, Y., Neva, G., Bulent, C., Zeynep, E., & Sezai, E. (2009). Total phenolic content, antioxidant and antimicrobial activities of some medicinal plants. Pakistan Journal of Pharmaceutical Sciences, 22(1), 102–106.

33.

Sujatha, R. K., & Rajan, S. (2014). Bactericidal effect of Aegle marmelos extracts on pathogenic bacteria. World Journal of Pharmacy and Pharmaceutical Sciences, 3(2), 2202–2213.

34.

Tanaka, J. C. A., da Silva, C. C., de Oliveira, A. J. B., Nakamura, C. V., & Dias Filho, B. P. (2006). Antibacterial activity of indole alkaloids from Aspidosperma ramiflorum. Brazilian Journal of Medical Biology Research, 39(3), 387–391.

35.

Vinson, J., Hao, Y., Su, X., & Zubik, L. S. (1998). Phenol antioxidant quantity and quality in foods: vegetables. Journal of Agricultural and Food Chemistry, 46, 3630–3634.

36.

Wilkinson JJ. (2007). Methods for testing the antimicrobial activity of extracts. ModernPhytomedicine, 157–171.

37.

Yen, G. C., Duh, P. D., & Su, H. J. (2004). Antioxidant properties of lotus seed and its effect on DNA damage in human lymphocytes. Food Chemistry, 89, 379–385.

38.

Zhang, Z., Li, D., Wang, L., Ozkan, N., Chen, X. D., Mao, Z., & Yang, H. (2007). Optimization of ethanol-water extraction of lignans from flaxseed. Separation and Purification Technology, 57(1), 17–24.
About this article
Cite this article
Jalal, T.K., Ahmed, I.A., Mikail, M. et al. Evaluation of Antioxidant, Total Phenol and Flavonoid Content and Antimicrobial Activities of Artocarpus altilis (Breadfruit) of Underutilized Tropical Fruit Extracts. Appl Biochem Biotechnol 175, 3231–3243 (2015). https://doi.org/10.1007/s12010-015-1499-0
Received:

Accepted:

Published:

Issue Date:
Keywords
Artocarpus altilis

Antioxidants

DPPH

Antimicrobial

MIC and MBC/MFC