Abstract
The inhibitory effect of L-malic acid (MA) on alpha-glucosidase (EC 3.2.1.20) was investigated by combination study between inhibition kinetics and computational simulations. The results from the serial kinetics demonstrated that MA could directly inactivate the enzyme activity in a dose-dependent manner and a typical non-competitive type, as well as in a fast inactivate process without detectable time course. The tertiary conformation study with an application of spectrofluorimetry showed that MA modulated the tertiary structural conformation of alpha-glucosidase both on the overall and on regional active site pocket, which monitored by red-shift intrinsic fluorescence peak with decreases intensities, and the significant intensity increasing of 1-anilinonaphthalene-8-sulfonate (ANS)-binding fluorescence, respectively. To have more insight, we also adapted the computational molecular dynamics (MD) simulations. The results showed that MA was located in the entrance of active pocket for the catalytic reaction and blocked the passage of substrate. It confirmed that MA inhibits as a non-competitive type, not direct docking to the glucose binding site. Our study provides important molecular mechanisms to figure out alpha-glucosidase inhibition that might associate to development of type 2 diabetes mellitus drug.
Access options
Buy single article
Instant access to the full article PDF.
US$ 39.95
Tax calculation will be finalised during checkout.
Subscribe to journal
Immediate online access to all issues from 2019. Subscription will auto renew annually.
US$ 119
Tax calculation will be finalised during checkout.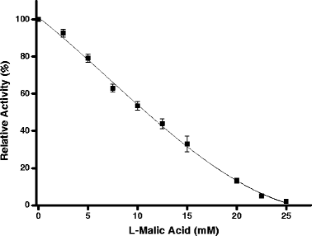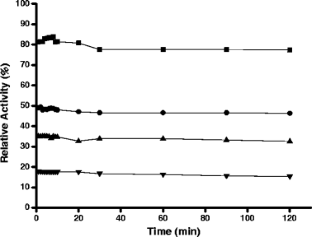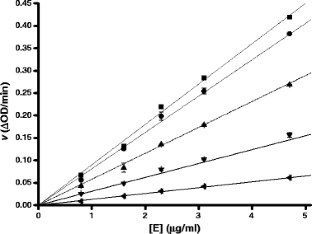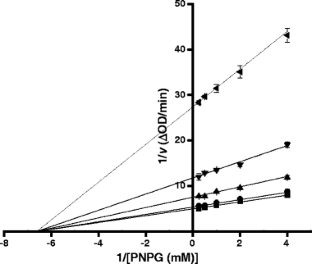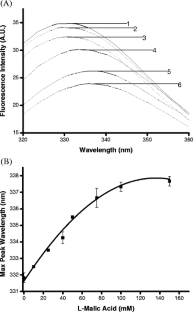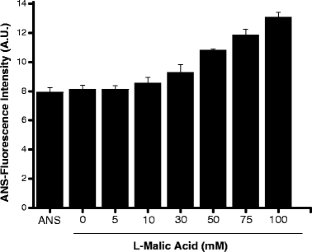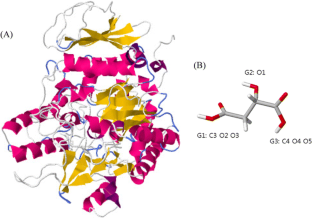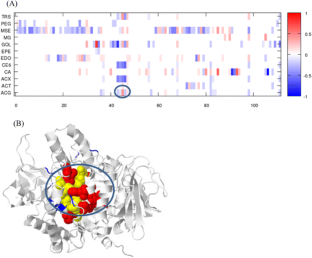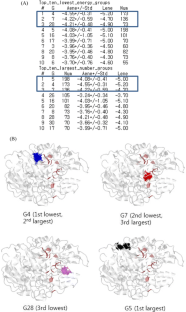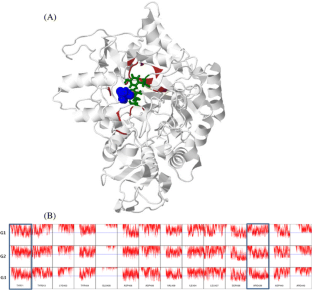 Abbreviations
MA:

L-Malic acid

PNPG:

p-Nitrophenyl α-D-glucopyranoside

PNP:

4-Nitrophenol

ANS:

1-Anilinonaphthalene-8-sulfonate

MD:

Molecular dynamics
References
1.

Konya, H., Katsuno, T., Tsunoda, T., Yano, Y., Kamitani, M., Miuchi, M., Hamaguchi, T., Miyagawa, J. I., & Namba, M. (2013). Effects of combination therapy with mitiglinide and voglibose on postprandial plasma glucose in patients with type 2 diabetes mellitus. Diabetes Metabolic Syndrome Obesity, 6, 317–325.

2.

van de Laar, F. A. (2008). Alpha-glucosidase inhibitors in the early treatment of type 2 diabetes. Vascular Health and Risk Management, 4, 1189–1195.

3.

Chiba, S. (1997). Molecular mechanism in alpha-glucosidase and glucoamylase. Bioscience, Biotechnology, and Biochemistry, 61, 1233–1239.

4.

Etienne, A., Génard, M., Lobit, P., Mbeguié-A-Mbéguié, D., & Bugaud, C. (2013). What controls fleshy fruit acidity? A review of malate and citrate accumulation in fruit cells. Journal of Experimental Botany, 64, 1451–1469.

5.

Moulin, D. E. (2001). Systemic drug treatment for chronic musculoskeletal pain. The Clinical Journal of Pain, 17, S86–S93.

6.

Gómez-Moreno, G., Aguilar-Salvatierra, A., Guardia, J., Uribe-Marioni, A., Cabrera-Ayala, M., Delgado-Ruiz, R. A., & Calvo-Guirado, J. L. (2013). The efficacy of a topical sialogogue spray containing 1 % malic acid in patients with antidepressant-induced dry mouth: a double-blind, randomized clinical trial. Depression and Anxiety, 3, 137–142.

7.

Gómez-Moreno, G., Guardia, J., Aguilar-Salvatierra, A., Cabrera-Ayala, M., de-Val Maté-Sánchez, J. E., & Calvo-Guirado, J. L. (2013). Effectiveness of malic acid 1 % in patients with xerostomia induced by antihypertensive drugs. Medicina Oral, Patología Oral y Cirugía Bucal, 18, e49–e55.

8.

Rodgers, A. L., Webber, D., de Charmoy, R., Jackson, G. E., & Ravenscroft, N. (2014). Malic acid supplementation increases urinary citrate excretion and urinary pH: implications for the potential treatment of calcium oxalate stone disease. Journal of Endourology, 28, 229–236.

9.

Tang, X., Liu, J., Dong, W., Li, P., Li, L., Lin, C., Zheng, Y., Hou, J., & Li, D. (2013). The cardioprotective effects of citric Acid and L-malic Acid on myocardial ischemia/reperfusion injury. Evid Based Complement Alternat Med, 820695.

10.

Zeng, Y. F., Lee, J., Si, Y. X., Yan, L., Kim, T. R., Qian, G. Y., Lü, Z. R., Ye, Z. M., & Yin, S. J. (2012). Inhibitory effect of Zn2+ on α-glucosidase: Inhibition kinetics and molecular dynamics simulation. Process Biochemistry, 47, 2510–2517.

11.

Zeng, Y. F., Lü, Z. R., Yan, L., Oh, S., Yang, J. M., Lee, J., & Ye, Z. M. (2012). Towards alpha-glucosidase folding induced by trifluoroethanol: kinetics and computational prediction. Process Biochemistry, 47, 2284–2290.

12.

Wu, X. Q., Wang, J., Lü, Z. R., Tang, H. M., Park, D., Oh, S. H., Bhak, J., Shi, L., Park, Y. D., & Zou, F. (2010). Alpha-glucosidase folding during urea denaturation: enzyme kinetics and computational prediction. Applied Biochemistry and Biotechnology, 160, 1341–1355.

13.

Kim, T. R., Oh, S., Yang, J. S., Lee, S., Shin, S., & Lee, J. (2012). A simplified homology-model builder toward highly protein-like structures: an inspection of restraining potentials. Journal of Computational Chemistry, 33, 1927–1935.

14.

Trott, O., & Olson, A. J. (2010). AutoDock Vina: improving the speed and accuracy of docking with a new scoring function, efficient optimization, and multithreading. Journal of Computational Chemistry, 31, 455–461.

15.

Brooks, B. R., Brooks, C. L., 3rd, Mackerell, A. D., Jr., Nilsson, L., Petrella, R. J., Roux, B., Won, Y., Archontis, G., Bartels, C., Boresch, S., Caflisch, A., Caves, L., Cui, Q., Dinner, A. R., Feig, M., Fischer, S., Gao, J., Hodoscek, M., Im, W., Kuczera, K., Lazaridis, T., Ma, J., Ovchinnikov, V., Paci, E., Pastor, R. W., Post, C. B., Pu, J. Z., Schaefer, M., Tidor, B., Venable, R. M., Woodcock, H. L., Wu, X., Yang, W., York, D. M., & Karplus, M. (2009). CHARMM: the biomolecular simulation program. Journal of Computational Chemistry, 30, 1545–1614.

16.

Kabsch, W., & Sander, C. (1983). Dictionary of protein secondary structure: pattern recognition of hydrogen-bonded and geometrical features. Biopolymers, 22, 2577–2637.
Acknowledgments
This study was supported by the National Natural Science Foundation of China (No. 31071433). Dr. Hai-Meng Zhou was supported by the fund from Science and Technology of Xiaoshan District (No. 2012121) and the China Natural Science Foundation (No. 31170732 and No. 31270854). Dr. Jun-Mo Yang was supported by a grant from the Korea Health Technology R&D Project, Ministry of Health & Welfare, Republic of Korea (No. HI12C1299) and by grants from the Samsung Biomedical Research Institute (SMX1131301; GL1-B2-181-1; CA6-216-3). Dr. Jinhyuk Lee was supported by grants from the Korea Research Institute of Bioscience and Biotechnology (KRIBB) Research Initiative Program, the Korean Ministry of Education, Science and Technology (MEST) (2012R1A1A2002676), and the Pioneer Research Center Program through the National Research Foundation of Korea funded by the Ministry of Science, ICT & Future Planning (2013M3C1A3064780). Dr. Zhi-Rong Lü was supported by a grant from the Science and Technology Planning Project of Hangzhou (No. 20120232B39). Dr. Yong-Doo Park was supported by a grant from Zhejiang Provincial Natural Science Foundation of China, "Towards studying the function of C3dg protein and elucidating its role in the pathogenesis of atopic dermatitis" (Grant No. LY14H110001). This subject is supported by Korea Ministry of Environment as "The Environmental Health Action Program."
Additional information
Lin Gou and Yi Zhan equally contributed to this study.
About this article
Cite this article
Gou, L., Zhan, Y., Lee, J. et al. Effects of L-Malic Acid on Alpha-Glucosidase: Inhibition Kinetics and Computational Molecular Dynamics Simulations. Appl Biochem Biotechnol 175, 2232–2245 (2015). https://doi.org/10.1007/s12010-014-1429-6
Received:

Accepted:

Published:

Issue Date:
Keywords
Alpha-glucosidase

Malic acid

Inhibition