Abstract
Microbial pigments are gaining intensive attention due to increasing awareness of the toxicity of synthetic colours. In this study, a novel polymer-producing bacterium designated as Cupriavidus sp. USMAHM13 was also found to produce yellow pigment when cultivated in nutrient broth. Various parameters such as temperature, pH and ratio of culture volume to flask volume were found to influence the yellow pigment production. UV-Visible, Fourier transform infrared and 13C-nuclear magnetic resonance analyses revealed that the crude yellow pigment might probably represent new bioactive compound in the carotenoid family. The crude yellow pigment also exhibited a wide spectrum of antimicrobial activity against Gram-negative and Gram-positive bacteria with their inhibition zones and minimal inhibitory concentrations ranged from 25 to 38 mm and from 0.63 to 2.5 mg/ml, respectively. To the best of our knowledge, this is the first report on the identification and characterization of yellow pigment produced by bacterium belonging to the genus Cupriavidus.
Access options
Buy single article
Instant access to the full article PDF.
US$ 39.95
Tax calculation will be finalised during checkout.
Subscribe to journal
Immediate online access to all issues from 2019. Subscription will auto renew annually.
US$ 119
Tax calculation will be finalised during checkout.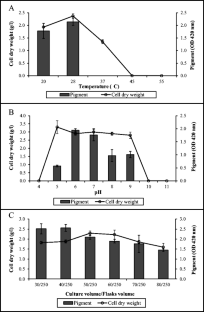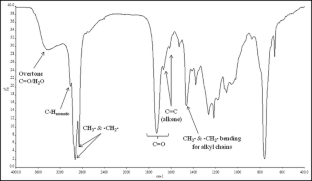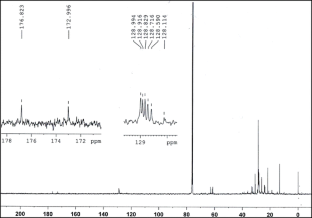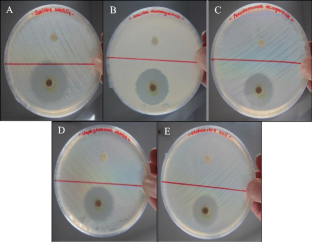 References
1.

Babitha, S. (2009). Microbial pigments. In P. S. Nigam & A. Pandey (Eds.), Biotechnology for agro-industrial residues (pp. 147–162). Berlin, Heidelberg: Springer Science.

2.

Venil, C. K., & Lakshmanaperumalsamy, P. (2009). Electronic Journal of Biology, 5, 49–61.

3.

Joshi, V. K., Attri, D., Bala, A., & Bhushan, S. (2003). Indian Journal of Biotechnology, 2, 362–369.

4.

Namitha, K. K., & Negi, P. S. (2010). Critical Reviews in Food Science and Nutrition, 50, 728–760.

5.

Nugraheni, S. A., Khoeri, M. M., Kusmita, L., Widyastuti, Y., & Radjasaz, O. K. (2010). Journal of Coastal Development, 14, 51–60.

6.

Goswami, G., Chaudhuri, S., & Dutta, D. (2010). Chemical Engineering Transactions, 20, 127–132.

7.

Ramachandran, H., & Amirul, A. A. (2013). Journal of Chemical Technology and Biotechnology, 88, 1030–1038.

8.

Ainon, H., Tan, C. J., & Vikineswary, S. (2006). Malaysian Journal of Microbiology, 2, 15–21.

9.

Iigusa, H., Yoshida, Y., & Hasunuma, K. (2005). FEBS Letters, 579, 4012–4016.

10.

Radjasa, O. K., Limantara, L., & Sabdono, A. (2009). Journal of Coastal Development, 12, 100–104.

11.

Nakamura, Y., Asada, C., & Sawada, T. (2003). Biotechnology and Bioprocess Engineering, 8, 37–40.
Acknowledgements
This work was supported by the FRGS grant from Ministry of Education, Malaysia (203/PBIOLOGI/6711357) and USM Science Fellowship (RU: 1001/441/29301/CIPS/AUPE001) awarded to Hema Ramachandran.
About this article
Cite this article
Ramachandran, H., Iqbal, M.A. & Amirul, AA. Identification and Characterization of the Yellow Pigment Synthesized by Cupriavidus sp. USMAHM13. Appl Biochem Biotechnol 174, 461–470 (2014). https://doi.org/10.1007/s12010-014-1080-2
Received:

Accepted:

Published:

Issue Date:
Keywords
Bioactive compound

Carotenoids

Cupriavidus sp.

Microbial pigment

Natural pigment

Antimicrobial activity