Abstract
This article presents a study on screening of microalgal strains from the Peking University Algae Collection and heterotrophic cultivation for biodiesel production of a selected microalgal strain. Among 89 strains, only five were capable of growing under heterotrophic conditions in liquid cultures and Chlorella sp. PKUAC 102 was found the best for the production of heterotrophic algal biodiesel. Composition of the growth medium was optimised using response surface methodology and optimised growth conditions were successfully used for cultivation of the strain in a fermentor. Conversion of algal lipids to fatty acid methyl esters (FAMEs) showed that the lipid profile of the heterotrophically cultivated Chlorella sp. PKUAC 102 contains fatty acids suitable for biodiesel production.
Access options
Buy single article
Instant access to the full article PDF.
US$ 39.95
Tax calculation will be finalised during checkout.
Subscribe to journal
Immediate online access to all issues from 2019. Subscription will auto renew annually.
US$ 119
Tax calculation will be finalised during checkout.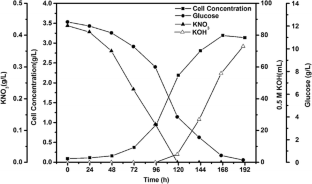 Abbreviations
PKUAC:

Peking University Algae Collection

FAME:

Fatty acid methyl esters

RSM:

Response surface methodology
References
1.

Meng, X., Yang, J., Xu, X., Zhang, L., Nie, Q., & Xian, M. (2009). Biodiesel production from oleaginous microorganisms. Renewable Energy, 34(1), 1–5.

2.

Chisti, Y. (2007). Biodiesel from microalgae. Biotechnology Advances, 25(3), 294–306.

3.

Daroch, M., Geng, S., & Wang, G. (2013). Recent advances in liquid biofuel production from algal feedstocks. Applied Energy, 102, 1371–1381.

4.

Grobbelaar, J. U. (2010). Microalgal biomass production: challenges and realities. Photosynthesis Research, 106(1–2), 135–144.

5.

Borowitzka, M., & Moheimani, N. (2013). Sustainable biofuels from algae. Mitigation and Adaptation Strategies for Global Change, 18(1), 13–25.

6.

Liang, Y. (2013). Producing liquid transportation fuels from heterotrophic microalgae. Applied Energy, 104, 860–868.

7.

Daroch, M., Shao, C., Liu, Y., Geng, S., & Cheng, J. J. (2013). Induction of lipids and resultant FAME profiles of microalgae from coastal waters of Pearl River Delta. Bioresource Technology, 146, 192–199.

8.

Miao, X. L., & Wu, Q. Y. (2006). Biodiesel production from heterotrophic microalgal oil. Bioresource Technology, 97(6), 841–846.

9.

Xu, H., Miao, X., & Wu, Q. (2006). High quality biodiesel production from a microalga Chlorella protothecoides by heterotrophic growth in fermentors. Journal of Biotechnology, 126(4), 499–507.

10.

Li, X. F., Xu, H., & Wu, Q. Y. (2007). Large-scale biodiesel production from microalga Chlorella protothecoides through heterotropic cultivation in bioreactors. Biotechnology and Bioengineering, 98(4), 764–771.

11.

Mata, T. M., Martins, A. A., & Caetano, N. S. (2010). Microalgae for biodiesel production and other applications: a review. Renewable and Sustainable Energy Reviews, 14(1), 217–232.

12.

Rodolfi, L., Zittelli, G. C., Bassi, N., Padovani, G., Biondi, N., Bonini, G., et al. (2009). Microalgae for oil: strain selection, induction of lipid synthesis and outdoor mass cultivation in a low-cost photobioreactor. Biotechnology and Bioengineering, 102(1), 100–112.

13.

Shen, Y., Yuan, W., Pei, Z., & Mao, E. (2010). Heterotrophic culture of Chlorella protothecoides in various nitrogen sources for lipid production. Applied Biochemistry and Biotechnology, 160(6), 1674–1684.

14.

Cheng, K.-C., Ren, M., & Ogden, K. L. (2013). Statistical optimization of culture media for growth and lipid production of Chlorella protothecoides UTEX 250. Bioresource Technology, 128, 44–48.

15.

Perez-Garcia, O., Escalante, F. M. E., de-Bashan, L. E., & Bashan, Y. (2011). Heterotrophic cultures of microalgae: metabolism and potential products. Water Research, 45(1), 11–36.

16.

Guo, H., Daroch, M., Liu, L., Qiu, G., Geng, S., & Wang, G. (2013). Biochemical features and bioethanol production of microalgae from coastal waters of Pearl River Delta. Bioresource Technology, 127, 422–428.

17.

Shao, C., Liu, Y., Daroch, M., Geng, S., Xu, N., & Cheng, J. J. (2013). Isolation and identification of microalgae in Shenzhen Bay with molecular biotechnology. Guangdong Agricultural Sciences, 13, 135–138 (in chinese).

18.

Stanier, R. Y., Kunisawa, R., Mandel, M., & Cohen-Bazire, G. (1971). Purification and properties of unicellular blue-green algae (order Chroococcales). Bacteriological Reviews, 35(2), 171–205.

19.

Johnson, M. B., & Wen, Z. Y. (2009). Production of biodiesel fuel from the microalga Schizochytrium limacinum by direct transesterification of algal biomass. Energy and Fuels, 23, 5179–5183.

20.

Kuhl, A. (1962). Zur physiologie der Speicherung Kondensierter anorganischer Phosphate in Chlorella. Vortrag Bot Hrsg Deut Botan Ges (NC), 1, 157–166.

21.

Liu, J., Huang, J., Fan, K. W., Jiang, Y., Zhong, Y., Sun, Z., et al. (2010). Production potential of Chlorella zofingienesis as a feedstock for biodiesel. Bioresource Technology, 101(22), 8658–8663.

22.

Heredia-Arroyo, T., Wei, W., & Hu, B. (2010). Oil accumulation via heterotrophic/mixotrophic Chlorella protothecoides. Applied Biochemistry and Biotechnology, 162(7), 1978–1995.

23.

Liang, Y., Sarkany, N., & Cui, Y. (2009). Biomass and lipid productivities of Chlorella vulgaris under autotrophic, heterotrophic and mixotrophic growth conditions. Biotechnology Letters, 31(7), 1043–1049.

24.

Wang, Y., Rischer, H., Eriksen, N. T., & Wiebe, M. G. (2013). Mixotrophic continuous flow cultivation of Chlorella protothecoides for lipids. Bioresource Technology, 144, 608–614.

25.

Xie, T., Sun, Y., Du, K., Liang, B., Cheng, R., & Zhang, Y. (2012). Optimization of heterotrophic cultivation of Chlorella sp. for oil production. Bioresource Technology, 118, 235–242.

26.

Xiong, W., Li, X., Xiang, J., & Wu, Q. (2008). High-density fermentation of microalga Chlorella protothecoides in bioreactor for microbio-diesel production. Applied Microbiology and Biotechnology, 78(1), 29–36.

27.

Cheng, Y., Lu, Y., Gao, C. F., & Wu, Q. Y. (2009). Alga-based biodiesel production and optimization using sugar cane as the feedstock. Energy and Fuels, 23(8), 4166–4173.

28.

Knothe, G. (2011). A technical evaluation of biodiesel from vegetable oils vs. algae. Will algae-derived biodiesel perform? Green Chemistry, 13(11), 3048–3065.
Acknowledgments
This project was predominantly funded by a Shenzhen Development and Reform Commission grant [2011] 835 and partially co-funded from start-up grant of Peking University Shenzhen Graduate School number 0068 to MD and National Research Foundation and Economic Development Board of Singapore (SPORE, COY-15-EWI-RCFSA/N197-1) to ZCJ. Authors would like to acknowledge Fei Zhang and Weilin Yi for their lab assistance.
About this article
Cite this article
Jia, Z., Liu, Y., Daroch, M. et al. Screening, Growth Medium Optimisation and Heterotrophic Cultivation of Microalgae for Biodiesel Production. Appl Biochem Biotechnol 173, 1667–1679 (2014). https://doi.org/10.1007/s12010-014-0954-7
Received:

Accepted:

Published:

Issue Date:
Keywords
Microalgae

Heterotrophic cultivation

Oil accumulation

Algal biodiesel