Abstract
Acetone–butanol–ethanol (ABE) production from renewable resources has been widely reported. In this study, Clostridium butyricum EB6 was employed for ABE fermentation using fermentable sugar derived from treated oil palm empty fruit bunch (OPEFB). A higher amount of ABE (2.61 g/l) was produced in a fermentation using treated OPEFB as the substrate when compared to a glucose based medium that produced 0.24 g/l at pH 5.5. ABE production was increased to 3.47 g/l with a yield of 0.24 g/g at pH 6.0. The fermentation using limited nitrogen concentration of 3 g/l improved the ABE yield by 64%. The study showed that OPEFB has the potential to be applied for renewable ABE production by C. butyricum EB6.
This is a preview of subscription content,
to check access.
Access this article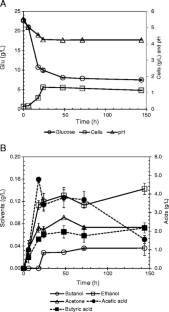 Similar content being viewed by others
References
Jones, D. T., & Woods, D. R. (1986). Acetone–butanol fermentation revisited. Microbiological Reviews, 50, 484–524.

Mitchell, W. J. (1998). Physiology of carbohydrate to solvent conversion by Clostridia. Journal of Advance Microbiology and Physiology, 39, 31–130.

Lee, S. Y., Park, J. H., Jang, S. H., Nielsen, S. K., Kim, J., & Jung, K. S. (2008). Fermentative butanol production by Clostridia. Biotechnology and Bioengineering, 101(2), 210–224.

Liu, X., & Yang, S. T. (2006). Kinetics of butyric acid fermentation of glucose and xylose by Clostridium tyrobutyricum wild type and mutant. Process Biochemistry, 41, 801–808.

Vandak, D., Zigova, J., Sturdik, E., & Schlosser, S. (1997). Evaluation of solvent and pH for extractive fermentation of butyric acid. Process Biochemistry, 32(3), 245–251.

Chong, M. L., Rahim, R. A., Shirai, Y., & Hassan, M. A. (2008). Biohydrogen production by Clostridium butyricum EB6 from palm oil mill effluent. Internationl Journal of Hydrogen Energy, 34(2), 764–771.

Singh, A. (1995). Microbial production of acetone and butanol. Microbial Pentose Utilization: Current Application in Biotechnology (pp. 197–220). New York: Elsevier Science.

Shuit, S. H., Tan, K. T., & Kamaruddin, A. H. (2009). Oil palm biomass as sustainable energy source: A Malaysia case study. Energy, 34, 1225–1235.

Sumathi, S., Chai, S. P., & Mohamed, A. R. (2008). Utilization of oil palm as a source of renewable energy in Malaysia. Renewable and Sustainable Energy Reviews, 12, 2404–2421.

Umi Kalsom, M. S., Ariff, A. B., Zulkifli, H. S., Tong, C. C., Hassan, M. A., & Karim, M. I. A. (1997). The treatment of oil palm empty fruit bunch fibre for subsequent use as substrate for cellulase production by Chaetomium globosum Kunze. Bioresource Technology, 62, 1–9.

Wood, T. M., & Bhat, K. M. (1998). In S. P. Colowick, & N. O. Kaplan (Eds.), Methods of measuring cellulase activities. Methods in Enzymology, 160, 87–112.

Goering, H. K., & Van Soest, P. J. (1970). Forage fiber analyses (apparatus, reagents, procedures, and some application). USDA handbook 379. Washington: United State Government Print Office.

Madihah, M. S., Ariff, A. B., Khalil, M. S., Suraini, A. A., & Karim, M. I. A. (2001). Anaerobic fermentation of gelatinized sago starch-derived sugar to acetone-1-butanol-ethanol solvent by Clostridium acetobutylicum. Folia Microbiology, 46(3), 197–204.

Miller, G. L. (1959). Use of dinitrosalicylic acid reagent for determination of reducing sugar. Analytical Chemistry, 31, 426–428.

Fond, O., Matta-Ammouri, G., Petitdemange, H., & Engasser, J. M. (1985). The role of acid on the production of acetone and butanol by Clostridium acetobutylicum. Applied Microbiology and Biotechnology, 22, 195–200.

Ballongue, J., Amine, J., Petitdemange, H., & Gay, R. (1986). Regulation of acetate kinase and butyratekinase by acid in Clostridium acetobutylicum. Microbiology, 35, 295–30.

Green, E. M., Boyton, Z. L., Harris, L. M., Rudolp, F. B., Papoutsakis, E. T., & Bennet, G. N. (1996). Genetic manipulation of acid formation pathways by gene inactivation in Clostridium acetobutylicum ATCC 824. Microbiology, 142, 2079–2086.

Qureshi, N., Ezeji, C. T., Ebener, J., Dien, S. B., Cotta, A. M., & Blaschek, P. H. (2008). Butanol production by Clostridium beijerinckii. Part I: Use of acid and hydrolyzed corn fiber. Bioresource Technology, 99, 5915–5922.

Zhijie, S., & Shijie, L. (2010). Production of n-butanol from concentrated sugar maple hemicellulosic hydrolysate by Clostridia acetobutylicum ATCC824. Biomass and Bioenergy, 1–9. Available online 14 August 2010, ISSN 0961-9534, doi:10.1016/j.biombioe.2010.07.026. (http://www.sciencedirect.com/science/article/pii/S0961953410002503)

Phowan, P., Reungsang, A., & Danvirutai, P. (2010). Bio-hydrogen production from cassava pulp hydrolysate using co-culture of Clostridium butyricum and Enterobacter aerogenes. Biotechnology, 9(3), 348–354.

Terracciano, J. S., & Kashket, E. R. (1986). Intracellular conditions required of initiation of solvent production by Clostridium acetobutylicum. Applied and Environmental Microbiology, 52, 86–91.

Wiegel, J. (1980). Formation of ethanol by bacteria. A pledge for the use of extreme thermophilic anaerobic bacteria in industrial ethanol fermentation processes. Cellular and Molecular Life Science, 36(12), 1434–1446.

Formanek, J., Mackie, R., & Blaschek, H. P. (1997). Enhanced butanol production by Clostridium beijerinckii BA101 grown in semidefined p2 medium containing 6 percent maltodextrin or glucose. Applied and Environmental Microbiology, 63, 2306–2310.

Liu, X., Zhu, Y., & Yang, S. (2006). Butyric acid and hydrogen production by Clostridium tyrobutyricum ATCC 25755 and mutants. Enzyme and Microbial Technology, 38(3–4), 521–528.

Bryant, D. L., & Blaschek, H. P. (1998). Buffering as a means for increasing growth and butanol production by Clostridium acetobutylicum. Journal of Industrial Microbiology, 3, 49–55.

Martin, D., Stanley, F., Eugene, R., Karl-Heinz, S., & Erko, S. (2006). The prokaryotes, a handbook on the biology of bacteria: Fermicutes and Cyanobacteria. New York: Springer Science and Business Media, LCC.

Anderson, R. K. I., & Jayaraman, K. (2003). Influence of carbon and nitrogen sources on the growth and sporulation of Bacillus thuringiensis var Galleriae for biopesticide production. Chemical Biochemistry Engineering, 17(3), 225–231.

Yusof, S. J. H. M., Takriff, M. S., Amir, A., Kadhum, H., Mohammad, A. W., & Jahim, J. (2010). The effect of initial butyric acid addition on ABE fermentation by C. acetobutylicum NCIMB 619. Journal of Applied Science, 10(21), 2709–2712.

Madihah, M. S., Ariff, A. B., Sahaid, K. M., Suraini, A. A., & Karim, M. I. A. (2001). Direct fermentation of gelatinized sago starch to acetono-butanol-ethanol by Clostridium acetobutylicum. World Journal of Microbiology and Biotechnology, 17, 567–576.

Parekh, S. R., Parekh, R. S., & Wayman, M. (1988). Ethanol and butanol production by fermentation of enzymatically saccharified SO2-prehydrolyzed lignocellulosic. Enzyme Microbial and Technology, 10, 660–668.

Soni, B. K., Das, K., & Ghose, T. K. (1982). Bioconversion of agrowaste into acetone butanol. Biotechnology Letter, 4, 19–22.

Kanchanatawee, S., & Maddox, I. S. (1989). Effect of phosphate and ammonium ion concentrations on solvent production in defined medium by Clostridium acetobutylicum. Journal of Industrial Microbiology and Biotechnology, 5(5), 277–282.
Acknowledgements
The authors are grateful for a National Science Fellowship (NSF) from the Ministry of Science, Technology and Innovation (MOSTI), Malaysia, and the Research University Grant Scheme (RUGS) from Universiti Putra Malaysia for financial support. We gratefully acknowledge the Fermentation Technology Unit, Institute of Bioscience UPM for equipment use and to all members of the Environmental Biotechnology Research Group for support.
About this article
Cite this article
Ibrahim, M.F., Abd-Aziz, S., Razak, M.N.A. et al. Oil Palm Empty Fruit Bunch as Alternative Substrate for Acetone–Butanol–Ethanol Production by Clostridium butyricum EB6. Appl Biochem Biotechnol 166, 1615–1625 (2012). https://doi.org/10.1007/s12010-012-9538-6
Received:

Accepted:

Published:

Issue Date:

DOI: https://doi.org/10.1007/s12010-012-9538-6
Keywords