Abstract
A process was developed to fractionate and isolate the hemicellulose B component of corn fiber generated by corn wet milling. The process consisted of pretreatment by soaking in aqueous ammonia followed by enzymatic cellulose hydrolysis, during which the hemicellulose B was solubilized by cleavage into xylo-oligosaccharides and subsequently recovered by precipitation with ethanol. The pretreatment step resulted in high retention of major sugars and improvement of subsequent enzymatic hydrolysis. The recovered hemicellulose B was hydrolyzed by a cocktail of enzymes that consisted of β-glucosidase, pectinase, xylanase, and ferulic acid esterase (FAE). Xylanase alone was ineffective, demonstrating yields of less than 2% of xylose and arabinose. The greatest xylose and arabinose yields, 44% and 53%, respectively, were obtained by the combination of pectinase and FAE. A mass balance accounted for 87% of the initially present glucan, 91% of the xylan, and 90% of the arabinan. The developed process offered a means for production of corn fiber gum as a value-added co-product and C5 sugars, which could be converted to other valuable co-products through fermentation in a corn wet-milling biorefinery.
Access options
Buy single article
Instant access to the full article PDF.
USD 39.95
Price excludes VAT (USA)
Tax calculation will be finalised during checkout.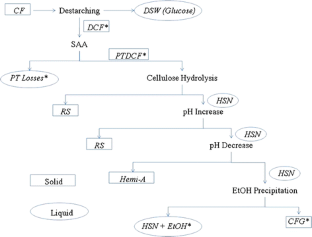 Abbreviations
CFG:

Corn fiber gum

DCF:

Destarched corn fiber

DSW:

Destarching water

HSN:

Hydrolysate supernatant

PT:

Passthrough

PTDCF:

Pretreated destarched corn fiber

RS:

Residual solids

SAA:

Soaking in aqueous ammonia
References
RFA (2010) Ethanol Industry Outlook. Available from: http://www.ethanolrfa.org/page/-/objects/pdf/outlook/RFAoutlook2010_fin.pdf

Bothast, R. J., & Schlichler, M. A. (2005). Applied Microbiology and Biotechnology, 67, 19–25.

Dien, B. S., Nagle, N., Hicks, K. B., Singh, V., Moreau, R. A., Tucker, M. P., et al. (2004). Applied Biochemistry and Biotechnology, 133–166, 937–949.

Hanchar, R. J., Teymouri, F., Nielson, C. D., McCalla, D., & Stowers, M. D. (2007). Applied Biochemistry and Biotechnology, 136–140, 313–325.

Drapcho, C. M., Nghiem, N. P., & Walker, T. H. (2008). In L. S. Hager (Ed.), Biofuels Engineering Process Technology (pp. 69–195). New York: McGraw-Hill.

Doner, L. W., & Hicks, K. B. (1997). Cereal Chemistry, 74(2), 176–181.

Yadav, M. P., Johnston, D. B., Hotchkiss, A. T., & Hicks, K. B. (2007). Food Hydrocolloids, 21, 1022–1030.

Saha, B. C. (2003). Journal of Industrial Microbiology & Biotechnology, 30, 279–291.

Yadav, M. P., Fishman, M. L., Chau, H. K., Johnston, D. B., & Hicks, K. B. (2007). Cereal Chemistry, 84(2), 175–180.

Kim, T. H., Taylor, F., & Hicks, K. B. (2008). Bioresource Technology, 99, 5694–5702.

Determination of structural carbohydrates and lignin in biomass (2008) National Renewable Energy Laboratory. Available from: http://www.nrel.gov/biomass/pdfs/42618.pdf

Gulati, M., Kohlmann, K., Ladisch, M. R., Hespell, R., & Bothast, R. J. (1996). Biores. Tech., 58, 253–264.

Dien, B. S., Ximenes, E. A., O'Bryan, P. J., Moniruzzaman, M., Li, X. L., Balan, V., et al. (2008). Biores. Tech., 99, 5216–5225.
Acknowledgements
The authors would like to thank Dr. Tae Hyun Kim (Dept. of Agricultural and Biosystems Engineering, Iowa State University), Dr. Terry Walker (Dept. of Biosystems Engineering, Clemson University), and Ms. Jennifer Thomas, Mr. Gerard Senske, and Mr. John Minutolo (USDA ARS ERRC) for providing their invaluable expertise and assistance throughout the course of this study.
Additional information
Mention of trade names or commercial products in this article is solely for the purpose of providing specific information and does not imply recommendation or endorsement by the U.S. Department of Agriculture.
About this article
Cite this article
Nghiem, N.P., Montanti, J., Johnston, D.B. et al. Fractionation of Corn Fiber Treated by Soaking in Aqueous Ammonia (SAA) for Isolation of Hemicellulose B and Production of C5 Sugars by Enzyme Hydrolysis. Appl Biochem Biotechnol 164, 1390–1404 (2011). https://doi.org/10.1007/s12010-011-9220-4
Received:

Accepted:

Published:

Issue Date:

DOI: https://doi.org/10.1007/s12010-011-9220-4
Keywords
Lignocellulosic biomass

Pretreatment

Hemicellulose

Arabinoxylan

Soaking in aqueous ammonia

Corn fiber

Ethanol