Abstract
Helicobacter species have been isolated and cultured from both the gastric and enterohepatic niches of the gastrointestinal tract and are associated with a wide spectrum of diseases. Some members of the enterohepatic Helicobacter species (EHS), which include Helicobacter bilis, Helicobacter hepaticus and Helicobacter pullorum, are associated with chronic inflammatory and proliferative bowel inflammation, hepatitis and in experimental murine studies with hepatic cancer. The present study aimed to explore if polysulphated polysaccharides can prevent adhesion of EHS to the murine macrophage cell line J774A.1. A competitive binding assay showed that heparin and heparan sulphate at a concentration of 1.25 mg/ml reduced binding of H. hepaticus and H. pullorum to the host cells, but not H. bilis. Of the tested Helicobacter spp, the highest inhibition by heparin was demonstrated for H. pullorum (P < 0.01), the most hydrophilic strain. Partially or completely de-sulphated heparin derivatives lost the ability to inhibit adherence of EHS, indicating the importance of sulphated groups of heparin. The most efficient inhibitor of EHS binding to macrophages was fucoidan, which reduced bacterial adhesion of the three enterohepatic Helicobacter species to a greater extent than heparin, 60–90% inhibition vs 30–70% inhibition by heparin. Identification of receptors that EHS ligands bind to is important for understanding the development of infection and may provide a rational target to prevent infection and therapy.
Access options
Buy single article
Instant access to the full article PDF.
US$ 39.95
Tax calculation will be finalised during checkout.
Subscribe to journal
Immediate online access to all issues from 2019. Subscription will auto renew annually.
US$ 119
Tax calculation will be finalised during checkout.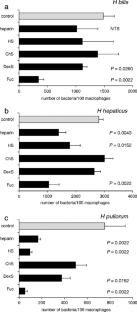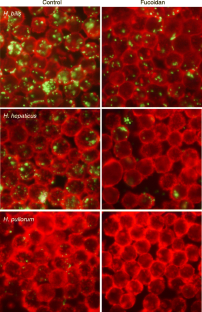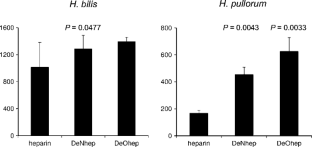 References
1.

Wadström, T., & Ljungh, Å. (1999). Glycosaminoglycan-binding microbial proteins in tissue adhesion and invasion: key events in microbial pathogenicity. Journal of Medical Microbiology, 48, 223–233.

2.

Parish, C. R. (2006). The role of heparin sulphate in inflammation. Nature Reviews. Immunology, 6, 633–643.

3.

Sharon, N., & Ofek, I. (2002). Fighting infectious diseases with inhibitors of microbial adhesion to host tissues. Critical Reviews in Food Science and Nutrition, 42, 279–284.

4.

Hirmo, S., Utt, M., Ringnér, M., & Wadström, T. (1995). Inhibition of heparan sulphate and other glycosaminoglycans binding to Helicobacter pylori by various polysulphated carbohydrates. FEMS Immunology and Medical Microbiology, 10, 301–306.

5.

Ruiz-Bustos, E., Ochoa, J. L., Wadström, T., & Ascencio, F. (2001). Isolation and characterisation of putative adhesins from Helicobacter pylori with affinity for heparan sulphate proteoglycan. Journal of Medical Microbiology, 50, 215–222.

6.

Hynes, S. O., Teneberg, S., Roche, N., & Wadström, T. (2003). Glycoconjugate binding of gastric and enterohepatic Helicobacter spp. Infection and Immunity, 71, 2976–2980.

7.

Kornilovs'ka, I., Nilsson, I., Utt, M., Ljungh, Å., & Wadström, T. (2002). Immunogenic proteins of Helicobacter pullorum, Helicobacter bilis and Helicobacter hepaticus identified by two-dimensional gel electrophoresis and immunoblotting. Proteomics, 2, 775–783.

8.

Soltesz, V., Zeeberg, B., & Wadström, T. (1992). Optimal survival of Helicobacter pylori under various transport conditions. Journal of Clinical Microbiology, 30, 1453–1456.

9.

Chmiela, M., Czkwianianc, E., Wadstrom, T., & Rudnicka, W. (1997). Role of Helicobacter pylori surface structures in bacterial interaction with macrophages. Gut, 40, 20–24.

10.

Chmiela, M., Paziak-Domanska, B., Rudnicka, W., & Wadström, T. (1995). The role of heparan sulphate-binding activity of Helicobacter pylori bacteria in their adhesion to murine macrophages. APMIS, 103, 469–474.

11.

Ljungh, A., & Wadström, T. (1982). Salt aggregation test for measuring cell surface hydrophobicity of urinary Escherichia coli. European Journal of Clinical Microbiology, 1, 388–393.

12.

Goulter, R. M., Gentle, I. R., & Dykes, G. A. (2010). Characterisation of curli production, cell surface hydrophobicity, autoaggregation and attachment behaviour of Escherichia coli O157. Current Microbiol, 61(3), 157–162.

13.

Qadri, F., Hossain, S. A., Ciznàr, I., Haider, K., Ljungh, A., Wadstrom, T., et al. (1988). Congo red binding and salt aggregation as indicators of virulence in Shigella species. Journal of Clinical Microbiology, 26, 1343–1348.

14.

Yabushita, H., Noguchi, Y., Habuchi, H., Ashikari, S., Nakabe, K., Fujita, M., et al. (2002). Effects of chemically modified heparin on Chlamydia trachomatis serovar L2 infection of eukaryotic cells in culture. Glycobiology, 12, 345–351.

15.

Ruiz-Bustos, E., Sierra-Beltran, A., Romero, M. J., Rodriguez-Jaramillo, C., & Ascencio, F. (2002). Protection of BALB/c mice against experimental Helicobacter pylori infection by oral immunisation with H pylori heparan sulphate-binding proteins coupled to cholera toxin beta-subunit. Journal of Medical Microbiology, 49, 535–541.

16.

de Witte, L., Zoughlami, Y., Aengeneyndt, B., David, G., van Kooyk, Y., Gissmann, L., et al. (2007). Binding of human papilloma virus L1 virus-like particles to dendritic cells is mediated through heparan sulfates and induces immune activation. Immunology, 212, 679–691.

17.

Rusnati, M., Vicenzi, E., Donalisio, M., Oreste, P., Landolfo, S., & Lembo, D. (2009). Sulfated K5 Escherichia coli polysaccharide derivatives: a novel class of candidate antiviral microbicides. Pharmacology & Therapeutics, 123, 310–322.
Acknowledgement
We give special thanks to Agnieszka Fiutka for the excellent technical assistance. This work was supported by grants from the Swedish Research Council (16x-04723 to T.W.), by an ALF grant from the University Hospital of Lund from the Swedish Institute (scholarship to NL) and The Royal Physiographic Society in Lund.
About this article
Cite this article
Lutay, N., Nilsson, I., Wadström, T. et al. Effect of Heparin, Fucoidan and Other Polysaccharides on Adhesion of Enterohepatic Helicobacter Species to Murine Macrophages. Appl Biochem Biotechnol 164, 1–9 (2011). https://doi.org/10.1007/s12010-010-9109-7
Received:

Accepted:

Published:

Issue Date:
Keywords
Enterohepatic Helicobacter species

Bacterial adhesion

Macrophages

Polysaccharides

Heparin

Fucoidan