Abstract
Background
More than 15 years ago, the Institute of Medicine (IOM) identified medical error as a problem worthy of greater attention; in the wake of the IOM report, numerous changes were made to regulations to limit residents' duty hours. However, the effect of resident work-hour changes remains controversial within the field of orthopaedics.
Questions/purposes
We performed a systematic review to determine whether work-hour restrictions have measurably influenced quality-of-life measures, operative and technical skill development, resident surgical education, patient care outcomes (including mortality, morbidity, adverse events, sentinel events, complications), and surgeon and resident attitudes (such as perceived effect on learning and training experiences, personal benefit, direct clinical experience, clinical preparedness).
Methods
We performed a systematic review of PubMed, Scopus, CINAHL (Cumulative Index to Nursing and Allied Health Literature), and Google Scholar using PRISMA (Preferred Reporting Items for Systematic Reviews and Meta-Analyses) guidelines. Inclusion criteria were any English language peer-reviewed articles that analyzed the effect(s) of orthopaedic surgery resident work-hour restrictions on patient safety, resident education, resident/surgeon quality of life, resident technical operative skill development, and resident surgeon attitudes toward work-hour restrictions. Eleven studies met study inclusion criteria. One study was a prospective analysis, whereas 10 studies were of level IV evidence (review of surgical case logs) or survey results.
Results
Within our identified studies, there was some support for improved resident quality of life, improved resident sleep and less fatigue, a perceived negative impact on surgical operative and technical skill, and conflicting evidence on the topic of resident education, patient outcomes, and variable attitudes toward the work-hour changes.
Conclusions
There is a paucity of high-level or clear evidence evaluating the effect of the changes to resident work hours. Future research in this area should focus on objective measures that include patient safety as a primary outcome.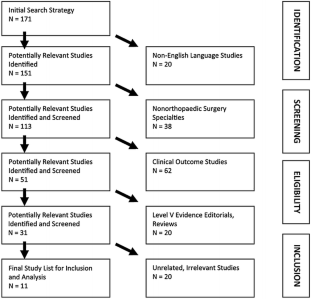 References
1.

Aynardi M, Miller AG, Orozco F, Ong A. Effect of work-hour restrictions and resident turnover in orthopedic trauma. Orthopedics. 2012;35:e1649–1654.

2.

Baldwin K, Namdari S, Donegan D, Kamath AF, Mehta S. Early effects of resident work-hour restrictions on patient safety: a systematic review and plea for improved studies. J Bone Joint Surg Am. 2011;93:e5.

3.

Barrack RL, Miller LS, Sotile WM, Sotile MO, Rubash HE. Effect of duty hour standards on burnout among orthopaedic surgery residents. Clin Orthop Relat Res. 2006;449:134–137.

4.

Baskies MA, Ruchelsman DE, Capeci CM, Zuckerman JD, Egol KA. Operative experience in an orthopaedic surgery residency program: the effect of work-hour restrictions. J Bone Joint Surg Am. 2008;90:924–927.

5.

Breen E, Irani JL, Mello MM, Whang EE, Zinner MJ, Ashley SW. The future of surgery: today's residents speak. Curr Surg. 2005;62:543–546.

6.

Businger AP, Laffer U, Kaderli R. Resident work hour restrictions do not improve patient safety in surgery: a critical appraisal based on 7 years of experience in Switzerland. Patient Saf Surg. 2012;6:17.

7.

Durkin ET, McDonald R, Munoz A, Mahvi D. The impact of work hour restrictions on surgical resident education. J Surg Educ. 2008;65:54–60.

8.

Fabricant PD, Dy CJ, Dare DM, Bostrom MP. A narrative review of surgical resident duty hour limits: where do we go from here? J Grad Med Educ. 2013;5:19–24.

9.

Fitzgibbons SC, Chen J, Jagsi R, Weinstein D. Long-term follow-up on the educational impact of ACGME duty hour limits: a pre-post survey study. Ann Surg. 2012;256:1108–1112.

10.

Froelich J, Milbrandt JC, Allan DG. Impact of the 80-hour workweek on surgical exposure and national in-training examination scores in an orthopedic residency program. J Surg Educ. 2009;66:85–88.

11.

Harris JD, Quatman CE, Manring MM, Siston RA, Flanigan DC. How to write a systematic review. Am J Sports Med. 2013 Aug 7 [Epub ahead of print].

12.

Immerman I, Kubiak EN, Zuckerman JD. Resident work-hour rules: a survey of residents' and program directors' opinions and attitudes. Am J Orthop. 2007;36:E172–179; discussion E179.

13.

Jack MC, Kenkare SB, Saville BR, Beidler SK, Saba SC, West AN, Hanemann MS, van Aalst JA. Improving education under work-hour restrictions: comparing learning and teaching preferences of faculty, residents, and students. J Surg Educ. 2010;67:290–296.

14.

Kadzielski J, McCormick F, Zurakowski D, Herndon JH. Patient safety climate among orthopaedic surgery residents. J Bone Joint Surg Am. 2011;93:e62.

15.

Kairys JC, McGuire K, Crawford AG, Yeo CJ. Cumulative operative experience is decreasing during general surgery residency: a worrisome trend for surgical trainees? J Am Coll Surg. 2008;206:804–811; discussion 811–813.

16.

Kane SM, Siddiqui NY, Bailit J, Blanchard MH. Duty hour restrictions, ambulatory experience, and surgical procedural volume in obstetrics and gynecology. J Grad Med Educ. 2010;2:530–535.

17.

Kusuma SK, Mehta S, Sirkin M, Yates AJ, Miclau T, Templeton KJ, Friedlaender GE. Measuring the attitudes and impact of the eighty-hour workweek rules on orthopaedic surgery residents. J Bone Joint Surg Am. 2007;89:679–685.

18.

Kwok AC, Funk LM, Baltaga R, Lipsitz SR, Merry AF, Dziekan G, Ciobanu G, Berry WR, Gawande AA. Implementation of the World Health Organization surgical safety checklist, including introduction of pulse oximetry, in a resource-limited setting. Ann Surg. 2013;257:633–639.

19.

Landrigan CP, Parry GJ, Bones CB, Hackbarth AD, Goldmann DA, Sharek PJ. Temporal trends in rates of patient harm resulting from medical care. N Engl J Med. 2010;363:2124–2134.

20.

Leape LL. Errors in medicine. Clin Chim Acta. 2009;404:2–5.

21.

Lin GA, Beck DC, Stewart AL, Garbutt JM. Resident perceptions of the impact of work hour limitations. J Gen Intern Med. 2007;22:969–975.

22.

Macgregor JM, Sticca R. General surgery residents' views on work hours regulations. J Surg Educ. 2010;67:376–380.

23.

Mansukhani MP, Kolla BP, Surani S, Varon J, Ramar K. Sleep deprivation in resident physicians, work hour limitations, and related outcomes: a systematic review of the literature. Postgrad Med. 2012;124:241–249.

24.

McCormick F, Kadzielski J, Landrigan CP, Evans B, Herndon JH, Rubash HE. Surgeon fatigue: a prospective analysis of the incidence, risk, and intervals of predicted fatigue-related impairment in residents. Arch Surg. 2012;147:430–435.

25.

Mir HR, Cannada LK, Murray JN, Black KP, Wolf JM. Orthopaedic resident and program director opinions of resident duty hours: a national survey. J Bone Joint Surg Am. 2011;93:e1421–1429.

26.

Moher D, Liberati A, Tetzlaff J, Altman DG. Preferred reporting items for systematic reviews and meta-analyses: the PRISMA statement. J Clin Epidemiol. 2009;62:1006–1012.

27.

Morrison CA, Wyatt MM, Carrick MM. Impact of the 80-hour work week on mortality and morbidity in trauma patients: an analysis of the National Trauma Data Bank. J Surg Res. 2009;154:157–162.

28.

Namdari S, Baldwin KD, Weinraub B, Mehta S. Changes in the number of resident publications after inception of the 80-hour work week. Clin Orthop Relat Res. 2010;468:2278–2283.

29.

Peabody T, Nestler S, Marx C, Pellegrini V. Resident duty-hour restrictions-who are we protecting? AOA critical issues. J Bone Joint Surg Am. 2012;94:e131.

30.

Peets A, Ayas NT. Restricting resident work hours: the good, the bad, and the ugly. Crit Care Med. 2012;40:960–966.

31.

Pellegrini VD Jr. Perspective: ten thousand hours to patient safety, sooner or later. Acad Med. 2012;87:164–167.

32.

Sen S, Kranzler HR, Didwania AK, Schwartz AC, Amarnath S, Kolars JC, Dalack GW, Nichols B, Guille C. Effects of the 2011 duty hour reforms on interns and their patients: a prospective longitudinal cohort study. JAMA Intern Med. 2013;173:657–662; discussion 663.

33.

Starmer AJ, Sectish TC, Simon DW, Keohane C, McSweeney ME, Chung EY, Yoon CS, Lipsitz SR, Wassner AJ, Harper MB, Landrigan CP. Rates of medical errors and preventable adverse events among hospitalized children following implementation of a resident handoff bundle. JAMA. 2013;310:2262–2270.

34.

Unruh L. Trends in adverse events in hospitalized patients. J Healthc Qual. 2002;24:4–10; quiz 10, 18.

35.

Utley B, Carter J, Maa J. Resident work hour restrictions and the future of medical student surgical education. J Am Coll Surg. 2009;208:480.

36.

Weatherby BA, Rudd JN, Ervin TB, Stafford PR, Norris BL. The effect of resident work hour regulations on orthopaedic surgical education. J Surg Orthop Adv. 2007;16:19–22.

37.

Whang EE, Perez A, Ito H, Mello MM, Ashley SW, Zinner MJ. Work hours reform: perceptions and desires of contemporary surgical residents. J Am Coll Surg. 2003;197:624–630.

38.

Zuckerman JD, Kubiak EN, Immerman I, Dicesare P. The early effects of code 405 work rules on attitudes of orthopaedic residents and attending surgeons. J Bone Joint Surg Am. 2005;87:903–908.
Additional information
Each author certifies that he or she, or a member of his or her immediate family, has no funding or commercial associations (eg, consultancies, stock ownership, equity interest, patent/licensing arrangements, etc) that might pose a conflict of interest in connection with the submitted article.
All ICMJE Conflict of Interest Forms for authors and Clinical Orthopaedics and Related Research ® editors and board members are on file with the publication and can be viewed on request. All authors report no conflicts of interest.
This work was performed at The Methodist Hospital, Houston, TX, USA, and Holy Cross Orthopedic Institute, Fort Lauderdale, FL, USA.
About this article
Cite this article
Harris, J.D., Staheli, G., LeClere, L. et al. What Effects Have Resident Work-hour Changes Had on Education, Quality of Life, and Safety? A Systematic Review. Clin Orthop Relat Res 473, 1600–1608 (2015). https://doi.org/10.1007/s11999-014-3968-0
Keywords
Patient Safety

Senior Resident

Resident Education

Junior Resident

Sentinel Event