Abstract
Background
Although the etiology of hallux valgus is contested, in some patients it may be failure of the stabilizing soft tissue structures around the first ray of the foot. Because there is lack of effective soft tissue techniques, osteotomies have become the mainstream surgical approach to compensate for the underlying soft tissue deficiency; osteodesis, a soft tissue nonosteotomy technique, may be a third alternative, but its efficacy is unknown.
Questions/purposes
We asked: (1) Can an osteodesis, a distal soft tissue technique, correct hallux valgus satisfactorily in terms of deformity correction and improvement in American Orthopaedic Foot and Ankle Society (AOFAS) score? (2) Is the effectiveness of an osteodesis affected by the patient's age or deformity severity? (3) What complications are associated with this procedure?
Methods
Between February and October 2010, we performed 126 operations to correct hallux valgus, of which 126 (100%) were osteodeses. Sixty-one patients (110 procedures) (87% of the total number of hallux valgus procedures) were available for followup at a minimum of 12 months (mean, 23 months; range, 12–38 months). This group formed our study cohort. During the study period, the general indications for this approach included failed conservative measures for pain relief and metatarsophalangeal angle greater than 20° or intermetatarsal angle greater than 9°. Intermetatarsal cerclage sutures were used to realign the first metatarsal and postoperative fibrosis was induced surgically between the first and second metatarsals to maintain its alignment. The radiologic first intermetatarsal angle, metatarsophalangeal angle, and medial sesamoid position were measured by Hardy and Clapham's methods for deformity and correction evaluation. Clinical results were assessed by the AOFAS score.
Results
The intermetatarsal angle was improved from a preoperative mean of 14° to 7° (p < 0.001; Cohen's d = 1.8) at followup, the metatarsophalangeal angle from 31° to 18° (p < 0.001; Cohen's d = 3.1), the medial sesamoid position from position 6 to 3 (p < 0.001; Cohen's d = 2.4), and AOFAS hallux score from 68 to 96 points (p < 0.001). Neither patient age nor deformity severity affected the effectiveness of the osteodesis in correcting all three radiologic parameters; however, the deformities treated in this series generally were mild to moderate (mean intermetatarsal angle, 14°; range, 9°–22°). There were six stress fractures of the second metatarsal (5%), five temporary metatarsophalangeal joint medial subluxations all resolved in one month by the taping-reduction method without surgery, and six metatarsophalangeal joints with reduced dorsiflexion less than 60°.
Conclusions
The osteodesis is a soft tissue nonosteotomy technique, and provided adequate deformity correction and improvement in AOFAS scores for patients with mild to moderate hallux valgus deformities, although a small number of the patients had postoperative stress fractures of the second ray develop. Future prospective studies should compare this technique with osteotomy techniques in terms of effectiveness of the correction, restoration of hallux function, complications, and long-term recurrence.
Level of Evidence
Level IV, therapeutic study. See the Instructions for Authors for a complete description of levels of evidence.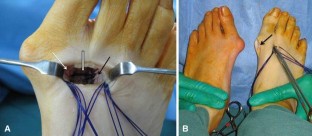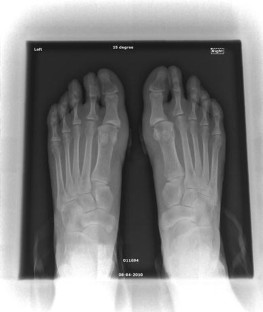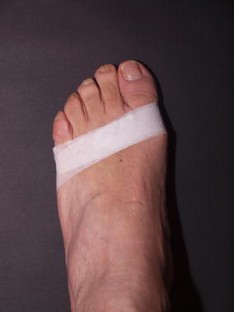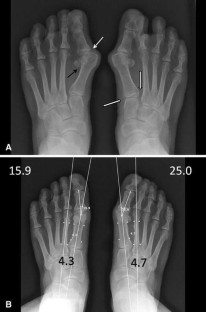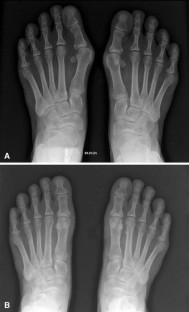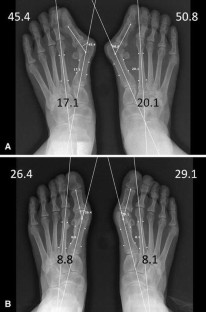 References
1.

Bock P, Kristen KH, Kroner A, Engel A. Hallux valgus and cartilage degeneration in the first metatarsophalangeal joint. J Bone Joint Surg Br. 2004;86:669–673.

2.

Botteri G, Castellana A. [Distal first metatarsal osteodesis procedure in hallux valgus correction][in Italian]. La Clinica Ortopedica. 1961;13:139.

3.

Coughlin MJ, Mann RA, Saltzman CL. Hallux Valgus. Surgery of the Foot and Ankle. 8th ed, Vol 1. Philadelphia, PA: Mosby Elsevier; 2007:183–362.

4.

Deveci A, Firat A, Yilmaz S, Oken OF, Yildirim AO, Ucaner A, Bozkurt M. Short-term clinical and radiologic results of the scarf osteotomy: what factors contribute to recurrence? J Foot Ankle Surg. 2013;52:771–775.

5.

Esemenli T, Yildirim Y, Bezer M. Lateral shifting of the first metatarsal head in hallux valgus surgery: effect on sesamoid reduction. Foot Ankle Int. 2003;24:922–926.

6.

Haapaniemi TM, Manninen MJ, Arajarvi EJ. Proximal osteotomy in hallux valgus, long-term results of 167 operated feet: a retrospective study. Arch Orthop Trauma Surg. 1997;116:376–378.

7.

Haines RW, McDougall A. The anatomy of hallux valgus. J Bone Joint Surg Br. 1954;36:272–293.

8.

Hardy RH, Clapham JC. Observations on hallux valgus; based on a controlled series. J Bone Joint Surg Br. 1951;33:376–391.

9.

Holmes GB Jr, Hsu AR. Correction of intermetatarsal angle in hallux valgus using small suture button device. Foot Ankle Int. 2013;34:543–549.

10.

Hutton WC, Dhanendran M. The mechanics of normal and hallux valgus feet: a quantitative study. Clin Orthop Relat Res. 1981;157:7–13.

11.

Irwin LR, Cape J. Intermetatarsal osteodesis: a fresh approach to hallux valgus. Foot. 1999;9:93–98.

12.

Judge MS, LaPointe S, Yu GV, Shook JE, Taylor RP. The effect of hallux abducto valgus operation on the sesamoid apparatus position. J Am Podiatr Med Assoc. 1999;89:551–559.

13.

Kato T, Watanabe S. The etiology of hallux valgus in Japan. Clin Orthop Relat Res. 1981;157:78–81.

14.

Kristen KH, Berger C, Stelzig S, Thalhammer E, Posch M, Engel A. The SCARF osteotomy for the correction of hallux valgus deformities. Foot Ankle Int. 2002;23:221–229.

15.

Mann RA, Pfeffinger L. Hallux valgus repair: DuVries modified McBride procedure. Clin Orthop Relat Res. 1991;272:213–218.

16.

McBride ED. A conservative operation for bunions. J Bone Joint Surg Am. 2002;84:2101.

17.

Pagella P, Pierleon GP. Hallux valgus and its correction. LO Scalpello. 1971;1:55–64.

18.

Park CH, Ahn JY, Kim YM, Lee WC. Plate fixation for proximal chevron osteotomy has greater risk for hallux valgus recurrence than Kirschner wire fixation. Int Orthop. 2013;37:1085–1092.

19.

Pinney S, Song K, Chou L. Surgical treatment of mild hallux valgus deformity: the state of practice among academic foot and ankle surgeons. Foot Ankle Int. 2006;27:970–973.

20.

Pinney SJ, Song KR, Chou LB. Surgical treatment of severe hallux valgus: the state of practice among academic foot and ankle surgeons. Foot Ankle Int. 2006;27:1024–1029.

21.

Piqué-Vidal C, Solé MT, Antich J. Hallux valgus inheritance: pedigree research in 350 patients with bunion deformity. J Foot Ankle Surg. 2007;46:149–154.

22.

Ramdass R, Meyr AJ. The multiplanar effect of first metatarsal osteotomy on sesamoid position. J Foot Ankle Surg. 2010;49:63–67.

23.

Sammarco GJ, Idusuyi OB. Complications after surgery of the hallux. Clin Orthop Relat Res. 2001;391:59–71.

24.

Schneider W. Influence of different anatomical structures on distal soft tissue procedure in hallux valgus surgery. Foot Ankle Int. 2012;33:991–996.

25.

Schneider W, Aigner N, Pinggera O, Knahr K. Chevron osteotomy in hallux valgus: ten-year results of 112 cases. J Bone Joint Surg Br. 2004;86:1016–1020.

26.

Scranton PE Jr, Rutkowski R. Anatomic variations in the first ray: Part I. Anatomic aspects related to bunion surgery. Clin Orthop Relat Res. 1980;151:244–255.

27.

Stainsby GD. Pathological anatomy and dynamic effect of the displaced plantar plate and the importance of the integrity of the plantar plate-deep transverse metatarsal ligament tie-bar. Ann R Coll Surg Engl. 1997;79:58–68.

28.

Tanaka Y, Takakura Y, Sugimoto K, Kumai T, Sakamoto T, Kadono K. Precise anatomic configuration changes in the first ray of the hallux valgus foot. Foot Ankle Int. 2000;21:651–656.

29.

Weatherall JM, Chapman CB, Shapiro SL. Postoperative second metatarsal fractures associated with suture-button implant in hallux valgus surgery. Foot Ankle Int. 2013;34:104–110.

30.

Wu DY. Syndesmosis procedure: a non-osteotomy approach to metatarsus primus varus correction. Foot Ankle Int. 2007;28:1000–1006.
Acknowledgments
We thank Rachel Tam RN for providing assistance with measuring radiologic parameters and data processing and Grace Lam for word processing.
Additional information
Each author certifies that he or she, or a member of his or her immediate family, has no funding or commercial associations (eg, consultancies, stock ownership, equity interest, patent/licensing arrangements, etc) that might pose a conflict of interest in connection with the submitted article.
All ICMJE Conflict of Interest Forms for authors and Clinical Orthopaedics and Related Research ® editors and board members are on file with the publication and can be viewed on request.
Clinical Orthopaedics and Related Research ® neither advocates nor endorses the use of any treatment, drug, or device. Readers are encouraged to always seek additional information, including FDA-approval status, of any drug or device prior to clinical use.
Each author certifies that his or her institution approved the human protocol for this investigation, that all investigations were conducted in conformity with ethical principles of research, and that informed consent for participation in the study was obtained.
This study was performed at Hong Kong Adventist Hospital.
Electronic supplementary material
Below is the link to the electronic supplementary material.
About this article
Cite this article
Wu, D.Y., Lam, K.F. Osteodesis for Hallux Valgus Correction: Is it Effective?. Clin Orthop Relat Res 473, 328–336 (2015). https://doi.org/10.1007/s11999-014-3938-6
Received:

Accepted:

Published:

Issue Date:
Keywords
Hallux Valgus

Metatarsophalangeal Joint

Soft Tissue Procedure

Intermetatarsal Angle

Hallux Valgus Deformity