Abstract
Background
The use of animals to augment traditional medical therapies was reported as early as the 9th century but to our knowledge has not been studied in an orthopaedic patient population. The purpose of this study was to evaluate the role of animal-assisted therapy using therapy dogs in the postoperative recovery of patients after THA and TKA.
Questions/purposes
We asked: (1) Do therapy dogs have an effect on patients' perception of pain after total joint arthroplasty as measured by the VAS? (3) Do therapy dogs have an effect on patients' satisfaction with their hospital stay after total joint arthroplasty as measured by the Hospital Consumer Assessment of Healthcare Providers and Systems (HCAHPS)?
Methods
A randomized controlled trial of 72 patients undergoing primary unilateral THA or TKA was conducted. Patients were randomized to a 15-minute visitation with a therapy dog before physical therapy or standard postoperative physical therapy regimens. Both groups had similar demographic characteristics. Reduction in pain was assessed using the VAS after each physical therapy session, beginning on postoperative Day 1 and continuing for three consecutive sessions. To ascertain patient satisfaction, the proportion of patients selecting top-category ratings in each subsection of the HCAHPS was compared.
Results
Patients in the treatment group had lower VAS scores after each physical therapy session with a final VAS score difference of 2.4 units (animal-assisted therapy VAS, 1.7; SD, 0.97 [95% CI, 1.4–2.0] versus control VAS, 4.1; SD, 0.97 [95% CI, 3.8–4.4], p < 0.001) after the third physical therapy session. Patients in the treatment group had a higher proportion of top-box HCAHPS scores in the following fields: nursing communication (33 of 36, 92% [95% CI, 78%–98%] versus 69%, 25 of 36 [95% CI, 52%–84%], p = 0.035; risk ratio, 1.3 [95% CI of risk ratio, 1.0–1.7]; risk difference, 23% [95% CI of risk difference, 5%–40%]), pain management (34 of 36, 94% [95% CI, 81%–99%], versus 26 of 36, 72% [95% CI, 55%–86%], p = 0.024; risk ratio, 1.3 [95% CI of risk ratio, 1.1–1.6]; risk difference, 18% [95% CI of risk difference, 5%–39%]). The overall hospital rating also was greater in the treatment group (0–10 scale) (9.6; SD, 0.7 [95% CI, 9.3–9.8] versus 8.6, SD, 0.9 [95% CI, 8.3–8.9], p < 0.001).
Conclusions
The use of therapy dogs has a positive effect on patients' pain level and satisfaction with hospital stay after total joint replacement. Surgeons are encouraged to inquire about the status of volunteer-based animal-assisted therapy programs in their hospital as this may provide a means to improve the immediate postoperative recovery for a select group of patients having total joint arthroplasty.
Level of Evidence
Level II, randomized controlled study. See Instructions for Authors for a complete description of levels of evidence.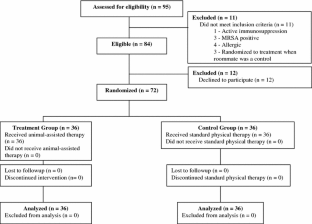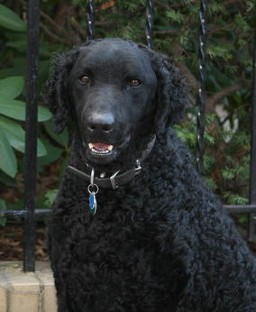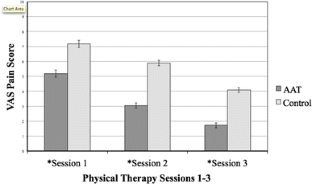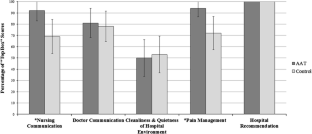 References
1.

Abate SV, Zucconi M, Boxer BA. Impact of canine-assisted ambulation on hospitalized chronic heart failure patients' ambulation outcomes and satisfaction: a pilot study. J Cardiovasc Nurs. 2011;26:224–230.

2.

Allen K, Shykoff BE, Izzo JL Jr. Pet ownership, but not ace inhibitor therapy, blunts home blood pressure responses to mental stress. Hypertension. 2001;38:815–820.

3.

Allen KM, Blascovich J, Tomaka J, Kelsey RM. Presence of human friends and pet dogs as moderators of autonomic responses to stress in women. J Pers Soc Psychol. 1991;61:582–589.

4.

American Veterinary Medical Association. Guidelines for animal assisted activity, animal-assisted therapy and resident animal programs. Available at: https://www.avma.org/KB/Policies/Pages/Guidelines-for-Animal-Assisted-Activity-Animal-Assisted-Therapy-and-Resident-Animal-Programs.aspx. Accessed July 1, 2013.

5.

Anderson WP, Reid CM, Jennings GL. Pet ownership and risk factors for cardiovascular disease. Med J Aust. 1992;157:298–301.

6.

Barker SB, Knisely JS, McCain NL, Best AM. Measuring stress and immune response in healthcare professionals following interaction with a therapy dog: a pilot study. Psychol Rep. 2005;96:713–729.

7.

Beck AM, Katcher AH. Pets as Therapists. Between Pets and People: The Importance of Animal Companionship. West Lafayette, IN: Purdue University Press; 1996:125–164.

8.

Beck CE, Gonzales F Jr, Sells CH, Jones C, Reer T, Zhu YY. The effects of animal-assisted therapy on wounded warriors in an Occupational Therapy Life Skills program. US Army Med Dep J. 2012;Apr-Jun:38–45.

9.

Brodie S, Biley F, Shewring M. An exploration of the potential risks associated with using pet therapy in healthcare settings. J Clin Nurs. 2002;11:444–456.

10.

Bruehl S, Burns JW, Chung OY, Chont M. What do plasma beta-endorphin levels reveal about endogenous opioid analgesic function? Eur J Pain. 2012;16:370–380.

11.

Burch MR. A History of Animal-Assisted Therapy. Volunteering with Your Pet: How to Get Involved in Animal-Assisted Therapy with Any Kind of Pet. Hoboken, NJ: Howell Book House; 1996:3–8.

12.

Centers for Medicare & Medicaid Services (CMS), HHS. Medicare program; hospital outpatient prospective payment system and CY 2007 payment rates; CY 2007 update to the ambulatory surgical center covered procedures list; Medicare administrative contractors; and reporting hospital quality data for FY 2008 inpatient prospective payment system annual payment update program—HCAHPS survey, SCIP, and mortality. Final rule with comment period and final rule. Fed Regist. 2006;71:67959–68401.

13.

Charlson ME, Pompei P, Ales KL, MacKenzie CR. A new method of classifying prognostic comorbidity in longitudinal studies: development and validation. J Chronic Dis. 1987;40:373–383.

14.

Chu CI, Liu CY, Sun CT, Lin J. The effect of animal assisted activity on inpatients with schizophrenia. J Psychosoc Nurs Ment Health Serv. 2009;47:42–48.

15.

Cole KM, Gawlinski A. Animal-assisted therapy in the intensive care unit: a staff nurse's dream comes true. Nurs Clin North Am. 1995;30:529–537.

16.

Cole KM, Gawlinski A, Steers N, Kolterman J. Animal-assisted therapy in patients hospitalized with heart failure. Am J Crit Care. 2007;16:575–585.

17.

Coll AM, Ameen JR, Mead D. Postoperative pain assessment tools in day surgery: literature review. J Adv Nurs. 2004;46:124–133.

18.

Duivenvoorden T, Vissers MM, Verhaar JA, Busschbach JJ, Gosens T, Bloem RM, Bierma-Zeinstra SM, Reijman M. Anxiety and depressive symptoms before and after total hip and knee arthroplasty: a prospective multicentre study. Osteoarthritis Cartilage. 2013;21:1834–1840.

19.

Elliot D, Tolle SW, Goldberg L, Miller JB. Pet-associated illness. New Engl J Med. 1985;313:985–995.

20.

Ellis HB, Howard KJ, Khaleel MA, Bucholz R. Effect of psychopathology on patient-perceived outcomes of total knee arthroplasty within an indigent population. J Bone Joint Surg Am. 2012;94:e84.

21.

Friedmann E, Thomas SA. Pet ownership, social support, and one-year survival after acute myocardial infarction in the Cardiac Arrhythmia Suppression Trial (CAST). Am J Cardiol.1995;76:1213–1217.

22.

Gallagher EJ, Liebman M, Bijur PE. Prospective validation of clinically important changes in pain severity measured on a visual analog scale. Ann Emerg Med. 2001;38:633–638.

23.

Havener L, Gentes L, Thaler B, Megel ME, Baun MM, Driscoll FA, Beiraghi S, Agrawal S. The effects of a companion animal on distress in children undergoing dental procedures. Issues Compr Pediatr Nurs. 2001;24:137–152.

24.

Hoffmann AO, Lee AH, Wertenauer F, Ricken R, Jansen JJ, Gallinat J, Lang UE. Dog-assisted intervention significantly reduces anxiety in hospitalized patients with major depression. Eur J Integr Med. 2009;1:145–148.

25.

Johnson RA, Meadows RL, Haubner JS, Sevedge K. Human–animal interaction: a complementary / alternative medical (CAM) intervention for cancer patients. Am Behav Sci. 2003;47:55–69.

26.

Jorgenson J. Therapeutic use of companion animals in health care. Image J Nurs Sch. 1997;29:249–254.

27.

Lang UE, Jansen JB, Wertenauer F, Gallinat J, Rapp MA. Reduced anxiety during dog assisted interviews in acute schizophrenic patients. Eur J Integr Med. 2010;2:123–127.

28.

Laun L. Benefits of pet therapy in dementia. Home Healthc Nurs. 2003; 21:49–52.

29.

Lefebvre SL, Waltner-Toews D, Peregrine A, Reid-Smith R, Hodge L, Weese JS. Characteristics of programs involving canine visitation of hospitalized people in Ontario. Infect Control Hosp Epidemiol. 2006;27:754–758.

30.

Lerner-DurJava L. Pet visitation is an infection control issue? Am J Infect Control. 1994;22:112.

31.

Levinson FM. Pet psychotherapy: use of household pets in the treatment of behavior disorder in childhood. Psychol Rep. 1965;17:695–698.

32.

Lust E, Ryan-Haddad A, Coover K, Snell J. Measuring clinical outcomes of animal-assisted therapy: impact on resident medication usage. Consult Pharm. 2007;22:580–585.

33.

Marcus DA. Complementary medicine in cancer care: adding a therapy dog to the team. Curr Pain Headache Rep. 2012;16:289–291.

34.

Marcus DA, Bernstein CD, Constantin JM, Kunkel FA, Breuer P, Hanlon RB. Animal-assisted therapy at an outpatient pain management clinic. Pain Med. 2012;13:45–57.

35.

Martin F, Farnum J. Animal-assisted therapy for children with pervasive developmental disorders. West J Nurs Res. 2002;24:657–670.

36.

Merle C, Brendle S, Wang H, Streit MR, Gotterbarm T, Schiltenwolf M. Multidisciplinary treatment in patients with persistent pain following total hip and knee arthroplasty. J Arthroplasty. 2014:29:28–32.

37.

Mossello E, Ridolfi A, Mello AM, Lorenzini G, Mugnai F, Piccini C, Barone D, Peruzzi A, Masotti G, Marchionni N. Animal-assisted activity and emotional status of patients with Alzheimer's disease in day care. Int Psychogeriatr. 2011;23:899–905.

38.

Odendaal JS, Meintjes RS. Neurophysiological correlates of affiliative behaviour between humans and dogs. Vet J. 2003;165:296–301.

39.

Orlandi M, Trangeled K, Mambrini A, Tagliani M, Ferrarini A, Zanetti L, Tartarini R, Pacetti P, Cantore M. Pet therapy effects on oncological day hospital patients undergoing chemotherapy treatment. Anticancer Res. 2007;27: 4301–4303.

40.

Perna G. Hospital leaders create 'the culture of always': hospital leaders look at HCAHPS as a way to improve the patient-centered culture. Healthc Inform. 2013;30:42, 44, 56.

41.

Pinto PR, McIntyre T, Ferrero R, Almeida A, Araújo-Soares V. Predictors of acute postsurgical pain and anxiety following primary total hip and knee arthroplasty. J Pain. 2013;14:502–515.

42.

Silva K, Correia R, Lima M, Magalhaes A, de Sousa L. Can dogs prime autistic children for therapy? Evidence from a single case study. J Altern Complement Med. 2011;17:655–659.

43.

Sobo EJ, Eng B, Kassity-Krich N. Canine visitation (pet) therapy: pilot data on decreases in child pain perception. J Holist Nurs. 2006:24:51–57.

44.

Souter MA, Miller MD. Do animal-assisted activities effectively treat depression: a meta-analysis. Anthrozoos. 2007; 20:167–180.

45.

Todd KH, Funk JP. The minimum clinically important difference in physician-assigned visual analog pain scores. Acad Emerg Med. 1996;3:142–146.

46.

Westbrook KW, Babakus E, Grant CC. Measuring patient-perceived hospital service quality: validity and managerial usefulness of HCAHPS scales. Health Mark Q. 2014;31:97–114.

47.

Writing Panel of Working Group, LeFebvre SL, Golab GC, Christensen E, Castrodale L, Aureden K, Bialachowski A, Gumley N, Robinson K, Peregrine A, Benoit M, Card ML, Van Horne L, Weese JS. Guidelines for animal-assisted interventions in health care facilities. Am J Infect Control. 2008:36:78–85.

48.

Zusman EE. HCAHPS replaces Press Ganey survey as quality measure for patient hospital experience. Neurosurgery. 2012;71:N21–24.
Acknowledgments
We acknowledge and thank the orthopaedic physical therapy and orthopaedic nursing teams for their assistance in coordinating visits and administering surveys. We also thank Beth D. Harper MD (Department of Medicine, Boston Children's Hospital, Harvard Medical School), for training the therapy dog and guidance and support during the design and implementation of this study.
Additional information
Each author certifies that he or she, or a member of his or her immediate family, has no funding or commercial associations (eg, consultancies, stock ownership, equity interest, patent/licensing arrangements, etc) that might pose a conflict of interest in connection with the submitted article.
All ICMJE Conflict of Interest Forms for authors and Clinical Orthopaedics and Related Research ® editors and board members are on file with the publication and can be viewed on request.
Each author certifies that his or her institution approved the human protocol for this investigation, that all investigations were conducted in conformity with ethical principles of research, and that informed consent for participation in the study was obtained.
About this article
Cite this article
Harper, C.M., Dong, Y., Thornhill, T.S. et al. Can Therapy Dogs Improve Pain and Satisfaction After Total Joint Arthroplasty? A Randomized Controlled Trial. Clin Orthop Relat Res 473, 372–379 (2015). https://doi.org/10.1007/s11999-014-3931-0
Received:

Accepted:

Published:

Issue Date:
Keywords
Total Joint Arthroplasty

Physical Therapy Session

Postoperative Physical Therapy

Sickle Cell Crisis

Hospital Consumer Assessment