Abstract
Background
Therapeutic musculoskeletal injections require a clean or sterile skin preparation to minimize the risk of infections. Ultrasound guidance for this procedure requires the use of transmission gel in proximity to the injection site, and its effect on maintaining sterility is unknown.
Questions/purposes
We asked: (1) Does sterile ultrasound transmission gel increase skin contamination during therapeutic orthopaedic injections? (2) Does nonsterile gel application result in increased contamination? (3) Does a manufacturer-approved ultrasound probe disinfecting agent in the form of 17.2% isopropanol and 0.28% diisobutylphenoxyethoxyethyl dimethyl benzyl ammonium chloride wipes adequately decontaminate the ultrasound transducer? (4) Does 70% isopropyl alcohol effectively decontaminate skin for administration of musculoskeletal injections?
Methods
Twenty-six healthy volunteers in an outpatient orthopaedic clinical setting were recruited. The subjects' skin was prepared to simulate a therapeutic intraarticular shoulder injection under ultrasound guidance. Four skin swabs for culture from each subject were taken: one sample before preparation with isopropyl alcohol, one sample after skin preparation, one after simulated injection procedure with sterile ultrasound transmission gel using the transducer, and one after mock procedure with nonsterile ultrasound transmission gel. In addition, samples were taken from the nonsterile ultrasound transmission gel and the transducer for culture analysis. Aerobic and anaerobic cultures were incubated during a 5-day period for bacterial species identification.
Results
Sterile ultrasound gel use results in an increase in skin contamination (odds ratio [OR], 9; 95% CI, 1.4–57.1; p = 0.005). Compared with sterile gel use, application of nonsterile gel did not increase contamination proportion (OR, 1.1; 95% CI, 0.8–1.7; p = 0.56). All cultures from nonsterile gel were negative. None of the samples cultured directly from the ultrasound probe were positive for bacteria (0%). Skin preparation with 70% alcohol decreased the proportion of contamination when compared with unprepared skin (OR, 21.0; 95% CI, 3.1–142.2; p = 0.001).
Conclusions
Use of ultrasound probes and transmission gel results in greater contamination in simulated intraarticular injections of the shoulder. As such, sterile preparation of the entire injection field, including the adjacent skin where the gel and probe are applied, may be prudent. Future studies are needed to determine if such a preparation decreases contamination and thereby infection rates related to musculoskeletal injections.
Level of Evidence
Level II, therapeutic study. See the Instructions for Authors for a complete description of levels of evidence.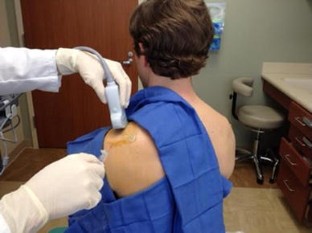 References
1.

Agency for Healthcare Research and Quality. The number of practicing primary care physicians in the United States: primary care workforce facts and stats no. 1. Available at: http://www.ahrq.gov/research/findings/factsheets/primary/pcwork1/index.html. Accessed: August 3, 2014.

2.

American Academy of Orthopaedic Surgeons Department of Research and Scientific Affairs. Orthopaedic Practice in the U.S. 2012. Available at: http://www.aaos.org/research/stats/Surgeonstats.asp. Accessed August 3, 2014.

3.

Baima J, Isaac Z. Clean versus sterile technique for common joint injections: a review from the physiatry perspective. Curr Rev Musculoskelet Med. 2008;1:88–91.

4.

Bellamy N, Campbell J, Robinson V, Gee T, Bourne R, Wells G. Intraarticular corticosteroid for treatment of osteoarthritis of the knee. Cochrane Database Syst Rev. 2006:CD005328.

5.

Cawley PJ, Morris IM. A study to compare the efficacy of two methods of skin preparation prior to joint injection. Br J Rheumatol. 1992;31:847–848.

6.

Charalambous CP, Tryfonidis M, Sadiq S, Hirst P, Paul A. Septic arthritis following intra-articular steroid injection of the knee: a survey of current practice regarding antiseptic technique used during intra-articular steroid injection of the knee. Clin Rheumatol. 2003;22:386–390.

7.

Chittick P, Russo V, Sims M, Robinson-Dunn B, Oleszkowicz S, Sawarynski K, Powell K, Makin J, Darnell E, Boura JA, Boyanton B, Band J. An outbreak of Pseudomonas aeruginosa respiratory tract infections associated with intrinsically contaminated ultrasound transmission gel. Infect Control Hosp Epidemiol. 2013;34:850–853.

8.

Daley EL, Bajaj S, Bisson LJ, Cole BJ. Improving injection accuracy of the elbow, knee, and shoulder: does injection site and imaging make a difference? A systematic review. Am J Sports Med. 2011;39:656–662.

9.

Deal CL, Hooker R, Harrington T, Birnbaum N, Hogan P, Bouchery E, Klein-Gitelman M, Barr W. The United States rheumatology workforce: supply and demand, 2005–2025. Arthritis Rheum. 2007;56:722–729

10.

Farooq MA, Devitt AT. Perceived efficacy and risks of infection following intra-articular injections: a survey of orthopaedic surgeons. Ir J Med Sci. 2005;174:26–32.

11.

Fowler C, McCracken D. US probes: risk of cross infection and ways to reduce it: comparison of cleaning methods. Radiology. 1999;213:299–300.

12.

Gray RG, Tenenbaum J, Gottlieb NL. Local corticosteroid injection treatment in rheumatic disorders. Semin Arthritis Rheum. 1981;10:231–254.

13.

Hutchinson J, Runge W, Mulvey M, Norris G, Yetman M, Valkova N, Villemur R, Lepine F. Burkholderia cepacia infections associated with intrinsically contaminated ultrasound gel: the role of microbial degradation of parabens. Infect Control Hosp Epidemiol. 2004;25:291–296.

14.

Karadenz YM, Kilic D, Kara Altan S, Altinok D, Guney S. Evaluation of the role of ultrasound machines as a source of nosocomial and cross-infection. Invest Radiol. 2001;36:554–558.

15.

Lee I, Agarwal RK, Lee BY, Fishman NO, Umscheid CA. Systematic review and cost analysis comparing use of chlorhexidine with use of iodine for preoperative skin antisepsis to prevent surgical site infection. Infect Control Hosp Epidemiol. 2010;31:1219–1229.

16.

Leslie BM, Harris JM 3rd, Driscoll D. Septic arthritis of the shoulder in adults. J Bone Joint Surg Am. 1989;71:1516–1522.

17.

Mirza WA, Imam SH, Kharal MS, Aslam M, Ali SA, Masroor I, Ahmad MN. Cleaning methods for ultrasound probes. J Coll Physicians Surg Pak. 2008;18:286–289.

18.

Muradali D, Gold WL, Phillips A, Wilson S. Can ultrasound probes and coupling gel be a source of nosocomial infection in patients undergoing sonography? An in vivo and in vitro study. AJR Am J Roentgenol. 1995;164:1521–1524.

19.

Oleszkowicz SC, Chittick P, Russo V, Keller P, Sims M, Band J. Infections associated with use of ultrasound transmission gel: proposed guidelines to minimize risk. Infect Control Hosp Epidemiol. 2012;33:1235–1237.

20.

Olshtain-Pops K, Block C, Temper V, Hidalgo-Grass C, Gross I, Moses AE, Gofrit ON, Benenson S. An outbreak of achromobacter xylosoxidans associated with ultrasound gel used during transrectal ultrasound guided prostate biopsy. J Urol. 2011;185:144–147.

21.

Pal B, Morris J. Perceived risks of joint infection following intra-articular corticosteroid injections: a survey of rheumatologists. Clin Rheumatol. 1999;18:264–265.

22.

Petrella RJ, Petrella M. A prospective, randomized, double-blind, placebo controlled study to evaluate the efficacy of intraarticular hyaluronic acid for osteoarthritis of the knee. J Rheumatol. 2006;33:951–956.

23.

Rhee YG, Cho NS, Kim BH, Ha JH. Injection-induced pyogenic arthritis of the shoulder joint. J Shoulder Elbow Surg. 2008;17:63–67.

24.

Saltzman MD, Nuber GW, Gryzlo SM, Marecek GS, Koh JL. Efficacy of surgical preparation solutions in shoulder surgery. J Bone Joint Surg Am. 2009;91:1949–1953.

25.

Sanz GE, Theoret J, Liao MM, Erickson C, Kendall JL. Bacterial contamination and cleanliness of emergency department ultrasound probes. CJEM. 2011;13:384–389.

26.

Schneeberger AG, Yian E, Steens W. Injection-induced low-grade infection of the shoulder joint: preliminary results. Arch Orthop Trauma Surg. 2012;132:1387–1392.

27.

Sharpe RE, Nazarian LN, Parker L, Rao VM, Levin DC. Dramatically increased musculoskeletal ultrasound utilization from 2000 to 2009, especially by podiatrists in private offices. J Am Coll Radiol. 2012;9:141–146.

28.

U.S. Food and Drug Administration. Update on bacteria found in ortho-sonic generic ultrasound transmission gel poses risk of infection: FDA Safety Communication. Available at: http://www.fda.gov/medicaldevices/safety/alertsandnotices/ucm299409.htm. Accessed August 3, 2014.

29.

Weist K, Wendt C, Petersen LR, Versmold H, Ruden H. An outbreak of pyodermas among neonates caused by ultrasound gel contaminated with methicillin-susceptible Staphylococcus aureus. Infect Control Hosp Epidemiol. 2000;21:761–764.
Acknowledgments
We thank Nick Sever AB, of the Milken Institute School of Public Health at The George Washington University, and Sameer Desale MS, of the Biostatistics and Bioinformatics Department of MedStar Health Research Institute.
Additional information
Each author certifies that he or she, or a member of his or her immediate family, has no funding or commercial associations (eg, consultancies, stock ownership, equity interest, patent/licensing arrangements, etc) that might pose a conflict of interest in connection with the submitted article.
All ICMJE Conflict of Interest Forms for authors and Clinical Orthopaedics and Related Research ® editors and board members are on file with the publication and can be viewed on request.
Clinical Orthopaedics and Related Research ® neither advocates nor endorses the use of any treatment, drug, or device. Readers are encouraged to always seek additional information, including FDA-approval status, of any drug or device prior to clinical use.
Each author certifies that his or her institution approved the human protocol for this investigation, that all investigations were conducted in conformity with ethical principles of research, and that informed consent for participation in the study was obtained.
This work was performed at MedStar Georgetown Orthopaedic Institute, Washington Hospital Center, Washington, DC, USA.
About this article
Cite this article
Sherman, T., Ferguson, J., Davis, W. et al. Does the Use of Ultrasound Affect Contamination of Musculoskeletal Injections Sites?. Clin Orthop Relat Res 473, 351–357 (2015). https://doi.org/10.1007/s11999-014-3903-4
Received:

Accepted:

Published:

Issue Date:
Keywords
Skin Preparation

Intraarticular Injection

Musculoskeletal Infection

Sterile Glove

Skin Swab