Abstract
Background
Vascular injury is a devastating complication of acute knee dislocation. However, there are wide discrepancies in the reported frequency of vascular injury after knee dislocations, as well as important differences among approaches for diagnosis of this potentially limb-threatening problem.
Questions/purposes
We determined (1) the frequency of vascular and neurologic injury after knee dislocation and whether it varied by the type of knee dislocation, (2) the frequency with which surgical intervention was performed for vascular injury in this setting, and (3) the frequency with which each imaging modality was used to detect vascular injury.
Methods
We searched the MEDLINE® literature database for studies in English that examined the clinical sequelae and diagnostic evaluation after knee dislocation. Vascular and nerve injury incidence after knee dislocation, surgical repair rate within vascular injury, and amputation rate after vascular injury were used to perform a meta-analysis. Other measures such as diagnostic modality used and the vessel injured after knee dislocation were also evaluated.
Results
We identified 862 patients with knee dislocations, of whom 171 sustained vascular injury, yielding a weighted frequency of 18%. The frequency of nerve injuries after knee dislocation was 25% (75 of 272). We found that 80% (134 of 160) of vascular injuries underwent repair, and 12% (22 of 134) of vascular injuries resulted in amputation. The Schenck and Kennedy knee dislocation classifications with the highest vascular injury prevalence were observed in knees that involved the ACL, PCL, and medial collateral liagment (KDIIIL) (32%) and posterior dislocation (25%), respectively. Selective angiography was the most frequently used diagnostic modality (61%, 14 of 23), followed by nonselective angiography and duplex ultrasonography (22%, five of 23), ankle-brachial index (17%, four of 23), and MR angiography (9%, two of 23).
Conclusions
This review enhances our understanding of the frequency of vascular injury and repair, amputation, and nerve injuries after knee dislocation. It also illustrates the lack of consensus among practitioners regarding the diagnostic and treatment algorithm for vascular injury. After pooling existing data on this topic, no outcomes-driven conclusions could be drawn regarding the ideal diagnostic modality or indications for surgical repair. In light of these findings and the morbidity associated with a missed diagnosis, clinicians should err on the side of caution in ruling out arterial injury.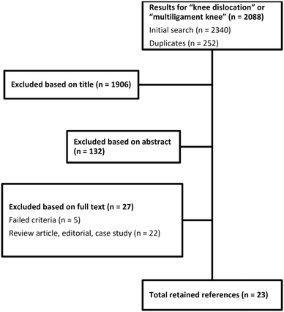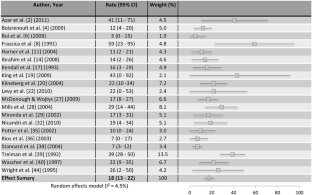 References
1.

Alberty RE, Goodfried G, Boyden AM. Popliteal artery injury with fractural dislocation of the knee. Am J Surg. 1981;142:36–40.

2.

Azar FM, Brandt JC, Miller RH 3rd, Phillips BB. Ultra-low-velocity knee dislocations. Am J Sports Med. 2011;39:2170–2174.

3.

Barnes CJ, Pietrobon R, Higgins LD. Does the pulse examination in patients with traumatic knee dislocation predict a surgical arterial injury? A meta-analysis. J Trauma. 2002;53:1109–1114.

4.

Boisrenoult P, Lustig S, Bonneviale P, Leray E, Versier G, Neyret P, Rosset P, Saragaglia D. Vascular lesions associated with bicruciate and knee dislocation ligamentous injury. Orthop Traumatol Surg Res. 2009;95:621–626.

5.

Brautigan B, Johnson DL. The epidemiology of knee dislocations. Clin Sports Med. 2000;19:387–397.

6.

Bui KL, Ilaslan H, Parker RD, Sundaram M. Knee dislocations: a magnetic resonance imaging study correlated with clinical and operative findings. Skeletal Radiol. 2008;37:653–661.

7.

Egger M, Smith GD, Phillips AN. Meta-analysis: principles and procedures. BMJ. 1997;315:1533–1537.

8.

Frassica FJ, Sim FH, Staeheli JW, Pairolero PC. Dislocation of the knee. Clin Orthop Relat Res. 1991;263:200–205.

9.

Good L, Johnson R. The dislocated knee. J Am Acad Orthop Surg. 1995;3:284–292.

10.

Green NE, Allen BL. Vascular injuries associated with dislocation of the knee. J Bone Joint Surg Am. 1977;59:236–239.

11.

Harner CD, Waltrip RL, Bennett CH, Francis KA, Cole B, Irrgang JJ. Surgical management of knee dislocations. J Bone Joint Surg Am. 2004;86:262–273.

12.

Higgins JP, Thompson SG, Deeks JJ, Altman DG. Measuring inconsistency in meta-analyses. BMJ. 2003;327:557–560.

13.

Hollis JD, Daley BJ. 10-year review of knee dislocations: is arteriography always necessary? J Trauma. 2005;59:672–675; discussion 675–676.

14.

Ibrahim SA, Ahmad FH, Salah M, Al Misfer AR, Ghaffer SA, Khirat S. Surgical management of traumatic knee dislocation. Arthroscopy. 2008;24:178–187.

15.

Johnson ME, Foster L, DeLee JC. Neurologic and vascular injuries associated with knee ligament injuries. Am J Sports Med. 2008;36:2448–2462.

16.

Kaufman SL, Martin LG. Arterial injuries associated with complete dislocation of the knee. Radiology. 1992;184:153–155.

17.

Kendall RW, Taylor DC, Salvian AJ, O'Brien PJ. The role of arteriography in assessing vascular injuries associated with dislocations of the knee. J Trauma. 1993;35:875–878.

18.

Kennedy JC. Complete dislocation of the knee joint. J Bone Joint Surg Am. 1963;45:889–904.

19.

King JJ 3rd, Cerynik DL, Blair JA, Harding SP, Tom JA. Surgical outcomes after traumatic open knee dislocation. Knee Surg Sports Traumatol Arthrosc. 2009;17:1027–1032.

20.

Klineberg EO, Crites BM, Flinn WR, Archibald JD, Moorman CT 3rd. The role of arteriography in assessing popliteal artery injury in knee dislocations. J Trauma. 2004;56:786–790.

21.

Kropman RH, Kiela G, Moll FL, de Vries JP. Variations in anatomy of the popliteal artery and its side branches. Vasc Endovascular Surg. 2011;45:536–540.

22.

Levy BA, Krych AJ, Shah JP, Morgan JA, Stuart MJ. Staged protocol for initial management of the dislocated knee. Knee Surg Sports Traumatol Arthrosc. 2010;18:1630–1637.

23.

Lohmann M, Lauridsen K, Vedel P. Arterial lesions in major knee trauma: pedal pulse a false sign of security? Arch Orthop Trauma Surg. 1990;109:238–239.

24.

Martinez D, Sweatman K, Thompson EC. Popliteal artery injury associated with knee dislocations. Am Surg. 2001;67:165–167.

25.

McCoy GF, Hannon DG, Barr RJ, Templeton J. Vascular injury associated with low-velocity dislocations of the knee. J Bone Joint Surg Br. 1987;69:285–287.

26.

McCutchan JD, Gillham NR. Injury to the popliteal artery associated with dislocation of the knee: palpable distal pulses do not negate the requirement for arteriography. Injury. 1989;20:307–310.

27.

McDonough EB Jr, Wojtys EM. Multiligamentous injuries of the knee and associated vascular injuries. Am J Sports Med. 2009;37:156–159.

28.

Mills WJ, Barei DP, McNair P. The value of the ankle-brachial index for diagnosing arterial injury after knee dislocation: a prospective study. J Trauma. 2004;56:1261–1265.

29.

Miranda FE, Dennis JW, Veldenz HC, Dovgan PS, Frykberg ER. Confirmation of the safety and accuracy of physical examination in the evaluation of knee dislocation for injury of the popliteal artery: a prospective study. J Trauma. 2002;52:247–251; discussion 251–252.

30.

Neyeloff JL, Fuchs SC, Moreira LB. Meta-analyses and Forest plots using a Microsoft Excel spreadsheet: step-by-step guide focusing on descriptive data analysis. BMC Research Notes. 2012;5:52.

31.

Niall DM, Nutton RW, Keating JF. Palsy of the common peroneal nerve after traumatic dislocation of the knee. J Bone Joint Surg Br. 2005;87:664–667.

32.

Nicandri GT, Chamberlain AM, Wahl CJ. Practical management of knee dislocations: a selective angiography protocol to detect limb-threatening vascular injuries. Clin J Sport Med. 2009;19:125–129.

33.

Nicandri GT, Dunbar RP, Wahl CJ. Are evidence-based protocols which identify vascular injury associated with knee dislocation underutilized? Knee Surg Sports Traumatol Arthrosc. 2010;18:1005–1012.

34.

Patterson BM, Agel J, Swiontkowski MF, Mackenzie EJ, Bosse MJ. Knee dislocations with vascular injury: outcomes in the Lower Extremity Assessment Project (LEAP) Study. J Trauma. 2007;63:855–858.

35.

Potter HG, Weinstein M, Allen AA, Wickiewicz TL, Helfet DL. Magnetic resonance imaging of the multiple-ligament injured knee. J Orthop Trauma. 2002;16:330–339.

36.

Ríos A, Villa A, Fahandezh H, de José C, Vaquero J. Results after treatment of traumatic knee dislocations: a report of 26 cases. J Trauma. 2003;55:489–494.

37.

Schenck RJ. Classification of knee dislocations. In: Fanelli GC, ed. The Multiple Ligament Injured Knee. New York, NY: Springer; 2004:37–49.

38.

Stannard JP, Sheils TM, Lopez-Ben RR, McGwin G Jr, Robinson JT, Volgas DA. Vascular injuries in knee dislocations: the role of physical examination in determining the need for arteriography. J Bone Joint Surg Am. 2004;86:910–915.

39.

Treiman GS, Yellin AE, Weaver FA, Wang S, Ghalambor N, Barlow W, Snyder B, Pentecost MJ. Examination of the patient with a knee dislocation. The case for selective arteriography. Arch Surg. 1992;127:1056–1062; discussion 1062–1063.

40.

Wascher DC. High-velocity knee dislocation with vascular injury: treatment principles. Clin Sports Med. 2000;19:457–477.

41.

Wascher DC, Dvirnak PC, DeCoster TA. Knee dislocation: initial assessment and implications for treatment. J Orthop Trauma. 1997;11:525–529.

42.

Wells GA, Shea B, O'Connell D, Petersen J, Welch V, Losos M, Tugwell P. The Newcastle-Ottawa Scale (NOS) for assessing the quality of nonrandomized studies in meta-analyses.

43.

Wood MB. Peroneal nerve repair: surgical results. Clin Orthop Relat Res. 1991;267:206–210.

44.

Wright DG, Covey DC, Born CT, Sadasivan KK. Open dislocation of the knee. J Orthop Trauma. 1995;9:135–140.

45.

Yahya MM, Mwipatayi BP, Abbas M, Rao S, Sieunarine K. Popliteal artery injury: Royal Perth experience and literature review. ANZ J Surg. 2005;75:882–886.
Additional information
Each author certifies that he or she, or a member of his or her immediate family, has no commercial associations (eg, consultancies, stock ownership, equity interest, patent/licensing arrangements, etc) that might pose a conflict of interest in connection with the submitted article.
All ICMJE Conflict of Interest Forms for authors and Clinical Orthopaedics and Related Research ® editors and board members are on file with the publication and can be viewed on request.
This work was performed at University of California–Los Angeles, Los Angeles, CA, USA.
About this article
Cite this article
Medina, O., Arom, G.A., Yeranosian, M.G. et al. Vascular and Nerve Injury After Knee Dislocation: A Systematic Review. Clin Orthop Relat Res 472, 2621–2629 (2014). https://doi.org/10.1007/s11999-014-3511-3
Keywords
Nerve Injury

Vascular Injury

Popliteal Artery

Common Peroneal Nerve

Posterior Tibial Artery