Abstract
Background
Clubfoot can be treated nonoperatively, most commonly using a Ponseti approach, or surgically, most often with a comprehensive clubfoot release. Little is known about how these approaches compare with one another at longer term, or how patients treated with these approaches differ in terms of foot function, foot biomechanics, or quality-of-life from individuals who did not have clubfoot as a child.
Questions/purposes
We compared (1) focused physical and radiographic examinations, (2) gait analysis, and (3) quality-of-life measures at long-term followup between groups of adult patients with clubfoot treated either with the Ponseti method of nonsurgical management or a comprehensive surgical release through a Cincinnati incision, and compared these two groups with a control group without clubfoot.
Methods
This was a case control study of individuals treated for clubfoot at two separate institutions with different methods of treatment between 1983 to 1987. One hospital used only the Ponseti method and the other mainly used a comprehensive clubfoot release. There were 42 adults (24 treated surgically, 18 treated with Ponseti method) with isolated clubfoot along with 48 healthy control subjects who agreed to participate in a detailed analysis of physical function, foot biomechanics, and quality-of-life metrics.
Results
Both treatment groups had diminished strength and motion compared with the control subjects on physical examination measures; however, the Ponseti group had significantly greater ankle plantar flexion ROM (p < 0.001), greater ankle plantar flexor (p = 0.031) and evertor (p = 0.012) strength, and a decreased incidence of osteoarthritis in the ankle and foot compared with the surgical group. During gait the surgical group had reduced peak ankle plantar flexion (p = 0.002), and reduced sagittal plane hindfoot (p = 0.009) and forefoot (p = 0.008) ROM during the preswing phase compared with the Ponseti group. The surgical group had the lowest overall ankle power generation during push off compared with the control subjects (p = 0.002). Outcome tools revealed elevated pain levels in the surgical group compared with the Ponseti group (p = 0.008) and lower scores for physical function and quality-of-life for both clubfoot groups compared with age-range matched control subjects (p = 0.01).
Conclusions
Although individuals in each treatment group experienced pain, weakness, and reduced ROM, they were highly functional into early adulthood. As adults the Ponseti group fared better than the surgically treated group because of advantages including increased ROM observed at the physical examination and during gait, greater strength, and less arthritis. This study supports efforts to correct clubfoot with Ponseti casting and minimizing surgery to the joints, and highlights the need to improve methods that promote ROM and strength which are important for adult function.
Level of Evidence
Level III, prognostic study.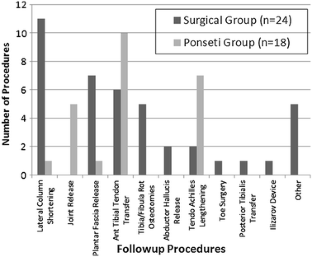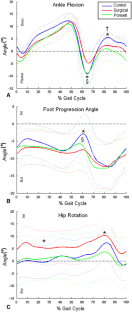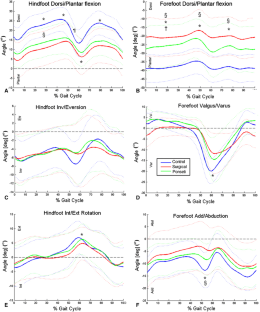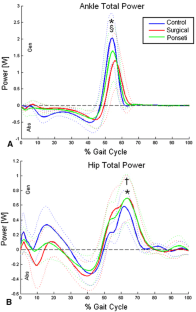 References
1.

Aronson J, Puskarich CL. Deformity and disability from treated clubfoot. J Pediatr Orthop. 1990;10:109–119.

2.

Asperheim MS, Moore C, Carroll NC, Dias L. Evaluation of residual clubfoot deformities using gait analysis. J Pediatr Orthop B. 1995;4:49–54.

3.

Benjamini Y, Hochberg Y. Controlling the false discovery rate: a practical and powerful approach to multiple testing. J R Statist Soc B. 1995;57:289–300.

4.

Celebi L, Muratli HH, Aksahin E, Yagmurlu MF, Bicimoglu A. Bensahel et al. and International Clubfoot Study Group evaluation of treated clubfoot: assessment of interobserver and intraobserver reliability. J Pediatr Orthop B. 2006;15:34–36.

5.

Cooper DM, Dietz FR. Treatment of idiopathic clubfoot: a thirty-year follow-up note. J Bone Joint Surg Am. 1995;77:1477–1489.

6.

Crawford AH, Marxen JL, Osterfeld DL. The Cincinnati incision: a comprehensive approach for surgical procedures of the foot and ankle in childhood. J Bone Joint Surg Am. 1982;64:1355–1358.

7.

Delp SL, Statler K, Carroll NC. Preserving plantar flexion strength after surgical treatment for contracture of the triceps surae: a computer simulation study. J Orthop Res. 1995;13:96–104.

8.

DePuy J, Drennan JC. Correction of idiopathic clubfoot: a comparison of results of early versus delayed posteromedial release. J Pediatr Orthop. 1989;9:44–48.

9.

DeRosa GP, Stepro D. Results of posteromedial release for the resistant clubfoot. J Pediatr Orthop. 1986;6:590–595.

10.

Dietz FR. On the pathogenesis of clubfoot. Lancet. 1985;1:388–390.

11.

Dobbs MB, Nunley R, Schoenecker PL. Long-term follow-up of patients with clubfeet treated with extensive soft-tissue release. J Bone Joint Surg Am. 2006;88:986–996.

12.

Haasbeek JF, Wright JG. A comparison of the long-term results of posterior and comprehensive release in the treatment of clubfoot. J Pediatr Orthop. 1997;17:29–35.

13.

Herzenberg JE, Radler C, Bor N. Ponseti versus traditional methods of casting for idiopathic clubfoot. J Pediatr Orthop. 2002;22:517–521.

14.

Hislop H, Montgomery J. Daniel's and Worthingham's Muscle Testing: Techniques of Manual Examination. Philadelphia, PA: W.B. Saunders Company; 1995.

15.

Hsu LP, Dias LS, Swaroop VT. Long-term retrospective study of patients with idiopathic clubfoot treated with posterior medial-lateral release. J Bone Joint Surg Am. 2013;95:e27.

16.

Inman VT, Ralston HJ, Todd F. Human Walking. Baltimore: Williams & Wilkins; 1981.

17.

Ippolito E, Farsetti P, Caterini R, Tudisco C. Long-term comparative results in patients with congenital clubfoot treated with two different protocols. J Bone Joint Surg Am. 2003;85:1286–1294.

18.

Karol LA, Concha MC, Johnston CE 2nd. Gait analysis and muscle strength in children with surgically treated clubfeet. J Pediatr Orthop. 1997;17:790–795.

19.

Kellgren JH, Lawrence JS. Radiological assessment of osteo-arthrosis. Ann Rheum Dis. 1957;16:494–502.

20.

Kidder SM, Abuzzahab FS Jr, Harris GF, Johnson JE. A system for the analysis of foot and ankle kinematics during gait. IEEE Trans Rehabil Eng. 1996;4:25–32.

21.

Kitaoka HB, Alexander IJ, Adelaar RS, Nunley JA, Myerson MS, Sanders M. Clinical rating systems for the ankle-hindfoot, midfoot, hallux, and lesser toes. Foot Ankle Int. 1994;15:349–353.

22.

Laaveg SJ, Ponseti IV. Long-term results of treatment of congenital club foot. J Bone Joint Surg Am. 1980;62:23–31.

23.

Levin MN, Kuo KN, Harris GF, Matesi DV. Posteromedial release for idiopathic talipes equinovarus: a long-term follow-up study. Clin Orthop Relat Res. 1989;242:265–268.

24.

Lunsford BR, Perry J. The standing heel-rise test for ankle plantar flexion: criterion for normal. Phys Ther. 1995;75:694–698.

25.

Lykissas MG, Crawford AH, Eismann EA, Tamai J. Ponseti method compared with soft-tissue release for the management of clubfoot: a meta-analysis study. World J Orthop. 2013;4:144–153.

26.

Magone JB, Torch MA, Clark RN, Kean JR. Comparative review of surgical treatment of the idiopathic clubfoot by three different procedures at Columbus Children's Hospital. J Pediatr Orthop. 1989;9:49–58.

27.

McHorney CA, Kosinski M, Ware JE Jr. Comparisons of the costs and quality of norms for the SF-36 health survey collected by mail versus telephone interview: results from a national survey. Med Care. 1994;32:551–567.

28.

Morcuende JA, Dolan LA, Dietz FR, Ponseti IV. Radical reduction in the rate of extensive corrective surgery for clubfoot using the Ponseti method. Pediatrics. 2004;113:376–380.

29.

Otremski I, Salama R, Khermosh O, Wientroub S. An analysis of the results of a modified one-stage posteromedial release (Turco operation) for the treatment of clubfoot. J Pediatr Orthop. 1987;7:149–151.

30.

Perry J, Burnfield JM. Gait Analysis: Normal and Pathological Function. 2nd ed. Thorofare, NJ: SLACK; 2010.

31.

Porat S, Milgrom C, Bentley G. The history of treatment of congenital clubfoot at the Royal Liverpool Children's Hospital: improvement of results by early extensive posteromedial release. J Pediatr Orthop. 1984;4:331–338.

32.

Ryoppy S, Sairanen H. Neonatal operative treatment of club foot: a preliminary report. J Bone Joint Surg Br. 1983;65:320–325.

33.

Simons GW. Complete subtalar release in club feet. Part I: A preliminary report. J Bone Joint Surg Am. 1985;67:1044–1055.

34.

Theologis TN, Harrington ME, Thompson N, Benson MK. Dynamic foot movement in children treated for congenital talipes equinovarus. J Bone Joint Surg Br. 2003;85:572–577.

35.

Turco VJ. Surgical correction of the resistant club foot: one-stage posteromedial release with internal fixation. A preliminary report. J Bone Joint Surg Am. 1971;53:477–497.

36.

Turco VJ. Resistant congenital club foot: one-stage posteromedial release with internal fixation. A follow-up report of a fifteen-year experience. J Bone Joint Surg Am. 1979;61:805–814.

37.

Uglow MG, Clarke NM. The functional outcome of staged surgery for the correction of talipes equinovarus. J Pediatr Orthop. 2000;20:517–523.

38.

Wynne-Davies R. Genetic and environmental factors in the etiology of talipes equinovarus. Clin Orthop Relat Res. 1972;84:9–13.
Acknowledgments
We thank Kathryn Reiners, Vickie Young, and Mary Riordan of Shriners Hospitals for Children – Chicago for assistance with data collection during this study.
Additional information
This study was supported by National Institute on Disability and Rehabilitation Research (Grant Numbers: H133G060252& H133E10007, principal investigator, PAS). Each author certifies that he or she, or a member of his or her immediate family, has no funding or commercial associations (eg, consultancies, stock ownership, equity interest, patent/licensing arrangements, etc) that might pose a conflict of interest in connection with the submitted article.
All ICMJE Conflict of Interest Forms for authors and Clinical Orthopaedics and Related Research editors and board members are on file with the publication and can be viewed on request.
Each author certifies that his or her institution approved the human protocol for this investigation, which all investigations were conducted in conformity with ethical principles of research, and that informed consent for participation in the study was obtained.
This work was performed at Shriners Hospitals for Children, Chicago, IL, USA.
About this article
Cite this article
Smith, P.A., Kuo, K.N., Graf, A.N. et al. Long-term Results of Comprehensive Clubfoot Release Versus the Ponseti Method: Which Is Better?. Clin Orthop Relat Res 472, 1281–1290 (2014). https://doi.org/10.1007/s11999-013-3386-8
Received:

Accepted:

Published:

Issue Date:
Keywords
Gait Analysis

Gait Cycle

Clubfoot

Plantar Flexion

Ankle Dorsiflexion