Abstract
Background
Postoperative pain after total knee arthroplasty remains one of the most important challenges facing patients undergoing this surgery. Providing a balance of adequate analgesia while limiting the functional impact of regional anesthesia and minimizing opioid side effects is critical to minimize adverse events and improve patient satisfaction.
Questions/Purposes
We asked whether bupivacaine delivered through an elastomeric device decreases the (1) patients' perception of pain after TKA; (2) narcotic consumption; and (3) narcotic-related side effects as compared with a placebo.
Methods
In this prospective, double-blind, placebo-controlled study, all patients received standardized regional anesthesia, a preemptive and multimodal analgesic protocol, and a continuous intraarticular infusion at 5 mL/hour through an elastomeric infusion pump. The patients were randomized to receive either an infusion pump filled with (1) 300 mL of 0.5% bupivacaine, the experimental group (n = 75); or (2) 300 mL of 0.9% normal saline solution, the control group (n = 75). Data concerning postoperative pain levels through a visual analog scale, postoperative opioid consumption, opioid-related side effects, and complications were collected and analyzed.
Results
Patients in the experimental group receiving the bupivacaine reported a reduction in pain levels in highest, lowest, and current visual analog scale scores compared with the placebo group on the first postoperative day and highest visual analog scale score on postoperative Day 2 along with a 33% reduction in opioid consumption on postoperative Day 2 and a 54% reduction on postoperative Day 3.
Conclusion
In patients undergoing TKA, continuous intraarticular analgesia provided an effective adjunct for pain relief in the immediate postoperative period without the disadvantages encountered with other analgesic methods.
Level of Evidence
Level I, therapeutic study. See Guidelines for Authors for a complete description of levels of evidence.
Access options
Buy single article
Instant access to the full article PDF.
USD 39.95
Price excludes VAT (USA)
Tax calculation will be finalised during checkout.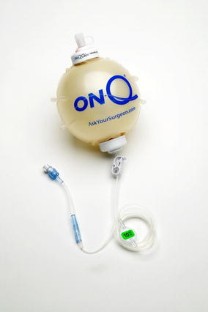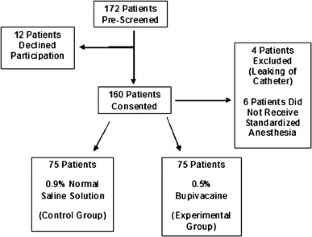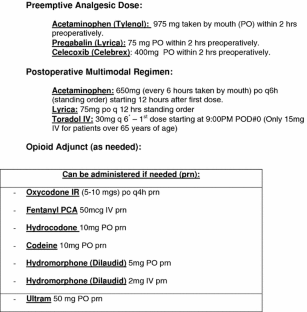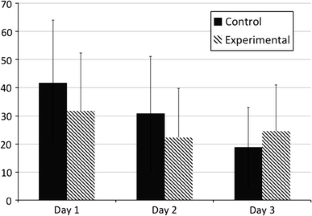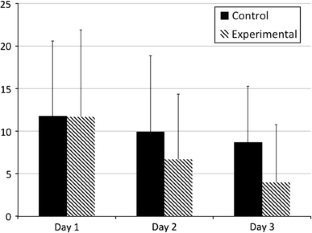 References
Alford JW, Fadale PD. Evaluation of postoperative bupivacaine infusion for pain management after anterior cruciate ligament reconstruction. Arthroscopy. 2003;8:855–861.

American Society of Anesthesiologists Task Force on Acute Pain Management. Practice guidelines for acute pain management in the perioperative setting: an updated report by the American Society of Anesthesiologists Task Force on Acute Pain Management. Anesthesiology. 2004;6:1573–1581.

Bianconi M, Ferraro L, Traina GC, Zanoli G, Antonelli T, Guberti A, Ricci R, Massari L. Pharmacokinetics and efficacy of ropivacaine continuous wound instillation after joint replacement surgery. Br J Anaesth. 2003;6:830–835.

Brokelman RB, van Loon CJ, Rijnberg WJ. Patient versus surgeon satisfaction after total hip arthroplasty. J Bone Joint Surg Br. 2003;4:495–498.

Burroughs TE, Davies AR, Cira JC, Dunagan WC. Understanding patient willingness to recommend and return: a strategy for prioritizing improvement opportunities. Jt Comm J Qual Improv. 1999;6:271–287.

Chelly JE, Ben-David B, Williams BA, Kentor ML. Anesthesia and postoperative analgesia: outcomes following orthopedic surgery. Orthopedics. 2003;8(Suppl):s865–71.

Cheville A, Chen A, Oster G, McGarry L, Narcessian E. A randomized trial of controlled-release oxycodone during inpatient rehabilitation following unilateral total knee arthroplasty. J Bone Joint Surg Am. 2001;4:572–576.

Coley KC, Williams BA, DaPos SV, Chen C, Smith RB. Retrospective evaluation of unanticipated admissions and readmissions after same day surgery and associated costs. J Clin Anesth. 2002;5:349–353.

DeLeo JA. Basic science of pain. J Bone Joint Surg Am. 2006;Suppl 2:58–62.

DeWeese FT, Akbari Z, Carline E. Pain control after knee arthroplasty: intraarticular versus epidural anesthesia. Clin Orthop Relat Res. 2001;392:226–231.

Gomez-Cardero P, Rodriguez-Merchan EC. Postoperative analgesia in TKA: ropivacaine continuous intraarticular infusion. Clin Orthop Relat Res. 2010;5:1242–1247.

Gottschalk A, Burmeister MA, Radtke P, Krieg M, Farokhzad F, Kreissl S, Strauss M, Standl T. Continuous wound infiltration with ropivacaine reduces pain and analgesic requirement after shoulder surgery. Anesth Analg. 2003;4:1086–1091.

Hebl JR, Kopp SL, Ali MH, Horlocker TT, Dilger JA, Lennon RL, Williams BA, Hanssen AD, Pagnano MW. A comprehensive anesthesia protocol that emphasizes peripheral nerve blockade for total knee and total hip arthroplasty. J Bone Joint Surg Am. 2005;Suppl 2:63–70.

Horlocker TT, Kopp SL, Pagnano MW, Hebl JR. Analgesia for total hip and knee arthroplasty: a multimodal pathway featuring peripheral nerve block. J Am Acad Orthop Surg. 2006;3:126–135.

Ilfeld BM, Morey TE, Wang RD, Enneking FK. Continuous popliteal sciatic nerve block for postoperative pain control at home: a randomized, double-blinded, placebo-controlled study. Anesthesiology. 2002;4:959–965.

Kehlet H, Dahl JB. The value of 'multimodal' or 'balanced analgesia' in postoperative pain treatment. Anesth Analg. 1993;5:1048–1056.

Kelly AM. The minimum clinically significant difference in visual analogue scale pain score does not differ with severity of pain. Emerg Med J. 2001;3:205–207.

Marino J, Russo J, Kenny M, Herenstein R, Livote E, Chelly JE. Continuous lumbar plexus block for postoperative pain control after total hip arthroplasty. A randomized controlled trial. J Bone Joint Surg Am. 2009;1:29–37.

Mauerhan DR, Campbell M, Miller JS, Mokris JG, Gregory A, Kiebzak GM. Intra-articular morphine and/or bupivacaine in the management of pain after total knee arthroplasty. J Arthroplasty. 1997;5:546–552.

Modig J, Borg T, Karlstrom G, Maripuu E, Sahlstedt B. Thromboembolism after total hip replacement: role of epidural and general anesthesia. Anesth Analg. 1983;2:174–180.

Morrison RS, Magaziner J, McLaughlin MA, Orosz G, Silberzweig SB, Koval KJ, Siu AL. The impact of post-operative pain on outcomes following hip fracture. Pain. 2003;3:303–311.

Nechleba J, Rogers V, Cortina G, Cooney T. Continuous intra-articular infusion of bupivacaine for postoperative pain following total knee arthroplasty. J Knee Surg. 2005;3:197–202.

Nuelle DG, Mann K. Minimal incision protocols for anesthesia, pain management, and physical therapy with standard incisions in hip and knee arthroplasties: the effect on early outcomes. J Arthroplasty. 2007;1:20–25.

Parvizi J, Miller AG, Gandhi K. Current concepts review: multimodal pain management after total joint arthroplasty. J Bone Joint Surg Am. 2011;11:1075–1084.

Parvizi J, Porat M, Gandhi K, Viscusi ER, Rothman RH. Postoperative pain management techniques in hip and knee arthroplasty. Instr Course Lect. 2009:769–779.

Rasmussen S, Kramhoft MU, Sperling KP, Pedersen JH. Increased flexion and reduced hospital stay with continuous intraarticular morphine and ropivacaine after primary total knee replacement: open intervention study of efficacy and safety in 154 patients. Acta Orthop Scand. 2004;5:606–609.

Rodgers A, Walker N, Schug S, McKee A, Kehlet H, van Zundert A, Sage D, Futter M, Saville G, Clark T, MacMahon S. Reduction of postoperative mortality and morbidity with epidural or spinal anaesthesia: results from overview of randomised trials. BMJ. 2000;7275:1493.

Scheffel PT, Clinton J, Lynch JR, Warme WJ, Bertelsen AL, Matsen FA 3rd. Glenohumeral chondrolysis: a systematic review of 100 cases from the English language literature. J Shoulder Elbow Surg. 2010;6:944–949.

Serrato JA Jr, Fleckenstein CM, Hasan SS. Glenohumeral chondrolysis associated with use of an intra-articular pain pump delivering local anesthetics following manipulation under anesthesia: a report of four cases. J Bone Joint Surg Am. 2011;17:e99.1–8.

Toftdahl K, Nikolajsen L, Haraldsted V, Madsen F, Tonnesen EK, Soballe K. Comparison of peri- and intraarticular analgesia with femoral nerve block after total knee arthroplasty: a randomized clinical trial. Acta Orthop. 2007;2:172–179.

Wall PD. The prevention of postoperative pain. Pain. 1988;3:289–290.

Wheeler M, Oderda GM, Ashburn MA, Lipman AG. Adverse events associated with postoperative opioid analgesia: a systematic review. J Pain. 2002;3:159–180.

Wiater BP, Neradilek MB, Polissar NL, Matsen FA 3rd. Risk factors for chondrolysis of the glenohumeral joint: a study of three hundred and seventy-five shoulder arthroscopic procedures in the practice of an individual community surgeon. J Bone Joint Surg Am. 2011;7:615–625.

Zmistowski B, Restrepo C, Kahl LK, Parvizi J, Sharkey PF. Incidence and reasons for nonrevision reoperation after total knee arthroplasty. Clin Orthop Relat Res. 2011;1:138–145.
Acknowledgments
We thank The Knee Society research review committee for the honor of receiving the 2012 Chitranjan Ranawat Award.
Additional information
Each author certifies that he or she, or a member of their immediate family, has no commercial associations (eg, consultancies, stock ownership, equity interest, patent/licensing arrangements, etc) that might pose a conflict of interest in connection with the submitted article.
All ICMJE Conflict of Interest Forms for authors and Clinical Orthopaedics and Related Research editors and board members are on file with the publication and can be viewed on request.
Clinical Orthopaedics and Related Research neither advocates nor endorses the use of any treatment, drug, or device. Readers are encouraged to always seek additional information, including FDA-approval status, of any drug or device prior to clinical use.
Each author certifies that his or her institution approved the human protocol for this investigation, that all investigations were conducted in conformity with ethical principles of research, and that informed consent for participation in the study was obtained.
Appendices
Appendix 1. Pain Management Questionnaire (Day of Surgery)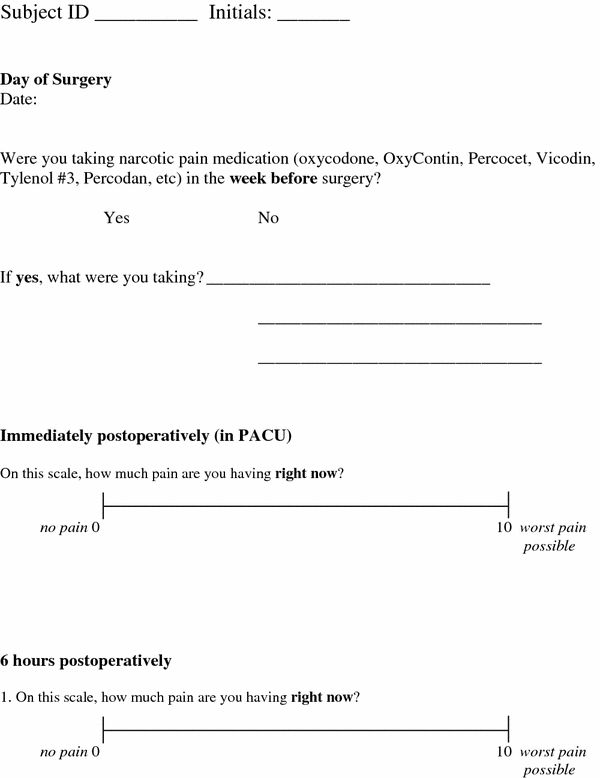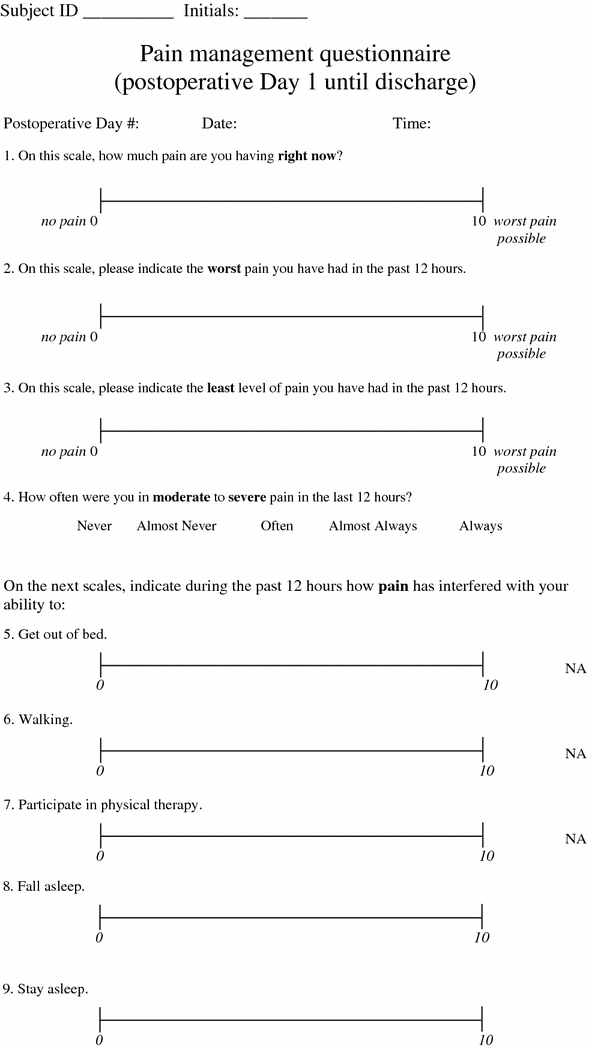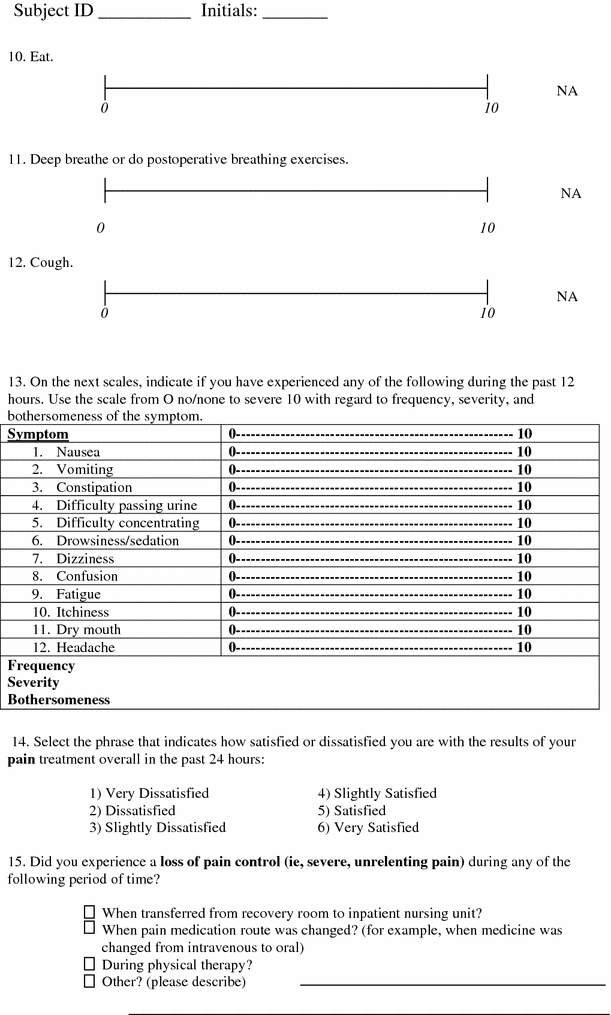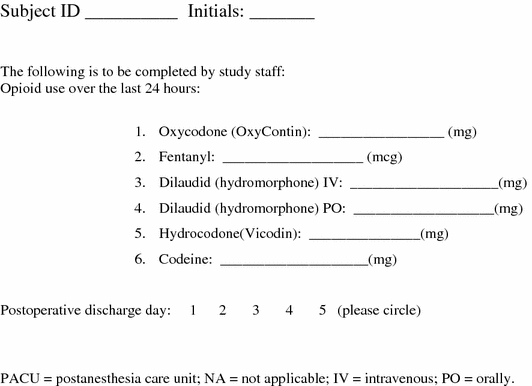 Appendix 2. Pain Management Questionnaire (~6-week Postoperative Visit)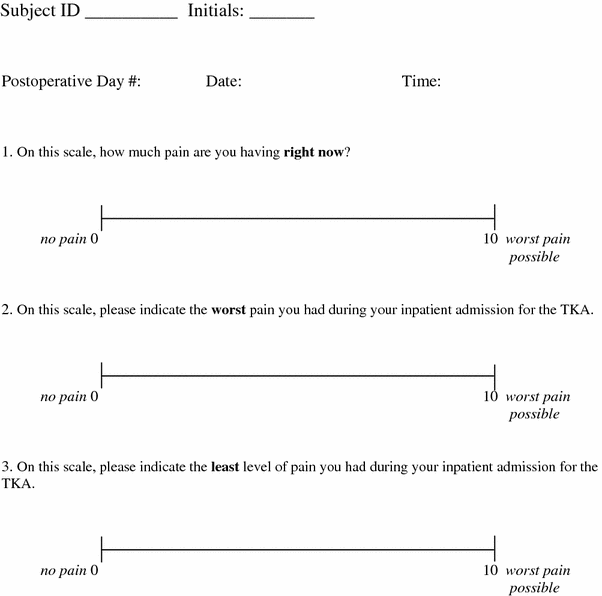 About this article
Cite this article
Goyal, N., McKenzie, J., Sharkey, P.F. et al. The 2012 Chitranjan Ranawat Award: Intraarticular Analgesia After TKA Reduces Pain: A Randomized, Double-blinded, Placebo-controlled, Prospective Study. Clin Orthop Relat Res 471, 64–75 (2013). https://doi.org/10.1007/s11999-012-2596-9
Published:

Issue Date:

DOI: https://doi.org/10.1007/s11999-012-2596-9
Keywords