Abstract
Background
Chronic exertional compartment syndrome is diagnosed based on symptoms and elevated intramuscular pressure and often is treated with fasciotomy. However, what contributes to the increased intramuscular pressure remains unknown.
Questions/purposes
We investigated whether the stiffness or thickness of the muscle fascia could help explain the raised intramuscular pressure and thus the associated chronic compartment syndrome symptoms.
Patients and Methods
We performed plain radiography, bone scan, and intramuscular pressure measurement to diagnose chronic compartment syndrome and to exclude other disorders. Anterior tibialis muscle fascial biopsy specimens from six healthy individuals, 11 patients with chronic compartment syndrome, and 10 patients with diabetes mellitus and chronic compartment syndrome were obtained. Weight-normalized fascial stiffness was assessed mechanically in a microtensile machine, and fascial thickness was analyzed microscopically.
Results
Mean fascial stiffness did not differ between healthy individuals (0.120 N/mg/mm; SD, 0.77 N/mg/mm), patients with chronic compartment syndrome (0.070 N/mg/mm; SD, 0.052 N/mg/mm), and patients with chronic compartment syndrome and diabetes (0.097 N/mg/mm; SD, 0.073 N/mg/mm). Similarly, no differences in fascial thickness were present. There was a negative correlation between fascial stiffness and intramuscular pressure in the patients with chronic compartment syndrome and diabetes.
Conclusions
The lack of difference in fascial thickness and stiffness in patients with chronic compartment syndrome and patients with chronic compartment syndrome and diabetes compared with healthy individuals suggests structural and mechanical properties are unlikely to explain chronic compartment syndrome. To prevent chronic exertional compartment syndrome, it is necessary to address aspects other than the muscle fascia.
Level of Evidence
Level II, prognostic study. See the guidelines online for a complete description of level of evidence.
This is a preview of subscription content, log in to check access.
Access options
Buy single article
Instant access to the full article PDF.
US$ 39.95
Price includes VAT for USA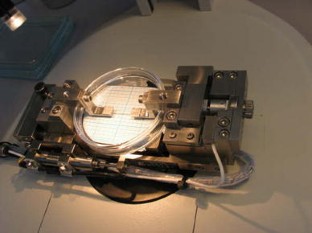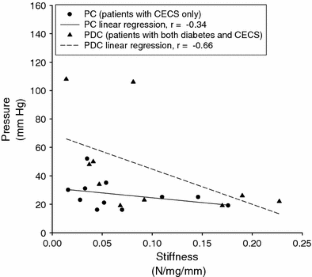 References
1.

Abraham P, Leftheriotis G, Saumet JL. Laser Doppler flowmetry in the diagnosis of chronic compartment syndrome. J Bone Joint Surg Br. 1998;80:365–369.

2.

Andreassen TT, Seyer-Hansen K, Bailey AJ. Thermal stability, mechanical properties and reducible cross-links of rat tail tendon in experimental diabetes. Biochim Biophys Acta. 1981;677:313–317.

3.

Avery NC, Bailey AJ. Enzymic and non-enzymic cross-linking mechanisms in relation to turnover of collagen: relevance to aging and exercise. Scand J Med Sci Sports. 2005;15:231–240.

4.

Bailey AJ, Paul RG, Knott L. Mechanisms of maturation and ageing of collagen. Mech Ageing Dev. 1998;106:1–56.

5.

Barnes M. Diagnosis and management of chronic compartment syndromes: a review of the literature. Br J Sports Med. 1997;31:21–27.

6.

Benjamin M. The fascia of the limbs and back: a review. J Anat. 2009;214:1–18.

7.

Blackman PG. A review of chronic exertional compartment syndrome in the lower leg. Med Sci Sports Exerc. 2000;32(3 suppl):S4–10.

8.

Breit GA, Gross JH, Watenpaugh DE, Chance B, Hargens AR. Near-infrared spectroscopy for monitoring of tissue oxygenation of exercising skeletal muscle in a chronic compartment syndrome model. J Bone Joint Surg Am. 1997;79:838–843.

9.

Butler DL, Kay MD, Stouffer DC. Comparison of material properties in fascicle-bone units from human patellar tendon and knee ligaments. J Biomech. 1986;19:425–432.

10.

Derwin KA, Baker AR, Spragg RK, Leigh DR, Farhat W, Ianotti JP. Regional variability, processing methods, and biophysical properties of human fascia lata extracellular matrix. J Biomed Mater Res A. 2008;84:500–507.

11.

Edmundsson D, Svensson O, Toolanen G. Intermittent claudication in diabetes mellitus due to chronic exertional compartment syndrome of the leg. Acta Orthop. 2008;79:534–539.

12.

Edmundsson D, Toolanen G. Chronic exertional compartment syndrome in diabetes mellitus. Diabet Med. 2011;28:81–85.

13.

Edmundsson D, Toolanen G, Sojka P. Chronic compartment syndrome also affects nonathletic subjects: a prospective study of 63 cases with exercise-induced lower leg pain: an observational study of 17 patients Acta Orthop. 2007;78:136–142.

14.

Fronek J, Mubarak SJ, Hargens AR, Lee YF, Gershuni DH, Garfin SR, Akeson WH. Management of chronic exertional anterior compartment syndrome of the lower extremity. Clin Orthop Relat Res. 1987;220:217–227.

15.

Haraldsson BT, Aagaard P, Krogsgaard M, Alkjaer T, Kjaer M, Magnusson SP. Region-specific mechanical properties of the human patella tendon. J Appl Physiol. 2005;98:1006–1012.

16.

Hurschler C, Vanderby R Jr, Martinez DA, Vailas AC, Turnipseed WD. Mechanical and biochemical analyses of tibial compartment fascia in chronic compartment syndrome. Ann Biomed Eng. 1994;22:272–279.

17.

Mohler LR, Styf JR, Pedowitz RA, Hargens AR, Gershuni DH. Intramuscular deoxygenation during exercise in patients who have chronic anterior compartment syndrome of the leg. J Bone Joint Surg Am. 1997;79:844–849.

18.

Pedowitz RA, Hargens AR, Mubarak SJ, Gershuni DH. Modified criteria for the objective diagnosis of chronic compartment syndrome of the lower leg. Am J Sports Med. 1990;18:35–40.

19.

Qvarfordt P, Christenson JT, Eklöf B, Ohlin P, Saltin B. Intramuscular pressure, muscle blood flow, and skeletal muscle metabolism in chronic anterior tibial compartment syndrome. Clin Orthop Relat Res. 1983;179:284–290.

20.

Stecco A, Macchi V, Masiero S, Porzionato A, Tiengo C, Stecco C, Delmas V, De Caro R. Pectoral and femoral fasciae: common aspects and regional specializations. Surg Radiol Anat. 2009;31:35–42.

21.

Stecco C, Pavan PG, Porzionato A, Macchi V, Lancerotto L, Carniel EL, Natali AN, De Caro R. Mechanics of crural fascia: from anatomy to constitutive modelling. Surg Radiol Anat. 2009;31:523–529.

22.

Sternberg M, Cohen-Forterre L, Peyroux J. Connective tissue in diabetes mellitus: biochemical alterations of the intercellular matrix with special reference to proteoglycans, collagens and basement membranes. Diabete Metab. 1985;11:27–50.

23.

Styf J. Compartment Syndromes: Diagnosis, Treatment and Complications. Boca Raton, FL: CRC Press; 2003.

24.

Svensson RB, Hassenkam T, Grant CA, Magnusson SP. Tensile properties of human collagen fibrils and fascicles are insensitive to environmental salts. Biophys J. 2010;99:4020–4027.

25.

Turnipseed WD, Hurschler C, Vanderby R Jr. The effects of elevated compartment pressure on tibial arteriovenous flow and relationship of mechanical and biochemical characteristics of fascia to genesis of chronic anterior compartment syndrome. J Vasc Surg. 1995;21:810–816; discussion 816–817.

26.

Wren TA, Yerby SA, Beaupré GS, Carter DR. Mechanical properties of the human Achilles tendon. Clin Biomech (Bristol, Avon). 2001;16:245–251.
Acknowledgments
We thank Anna-Karin Olofsson for technical assistance and Professor Göran Toolanen for valuable support and advice.
Additional information
The institutions of one or more of the authors have received funding from the Swedish National Centre for Research in Sports (PS, DE) and Institute of Sports Medicine Copenhagen (MD, PH, SPM). Each author certifies that he has no commercial associations (eg, consultancies, stock ownership, equity interest, patent/licensing arrangements, etc) that might pose a conflict of interest in connection with the submitted article.
Each author certifies that his institution approved the human protocol for this investigation, that all investigations were conducted in conformity with ethical principles of research, and that informed consent for participation in the study was obtained.
This work was performed at Umeå University Hospital and Institute of Sports Medicine, Bispebjerg Hospital.
About this article
Cite this article
Dahl, M., Hansen, P., Stål, P. et al. Stiffness and Thickness of Fascia Do Not Explain Chronic Exertional Compartment Syndrome. Clin Orthop Relat Res 469, 3495–3500 (2011). https://doi.org/10.1007/s11999-011-2073-x
Received:

Accepted:

Published:

Issue Date:
Keywords
Compartment Syndrome

Diabetic Individual

Acute Compartment Syndrome

Intramuscular Pressure

Chronic Exertional Compartment Syndrome